Here you can learn all about one of the world's best disc golf courses: Skellefteå Discgolf Terminalen in Skellefteå, Sweden. The course is operated by the local Skellefteå Discgolf club, but it is notably in the same town as very popular disc golf equipment manufacturer Latitude 64°. The company considers Skellefteå a flagship for its ethics of course design.

Skellefteå Discgolf Terminalen will host the Professional Disc Golf Association Euro Tour's Skellefteå Open from July 7-9, 2023. 
Click or tap below to learn about Skellefteå's past, present, or future:
All of the World's Best Disc Golf Courses 2023
To see the rest of the world's top disc golf courses for this year, check out World's Best Disc Golf Courses 2023: #1-#100.
Skellefteå Discgolf Terminalen: 2023 Stats & Basic Info
Score: 
95.41/100
Number of Holes:
Multiple loops possible with 50 different permanent baskets
Rank in World's Best Disc Golf Courses 2023:
3


Rank in World's Best Disc Golf Courses 2022:
30
Year Opened:
2000
Designers: 
Tomas Ekström, Jonas Rudholm, and others from the local Skellefteå Discgolf club
Availability:
Year-round

Cost:
70 Swedish Krona
per day (about 6 Euros or 7 USD)
History of Skellefteå Discgolf Terminalen
Put on your warmest Sunday best because we're going to church way up north. Why? That's where the story of Skellefteå Discgolf Terminalen begins.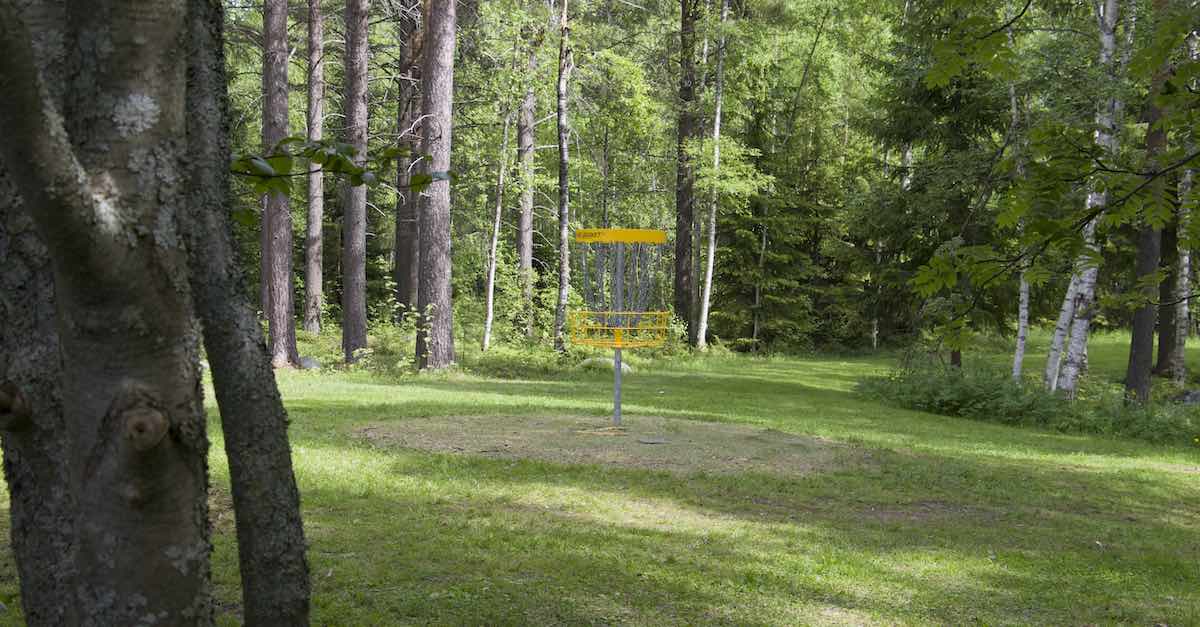 A whopping nine-hour drive north of Stockholm, Skellefteå is the main city in the Skellefteå municipality (around 75,000 residents) on Sweden's east coast. Back in the mid-1980s, a group of youth in the small Skellefteå suburb of Bergsbyn got interested in Frisbee sports and fell particularly hard for disc golf. For over a decade, their only real course was a nine-holer built near a church.
During those years, local enthusiasm for disc golf outgrew the confines of that small track. By 1996, the disc golf club had over 100 members and the sport was appearing frequently in regional newspapers and media outlets. Disc golf had the potential to explode, but Skellefteå needed a different sort of course to handle the boom.
After a number of tries to secure good land for disc golf fell through, the club finally reached a deal with the city to lease a former agricultural area in 1998. It was far from perfect, to say the least.

"The original state of the land was terrible," said Johannes Högberg, a Skellefteå resident and media manager for Latitude 64°. "You couldn't do anything there."

For the most part, the property was a thickly wooded, swampy mess. Many failed attempts to make the land less waterlogged eventually convinced the club to pay a local farmer to reshape it so their future fairways would dry out enough for grass to grow. With most of their money thrown at the lease and proper drainage, club members had to resign themselves to the long, slow labor of clearing trees with hand-held tools.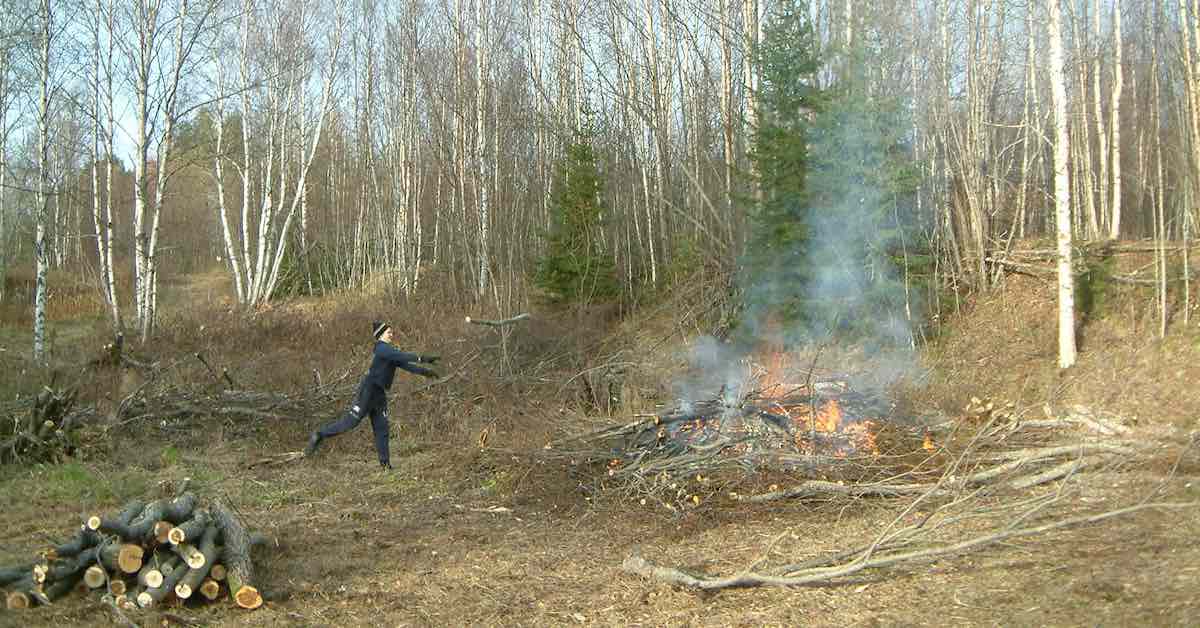 The club's vision of a longer, more difficult course came ever-so-slowly to life over the course of a year. By the spring of 1999, grass had sprouted and they'd carved fairways through the dense forest of birches and evergreens. The new course was again just nine holes, but those holes were much more demanding than anything from Bergsbyn.

Still, once Skellefteå's disc golfers got a taste of something better, they couldn't help wanting a bigger portion. They leased more land, did more work, got the farmer back out for more drainage, and by 2000 had 18 holes with concrete tees in an area where only disc golfers ever wandered. They also began charging a small fee for the course to help with upkeep and maintenance costs. It speaks to how much the area desired disc golf that the nominal payment netted the club the equivalent of $65,000 USD in 2002. 

Thanks to this success, the club's goals expanded beyond just having a special place to play disc golf.

"There was a vision not just of making a good course but making everything around it good, too," Högberg explained. "The club wanted to book companies, have a place where you could buy snacks, and have a little pro shop."
The amenities surrounding the Discgolf Terminalen grew and improved as the course did, creating an ever-better all-around experience for an ever-increasing number of visitors. Soon, the first layout the club had built was so full of newer players that experienced ones were finding it hard to fit in rounds. So in the winter of 2006, the club broke ground on a new, championship-level layout on property adjacent to their first course: the Black layout. 
In the years between then and now, the layouts at Skellefteå Discgolf Terminalen and the infrastructure that supports them have only gotten better and more refined. The club has installed multiple tees to all of its 50 baskets so that players at every skill level can find something to enjoy.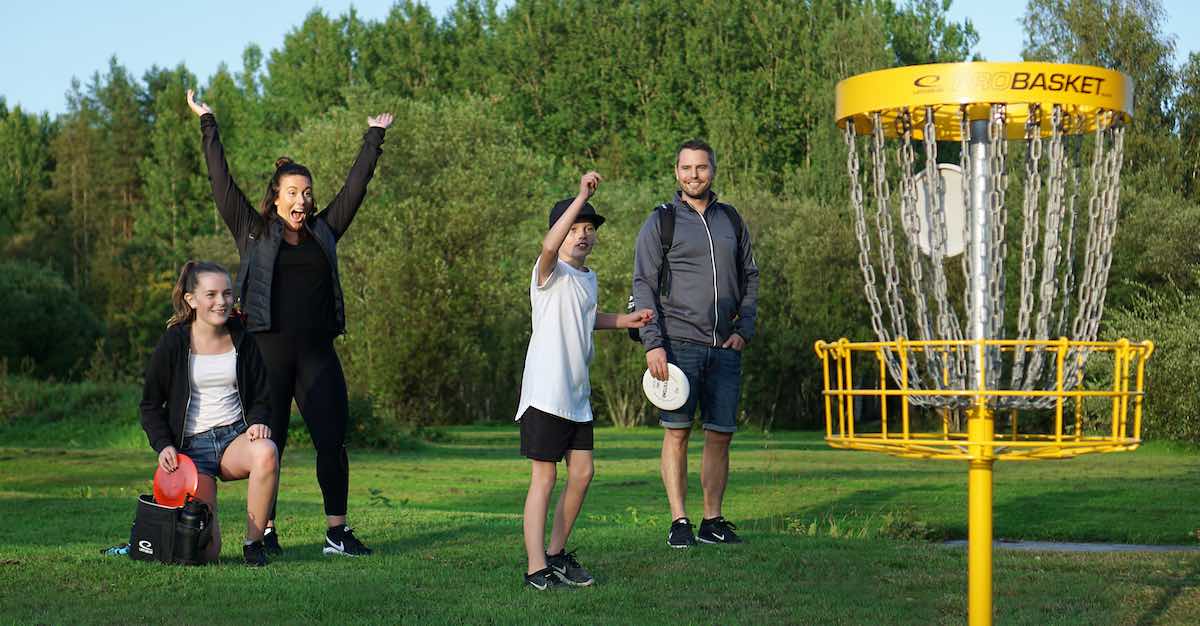 The course has left stamps on disc golf history, too. In 2008, Skellefteå hosted a PDGA Major called the Scandinavian Open, and local Jesper Lundmark – one of the world's top disc golfers in the late 2000s and early 2010s – won the Open division. This was the first time ever that a European had won the Open division at a PDGA Major, and Lundmark remains the only European to win a Major in Open (he added a second at the European Open in Finland a year later).

Additionally, the course brought together the people who founded a leading disc golf equipment manufacturing company that's still based in Skellefteå.

"Latitude is deeply connected to the course," Högberg said. "One day the founders were hanging out there, like they used to do, and they were like, 'I heard the patent for making discs is going out. We should do our own stuff just for fun. It should be easy to make it better.' Easy...yeah. But then they did it!"
Last year, the club connected to Skellefteå Discgolf Terminalen had 299 members, and the course attracted 12,000 paying visitors. The course has become such a fixture that the land it's on has been granted special status from the municipality as exclusively reserved for disc golf. This means that, despite being on public land, the sort of heartbreaking losses suffered by Järva a couple of years ago aren't likely to happen in this more northerly Swedish disc golf paradise.
What's It Like to Play at Skellefteå Discgolf Terminalen?
Högberg told us one of the most important things to those involved with Skellefteå's design is getting people to take disc golf seriously.

"First of all, [they want] to have it feel like a professional sport, not just something you do around people having a picnic in a fairway," he explained.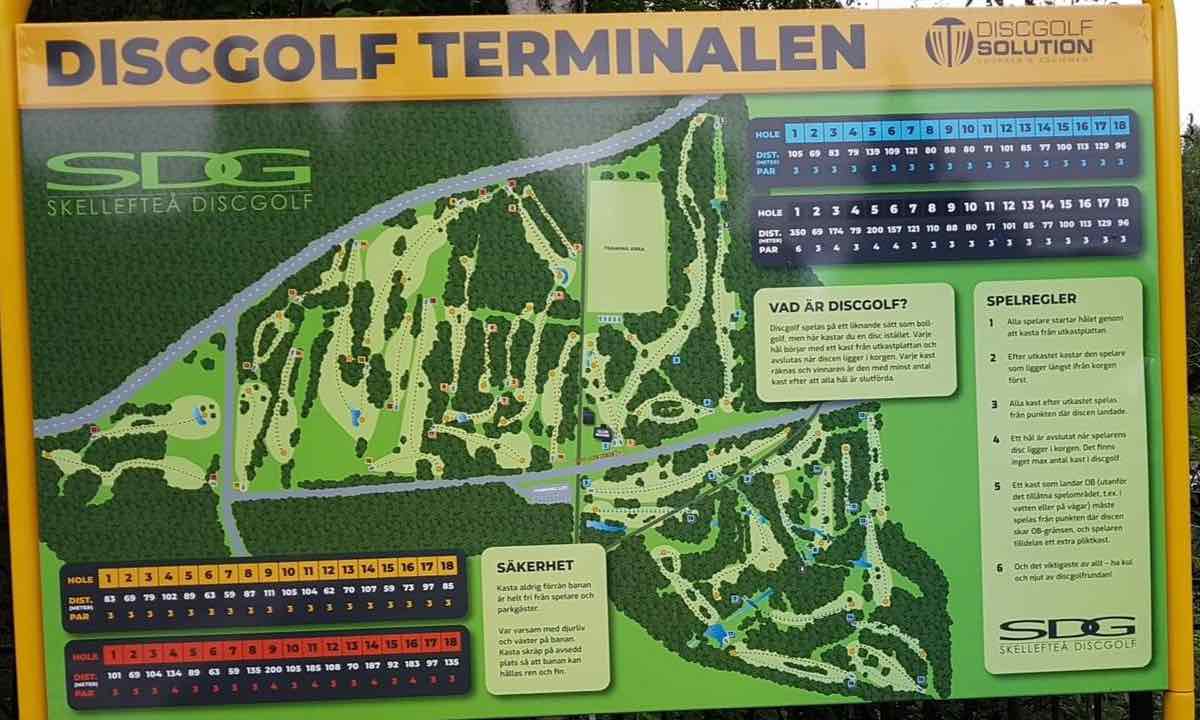 Importantly, professionalism isn't equated with making the course a grueling slog for all but the best players. Instead, it's about keeping things like tees, baskets, signage, and flora maintained to a high level. The club mows the grass frequently in warmer months and makes sure that areas off fairways won't eat discs.

"If you throw a bit wrong, you should be punished, but you should also find your disc," Högberg said. "There's a lot of work just clearing up the rough so you can walk there and get your disc. But you'll still have difficulty getting out."
To avoid those tough scrambles, you'll typically need more precision than power in Skellefteå. The fairways are nearly all wooded, and the design often challenges you to hit specific landing zones rather than testing your max distance – especially if you stick to a layout suited to your skill level.
But perhaps the biggest trademark of the course is that it rarely defines a single route to a basket. Typically, players are forced to opt for one of multiple lines.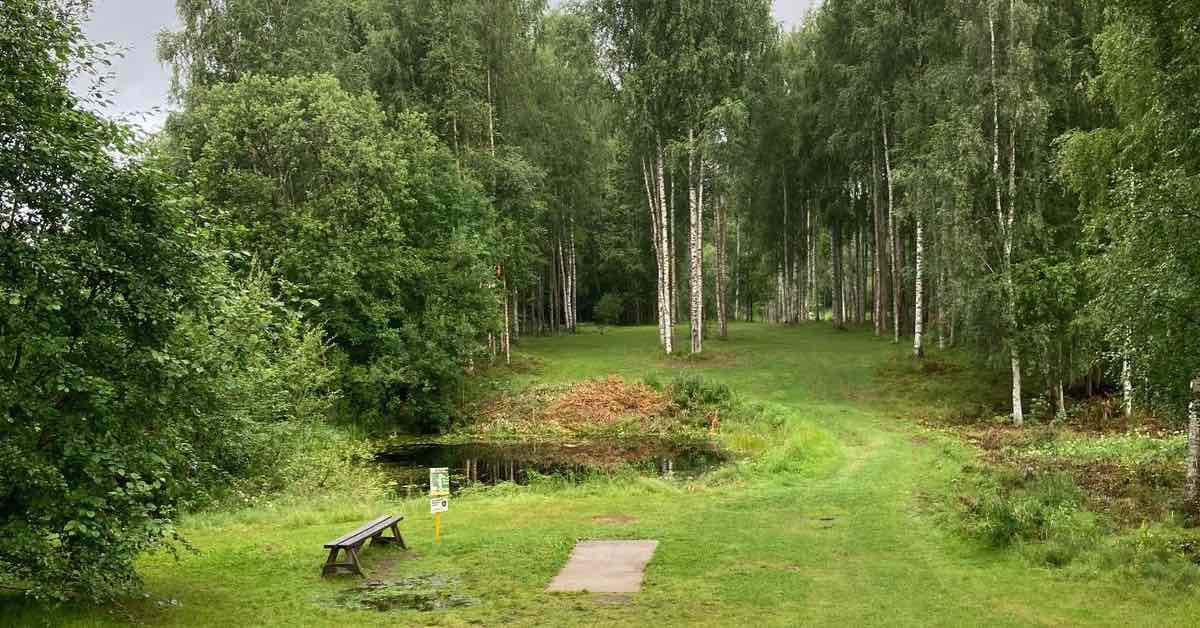 "The big thing is you have to make choices," Högberg said. "A lot of holes, you could throw it in different ways – there are two or three openings to the fairway and you can go wherever...you really have to make a plan for yourself about how to play it."
One thing there isn't much of at Skellefteå is elevation change, but the challenging hole designs and option to play multiple distinct layouts seem to be more than enough to thrill most disc golfers.
Skellefteå Discgolf Terminalen's Signature Hole
Skellefteå's Black layout starts with a bang: The complex's signature hole.

This hole 1 is 350 meters/1,148 feet and is labeled a par 6. It has a grassy fairway lined on both sides by birches and pines ready to create tricky shots for any errant thrower. It's quintessential Skellefteå disc golf...and a lot of it.
Take a look at it in this flyover from 2021:


Recent & Planned Developments at Skellefteå Discgolf Terminalen
Other than routine maintenance and improvements before hosting a PDGA Euro Tour event in early July 2023, the crew behind Skellefteå Discgolf Terminalen are working on plans to create two independent, championship-caliber layouts on the grounds. According to Högberg, previous big events have always been played on "one grand layout" that combines the best holes from various configurations. However, more players could participate if there were two suitable courses on the property.

Since the course's layouts haven't been upgraded too much since around 2006, it's likely most holes will get makeovers in the coming years.

Amenities at Skellefteå Discgolf Terminalen
Visitors to Skellefteå Discgolf Terminalen can browse a well-stocked pro shop with snacks, drinks, and restrooms during warmer months (some days in May but reliably through June to end of the season). 
Three Real Five Star Reviews of Skellefteå Discgolf Terminalen
Three five star reviews of Skellefteå Discgolf Terminalen from disc golfers on UDisc:
Fantastic property and courses. The best water hazards I've seen, great greens, wood chip fairways in the woods. *
mzdfly

*translated into English

Very good track, I would say Sweden's best track before Järva every day of the week, shame I live far away. *
robseger

*translated into English

Absolutely fantastic, well signposted, fun courses, magical environment, good atmosphere. *
polynomialring

*translated into English