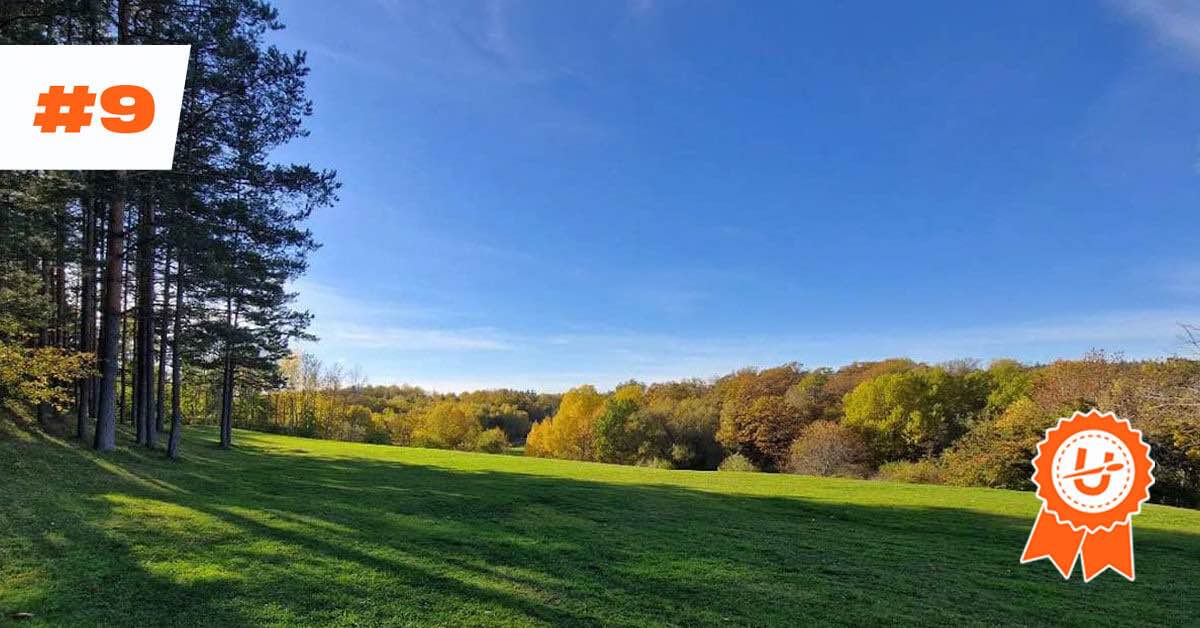 Here you can learn all about one of the world's best disc golf courses: Järva Disc Golf Park in Stockholm, Sweden.

Järva will host European Pro Tour event the Järva Open from July 28-30, 2023.
Click or tap below to learn about Järva's past, present, or future:
All of the World's Best Disc Golf Courses 2023
To see the rest of the world's top disc golf courses for this year, check out World's Best Disc Golf Courses 2023: #1-#100.
Järva Disc Golf Park: 2023 Stats & Basic Info
Score:
93.72/100


Rank in World's Best Disc Golf Courses 2023: #9

Rank in World's Best Disc Golf Courses 2022: #84

Number of Holes:
18-hole full course and 9-hole short course
Year Opened:
1995
Designers:
Mats and Jonas Löf

Availability: Year-round

Cost:
90 Swedish Krona (about $9 USD) for 18 holes. 120 Krona (About $12 USD) for all-day play.
70 Krona (about $7 USD) for nine holes. Students get 20% off. People ages 11-17 are half price. Kids 10 and under are free.
Current Course Conditions, Photos, & More
:
Järva Disc Golf Park on UDisc Courses
History of Järva Disc Golf Park

Järva is a legendary course that went through a dramatic change in 2021 when it lost over half of its holes to a long-dreaded city construction project. This year marks its return to the top 10 of the World's Best Disc Golf Courses after two years away.
Beginnings to World's Top Course
Järva Disc Golf Park was built on public land that was a literal dump. The hills in the park aren't natural to the region; the city of Stockholm created them by covering up things like large concrete slabs from torn-down buildings with soil. Though the city tried to make the area into a usable green space at one point, it ran out of money and abandoned the project.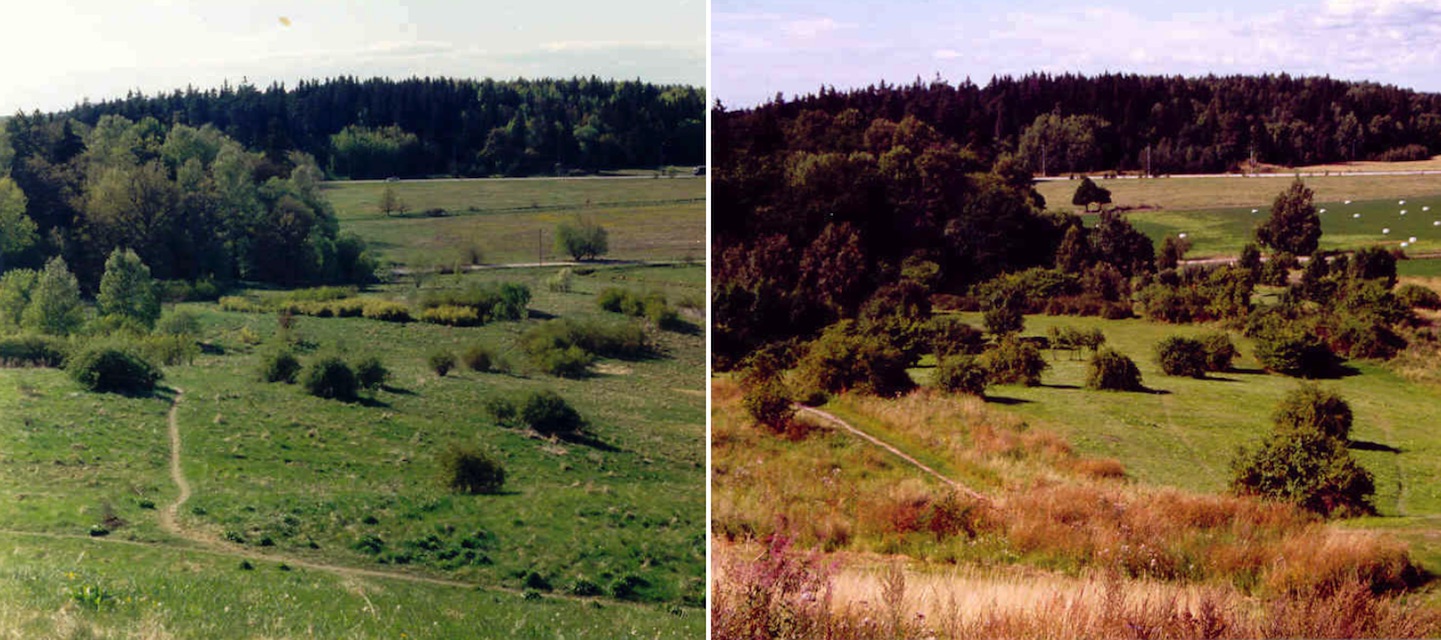 When brothers Mats and Jonas Löf first examined the land for its potential as a disc golf course in the early 90s, they found an overgrown mess that had been untouched for fifteen years. However, it wasn't just the abundant nettles and thorns that were a problem. The land was in a troubled area of Stockholm, and people commonly used it for illegal dumping as well as far more serious illicit activities.

But luckily for us all, fears of what the area was didn't stick with the Löfs. What did was a clear vision of what the property could become and how to get it there.
Their ideas for the land went far beyond just taming it enough to make disc golf possible. They wanted to create an epic work of art that would be as pleasing to look at as it was to play. What's more, they planned to do it in a way that was as environmentally friendly as possible. Large machines and pesticides were out of the question, and instead of planting anything new, they would only use the existing flora on site, choosing what to cull and what to nurture with eyes equally focused on biodiversity and aesthetics.
Since the Löfs had trained in landscape design and architecture, these plans weren't just the musings of two idealists. And that's likely something the city of Stockholm took note of when they granted the brothers permission to carry out their project on the land in 1994.
The park opened for play in 1995, but given the Löfs' preferred methods of landscaping, the full metamorphosis was far from complete by then. Still, slowly but surely, the area transformed from forgotten dumping site to a manicured English-style park implausibly situated in urban Stockholm. When we interviewed former pro disc golfer and Stockholm native Ragna Bygde Lewis for our article naming Stockholm the third-best disc golf city outside the United States, she recalled watching parts of this change first-hand.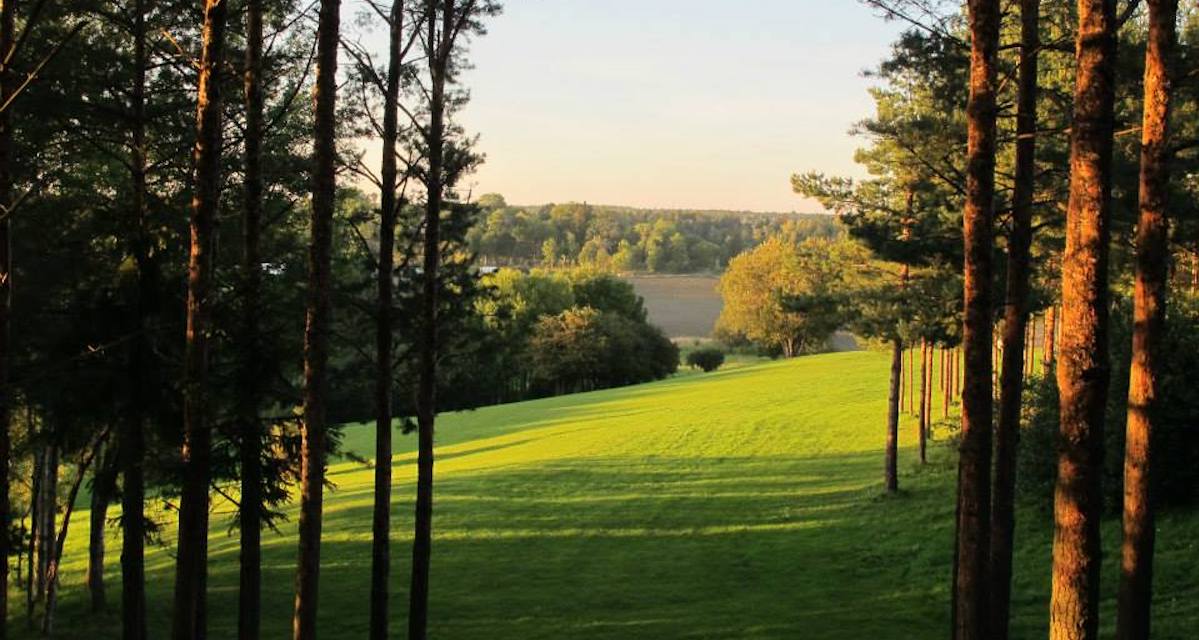 "When I was a kid, it was an 18-hole course with a café and shop in a little shipping container," she said. "It turned into this magnificent 27-hole course with lots of elevation and beautiful trimmed grass fairways with cleaned-up rough. Mats and his brother Jonas, along with some helping hands, turned this course into one of the best in the world."
Järva's Losses in 2021
The first time UDisc ever released a list of the world's best disc golf courses, Järva took the #1 spot. Every hole was a special work of landscape art with many hours of labor behind it, and the vegetation had had years to mature and fulfill the Löfs' long-term vision. But that changed when the city of Stockholm finally made good on its plans to create a graveyard at Järva in 2021.
The city and course reached a deal that spared some of the course. Still, Järva lost 14 holes and 24 acres/10 hectares of property. Due to uncertainty about the course's future, we reluctantly omitted if from the World's Best Disc Golf Courses in 2021.
Järva's Comeback

But the Järva crew is diligently working to bring back all the former glory and then some. They've created a new 18-hole layout and converted a former six-hole beginner course into nine holes. Järva's Pro Shop Manager Simon Lindgren told us that some of the new holes need a few years to grow in to be ''Järva standard,'' but the layout is still a joy to play – as evidenced by its reappearance in the top 10 of the World's Best Disc Golf Courses.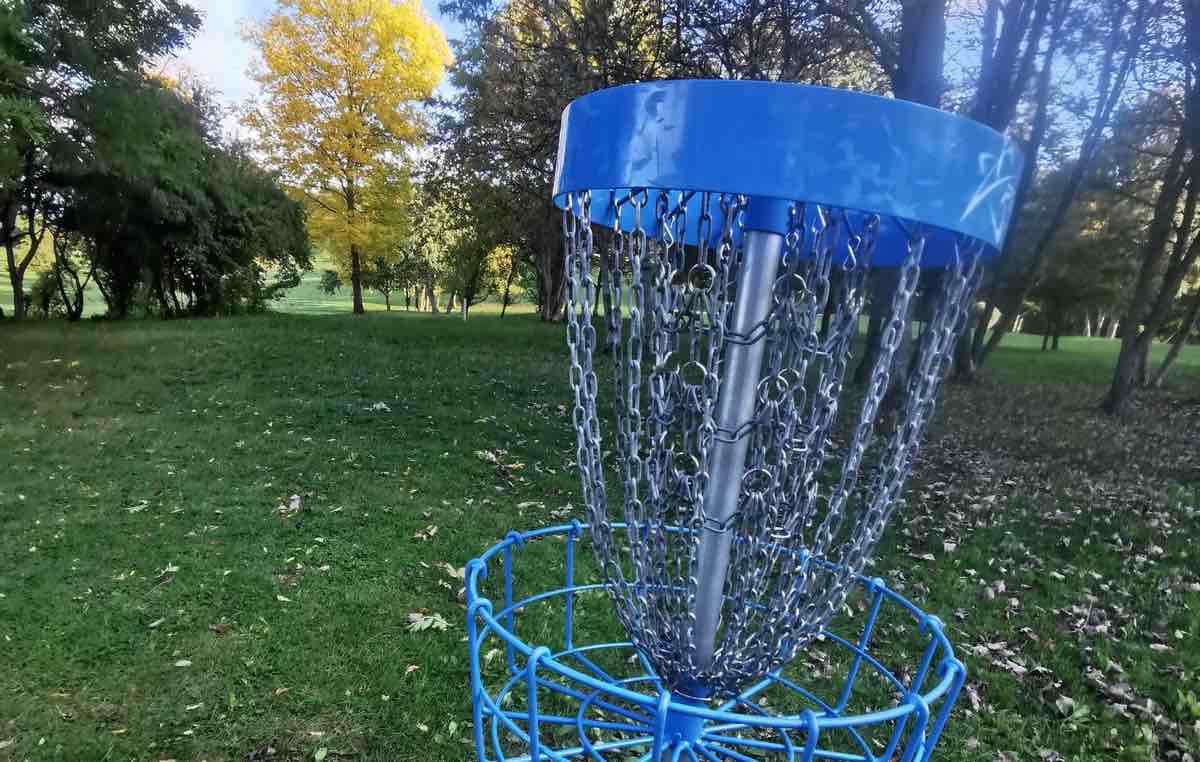 Additionally, the course and its community has focused on teaching juniors and growth generally. They hold free sessions for kids multiple times a week with trained disc golf coaches and have provided baskets and discs to nearby schools. The club had just 60 members in 2020 and it now has around 500. The hope is to be well over 1,000 before the end of 2023.

''There's a lot of life in Järva,'' Lindgren said. ''For the first time in many years, the future looks bright.''

To learn more about Järva's rejuvenation, check out the 'Recent & Planned Developments' section.
What's It Like to Play at Järva Disc Golf Park?
A few years ago when we spoke with Jeff Spring about designing perennial top ten course Brewster Ridge, the current director of the Disc Golf Pro Tour brought up Järva as an inspiration for his ethos of course design.

"I think my favorite course I've ever played is Järva," Spring said. "It's beautiful and it's very clear. It's all about placement. You can look at a hole and see if you're short left you'll pinch yourself off; if you're short right, it's great; if you're long left, it's not good. If you want to throw a certain type of upshot on your second shot, you know exactly where you should place your drive."
Spring was speaking there specifically about par 4 design, but the same ethic is apparent everywhere at Järva. Players are never at a loss for how a hole should be played, and the question is always simply whether they can execute each of the huge variety of shots Järva asks of them.
For those who do find themselves off the fairway a time or two, it's worth noticing just how smooth most of the "rough" at Järva is. Whereas many of us are used to having our errant shots punished not just with awkward positioning but with having to endure thorns and plants that sting or leave rashes, Järva's rough is often simply tightly-packed trees with nothing but green grass between them. They certainly make recovery shots difficult, but they don't make you bushwhack to get in and out of them.

Elevation is another prominent feature utilized on the course. Expect to have the chance to throw quite a few shots from up high over valleys, but also be prepared to throw up inclines ranging from slight to dramatic. Additionally, baskets are often placed on hillsides that make roll-aways likely, forcing players to make risk-reward decisions on longer-range putting efforts.

There are also multiple tee positions so players of varying skill levels can have an enjoyable round based on how much challenge they're up for.

Finally, it's not just flowery language to say that the Löfs see this property as a piece of living artwork. If you think the way the light hits a group of trees at a certain time of day is magically beautiful, it's likely because the Löfs planned it that way. Those lucky enough to get to play Järva should make sure to consciously take some time to study their surroundings and admire the artistry. 
Järva Disc Golf Park's Signature Hole
The par 4 hole 12 is Järva's clear signature. From the tee you can see a little bit of everything that makes Järva so special. There are sweeping fairways, copses of trees, and all the other plant life that add both pleasing aesthetics and challenge to the course. Beyond the park's limits, you'll glimpse urban development, bland agricultural pastureland, and overgrown areas.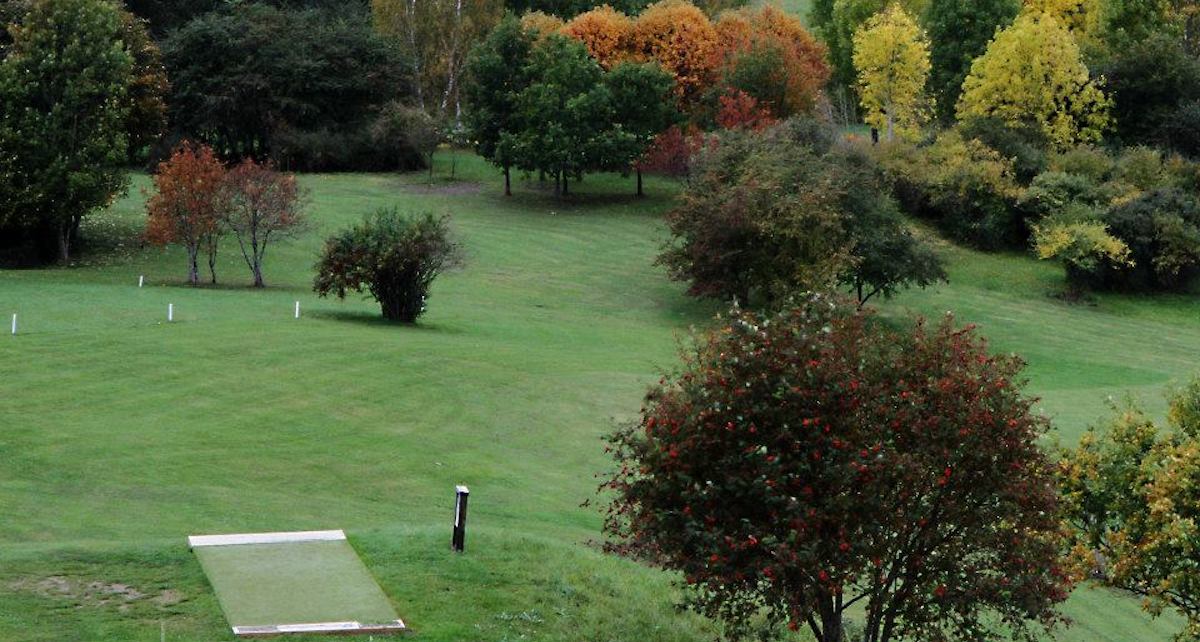 Seeing this juxtaposition of environments helps you understand the sort of escape Järva offers the surrounding community.
But hole 12 isn't Järva's signature just because it has a nice view. It's an incredibly fun hole.

The first shot has you throwing down a steep incline with out of bounds (OB) both left and right. There's a ton of open air, and that means you'll need to heavily factor in the nearly constant wind on the hole when you throw. If that first shot goes well, your next one will be a relatively easy approach to a basket located in the shade of low-growing trees. If you don't, you'll find yourself scrambling to save par with either an OB stroke added to your score or a tricky line to hit to find the basket.

You can see a fly-over and drive on the hole during the European Pro Tour's Järva Open from 2022 below as filmed by MDG Media:
Recent & Planned Developments at Järva Disc Golf Park
Along with building up youth interest in disc golf and growing the club, Järva is actively trying to acquire nearby property big enough for a second, full-length course. This process is still in early stages, but recent elections have brought in a local government more friendly to disc golf, giving the Järva team hope that they'll be able to make a deal.
An upgrade that's already complete is replacing older baskets with new Prodigy T2s.

The course's pro shop has also expanded from one to two rooms and now offers discs from a wide variety of disc golf manufacturers, including newcomer Clash Discs, the increasingly popular Kastaplast, and many others.
Amenities at Järva Disc Golf Park
Beyond Järva's extraordinary groundskeeping, it offers plenty more to visitors:
Friendly staff available during opening times
A huge tee area and open field for driving practice
Multiple practice baskets
A café with warm food, drinks, snacks, and desserts. Indoor and outdoor seating available.
A short nine-hole course that's extremely tight. Great for quick rounds or even scramble practice.
Three Real Five Star Reviews of Järva Disc Golf Park

Three real, unedited reviews from disc golfers with UDisc:
Upkeep is perfect. Well signed, clear ob markers, and multiple tees for different abilities.
sellphi
Great job on the rebuild. The championship loop offered at the EPT was also world class*
*translated into English
Disc golf heaven. Perfect layout for amateur player throwing under 100m.