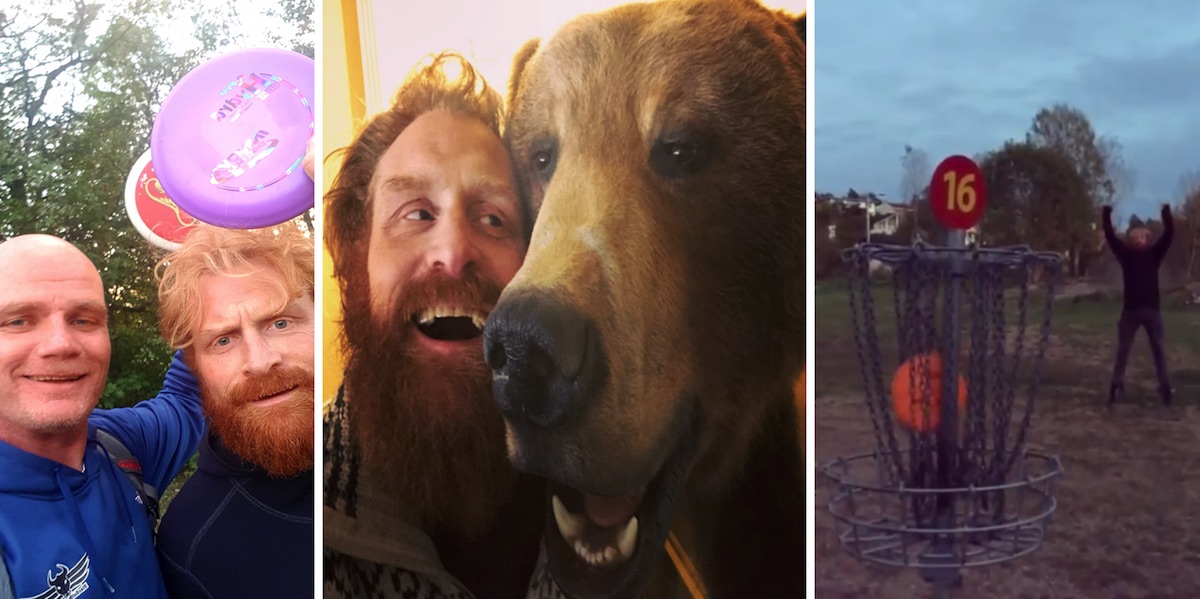 Many disc golfers might never have seen one of the sport's most-watched putts of all time. Likely this is because it wasn't released by go-to disc golf media sources like JomezPro or Central Coast Disc Golf and didn't take place during a well-known tournament or event. No, It was just an unassuming, self-made video posted on Instagram.

In the video, a man with a bushy red mane jumps fully in the air and roars triumphantly after knocking down a putt near sunset in Oslo, Norway. The thing is, that man happens to be actor Kristofer Hivju, best known for his role as Tormund Giantsbane in the absurdly successful HBO series Game of Thrones. His putt has now been watched almost 1,705,000 times and counting (you can see it yourself here).

Celebrities posting videos of themselves participating in out-of-the-norm activities is nothing new. What makes the post interesting, though, is that it doesn't reflect just a one-and-done day at the course, but something that's becoming a growing obsession for Hivju. The Norwegian actor has fallen for disc golf as hard as his Thrones character did for "The Big Woman," and he's now a common sight at the course near his home, playing with and learning from other locals. 

In a recent phone call with Hivju, we got to learn more about how and why the sport has hooked him and the serious effort he's putting in to get better at it.

The following interview has been edited for length and clarity.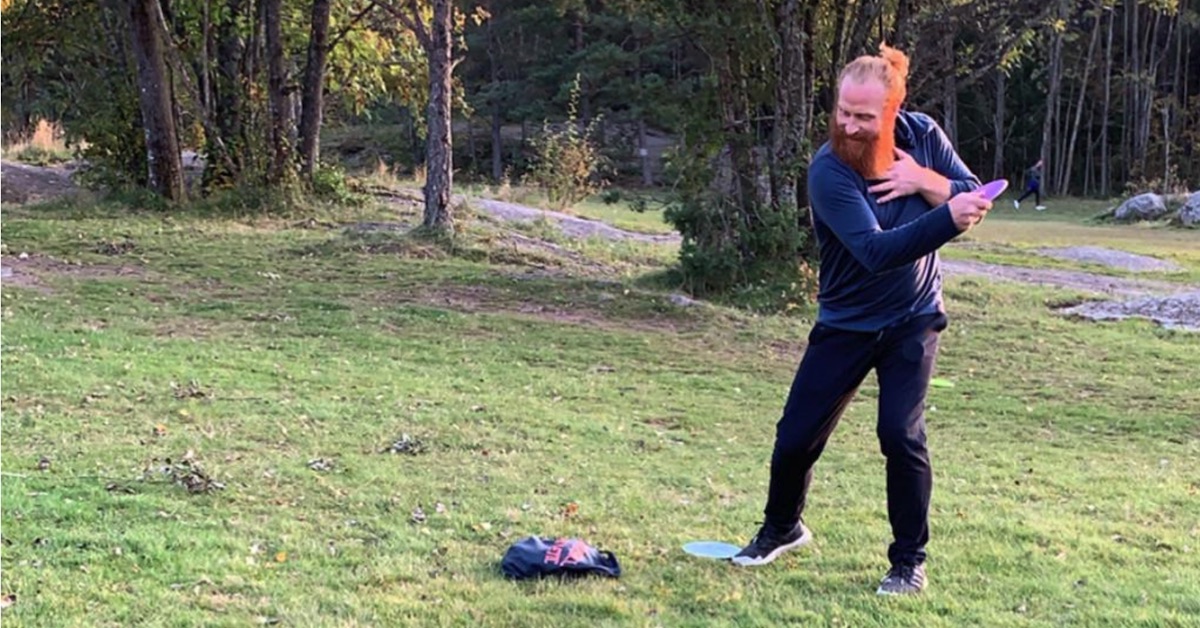 UDisc: When did you discover disc golf?

Hivju: When I was six years old, I think, they created the Ekeberg course [in my hometown of Oslo]. So I curse myself that I didn't pick up the sport the first time I saw it. I should have picked it up and I could've been the World Champion today! But instead I waited 34 years before I started.

UDisc: So how long have you been playing?

Hivju: I started about one and a half years ago.

UDisc: What's made you stay interested in the sport for that long?

Hivju: First of all, I think it's how it makes you conquer something in yourself. Another thing I like is you don't have to take a shower afterwards.

[laughs from both Hivju and UDisc]
But really, when you throw the disc, you go through around 74 emotions before it lands. It's pure joy and excitement, and then you go into fear and horror. There's aggression when the disc hits a tree, but then back to hope if it hits another tree in the right direction. After that, calm Zen meditation when it lands in the spot you wanted it to land in. All of that in one throw!

UDisc: It's like the arc of a great story in every shot.

Hivju: Exactly, exactly! You're living the story while the disc is in the air.

I also love that it's a sport where you can show up and be at any level and still be included. In Norwegian, it's called lavterskelidrett, which means something like a "low-threshold sport." It's easy to get into. If I wanted to start with regular golf, it would take a lot more time to feel the joy of mastery. But even if it's pretty easy to get to a good level in disc golf, like any sport, it's extremely hard to get to the highest level.
UDisc: Being someone that lots of people recognize, have you noticed any difference in how people act when they meet you in a disc golf context versus when you're approached just on the street?
Hivju: When I play disc golf, I'm a nobody. I step out of the celeb role and nobody asks me a question about a project or dragons or anything. It's just about the discs, the throws, and about the course. For me, that's pure vacation. People are just there to beat their personal records, and it's very down-to-earth. I'm not Tormund on the course; I'm a newb.

I just love the camaraderie, too. You start playing with whoever, and you can enjoy that time and learn! People are so willing to help you, and teach you, and share in your joy when you throw a good shot. The atmosphere and the environment around the sport is just extremely positive. Brad Pitt said once, "Two people can learn more about each other from two hours of playing together than two years of marriage" or something like that. You just meet some random stranger and play with them for a couple of hours. That's a huge value in itself.

UDisc: Your hometown, Oslo, got the #2 spot on our list of best disc golf cities outside the United States. Did you know how good disc golf in Oslo was before you started?
Hivju: No. I just knew about the ancient course at Ekeberg. But when I play with the guys at Ekeberg, they always talk about the great courses in the area. I'll need to take a tour around. But I have gotten to play the course in Sula, Norway, and it's fantastic.

UDisc: What parts of the game are you finding hardest to learn?
Hivju: Everyone has an intuitive feel about how to throw a disc, but now I'm stagnating because of technique and I'm getting much more focused on that. I'm working with a guy who's giving me some lessons and going into all the YouTube videos on technique. You know, David Beckham improved because he spent three hours a day kicking a ball at the same spot. If you want to be a good disc golf player, you have to put in the extra hours throwing into a football [soccer] goal and just practicing the basics.
UDisc: How much time do you get to devote to disc golf practice during a normal week?
Hivju: Right now I'm trying to do one and a half to two hours a day five days a week.

UDisc: Wow. You're really dedicating yourself to it.

Hivju: Yeah, it's funny. I see guys coming to the course 40 minutes before it gets dark to get a round in, and I feel there's an addiction going on. I see lots of men my age get hooked on this. They just need the feeling of mastering something, which I think is a very undervalued emotion. It's one of the greatest feelings there is. To master something is to feel that confidence and joy. It's not that someone gives you a compliment; it's that you do an action, and just doing that action perfectly gives you all the satisfaction you need. So at the moment, I'm just thinking disc golf 24/7.

UDisc: Does your training as an actor help at all with disc golf?

Hivju: I'm actually really trying to combine the two skills. Concentration is the basic element of acting. Concentrating on performing in front of people or dealing with pressure: Those things I can take from acting and put into disc golf, so I believe I will become a good player. I just need to put in the groundwork.
UDisc: Do you have any discs you particularly love right now?

Hivju: You know, I've always said when I do any sport—I'm also a kite surfer, snowboarder, and skateboarder—that the money I spend on it should be appropriate to the time I spend on it. So I won't allow myself to buy a lot of equipment before I've put in the time. I'm now considering buying about five of the same putter to get that repetitive practice in, but at the moment my discs are kind of random. My favorite is probably the [Latitude 64] Compass—it's just steady and predictable.

UDisc: Sorry, but I do have one Game of Thrones-themed question. Did you know that Hafþór Júlíus Björnsson [the actor who plays the Mountain] has done a video of playing disc golf?

Hivju: No, I didn't know! He must be the largest disc golf player ever!
UDisc: [laughs] He most definitely is. But what I wanted to ask is if you think there will ever be a Tormund Giantsbane vs. The Mountain disc golf match.

Hivju: Next time I see him, I'm going to challenge him.