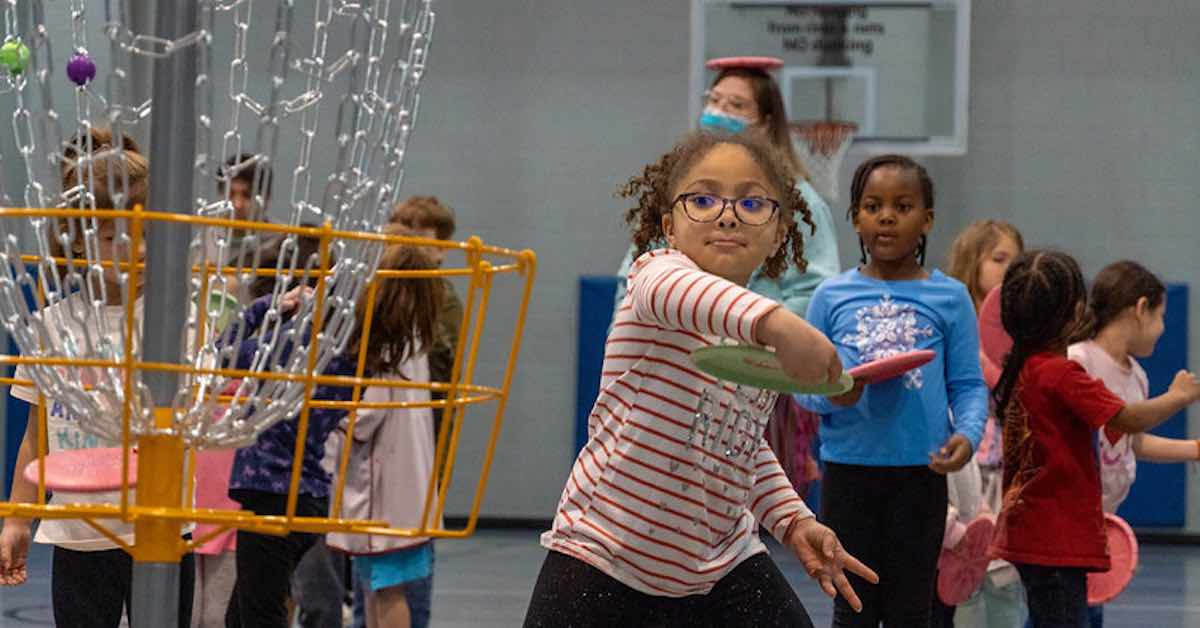 Finding ways to encourage young people to engage in physical activity that's healthy for body and mind is a pressing issue in the United States. Data from the Centers for Disease Control and Prevention showed that about one-fifth of all 6-11 and 12-19 year olds in the U.S. suffered from childhood obesity in 2017-2018, and a report from the American Heart Association in 2020 suggested that only about 25% of high school students were regularly getting enough exercise.
Disc golf non-profit Uplay seeks to be a part of the solution to these and other issues facing youth today. Well before the organization's official founding in 2017, Uplay's creator and Executive Director Zoe AnDyke had been taking over physical education classes near her home to teach students about disc golf. Disc golf offers an alternative to classic P.E. pastimes like basketball, soccer, and volleyball, and the nature of the sport makes it more likely that a large majority of students can feel the thrill of success at a physical activity.
Today, Uplay both introduces young people to disc golf during P.E. classes or after-school programs and breaks down barriers that could prevent them from playing it in the future. Every place Uplay visits receives 30 disc golf starter packs (sets of three discs) and two baskets, and each child gets a disc to take home. Students are also informed about how they can find disc golf courses nearby and asked to introduce at least one of their family members to the sport. The services and equipment are funded entirely by Uplay donors and cost the institutions nothing.
In 2022, Uplay will visit 19 schools in 14 U.S. states, reaching thousands of youth in the process. We plan to follow the non-profit's progress throughout the year on UDisc's Release Point blog in a series of three posts. In this first piece, we take a look at Uplay's origin story, approach, and best moments up to now.
Zoe AnDyke: Teacher to Coach to Pro Disc Golfer to Head of a Non-Profit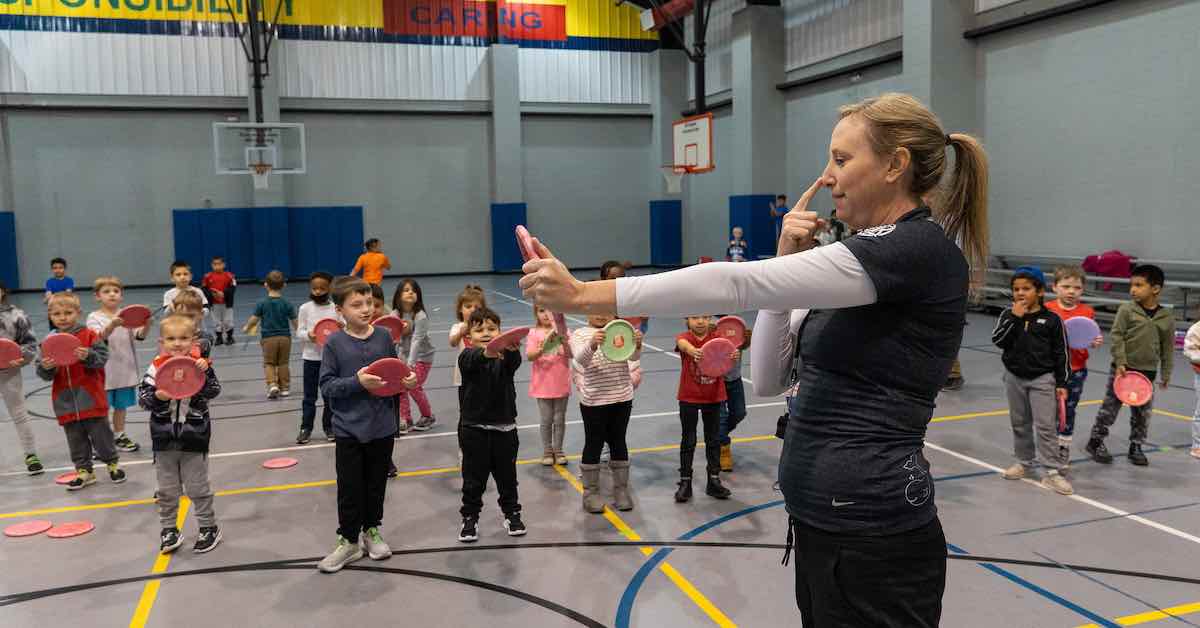 AnDyke has been involved with coaching and education for two decades. She helped coach a middle school volleyball team as a high school student and has coached swimming professionally at the high school and regional club levels.

From 2005-2009, AnDyke was a P.E. teacher at a therapeutic boarding school for girls in Oregon. There, AnDyke not only had the option to attend professional development related directly to her subject but also public speaking, crowd management, and even wilderness survival training.
After a stint in Alaska where she worked with wilderness programs, AnDyke returned to the contiguous U.S. in 2012 to become a touring professional disc golfer. While on tour, the rookie pro quickly realized two things: 1) She missed coaching and working with groups, and 2) disc golf sorely needed trained educators teaching the sport in a well-planned, structured way.
Eventually AnDyke heeded her calling and began volunteering to teach disc golf at schools and institutions like YMCAs and Boys and Girls Clubs in the spare time her pro disc golf schedule allowed. Her touring partner and Uplay's current Operations Manager Dustin Keegan helped with sessions, too.
"The earliest point we were in public schools dates back to 2014," AnDyke said. "At that point we were just running some clinics, testing ideas of what the safest and most efficient ways to present disc golf to kids of all ages could be."
AnDyke grew to love the work and started speaking with friends and close professional contacts about her dream of starting an organization that would bring disc golf to children across the country. These talks helped her get a lot of advice from knowledgeable sources about how to start and register a non-profit organization.

In August 2017, Uplay was officially founded, and AnDyke found herself – both excited and trepidatious – at its head.

"I remember wondering what it really took to run a non-profit," AnDyke said. "I didn't go to school for this. I knew how to coach and teach, but what was this adventure going to be about?"
Today, AnDyke admits she's still learning plenty about how to best fulfill her role as Uplay's Executive Director, but in our interview with her, she was also more than ready to geek out about minutiae related to the non-profit world. Additionally, she puts a lot of faith in what she termed her "amazing board of directors" to help Uplay thrive and become ever more effective at its missions.
Uplay's Approach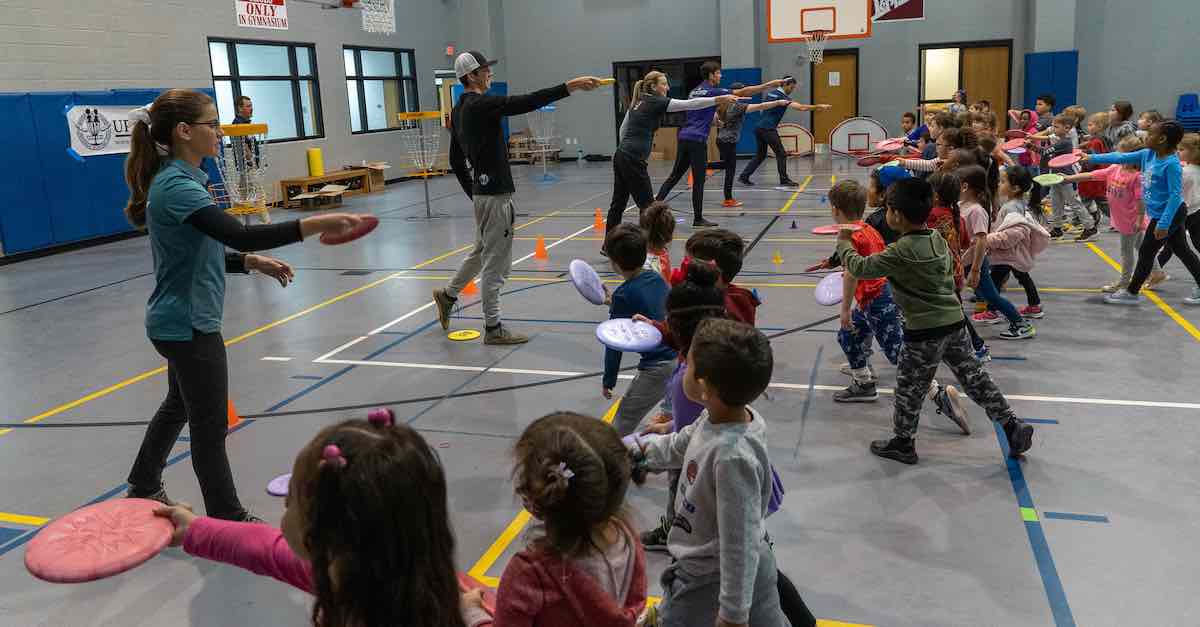 Developing Uplay's method of teaching disc golf to young people has been an iterative process. AnDyke and her collaborators tried ideas they believed would work, kept what was good, tweaked or did away with what wasn't, and repeated those steps over and over again, documenting their findings along the way. Though the organization is still constantly researching and refining, it now has a clearly defined set of steps it uses to introduce youth to disc golf.

At their most basic, those steps are the following:
Warm up
Talk about what disc golf is
Putting demonstration and practice
Backhand demonstration and practice
Forehand demonstration and practice
Give students information on how to access disc golf courses
Present students with a disc to take home
Task students with introducing a friend or family member to what they've learned
Throughout Uplay sessions, students learn skills through engaging delivery from professional disc golfers and then practicing what they learn. The organization has also become adept at adapting its programs to the various lengths of school periods throughout the country.
But as much as Uplay wants kids to love disc golf, they also make sure every student knows that there's no playing around when it comes to safety. If any of Uplay's protocols are breached during a session (for instance, if a student creeps up beside someone about to throw rather than standing directly behind them), all activity stops until the issue has been addressed.

The laser focus on injury avoidance comes in part from AnDyke's own experience with what a disc leaving the hands of a young beginner can do. During her very first session, her upper lip took a blow from a disc that a first grader grip locked and threw 90 degrees to the right. AnDyke had to leave the session and seek medical attention. Ultimately, though, she's happy that the injury happened early and to her and not a student.
"I feel so lucky today that that happened in my very first attempt," AnDyke said. "Now, I'm obsessed with safety. When you go through Uplay's teaching guide, safety is probably repeated on every page."
Uplay shares its well-tested, safe brand of disc golf education with all age groups, making a point to split its time evenly with students in elementary, middle, and high schools. It also works with schools serving children of various socioeconomic backgrounds, from Title I institutions to private academies.
Magic Moments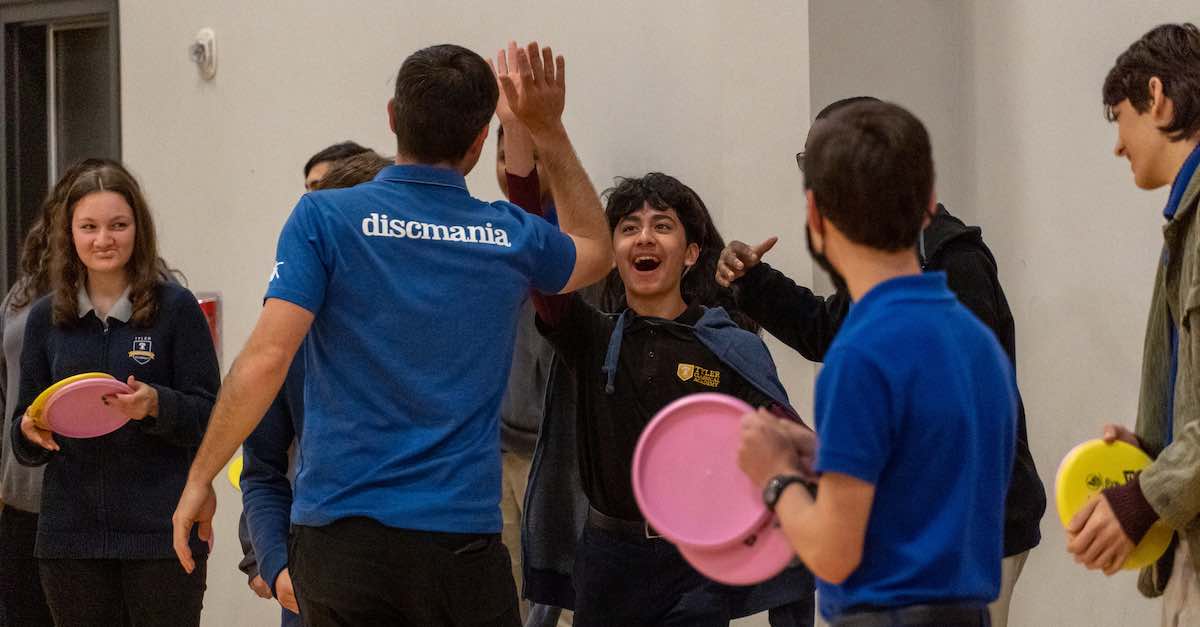 For AnDyke, there are few single moments that stand out as highlights of her experiences with Uplay. What stays with her most is a collage of all the joy she has witnessed disc golf bring to kids of all ages.

"You see a kid just explode and start bouncing around when they hit the basket first time, and they're smiling," AnDyke said. "That smile is the same thing you or I felt when we realized we loved disc golf, but I'm watching it happen, and it's at mass production, and it's just so cool."
She's also noticed that disc golf's huge growth over the last two years has resulted in more kids being familiar with disc golf and excited to learn about it. School staff are sometimes even familiar with the high profile pro players who often volunteer at Uplay sessions.

"We're at a high school in Massachusetts and some teachers recognize James Conrad in the gym," AnDyke said. "The P.E. teachers had no idea – just a pretty awesome group of people working with their kids, making them smile, having a good time. Then, during a break the math and science teacher pull them down the hall and show them The Holy Shot – when the teachers realize who their students are learning from, they're just blown away."

But the current crown jewel in AnDyke's treasury of Uplay memories is one she wasn't actually there to see.
Recently, a day after Uplay was at Tyler Classical Academy in Tyler, Texas, touring pro and Uplay collaborator Ella Hansen was filming a promotional video at a course near the school and noticed a young person and his mom. The disc the boy had was the one he received from Uplay the day before, and he was doing his "funwork" (the organization's term for "homework"): Showing a family member what he learned and how they can play the sport, too.

"It's the best testimonial I have," AnDyke said. "It shows everything is actually working. They are actually connecting with their loved ones through disc golf. When you empower a kid to teach someone older than them, and you hear that they're spending time outside doing something healthy – now we're winning, now the world becomes a better place."
Keep Up with Uplay Through 2022
As we mentioned before, we plan to catch up with AnDyke throughout this year to see what milestones her organization reaches and how its goals expand.
So far this year, Uplay has traveled to schools near Disc Golf Pro Tour events, spending time with students before the tournaments and offering them free admission as spectators if they can make it to the events. That model will continue throughout the year, and Uplay has other big plans in store, too.

If you don't want to miss updates about Uplay's progress, consider subscribing to UDisc's newsletter.


Author's note: AnDyke emphasized throughout our interview how important Uplay's partners, which include DiscDot, the Disc Golf Pro Tour, the Disc Golf Network, Discmania, Infinite Discs, Trash Panda, and us here at UDisc, were to the organization's continued success.