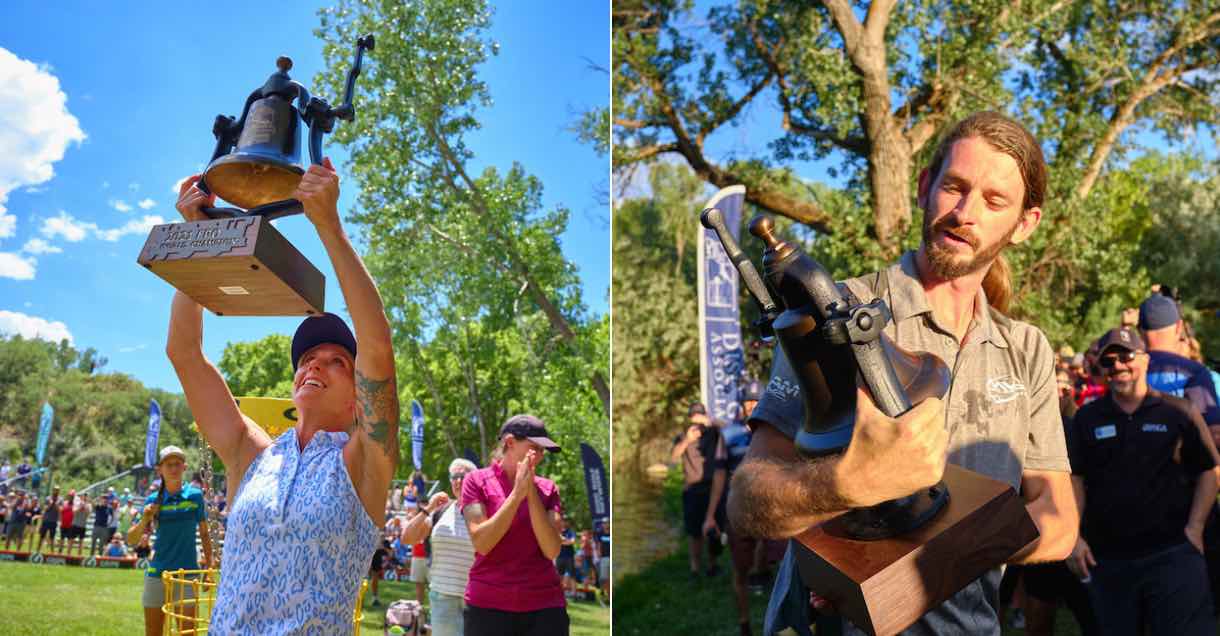 The 2021 PDGA Professional World Disc Golf Championships were in Ogden, Utah, from Tuesday, June 22 to Saturday, June 26, 2021.
It had been two years since the disc golf community saw world champions crowned and it was ready to end the drought. Ogden, which is best known in the disc golf world for hosting the Utah Open (a Disc Golf Pro Tour event 2017-2019), had been planning the event for a long time and couldn't wait to play host to the world's best disc golfers. And with 12 months to build up anticipation for Worlds, the players were very ready to compete.
Ogden showed off its two signature and vastly different courses along with the dramatic backdrop of the Wasatch Mountains that's unmatched anywhere else on tour. The scenery and courses produced one of the most compelling world championships in recent memory. With multiple players tightly packed near the top in both Open and Open Women, the final day of competition was intense to the end in both divisions and produced one shot destined to live on in disc golf legend for many years to come.
Learn more about the 2021 Worlds below, where we fill you in on what happened, the courses, past highlights in Ogden, how to watch the action, and more.
What Happened at the 2021 Disc Golf World Championships?

You can find individual scores on every hole, in-depth stats, and more at the UDisc Live results page for the 2021 PDGA Disc Golf World Championships.

If you'd like to know the winners and runners up at every Worlds, you can find that information in our pieces covering every Open disc golf world champion and every Open Women disc golf world champion.
OPEN
Who won the 2021 Pro Disc Golf World Championships in Open?
James Conrad
won after a one-hole playoff. He had a score of 39-under par in regulation.

Who shared the podium at the 2021 Pro Disc Golf World Championships in Open?


2nd  
Paul McBeth
came in second after a one-hole playoff. He had a score of 39-under par in regulation.
3rd
Nate Sexton
with a score of 35-under par

What happened at the 2021 Pro Disc Golf World Championships in Open?


James Conrad won the 2021 PDGA Professional Disc Golf World Championship thanks in part to one of the most spectacular disc golf shots ever thrown.
2021 Worlds was filled with so many storylines, leaders, and near-leaders in the Open division that touching on everything in a brief recap would be nearly impossible. So here we focus on events from the last round.
Going into the fifth and final round of 2021 Worlds, players were seeing the very wooded
Fort
for the third time and second day straight. The course's tight fairways provided ample chances for significant score swings and had kept any one player from fluffing a comfortable cushion the day before.
As the final round began, McBeth – who had jumped from chase card to top of the leaderboard in round four – held just a one-stroke advantage over three
players who were all tied for second and playing with him on the lead card: Conrad,
Kevin Jones
, and
Calvin Heimburg
. On the chase card, Nate Sexton was within two strokes of McBeth while
Chris Dickerson
was within three. With so many players so tightly packed, the stage was set for a tense ending to the tournament.
Until the par 5 hole 9, McBeth was looking rock solid and had increased his lead to two strokes over his nearest competitor. To that point, even when his shots had been off, McBeth had found a way to at least save par (including canning a 60-foot/18-meter putt on hole 5). But on hole 9 – a hole he'd eagled the day before – McBeth hit the first available tree from the tee and didn't find a way salvage more than a bogey. That was the worst score taken by any player near the top of the leaderboard, and it put McBeth in a tie for the lead with Dickerson and allowed Conrad, Sexton, and Jones to all pull back within one stroke.
But McBeth remained unrattled. He birdied the next hole, didn't take another bogey in regulation play, and went on a run of birdies that spanned from hole 13 to hole 17 and included making three Circle 2 putts. It was a pace that only Conrad managed to keep up with. Unlike the others trying to chase down McBeth, the lanky
2019 USDGC Champion
never cooled off or took a large number on any hole on the back nine. Through the first eight holes of that stretch, he went 6-under par, nailing two C2 putts to help do it.
By the time the lead card stepped up to 18, it was clear that – barring complete disasters – the only battle left for the title was between McBeth and Conrad. McBeth led by one stroke and had the box on the tricky par 4 that included a water carry, a mandatory, and a green with very tight OB lines around it.
McBeth's first shot nearly skidded into an OB area but stopped just short, staying safe in what was a fairly ideal landing zone. Conrad knew he needed to have a good tee shot to put the pressure on McBeth, and...he didn't get it. His shot nailed a tree on the far bank of the water carry and nearly bounced back into the OB water. He stayed safe but was in no position to go for birdie position from his lie.
Conrad put his second shot 250 feet/76 meters from the pin in a spot where he still had to navigate around a mandatory. Commenting on Conrad's position in a
later interview
, McBeth said that he "didn't think that throwing that in was possible." Based on that assumption, he decided to play the hole for an easy par and lay up rather than risk an OB penalty if he misfired when running the green for a birdie look. With Conrad needing a miracle to do any better than par, McBeth believed he just needed par to take home his sixth world title.
But when Conrad threw his third shot, the miracle happened. Dubbed "The Holy Shot," Conrad's anhyzer hit low, right-side chains and stayed in the basket to give him the extremely improbable birdie he desperately needed. Pandemonium ensued, but when it finally calmed, McBeth laid up for par, resigned to taking his chances in a playoff.
The playoff was on the island hole 16. Conrad had aced the hole during the tournament's second round and, using his ace disc, he teed off first and put his shot on the island and was left with an easy birdie putt. McBeth hit in-bounds but bounced into the OB water. He missed his subsequent long-range putt from the drop zone, allowing Conrad to putt stress free to win the playoff and his first world title.

Standout stats:


The 2021 Worlds will be forever remembered as a huge moment for Conrad, but one of the craziest stats that came out of the event is that it marked the ninth time in a row that McBeth has either won or been runner up at Worlds. Since his first championship in 2012, he's never placed lower than second.
OPEN WOMEN

Who won the 2021 Pro Disc Golf World Championships in Open Women?



Who shared the podium at the 2021 Pro Disc Golf World Championships in Open Women?



What happened at the 2021 Pro Disc Golf World Championships in Open Women?


Catrina Allen won in a tight battle with Paige Pierce that came down to the final hole.

Like in Open, going over the ups and downs of five rounds would be too much to cover here, so this recap focuses on the women's final round of 2021 Worlds.

At the start of the women's last round at The Fort, Catrina Allen led Paige Pierce by one stroke. With third place Lisa Fajkus six strokes behind Pierce, it seemed like the race for the championship had only two horses in it with a chance of winning.

Allen opened up her lead to two on hole 1 with a massive 42-foot putt for birdie while Pierce parred, and that lead held through hole 2. But after that, the round featured a flurry of runs and missteps from both Pierce and Allen. From holes 3 to 11, Allen and Pierce were tied three times and exchanged the lead twice. Coming to hole 12 they were tied and stayed that way through hole 14.

The stalemate broke on the par 3 hole 15 when Pierce parked a drive and Allen landed in C2. Allen's birdie bid hit the cage and Pierce calmly collected a birdie to take a one stroke lead with three holes to play.

On the island hole 16, both Pierce and Allen missed the island and had to go to the drop zone that was 60 feet/18 meters from the basket. Stunningly, Pierce made her putt for the par save. Allen didn't manage to fight fire with fire and bogeyed the hole, giving Pierce a two stroke advantage with two holes to play.

Notably, Fajkus had been quietly crawling her way up the leaderboard all this time, and she was the only person on the lead card who landed safely on the island. Had she made her birdie putt, she would have been tied with Allen at 10-under par. Instead, despite having 100% C1X putting to that point in the round, Fajkus missed three consecutive putts from inside the circle to take a triple bogey on the hole.

On the par 4 hole 17, neither Pierce nor Allen had ideal drives. But while Allen put herself in position to take an easy par, Pierce erred significantly on an upshot and had to settle for a bogey. Pierce's lead was just one stroke approaching the final hole.

Unlike on hole 17, both Pierce and Allen had solid tee shots on the par 4 18th. Allen's second shot came first, and she threw a beautiful and highly technical anhyzer that landed just in-bounds, leaving her a 30-foot/9-meter putt for birdie. Pierce opted to lay up from her position to leave what should have been an easy upshot to take her par.

However, what was meant to be a smart play led to disaster. Pierce's "easy" upshot went OB and left her with a long C2 putt to even salvage bogey and a chance at a playoff should Allen miss her birdie putt. But Pierce missed that putt, and Allen was able to lay up and then tap in a par to earn her second world title.

Standout stat:


Over the course of the tournament, Allen went OB eight times while Pierce did so 13 times. No one else who went OB as many times as Pierce placed higher than 25th. In a tournament that was decided by a stroke, the five stroke difference in Allen and Pierce's OB stats provide tasty food for thought about how much players should think not just about birdies but avoiding OB when they step up to shots.
The Courses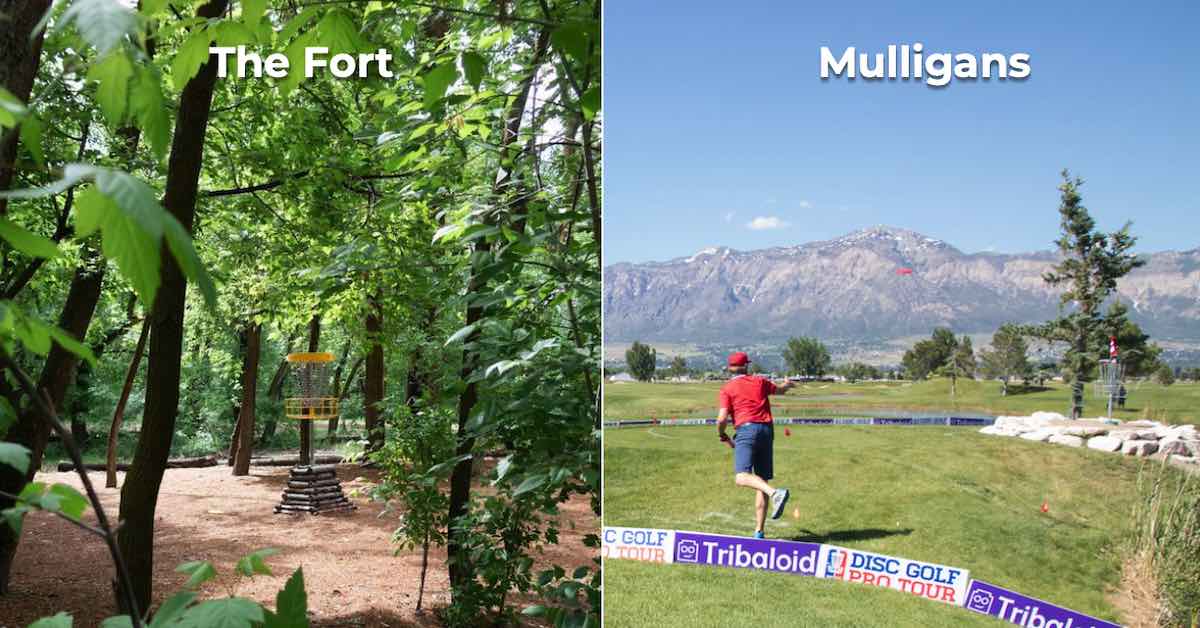 The two courses at the 2021 Pro Disc Golf World Championships were very different, with one extremely wooded and technical and the other open and full of water hazards. Learn more about the two courses below:
Open Rounds 1 & 3 and Open Women rounds 2 & 4


Length: 7,989 feet/2,435 meters (Open) and 7,065 feet/2,153 meters (Open Women)
Par: 58 (both divisions)
Description: The tone and style for this course is set on hole one where players step up to the tee pad and get to unleash their most powerful drives on a 711-foot/217-meter par 4.

Built on the Mulligans Golf Course, this course features wide open fairways without many obstacles or tight shots. Hitting lines isn't as important as how and where the disc comes to rest.

The main difficulties come in two forms.

First, the strategic pin placements bring OB water hazards and sand traps into play on many of the approaches to the green, making accuracy the most important factor on most holes. This also means any big skips on the short grass or roll-aways on sloped greens could result in more punishment than just a long comeback putt.

Second, being so open, the wind can play a big factor. If the wind is calm, this course can give up a lot of birdies and players will shoot very well. If the wind picks up, the hot rounds will be few and far between as approaching baskets while avoiding nearby hazards will be significantly more challenging.
Other Notables:


-With water hazards in play on half of the holes, Mulligans has grown to love their team of disc-retrieving volunteers who traverse the ponds looking for lost discs to return to the players. They're referred to as The Waterdawgs and they'll be out in force during the World Championships making sure they can get prized discs back to the players as soon as possible.
-Find out which holes at Mulligans have historically been the biggest score separators in our post "
The Holes Most Likely To Make Or Break Worlds Dreams
."

Open Rounds 2, 4, & 5 and Open Women Rounds 1, 3, & 5


Length: 8,373 feet/2,552 meters (Open) and 7,413 feet/2,260 meters (Open Women)
Par: 63 (both divisions)
Description: Of the two courses that hosted 2021 Worlds, this one is far more technical.

Most of the fairways are wooded, requiring navigating tight lines to reach positions likely to produce birdies. There is also the Weber River that comes into play on several holes at the course.

If you throw OB into that body of water, chances are you'll never see that disc again, adding even more pressure to each shot. Apart from the river, The Fort doesn't have much OB to worry about (except at one critical place we get to later), but the rough off the fairways is just as punishing. Missing a line on the tight holes 4 and 5, for example, isn't going to end in a scramble to still steal a birdie. In fact, players in that situation will need to work hard just to save par.

The Fort is also the longer of the two courses the pros will face and the most demanding as far as shaping shots and playing a clean round. It will challenge the players with the only par 5 of the entire tournament: the 725-foot/221-meter hole 9.

Hole 18 is the only hole where what many would think of as "artificial" OB comes into play. The last section of the hole is roped off to create a tight fairway and green, which make the tournament's final hole capable of generating big score swings likely to keep a leader on his or her toes until the very end.
Other Notables:


-The signature and most photographed hole on the course will be the scenic hole 16. The 319-foot/97-meter par 3 is said to be the place where the founders of Ogden stood to access the surrounding landscape and layout the entire city.
-You can learn more about The Fort in our post "
Extraordinary Courses: The Fort in Ogden, Utah
."
Past Highlights
Some extraordinary moments were created at the 2021 Worlds. Two of the most fantastic can be found in our article "11 Important Disc Golf Shots You Should See."

Below are highlights not from Worlds but past Utah Opens, an event played at the courses that hosted 2021 Worlds.
2017: Wysocki's Walk-Off Ace
A wire-to-wire victory in 2017 by a two-time World Champion isn't too shocking. But the manner in which Ricky Wysocki managed to cement his Utah Open win the first year it was part of the DGPT was.
The event was played entirely at Mulligans that year, and Josh Anthon hadn't trailed Wysocki by more than a few strokes for the entire tournament. After hole 11 on the last day, he had actually caught up completely. The two duked it out for the next several holes with Wysocki eventually regaining a two-stroke lead heading in the final hole.
With the tee pad honors following a string of five straight birdies, Wysocki stepped up to attempt to shift all pressure onto Anthon. All Wysocki needed was a birdie and the tournament would have been over, but a birdie on hole 18 at Mulligans is no easy feat. It's a high-risk, high-reward finishing hole with an island green and a basket placed precariously on the edge of a slope leading directly into a pond. Historically, it has produced the most scoring separation of any hole the Open division plays at Mulligans.
Unfazed, Wysocki delivered a shot resulting in a TKO:


2017: Weese and Allen Go to Sudden Death
Jessica Weese and Catrina Allen's three-hole playoff for the 2017 Utah Open title was exciting enough, but the entire event was a highlight reel for these two.
In round one, they tied for the hot round.
In round two, they tied for the hot round.
So naturally in round three, they tied for the hot round.
Allen took a brief lead in the final round, but Weese came right back to knot things up again. It was only right that the winner would be determined via a playoff.
After two playoff holes, Allen saw her drive land in Circle 2, but in the OB hazard by no more than a few inches. This allowed Weese to play safe and layup underneath the basket in two shots to guarantee her par. Weese's play forced Allen to run her putt from Circle 2 to extend the playoff.

Watch the final hole play out with coverage from The Disc Golf Guy:




2019: The Fort Makes Its Debut

The Fort first opened in 2018 and but has only been a part of the 2019 and 2021 Utah Opens. And between 2019 and 2021, it underwent a lot of work and changes to make it even more well-prepared to test the world's best.

The Fort being a contrast to Mulligans isn't an accident. The team behind the Utah Open, led by this year's Worlds tournament director Jade Sewell, knew it needed a second championship-level course to have a shot at hosting Worlds. Ideally, that course would offer a change from to the wide-open Mulligans so that players would need a greater variety of skills to win an event played on both courses.

After convincing the local government of the value of adding a new venue that could attract even bigger events than Mulligans alone, the team got permission and funding to develop a course in wooded acreage in a public park that was being underused. It took a lot of volunteer effort on the part of Sewell and many other local disc golfers, but The Fort has quickly become beloved. Disc golfers with UDisc have ranked it Utah's best disc golf course and it's also #63 on our 2021 list of the world's best 100 disc golf courses.

You can learn more about The Fort's history in our post "Extraordinary Courses: The Fort in Ogden, Utah."
How to Watch the 2021 Pro Disc Golf World Championships
When were the 2021 Pro Disc Golf World Championships?


Tuesday, June 22 through Saturday, June 26.

Live Scoring


The scores and results of the 2021 Pro Disc Golf World Championships are on
UDisc Live
. See shot-by-shot scores and a smorgasbord of stats.

Watch


As has become the norm in 2021, live coverage for this elite professional event was broadcast exclusively on the Disc Golf Network. Next-day coverage of condensed, shot-by-shot rounds of the leading players was produced by various disc golf media companies and made available on their YouTube channels. Find all the information you need below.
If you're on mobile, swipe left to see the full table.