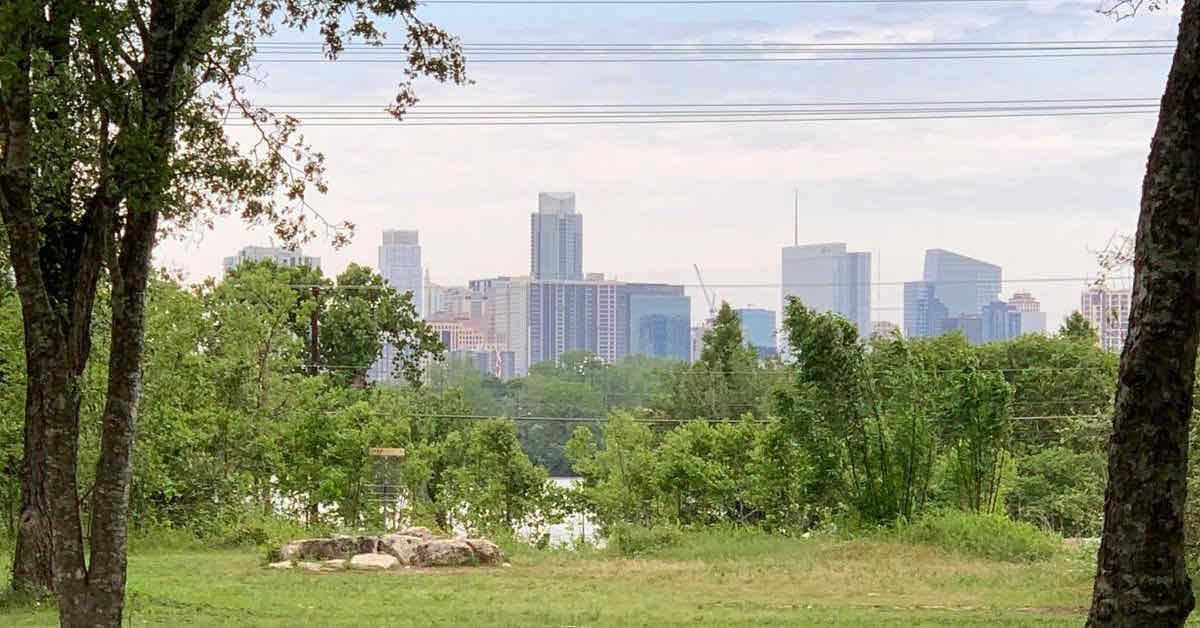 Austin Disc Golf Is Capital!
Austin, Texas, is the eighth best disc golf city in the United States.

Texas' capital is known for many things: having one of the largest universities in the U.S. (the University of Texas at Austin – AKA the University of Texas), a vibrant music scene, and, of course, keeping it weird. Now it can add officially being one of the nation's best disc golf cities to that list.
Clear and recent evidence that the Austin area is a bona fide disc golf wonderland is that organizers of the 2021 National Amateur Disc Golf Tour Championship chose it to host their huge event, which included over 1,200 disc golfers from all over the country.

Below we explore the area's disc golf history, what the best disc golf courses in and around Austin are, and how to find disc golf leagues (called "minis" 'round these parts) as well as disc golf gear.

Additionally, we give you tips on great places to get a drink or a bite to eat in between and after rounds and some highlights for off-the-course sightseeing and activities.
All Top 10 Disc Golf Cities
Want to see who else made the list? Check out Top Disc Golf Cities – USA: 2021, our master page for all things Top Cities.
Austin's Disc Golf Stats
Austin-Round Rock-Georgetown Metropolitan Statistical Area, Texas
Overall Disc Golf City Rank:
8


Weighted Course Count Rank:
7


Weighted Course Density Rank:
21
The Top 10 Disc Golf Cities – U.S.A. rankings are based on the number, quality, and density of courses within nearly 400 metro areas in the country. The most populous cities within these metro areas are featured in posts' titles. Cities' positions hinge entirely on course information and reviews from players with disc golf's #1 app, UDisc, not the opinions of UDisc's staff.
If you'd like to learn more about the system behind these rankings, give "How The Top Disc Golf Cities – USA 2021 Rankings Worked" a read.
Austin's Disc Golf History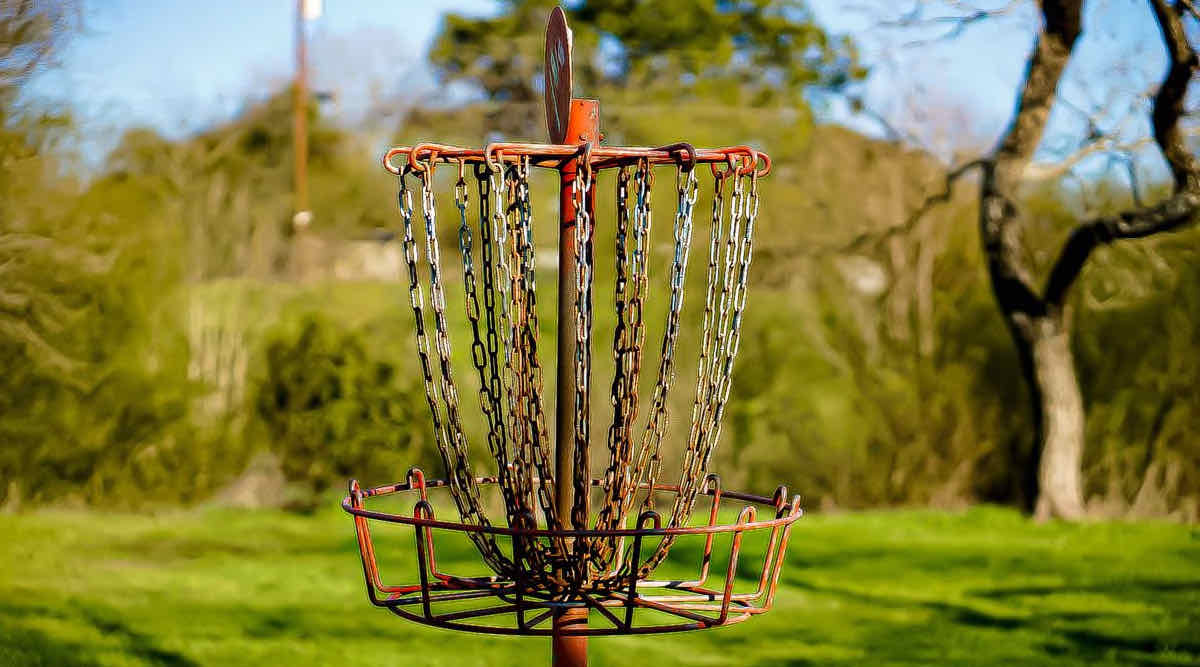 In disc golf terms, Austin's history goes pretty far back. Not very long after the invention of the disc golf basket, the city got its first permanent disc golf course: Bartholomew Park, established in 1982. Even before that, Austin was hosting its signature event, The Annual Waterloo Disc Golf Classic. Both the course and tournament still exist, and Bartholomew Park is actually Texas' oldest extant permanent course.
The energy that started Austin's disc golf scene came in large part from local Frisbee enthusiasts: people into freestyle, guts, and more. These disc lovers created an object disc golf course that ran through parts of the University of Texas campus and the nearby Waterloo Park years before Bartholomew was established. They also formed Austin's first official flying disc community, Lone Star Frisbee.
The main factor behind the first big expansion of Austin courses, however, was someone many longtime disc golfers will recognize: John Houck. Known nowadays for being an excellent and prolific course designer, Houck started his design career in Austin. According to Gordon Kelley, the president of Austin's Waterloo Disc Golf Club (successor to the defunct Lone Star Frisbee), Houck's ability to move things along for disc golf with the city government during the late '80s and early '90s helped Texas' capital reach a metropolitan milestone.

"Having him being such a driving force with the city helped us be the first major city in the country with five courses in public parks," Kelley said. "Back then, five courses in public parks was a huge deal."
But by the mid-90s, Houck had pulled back some from the local scene to focus on other disc golf business ventures, Lone Star Frisbee had been gone for a number of years, and the momentum for expanding disc golf offerings within city limits stagnated. However, the area's fervor for disc golf didn't die down.
"With the city of Austin as kind of a base, everything around took off," Kelley explained. "A lot of the cities and areas around Austin began adding disc golf courses, and private courses started popping up too."

By the late 2000s, things were moving again in Austin. The Waterloo Disc Golf Club (WDGC), founded in 1999, had found its feet and Houck protege Mike Olse was hard at work designing and redesigning area courses – including local highlights Circle C (redesign) and Roy G. Guerrero (original). Houck, too, worked in the Austin area again, adding two courses in 2009 and more in the years since.
Today there are almost 60 courses in the official metropolitan area Austin is a part of, and various disc golf organizations are working to improve them and grow the sport even further. Though the WDGC is the region's largest disc golf club, Kelley says all the organizations based around the sport in Central Texas work together to strengthen and expand the community.

Also, in case you want to know what all the "Waterloo" stuff is about, it was Austin's original name before it got its current moniker in the 1830s.
What's Disc Golf Like in Austin?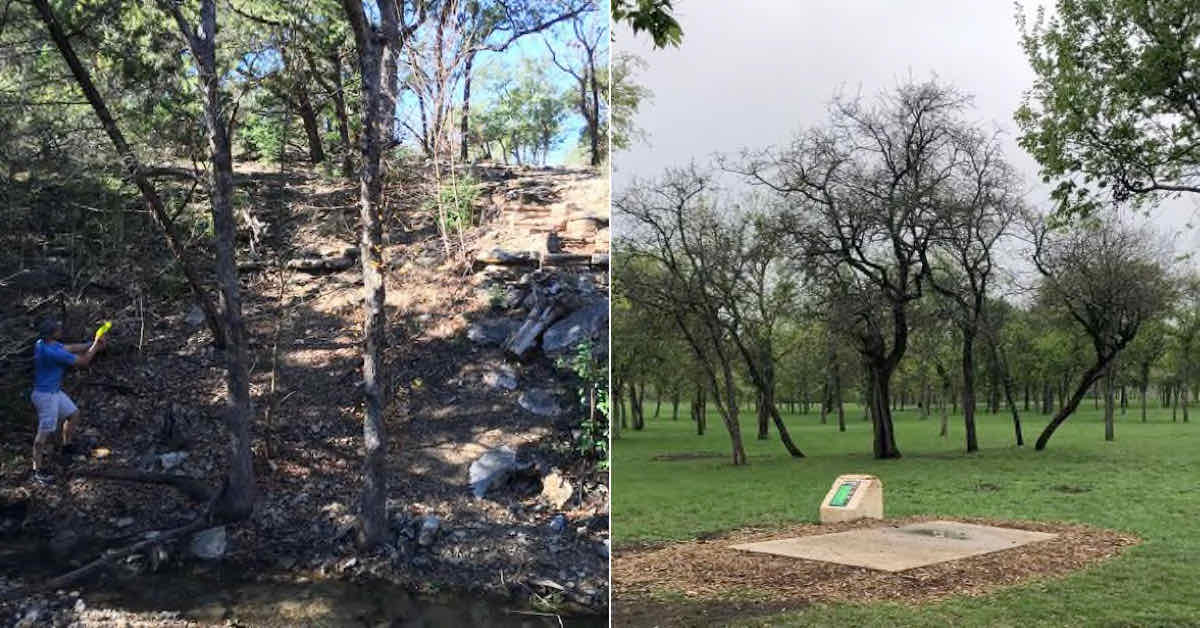 You'll find two distinct topographies in the Austin area. Go west and you're in the rolling Texas Hill Country, where you can expect courses with frequent elevation change and a sometimes rocky terrain. In the other direction, things flatten out (though minor elevation changes still come into play every now and then).

No matter where you are in the region, designs tend to keep players on their toes by offering a blend of open and wooded holes of varying distances that demand a wide range of shot shapes. Additionally, creeks and other small water hazards are frequent – as are nature's reminders that you're in Texas, which has plenty of flora and fauna you don't want to mess with.

"Rough and prickly might describe both our eastern and western courses," Kelley said.

When making your way to a disc in many roughs, you'll need to be on the lookout for cactus needles, poison ivy, and snakes.

But don't be deterred! The variety and quality many of the area's courses offer are well-worth braving a few nuisances.
Austin Disc Golf Course Highlights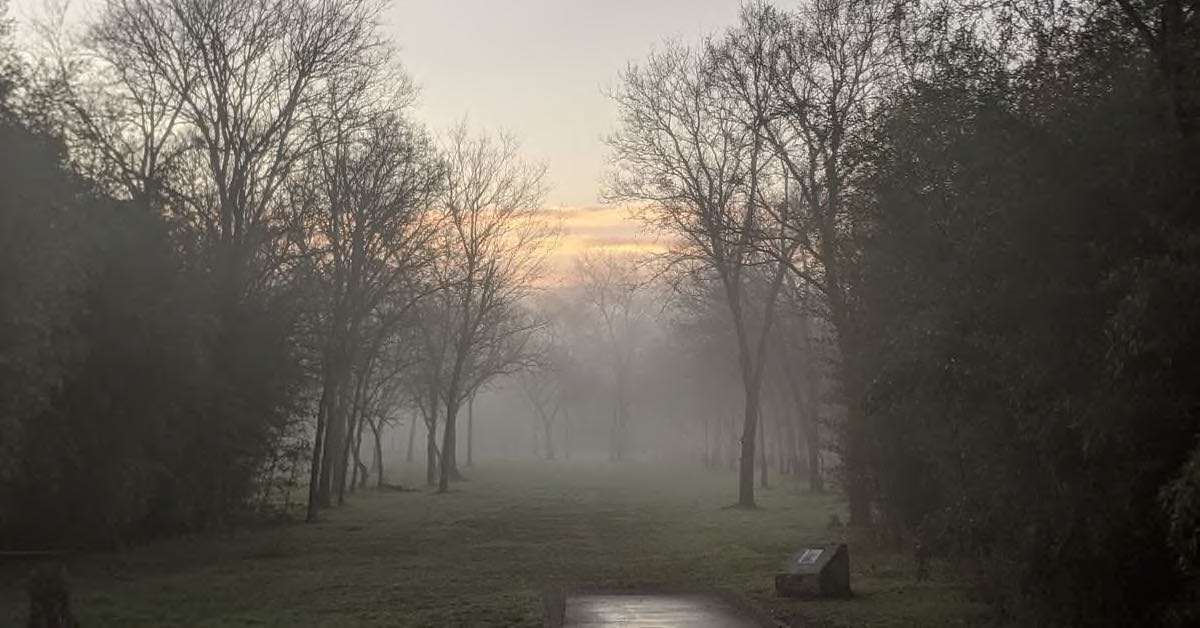 To see photos, hole distances, and reviews for each course, just tap or click on its name, which is linked to its UDisc Courses page.
Roy G. Guerrero: For experienced disc golfers up for a challenge, Roy G. Guerrero has to be on your Austin disc golf itinerary. It's just one of two tracks within Austin proper that's rated over 4.5 of 5 by disc golfers with UDisc, and a word frequently used in reviews is "amazing." Trees are a constant, but the fairways are well-defined. Being on the eastern side of the city, it's relatively flat, but the design often makes use of branches and canopies to force players to contend with ceilings of varying heights. Be very aware that this course – especially the longer and more challenging blue layout – is not meant for beginners. Even the shorter red layout isn't something you'd want to take novices out on.
Circle C: The other Austin course rated over 4.5 of 5 on UDisc, Circle C was first established in 1992 but has been redesigned to make it more sustainable in the face of ever-increasing player traffic and changes in park use and development. Its west Austin location means elevation is a factor, and a few of its fairways are a bit tighter than Roy G. Guerrero's. However, many of its easier red tees won't demoralize newer players as there are a number of holes under and just above 200 feet/61 meters. More experienced players can tackle the course's harder, longer blue tees.
Other highlights
1. The MetCenter was commissioned by a private business but is free to play. It was designed by John Houck in 2009 and redesigned by Mike Olse in 2020.

2. About 25 miles/40 kilometers from Austin's center is the privately-owned Flying Armadillo, which is pay-to-play ($5 all-day play on weekdays, and $10 on weekends). It has a full 18-hole course that was #60 on the 2021 list of the World's Best Disc Golf Courses plus a ridiculously fun par 2 course made to be like the craziest putt-putt you've ever played, but for disc golf. The par 2 course is so well-loved, it is actually the highest-rated course in Texas (we opted to leave it out of the World's Best rankings). Learn more about the efforts that went into the par 2 course in our post "Extraordinary Courses: The Armadillo, Ghost, And Mine."

3. Want more suggestions? See all disc golf courses in Austin and surrounding communities on UDisc Courses.
Disc Golf Shops in Austin
The city's oldest brick-and-mortar disc golf equipment retailer is Disc Nation. It relocated to Austin from the east coast in 2006 and the same family owned and operated it until they sold the business a few years ago to a pair of native Austin disc golfers who still run the enterprise today. If you're looking for gear in south Austin, it's the go-to spot.
There's also a newer disc golf shop in north Austin called The Drop Zone. Note that when we published this, the store was only open on weekdays.
Austin's Play It Again Sports stores offer more places to find gear, discs, and advice, and you can find their locations in UDisc Stores.
Austin's Online Disc Golf Community
If you have disc golf questions for those living in and around Austin, join the Facebook group Fellow Disc Golfers. There are tons of more specific groups for the area, but it's a good bet that someone on Fellow Disc Golfers will be able to direct you to the right one based on what you're looking to learn.
Disc Golf Leagues & Events in Austin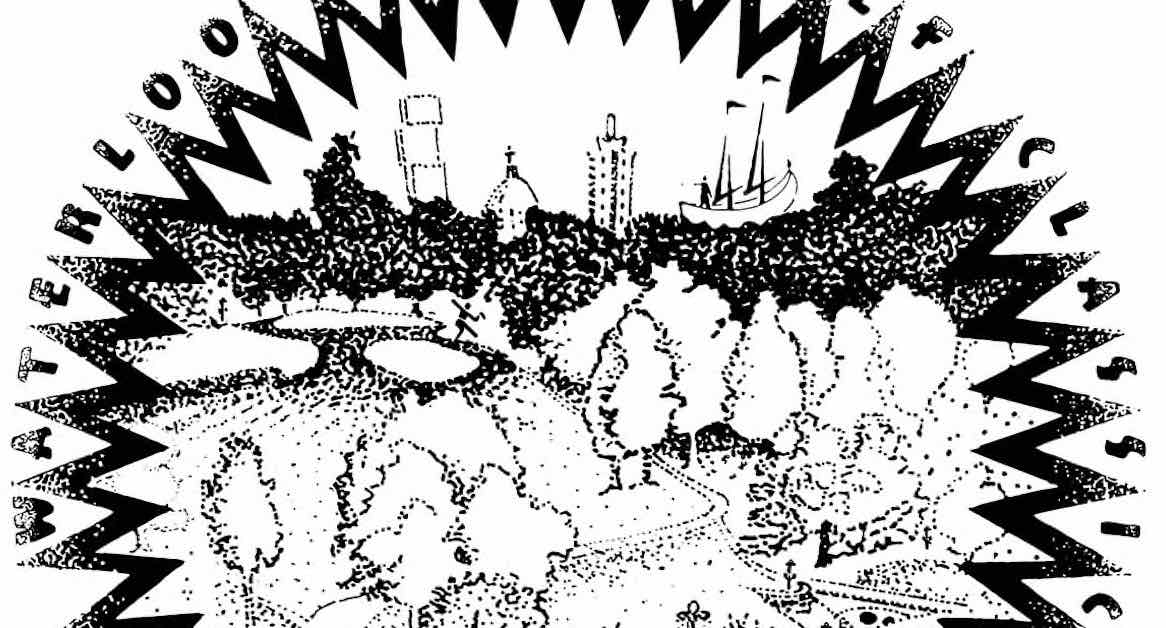 Leagues: In Texas, what many disc golf communities refer to as "leagues" are typically called "minis," and the Austin area and Central Texas generally have lots of minis going on year-round.

Some of these use UDisc Leagues for their scoring system, which makes them simple to find. Just search for Austin, Texas, on UDisc Leagues, sort by date, and you'll be able to see the dates, times, and locations of upcoming minis (if you use the earlier link, we've already done all the sorting for you).
Another resource for mini information is the Facebook group Austin Texas Area - Weekly Disc Golf Event Schedule. However, it is best to check for recent posts or verify dates and times with minis' organizers as some events float around among courses or change times due to daylight availability.
Alternatively, you can post a question about upcoming minis in the aforementioned Fellow Disc Golfers Facebook group.
Events: There is no shortage of tournament play in the Austin area. If you want to play an event with a very long tradition, though, see if you can get a spot in the Annual Waterloo Disc Golf Classic, which has been held every year in Austin since the late '70s. That tournament typically occurs on the third weekend in October. To look for other events in the area, just use the "Events" tab in the UDisc app or try http://www.texasdiscgolfschedule.com.
Chow Down & Drink Up in Austin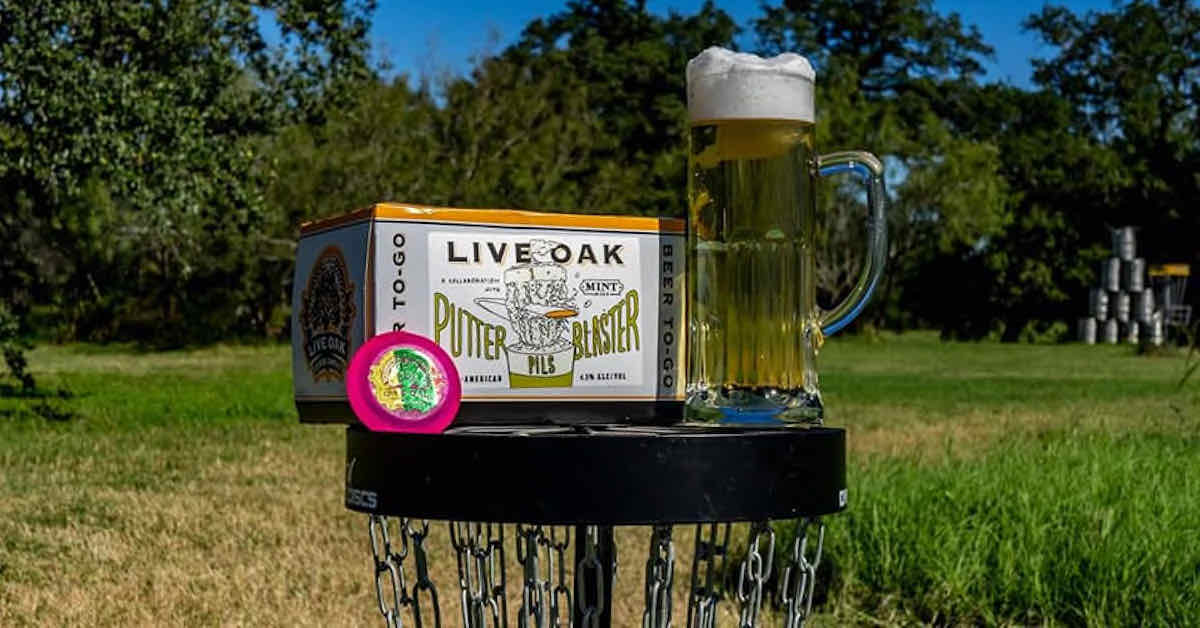 Austin is a foodie paradise, and you're likely to find some gems no matter where you are in the city. Think of our suggestions below as starting points.

If you like beer, German food, and disc golf, Live Oak Brewing Company is a must in Austin. The brewery has a 13-hole disc golf course on site, and most Fridays-Sundays, The Black Forest food truck is there serving up bratwurst, schnitzel sandwiches, and other goodies that'll make you yearn for a pair of Lederhosen. You can sometimes catch a putting league and other disc golf events at Live Oak, too. The beers are mostly classic European styles (e.g., pilsners and hefeweizen).
Austin Beerworks is also worth a visit for beer lovers. We're told it's disc golfer-owned, and it's on Hop Culture's list of the city's best breweries.
For a quick bite to eat from a homegrown franchise, find one of the many Torchy's Tacos locations. Your taco will be much more exciting than just meat and cheese with a bit of tomato sauce on top. Sub lover? Thundercloud Subs could have what you're hungry for.

Of course, Austin is in Texas, and if you're in Texas, there will be barbecue. We don't want to wade into the "Best barbecue in Austin" debate, so we'll just lead you to an extensive guide to local barbecue hot spots.

Another very Austin food option is hitting up a food truck park, where various vendors gather and diners can have their pick of creative flavors. Instead of choosing tacos or barbecue, you can just get both from different trucks specializing in each. 

One final gastronomic recommendation we have is actually outside Austin: Flat Creek Estate in a town called Marble Falls. There you'll find a winery with a restaurant and one of the area's highest-rated disc golf courses. The course is pay-to-play ($10 for an all-day pass), and you can bundle it with either a wine tasting ($20) or wine tasting and food ($40). Learn more about how this winery came to have disc golf in our post "Winemakers Invite Disc Golfers To Uncork One."
What Else Is There to Do in Austin?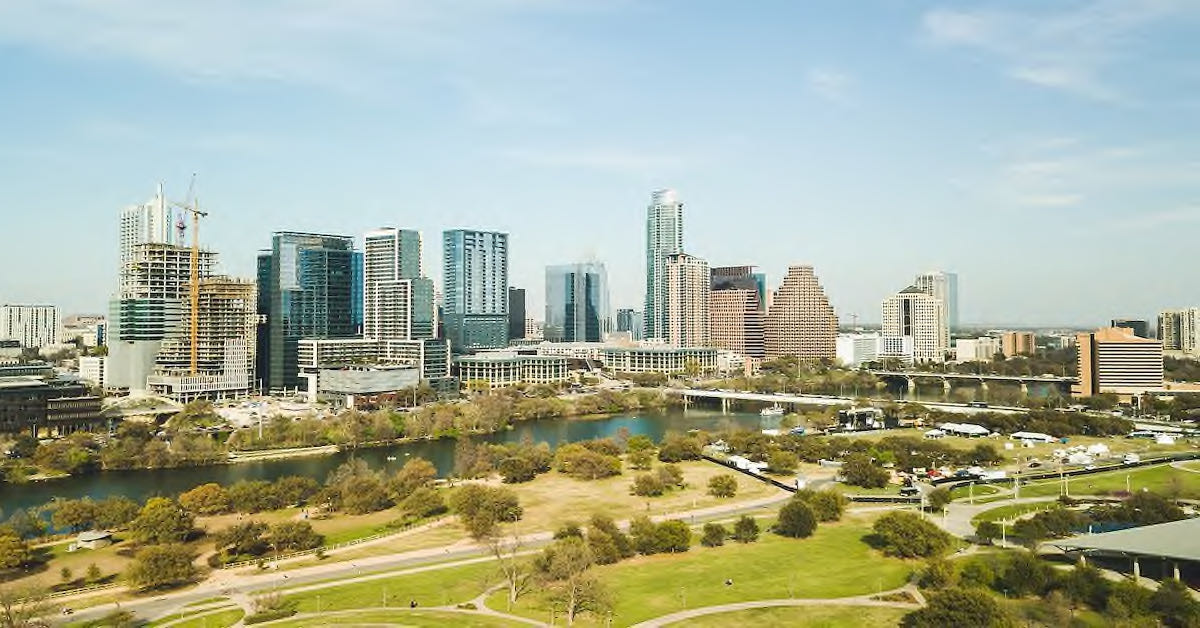 If you're looking for off-the-course entertainment, here are a few good places to go:
Restaurants, music, shopping, nightlife: You can find live music and plenty of interesting bars on Sixth Street, Austin's nightlife haven. Those more into local restaurants and independent shops should head over to South Congress.
Swim & explore the outdoors: Austin's Zilker Park is a huge green oasis filled with things to do. In the summer, the big attraction is the always-cold Barton Springs, which is a spring-fed swimming pool. There's also a large playground if the little ones are with you, a botanical garden, a nature and science center...and, well, you know, maybe a disc golf course, too (wait! how did that slip into this section?).
Family-friendly: Two places in Austin the whole family can enjoy are the Austin Zoo and a very popular interactive museum for kids called the Thinkery.

Note: A huge thanks to Gordon Kelley of the Waterloo Disc Golf Club for his help in making this post possible.