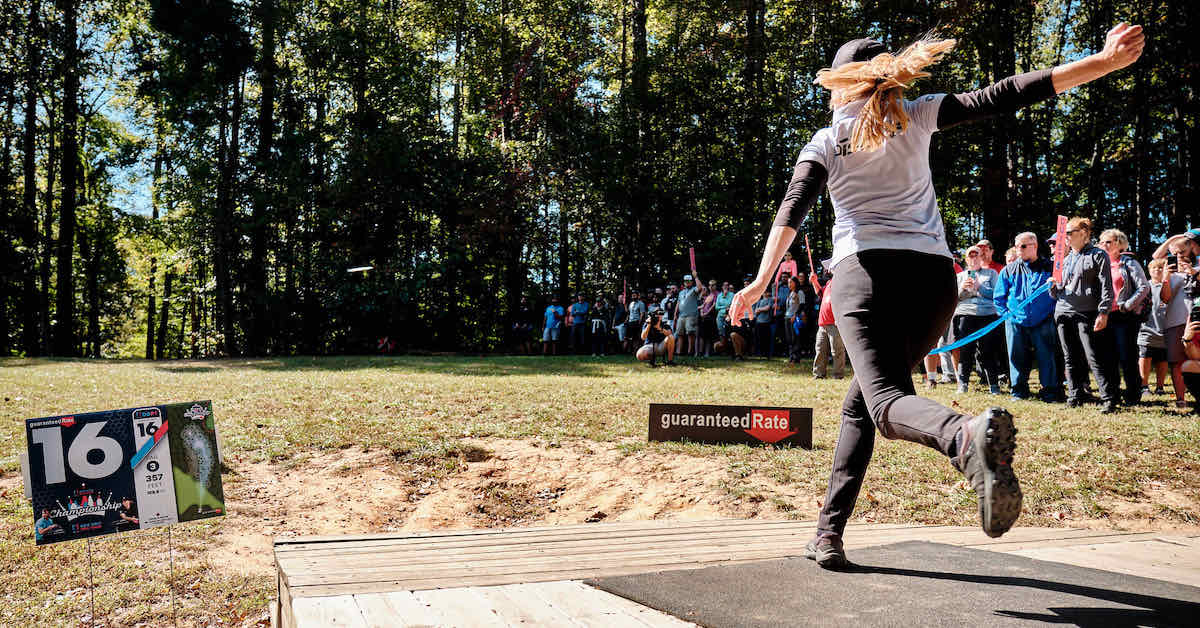 The Best Disc Golf in the Southeast
Charlotte, North Carolina, is the fourth best metro area for disc golf in the United States.

It's historical fact that in 1780 during the U.S. Revolutionary War the British General Cornwallis and his troops rode into Charlotte and encountered resistance from a small group of rebels. However, what some of the city's history-loving residents take pride in is the unverifiable legend that the group fought so ferociously that Cornwallis dubbed Charlotte "a hornet's nest of rebellion" (this is where the NBA team's name comes from).
Whether the legend is true or not, there's no doubting that the Charlotte disc golf community has grown the sport with all the buzzing energy of an insect swarm. The metro area currently boasts over 70 courses. The quality of these courses is attested to by how many high-caliber pro disc golfers – e.g. Jeremy "Big Jerm" Koling, Kevin Jones, Paul Ulibarri, Holly Finley, Michael Johansen, and Paige Shue – currently call the area home.
Below you can learn about the past and present of disc golf in the Queen City, including closer looks at some of the best disc golf courses in and around Charlotte, where to get disc golf gear in the area, and how to find leagues and tournaments. We also give recommendations for great places to get a bite to eat and wet your whistle after you've hit enough trees for one day and off-the-course attractions.
All Top 10 Disc Golf Cities
Want to see who else made the list? Check out Top Disc Golf Cities – USA: 2021, our master page for all things Top Cities.
Charlotte Disc Golf Stats
Charlotte-Concord-Gastonia Metropolitan Statistical Area, North Carolina & South Carolina
Overall Rank:
4


Weighted Course Count Rank:
4


Weighted Course Density Rank:
23
The Top 10 Disc Golf Cities – U.S.A. rankings are based on the number, quality, and density of courses within nearly 400 metro areas in the country. The rankings are based entirely on stats and not the personal preferences of anyone at UDisc.

If you'd like to learn more about the system behind these rankings, give "How The 2021 Top 10 Disc Golf Cities – USA Rankings Worked" a read.
Charlotte's Disc Golf History

Until recently, many of the milestones along Charlotte's road to its current undisputed status as a disc golf wonderland were associated with Professional Disc Golf Association World Championships (often referred to simply as Worlds), which is a roving tournament hosted in a different location each year. Charlotte has hosted the professional Worlds more than any other city: three times.

Back in 1986, Charlotte didn't even have a permanent disc golf course with baskets, but it still managed to host the fifth-ever Worlds by setting up portable targets in three area parks. The event helped local disc golfers build their relationship with the parks department, smoothing the way for the installation of permanent courses.

The first baskets went in the ground in 1989 at Reedy Creek Disc Golf Course, which was designed by local legend Stan McDaniel.

Another important event in the Queen City's disc golf saga that shortly followed the '86 Worlds was the opening of Innova East in Rock Hill, South Carolina, just south of Charlotte. Innova was one of very few disc golf equipment manufacturers at the time and is still one of the largest and most popular today. Innova East came to be because company co-founder Harold Duvall (the defending World Champion at the '86 Worlds) moved to the area from California in the late 1980s, and the business' presence has catalyzed disc golf's growth in the region ever since.

By the time Charlotte hosted Worlds again in 1997, it had a few more permanent places to play, such as Kilborne, which was installed shortly following Reedy in 1991. However, the true course explosion came in the lead-up to the 2012 Worlds, which the area's course designers, club members, and parks department began prepping for six years ahead of the event. Thanks to the work of Aaron Shindledecker, you can hear that story straight from someone who helped organize the 2012 Worlds in the documentary First in Flight: The History of North Carolina Disc Golf.
The video below is preset to start and stop at relevant sections and goes for roughly two minutes, but the whole thing is worth a watch for anyone interested in North Carolina disc golf.


If you don't have a chance to watch the clip, the gist of it is that leaders in the Charlotte disc golf community got the parks department on board with building a huge number of new courses in order to make it ready to host a mega-sized Worlds. Innova East helped make it all possible by giving the Charlotte Disc Golf Club a flexible, no-interest payment option for all the baskets they needed.

The infrastructure built to accommodate that 2012 Worlds turned Charlotte into one of the nation and world's top disc golf destinations and has also helped more and more people in the region discover and enjoy the sport over the years. The enthusiasm hasn't died down, and the metro area just keeps getting more courses (as well as refining the older ones). Charlotte Disc Golf Club Director of Operations Mark Huether said there are currently over five courses in the planning stages in the area as of the end of 2021.
What's Disc Golf Like in Charlotte?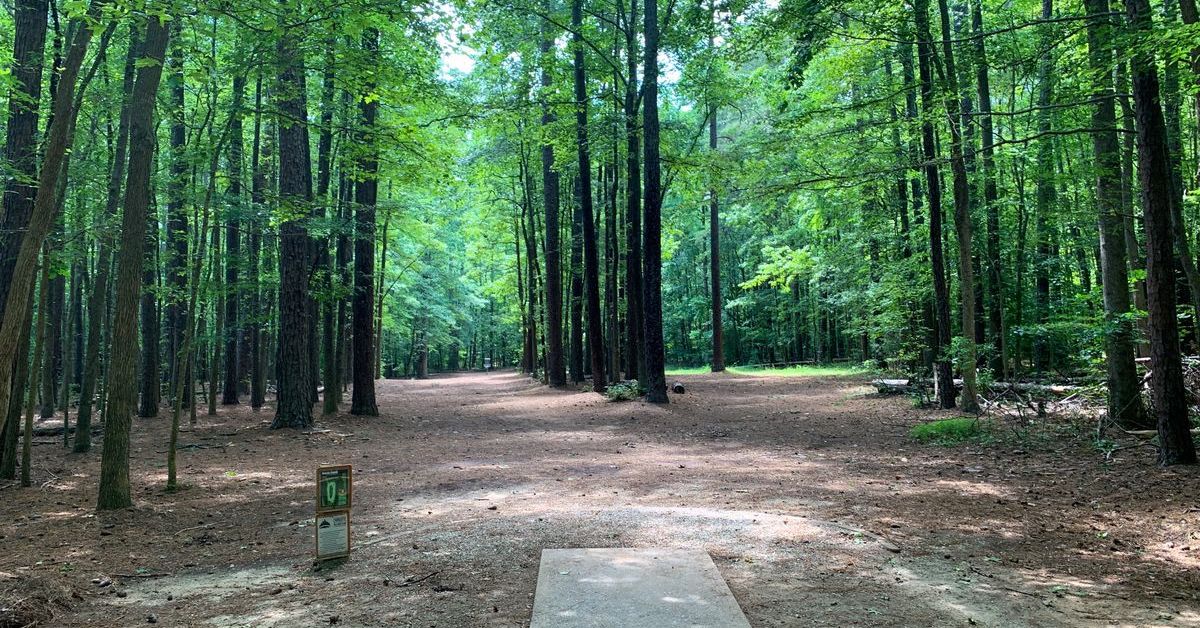 What you can anticipate from classic Charlotte disc golf is simple: trees. If you like wooded courses that demand accuracy and typically punish errant shots with bad lies rather than out-of-bounds strokes, Charlotte will be your paradise.
However, don't think that the courses aren't differentiated just because woods are the norm. The rolling hills in the area offer a wealth of elevation changes. And with the minds of three-time Masters World Champion and Disc Golf Hall of Fame member Stan McDaniel and 2018 Amateur Masters World Champion Mark Huether being behind or influencing many of the area's courses, it's no wonder that they challenge a wide variety of skills.
Charlotte Disc Golf Course Highlights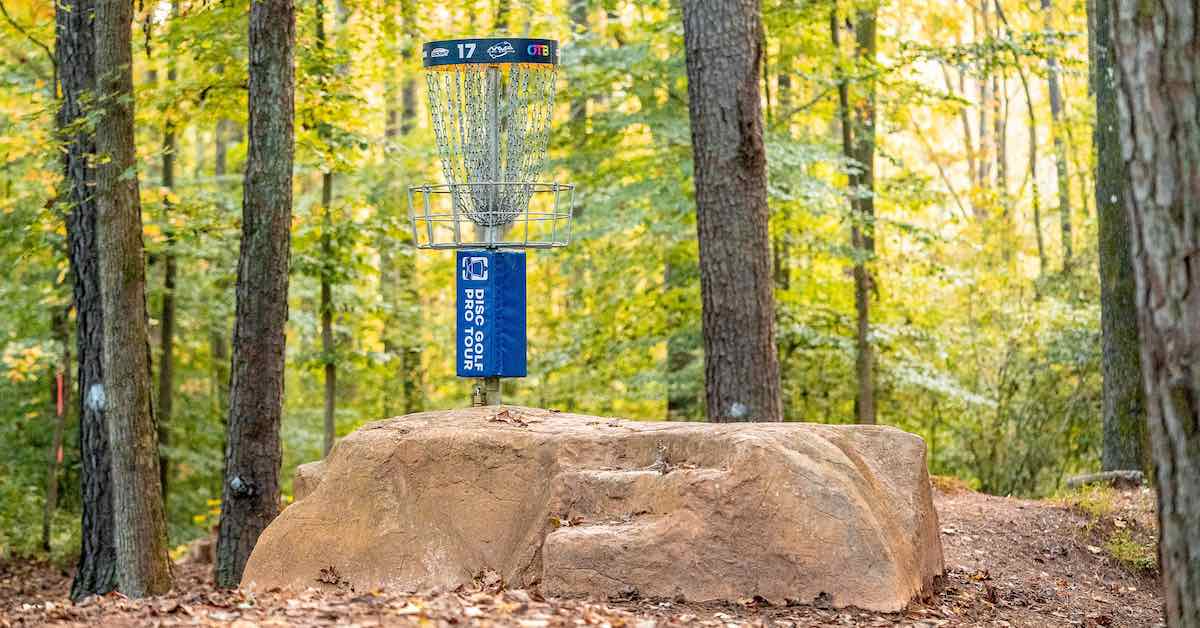 To see photos, hole distances, and reviews for each course, just tap or click on its name, which is linked to its UDisc Courses page.
Hornets Nest Park: Fans of pro disc golf will already know of Hornets Nest. For the last three years, it has hosted the Disc Golf Pro Tour Championship, where the largest payout in disc golf history was given out in October 2021.

A permanent course in Hornets Nest Park has existed since 1996 and – despite undergoing some major redesigns in recent years – it has never lost its status as a local favorite. It's clear what you should do on every hole, but executing on those demands requires constant precision. That's because though there are a few fairly open fairways, much of Hornets Nest is technical and wooded. The fairways are there, but if you don't hit them, expect your next shot to be a very tricky one. The course has longer and shorter tees, but both offer experiences geared toward fairly skilled players.

Elon Park's Angry Beaver and Eager Beaver: In Elon Park you have your choice of two courses. The Eager Beaver is an approachable wooded challenge for newer players or those whose distance is limited. For advanced players, it's a great way to practice your putter and midrange game. The Angry Beaver is really angry. It recently underwent a complete redesign, and its long tees create what's possibly the most demanding official layout in the Charlotte area. Reviews of Angry since the update have praised the upkeep, tee pads, and how well-marked OB is.
Other highlights
1. Opened very shortly before publication, the brand new course in Eastway Park is getting rave reviews. The park had a course previously, but it was closed when the parks department started a project to make over the entire property. This new course is being praised for just how unlike a new course it is – i.e., the crew has cleaned everything up so well it seems like it has been played for years. Eastway will likely be fun for players with intermediate skills and up.

2. It's also worth noting that the hallowed grounds of Winthrop University – annual host of the United States Disc Golf Championship – is around a 35-minute drive from Charlotte's center. However, without the ropes marking OB and other just-for-USDGC features, the course plays much differently (unless, of course, you are there at the right time of year and book a spot).

3. Want more suggestions? See all disc golf courses in Charlotte and surrounding communities on UDisc Courses.
Disc Golf Shops in Charlotte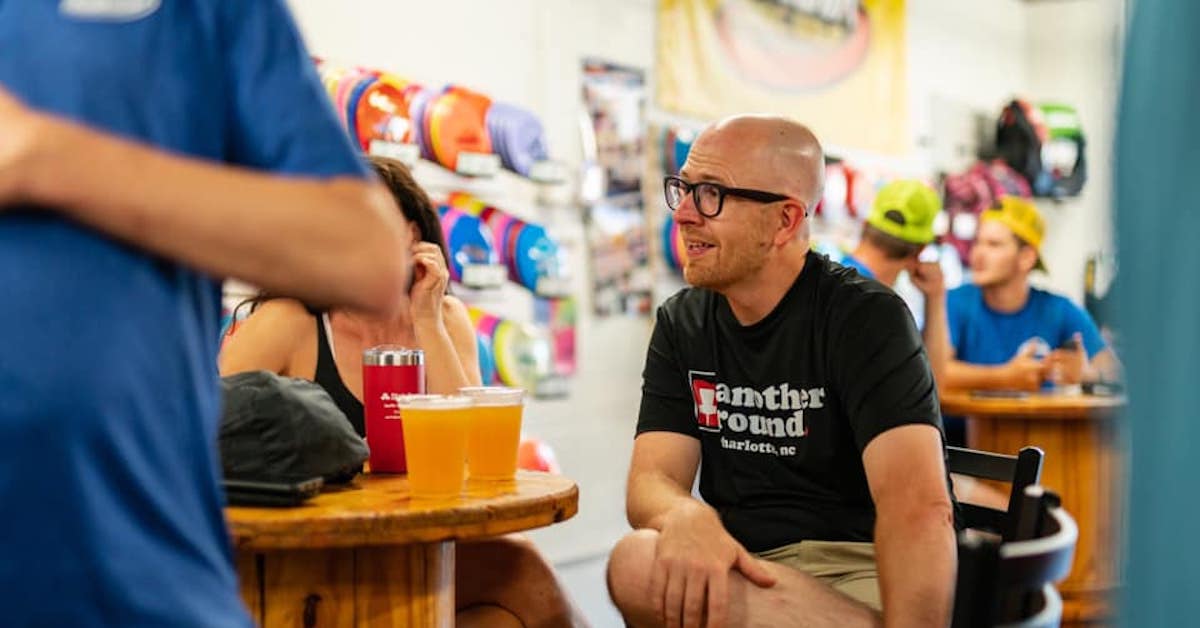 Another Round Disc Golf is Charlotte's most popular dedicated disc golf shop. Located in the hip NoDa district, Another Round is not only fully stocked with gear but also has rotating taps pouring craft beer from some of Charlotte's many excellent craft breweries.

You also won't go wrong hitting a Play It Again Sports, a franchise that sponsors many events in the area. The shops in and near Charlotte often carry plenty of discs and tend to have staff who know a thing or two about the sport.

Another Round isn't the only business mixing disc golf retail with another draw. Cloud 9 to the east of the city has a good disc golf selection and is also a smoke shop. Additionally, it's not far from the well-reviewed Scrapyard Disc Golf Course and right beside a little 9-hole course. To the north, there's Mighty Meeple, which specializes in disc golf and board games and is just fifteen minutes from the excellent course at Bradford Park.
Charlotte's Online Disc Golf Community
The Charlotte Area Disc Golf and Charlotte Disc Golf Facebook pages are great places to find locals willing to give tips and/or meet up for rounds.

Disc Golf Leagues & Events in Charlotte
Leagues: You can find the current leagues running in the area on the Charlotte Disc Golf Club's events calendar. Some Charlotte disc golf leagues use UDisc Leagues, and you can find their upcoming event dates there. If you're there in the right season (winter), try to catch the area's putting league. It's huge and you'll typically meet an area pro there who's joining in on the fun.
Events: There are many tournaments in and around Charlotte throughout the year. One of the largest is the Charlotte Amateur Championship, which had over 450 participants in various amateur divisions in 2020. There's also the Carolina Clash, which drew over 350 players in 2021, including some names players might recognize from the Pro Tour (e.g., Joel Freeman won in 2021). To find other events, you can check out the area event calendar mentioned above in "Leagues" or use the "Events" tab in the UDisc app.
Chow Down & Drink Up in Charlotte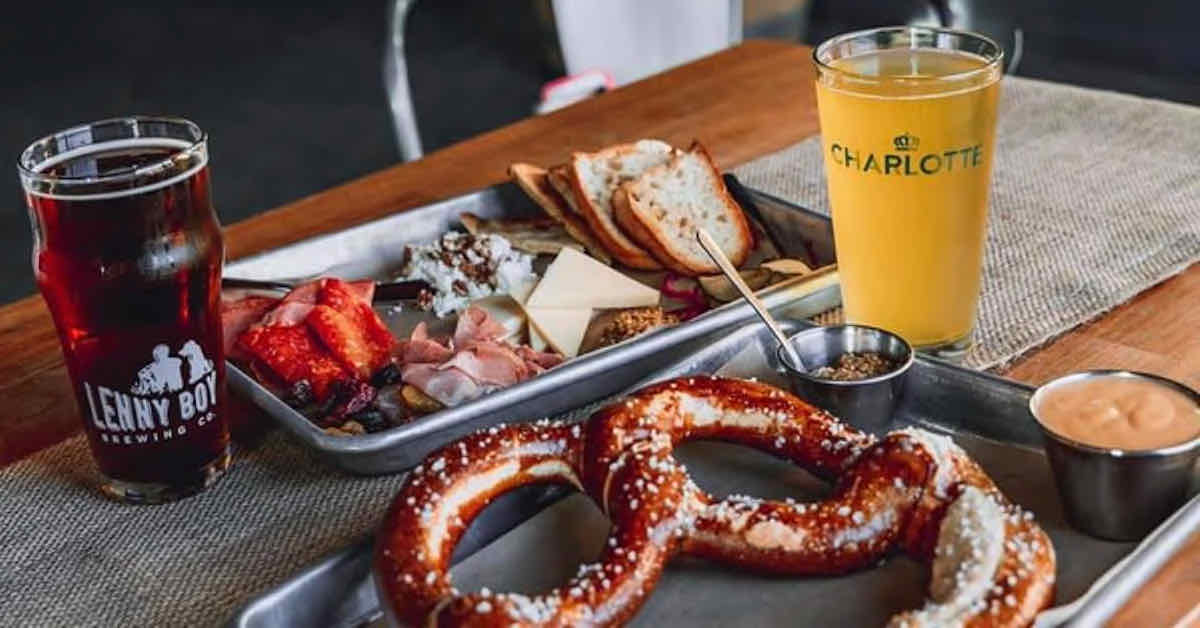 After battling the hills and woods of Charlotte's courses, there's little better than a good meal and – for those who partake – a good beer. There are many awesome craft breweries, but two that regularly support disc golf are Lenny Boy Brewing Company and Olde Mecklenburg.
Lenny Boy hosts Charlotte's putting league and has a plethora of drink options. It has lagers and ales dark and light, some straightforward traditional European styles and some familiar recipes with modern twists. The brewery also does sour and wild ales. Not a drinker? Lenny Boy makes its own organic kombucha with creative flavors that you can get on tap. There's a selection of sandwiches and pretzels to have with your drinks, too.
Olde Mecklenburg (OMB) is the oldest craft brewery in Charlotte, and it makes standard German styles. OMB's Copper – which is based on the Altbier style found almost exclusively near the German city Düsseldorf – has been a staple on Charlotte-area beer lists for a long time now. The beers aren't as adventurous as Lenny Boy's, but the menu is more extensive. There's German-inspired fare as well as burgers, a pulled pork sandwich, and more. In warmer months, you can enjoy the brewery's large outdoor beer garden.

For barbecue, the Midwood Smokehouse or the (pleasant) biker bar atmosphere of the area's several Mac's Speed Shops are solid options.
There's also an excellent sandwich shop right next to Another Round Disc Golf called NoDa Bodega, and shop visitors are welcome to pick up food there and enjoy it in Another Round with a local craft beer.
What Else is There to Do in Charlotte?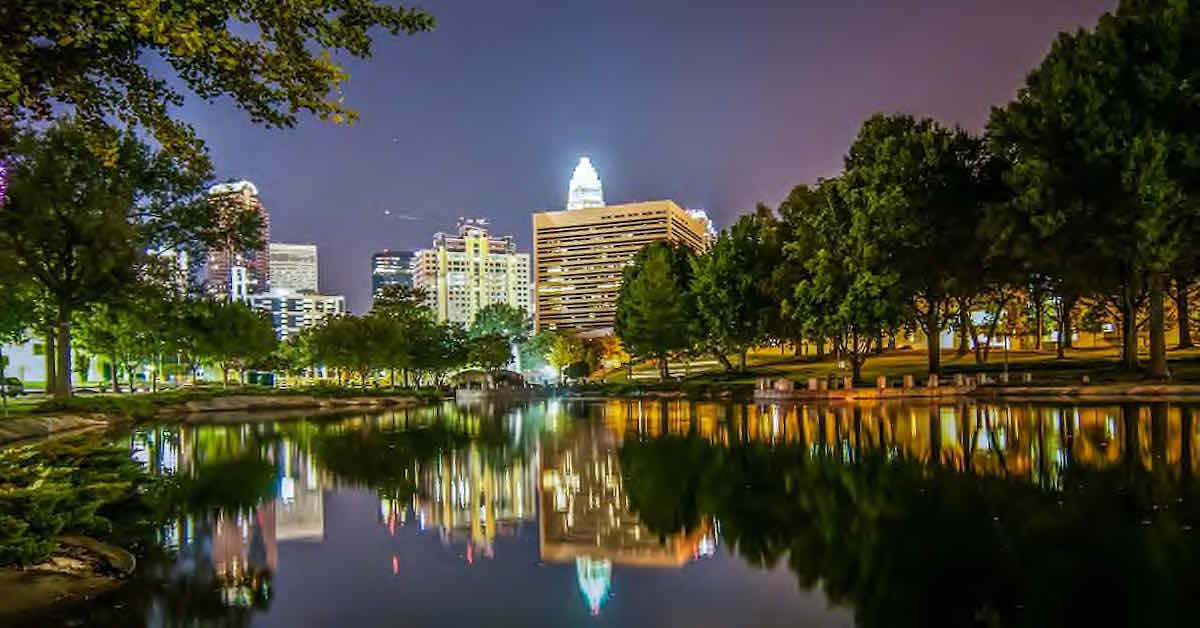 If you're looking for off-the-course entertainment, here are a few good places to go:
Outdoor adventures: The U.S. National Whitewater Center in Charlotte is an outdoor sports lover's playground. You can whitewater raft and kayak, go rock climbing, do some jumping (leaping from high up with a belay system to catch you), or traverse ropes courses. There's also flatwater kayaking or paddle boarding in the Catawba River.
For sports fans: Charlotte is home to the NFL's Carolina Panthers and NBA's Hornets as well as Triple-A baseball team the Charlotte Knights (White Sox affiliate), the Charlotte Checkers hockey team (minor league for Florida Panthers), and in 2022 there will be a new Major League Soccer team, Charlotte FC. Almost any time of year, you should be able to find a high-level sports game to watch in town. Additionally, NASCAR lovers might already know the racing organization's Hall of Fame is in the Queen City.
The hip neighborhood: Independent shops, restaurants, and cafes abound in Charlotte's NoDa neighborhood (short for the main street through the district, North Davidson). Take a walk around to see one of Charlotte's hippest districts.

Special thanks to Charlotte Disc Golf Club board members Phil Cannon and Mark Huether for their help with this post.