Trees, hills, water, some rough, and a bit of OB or a mando around a tree if we're getting fancy: These are the building blocks of course design. And although every hole in every place is unique, players' familiarity with these basic elements usually helps them know what to expect wherever they end up.
But sometimes we run into things like this:
Use of elements like the pipe section in the video above are often received in one of two ways: With a "neat!" reaction like those in the video or an eye roll at how kitschy or artificial the obstacle seems.
To better understand the thought processes that go into such singular holes, we talked to five course designers who've created them—among them is Harold Duvall, Innova co-founder, experienced course designer, and creator of the contentious "bamboo hole" on the USDGC's Winthrop Gold layout. The conversations were as distinctive as the holes they focused on, but they also all helped raise one big question: at what point does a course element become "artificial"? 
The Tube
The video in the previous section was of hole 7 at the Paseo Vista Recreation Area in Chandler, Arizona, which now hosts a disc golf course, a playground, and an archery range. But until 2005, it was a growing pile of garbage.
"The big picture of that whole park is that it sits on top of a landfill," said Dave Wilson, the course designer.
Although we might assume that there was no natural environment to use in the course, Wilson and his associates did seed the course with elements true to the site.

"Part of what we were doing was developing a playground that would reflect some recycled elements," said Wilson. "So we have the tires and different elements included there, and one of the pieces was a damaged 96-inch [244-cenitmeter] concrete culvert pipe." 
After cutting the pipe to fit the playground's needs, there was a bit left over. Thus, hole 7, a 170-foot/52-meter hole with a unique mando, was born.
"We had a scrap piece, and rather than sending that off to a landfill, we thought, 'What could we do with it?'" Wilson recalled. "And as we were working through our course design, there was one area adjacent to the parking area, some picnic areas, and a pedestrian path. And we didn't want people whaling a long shot and possibly hitting cars or people in the path, so the brainstorm came up to try to make them throw through the culvert pipe, a mando, which would cause people to concentrate on a midcourse point rather than trying to throw long.
"What we've heard is that people do like the hole," Wilson continued.

When we talked with Duvall, he weighed in on Wilson & Co.'s design, calling it "awesome." He especially liked the distance of the putt, which forces you to think about whether or not to try to get through the pipe on the drive. 
The Creek
Hyzer Creek, in Providence, New York has a basket in an unexpected location on hole 16:
The idea to put the basket in the middle of the river started not with the land itself, but with a painting course designer Morgan Wright finished three years before he built the hole.
"I just dreamed it up," Wright said.
It's not always easy to make dreams real. When the heavy rains come, the hole looks downright frightening, and keeping the pole upright is always a work in progress.


"The rock that it was in split in half," said Wright. "The ice must have got to it. Every spring I have to go down and make it straight again because it gets crooked. It will start to erode under the rock and it will tilt a little."
Wright's other motivation for the hole was about strategy.

"I like the idea of a pin in the middle of the creek because of the risk reward," he explained. "You've got a three point spread between going for it and missing, laying up, and going for it and making," said Wright. "If you're playing against someone and he's winning by two strokes, and it's hole 16 and there are two holes to play afterwards, he might think, 'Well, I've got the lead, I don't want to lose it.' He'll lay up. You go for it. You make it, you beat him. You miss, you're two strokes behind." 
This shows that Wright didn't just use the inherent features of the course's location in his design decision, but also the environment of a competitive round. As hole 16, it comes at a point in close rounds where the stroke swings it makes possible create difficult choices for players, and that has proved popular, according to Wright.
"All the people who play Hyzer Creek think that hole's awesome," he said.
The Borg
Another desert course with unique objects is Brent Baca Memorial in Albuquerque, New Mexico, known by some as the Mad Max course for its somewhat creepy, post-apocalyptic vibe.
Rick Kapalko, who designed the course along with Tony Coley, was faced with the challenge of what to do with a former U.S. Army Corps of Engineers tree farm that had only eight trees left on its 100 acres when Albuquerque Parks and Rec. gave them the space.
Kapalko said he "was moseying around waiting for an appointment at the maintenance yard," and he saw all sorts of tempting objects to add difficulty to the course. But the railroad ties, telephone poles and other things were spoken for. What was left over were mysterious metal forms, which eventually took on the starring role on hole 11. You can see them in this video (sorry! we can't embed this one directly into this article).
"I believe they were metal frames for pallets to carry engines or something," said Kapalko. "And somewhere along the way, someone dubbed it 'the Borg*' and that stuck."
They arranged the frame to block certain kinds of approaches, limiting the angles of the big hyzers while also putting a lot of metal volume between a more conservative drive and the pin, giving players a bit to think about as they approach the hole. 
"And there's an added bonus to all this: It's a fantastic noise when a disc hits the Borg," said Kapalko, laughing. "Everyone else in the group laughs, 'Ah, you've been Borged!' And you know walking up what you're going to be faced with. It ended up being really cool."
The Baca course is about making something of a space and materials that no one else knew what to do with, from the land to the materials used to build the holes. 
*Borg is a reference to an evil cybernetic race in the Star Trek universe
The Coop
"When you get a piece of property, you look for the interesting features, and this building [the chicken coop] was one of them" said John Ritger, who co-designed the North Georgia Canopy Tours course in Lula, Georgia with Keith Johnson. "That area of Georgia has a lot of chicken houses, and when we were routing the course, we had a hole that was playing right next to it, and then we decided it was too unique to not go inside." 
Along with the association to the agricultural heritage of the area, the hole also serves as a response to another common aspect of Georgia: heat and humidity.

"It's a really nice break in the Georgia heat to get out of the sun and go in there," Ritger notes. "They've got a vending machine plugged in where you can get Gatorade, as well."
Ritger likes what he calls the "perfectly fair" nature of the hole. It has challenge in that you have to throw it low and straight for 400 feet, but they placed the tee and the basket in the dead center, so there's no favoritism toward righties or lefties or backhand or forehand-dominant players.
The Bamboo
The most widely recognized of all the holes we're discussing in this piece is Winthrop Gold hole 7, which has a starring role in the U.S. Disc Golf Championship and comes with the threat of what Jeremy Koling calls getting "bamboozled":
"Number 7, originally, there was no bamboo at all," said the aforementioned designer Duvall. "The idea was that sometimes it can be a tremendous obstacle when there is no obstacle at all. In the context of the championship, it was one you had to get."
But Duvall was worried about how that player engagement translated to the audience, especially because he had always thought of the USDGC as a "laboratory" for the sport. To make hole 7 more engaging for fans to watch, they "created two walls with a gap in the middle and the players had to go up and over or in between." Dave Dunipace suggested a triple mando to help reduce reliance on spotters.

Once they built it, they were pleased with the results, but some critics say the hole seems too contrived to be a part of one of the sport's most revered events. But Duvall said "they're looking through the wrong lens."
"The lens is emotional engagement—it is real for the players," said Duvall. "You can see in that long walk from 6, they're kind of laughing, and halfway through that walk there's an emotional change, and those emotions are real. It wouldn't work if it was 320 feet [98 meters] or 390 feet [119 meters]. What makes it work is that it's the second shortest hole on the course. And they're headed into the longest stretch, and they really want it, and the way that the pin is framed, it's like a giant porterhouse steak."
Artificial?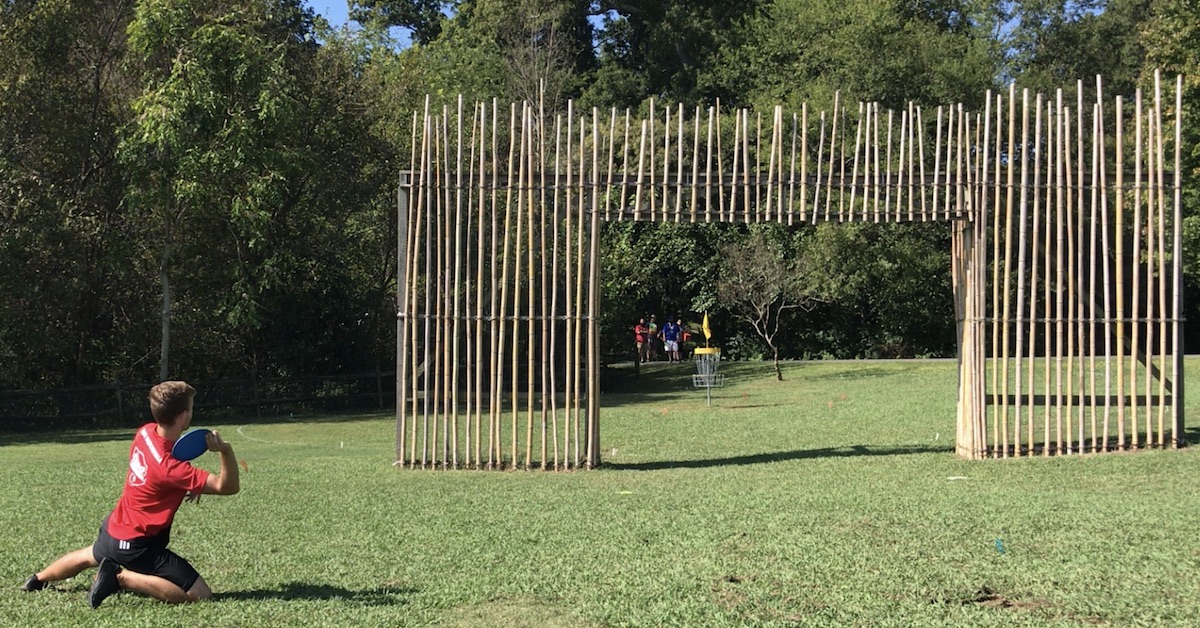 As out-there as these five holes we've discussed may seem at first glance, they all reflect something genuine to the place they're built in. The Tube to the landfill, the creek to...the creek, the Borg to the area's past uses, the coop to the area's agricultural heritage, and the bamboo to the mental place of the competitors who confront it. Each of the holes we've talked about has also had its portion of players who've accused them of being what Wilson (the tube hole designer) called "goofy golf," or, as Wright (the creek hole designer) described as similar to "a clown's face and you gotta throw through the guy's mouth or something."
But a point made by Duvall is also important to keep in mind. He believes we are sometimes stuck in our sport with a "false comparison" to ball golf courses, which may seem like 'natural' paradises but "are, except for the ones in Scotland, some of the most artificial landscapes on the planet."
This reminds us that all land surfaces where humans play sports are usually to a large extent human-made and raises interesting questions. For example, is the planting of specific grasses to affect how balls react on the ground less artificial than using a concrete pipe as a mandatory? Or for that matter, is a disc golf course designer's decision to use a tree on a property as an obstacle truly that different from utilizing a pre-existing structure, like, say, a chicken coop?
Clearly, this is a debate that will not be solved simply or easily, and in the meantime course designers will be going with what their guts have to say on the matter and respond to feedback accordingly. But for a designer like Duvall, that mixture of liberty and answerability is what makes disc golf so fantastic to begin with.
"One of the magic aspects of disc golf is that it's this amazing juxtaposition of total freedom and complete accountability," said Duvall."I can do anything I want to out there and I am entirely responsible for everything that happens and solving every problem. And that's intoxicating."