Clear your schedules: The lineup of 2021 disc golf tournaments you can follow on UDisc Live is here, and we're making up for lost time.
After an abbreviated schedule in 2020 due to the COVID-19 pandemic brought the slate down to 19 events, professional disc golf is set to bounce back with a full roster of top tier tournaments in the new year. And thanks to partnerships with the Disc Golf Pro Tour, Professional Disc Golf Association, PDGA Europe, and more, there will be double the amount of coverage: 38 tournaments will feature instant scoring and statistics that fans can follow on UDisc Live, and that will include a handful of weekends where you can enjoy events in both the United States and Europe.
Here's what's on tap in 2021: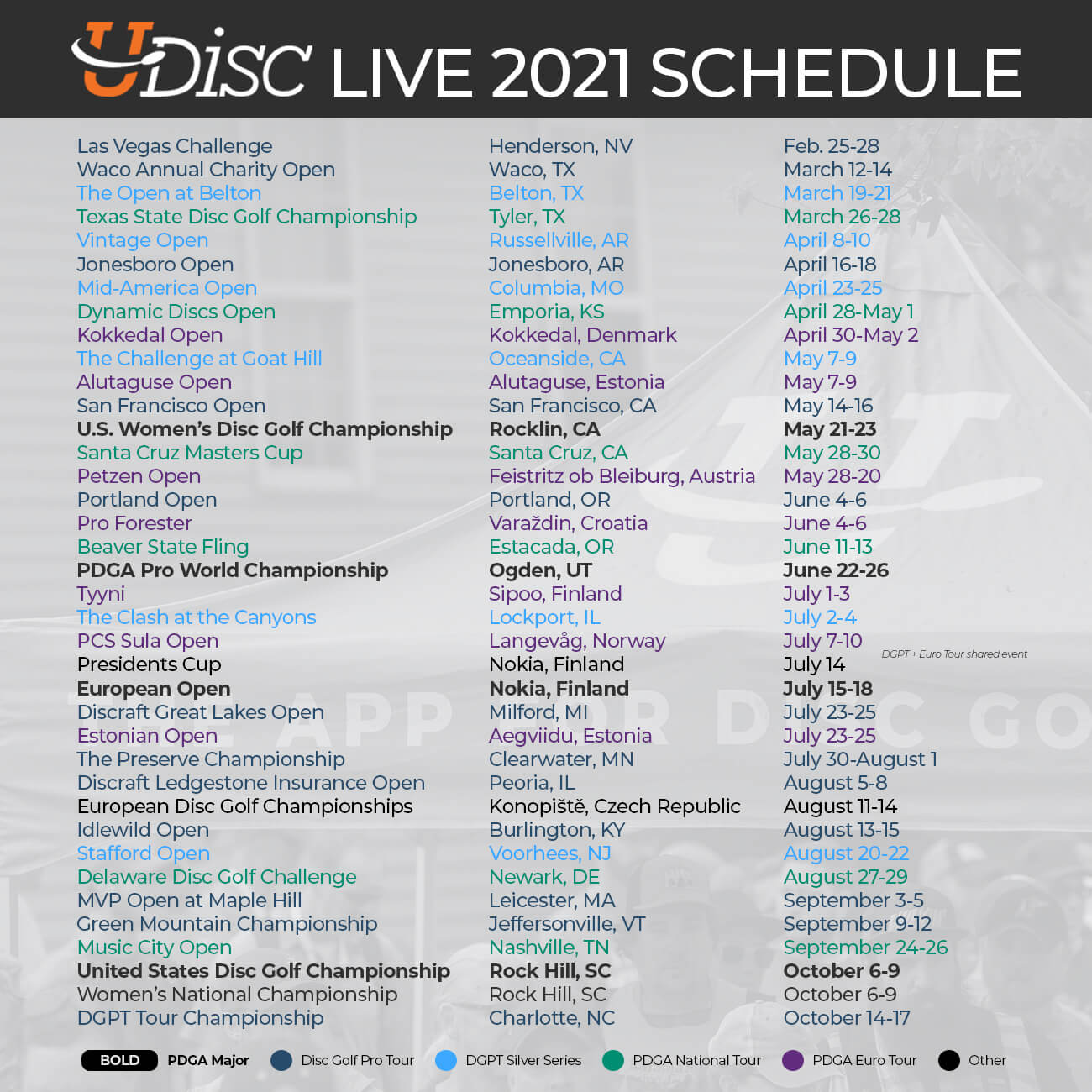 Though all the events are highlights, there are some particularly exciting entries on the docket: the Disc Golf Pro Tour's Silver Series boasts four events that are UDisc Live newcomers (The Open at Belton, Vintage Open, The Clash at the Canyons, and Stafford Open), while the PDGA Euro Tour offers up seven opportunities to learn more about disc golf's best international talents. Six of the tournaments feature venues that rank in the world's top 10 disc golf courses. Add in all four PDGA pro majors, and it's a recipe for an exciting year of action.
As always, we want to thank our partners for helping make UDisc Live tournament coverage possible and free to follow for hundreds of thousands of disc golf fans worldwide.
Interested in partnering with UDisc? Please email partnerships@udisc.com.