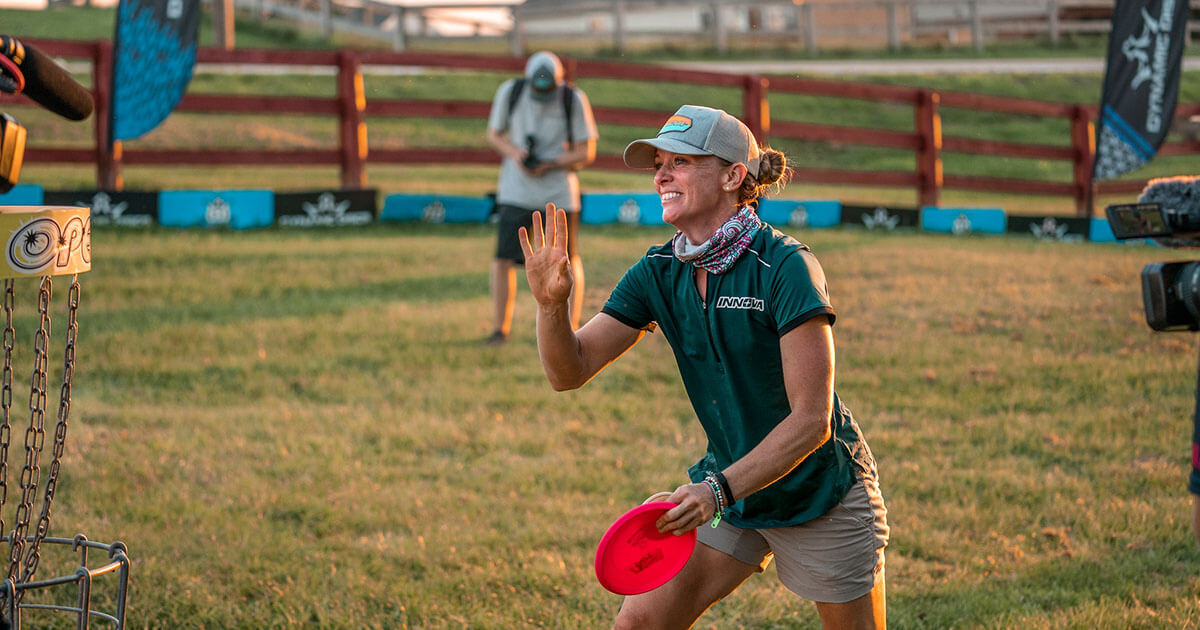 With another season of UDisc Live comes the addition of even more statistics – and this year, we're going deeper to help players, fans, and media better analyze the best professional disc golf performances (and put them on par with traditional golf).
Strokes Gained statistics will be in play in 2021 as we've introduced a new suite of metrics that display how many strokes a player gained (or lost!) relative to the field both off the tee and on the putting green. Instead of just being able to talk about a player's Circle 1X putting percentage, for example, you will now be able to see exactly how many strokes on the leaderboard that performance translated to.
If you want to know how your favorite player won, or how the scrappy up-and-comer came close but melted down, Strokes Gained will help you do it. It's a concept the UDisc team is confident will not only help tell the story of a tournament more clearly, but also assist in further legitimizing disc golf as a professional sport.
Deep Dive or Just the Basics? We've Got Both
If you're just interested in the essentials of Strokes Gained, this is the article for you. This post will allow you to understand what Strokes Gained means and why they are valuable.

However, true stat-heads who want the intimate details of the calculations behind Strokes Gained should check out UDisc Data Scientist Doeke Buursma's in-depth article What Strokes Gained Means in Disc Golf: The Math.
What Does Strokes Gained Mean in Disc Golf?
Like we mentioned above, the basic idea behind Strokes Gained stats is this: They show if a player's performance in various aspects of the game gains or loses them strokes compared to the average performance of the field. The new stats provide more context and specificity than percentages and are commonly used on the PGA Tour.
Think about it like this: You know Eagle McMahon slayed it on the putting green during his win at the 2020 Great Lakes Open, logging a 93% Circle 1X performance that was seventh-best in the field and tacking on another 45% from Circle 2. Those are eye-popping numbers, no doubt.
Strokes Gained makes them even more impressive. The young Coloradan gained a total of 9.73 strokes on the putting green that weekend at the Toboggan compared to runner-up Chris Dickerson's 7.59. Those two strokes (and change) proved a valuable cushion in McMahon's single-shot victory as Dickerson actually outperformed his rival off the tee.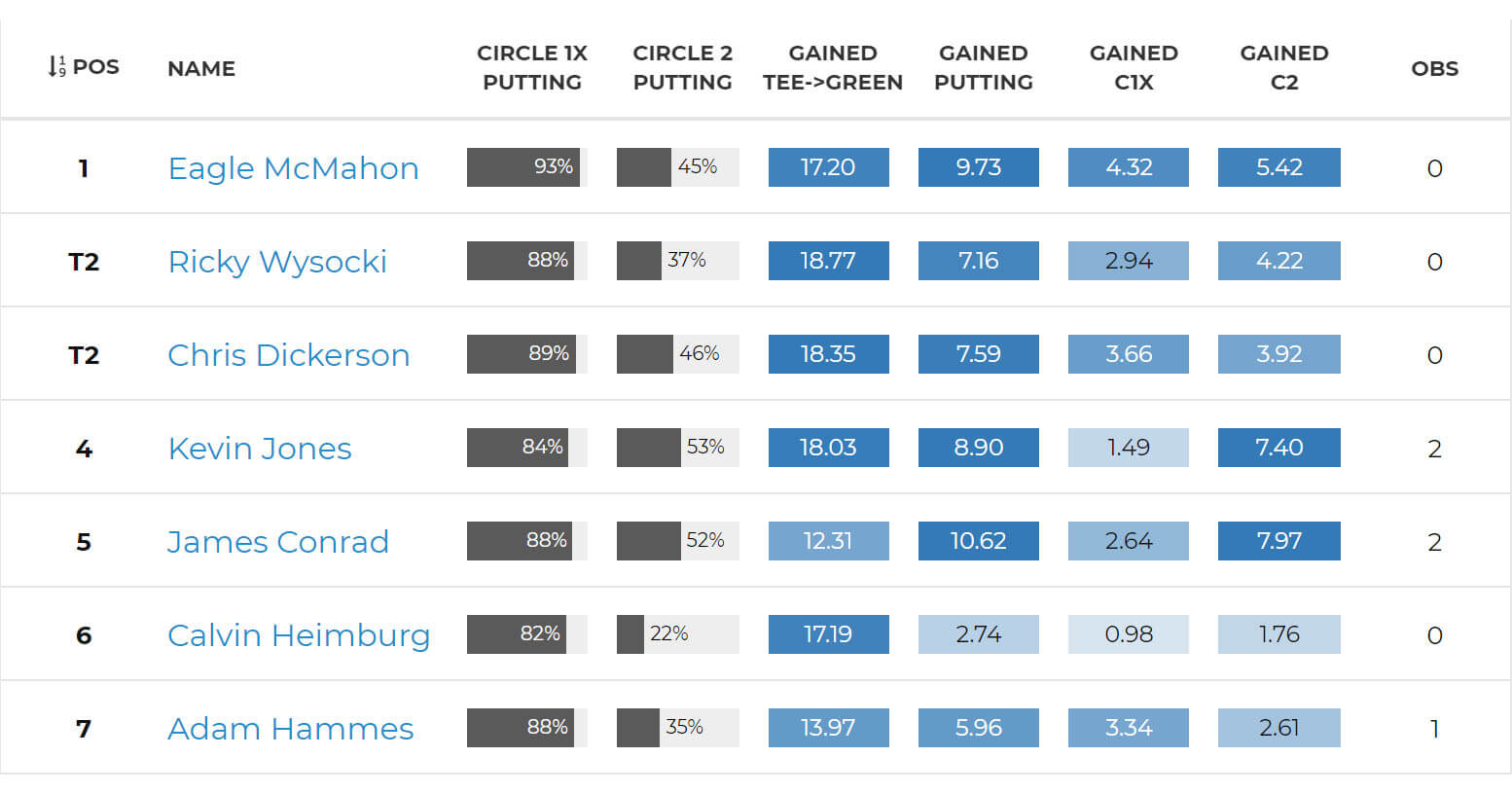 Unlike golf scores relative to par, positive numbers are good in Strokes Gained. They show how much better a player did than the field's average. You'll be able to find them under the Player Stats tab on UDisc Live or by clicking on a player's profile.
Here are terms and stats we'll deliver this season (in addition to everything else we track) in this new category:
Strokes Gained: Circle 1X [SG:C1X] - How many strokes a player gained or lost relative to the field based on their putting within 33 feet/10 meters of the basket, excluding tap-ins (shots within 11 feet/3.3 meters)


Strokes Gained: Circle 2 [SG:C2] - How many strokes a player gained or lost relative to the field based on their putting within 66 feet/20 meters of the basket


Strokes Gained: Putting [SG:P] - Combined Strokes Gained from C1X and C2


Strokes Gained: Tee → Green [SG:TG] - How many strokes a player gained or lost relative to the field based on their driving or approach shots before reaching Circle 2 or closer.


Strokes Lost: Out of Bounds [SL:OB] - Any penalty stroke a player receives (going out-of-bounds or missing a mandatory). This number represents Strokes Lost (hence the "SL") and is subtracted from a player's Strokes Gained total. This is a raw total of penalties accrued and is the only stat that has nothing to do with field average.


Strokes Gained: Total [SG:T] - Sum of SG:C1X + SG:C2 + SG:TG with SL:OB subtracted. This number equates to a player's total strokes under the field average for a tournament (minus penalties).
Strokes Gained Spotlight: Ellen Widboom's Idlewild Open Victory
While Strokes Gained are useful in breaking down any victory, they're most intriguing when a player notches a come-from-behind win or generally surprises the rest of the field by outperforming expectations.
Case in point: Ellen Widboom's dramatic Disc Golf Pro Tour triumph at last year's Idlewild Open.
This was the signature win of the Florida pro's career and one where she bested three world-champion disc golfers on the weekend. With due respect to Widboom, she wasn't considered a favorite ahead of the event, which made the breakout performance all the more enjoyable. You know you were rooting for her to pull it off!
Widboom's 8-over par total ensured she was one shot better than Sarah Hokom (+9), three better than Catrina Allen (+11), and four clear of Paige Pierce (+12). And while each of those women were far superior to Widboom off the tee – Pierce had an advantage of nearly 12 in SG:TG. Yes, 12! – Widboom cleaned up in the circle.

Widboom's putting was enough to virtually cancel out Hokom and Allen's tee-to-green proficiency, but was nowhere near sufficient to close the gap on Pierce. Where Pierce faltered, then, was in the OB department, and those miscues dropped her down to fourth.
At the end of a tournament, Strokes Gained tell us precisely how a player like Widboom – or Matt Bell at the 2019 Delaware Disc Golf Challenge, for another fun example – made their way to the top of the podium. Working in tandem with the eye test, these are concrete numbers that quantify our observations more clearly.
Strokes Gained Now Available for All Past UDisc Live Events
Even though we're just rolling these stats out on the UDisc Live platform today, we've already applied them retroactively to previous seasons. So go dig through some of your favorite events of years past to see how the performances stack up. It's the perfect way to get ready for a jam-packed 2021 schedule. Just follow that link, click or tap on the year you see underneath the text "UDisc Live Schedule," and pick the year of the tournament you'd like to explore.
Though we're obviously thrilled to release Strokes Gained, it's not the only innovation we have in store. Keep an eye out for announcements about new additions to UDisc Live, the UDisc app, and UDisc online here on Release Point or make sure to never miss one by signing up for our twice-monthly newsletter.