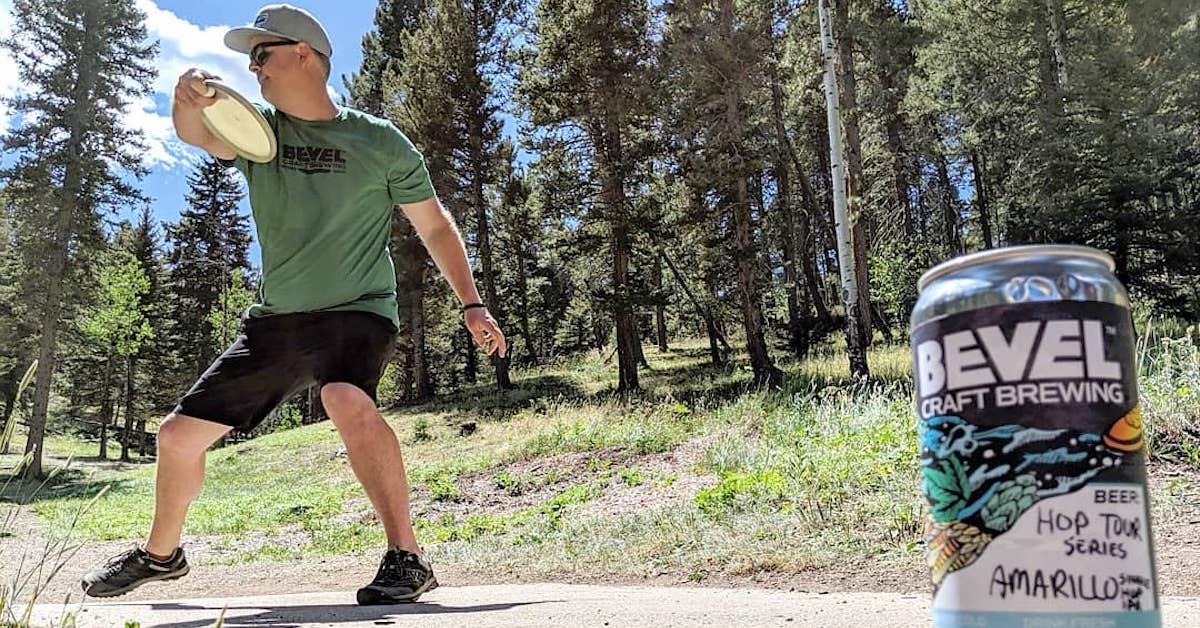 Husband and wife Nate Doss and Valarie Jenkins stepped away from professional disc golf in June 2018 after the Zoo Town Open in Missoula, Montana. They were both multi-time PDGA Disc Golf World Champions, still among the best players in the world of their respective genders, and could have successfully competed at the sport's top tier for years. However, the couple had become consumed with a different passion and were willing to trade in the touring life they'd known for much of their adulthood to pursue it.

It was time to start a craft brewery. 

Just days after the tournament finished, Nate and Valarie began transforming a property they'd purchased in Bend, Oregon—a town known as a great destination for both outdoor sports and craft beer—into a brewery and taproom. The work continued for almost 10 months before Bevel Craft Brewing was finally opened to the public in April 2019.

Bevel, a name referring to the edge found on discs that allows them to fly farther than traditional frisbees, is now nearing its one year anniversary. We thought it was a good time to reach out to Nate and Valarie to find out how business was going and what the transition from full-time touring players to stationary brewery owners has been like. Also, we got their takes on seeing the sport from a new angle as the Disc Golf Pro Tour's live commentary team last season.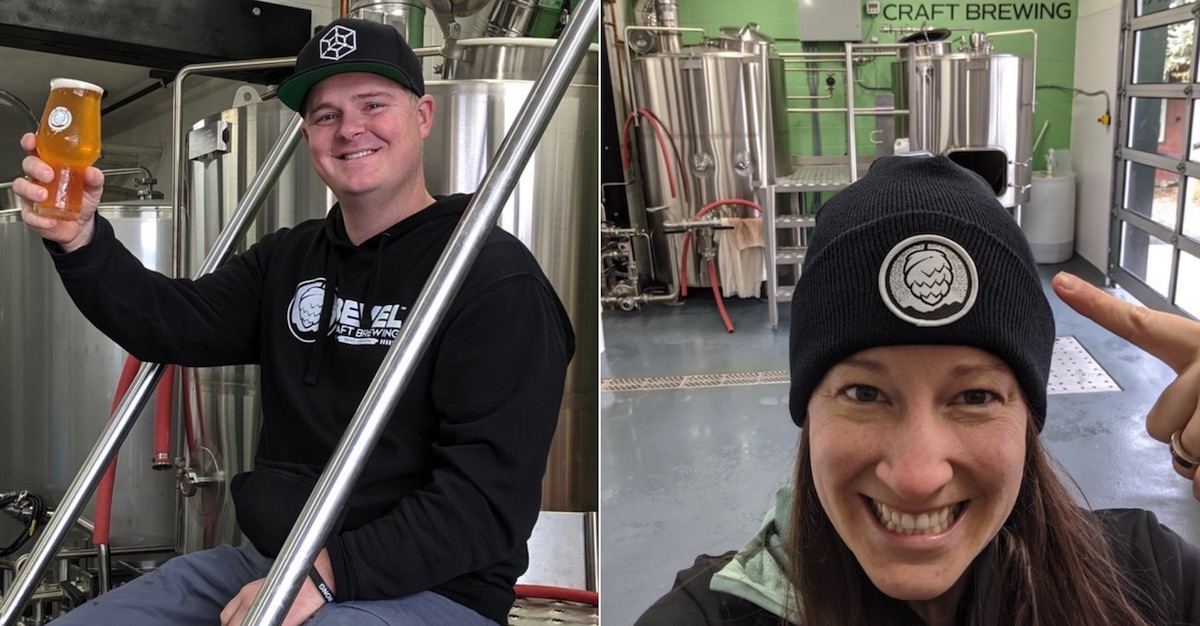 The following interview has been edited for clarity and length.

UDisc: Thanks for taking the time to talk today. Are you guys ready to jump right into it?
Valarie: Yep!

UDisc: Great. So what are the biggest changes you guys have experienced in your lives over the last year?

Valarie: I think the most obvious thing is that we've been in basically one spot for almost a year and a half. We're coming up on our one-year anniversary for Bevel, so we've just been here in Bend working on the taproom. Nate is our only brewer—the only guy that handles the beer from when it's brewed to when it comes out the tap.

UDisc: Does that include all the cleaning?

Valarie: Every little bit.

Nate: From grain to glass, man. My job is to guide the beer through from raw materials to our end user.
But back to the first question, it's obviously very loaded. I think there are two main changes. One is, like Valarie said, we don't travel really at all. We live in a little five-mile bubble from our house to the brewery and back. The other is that we don't play. I think we maybe played less than 10 total rounds in 2019.

Valarie: I did less than five.
UDisc: How many rounds a year were you playing before that?

Nate: With tournaments and practice rounds, probably around 150 to 200 rounds a year.

UDisc: What's it been like adjusting to that huge change?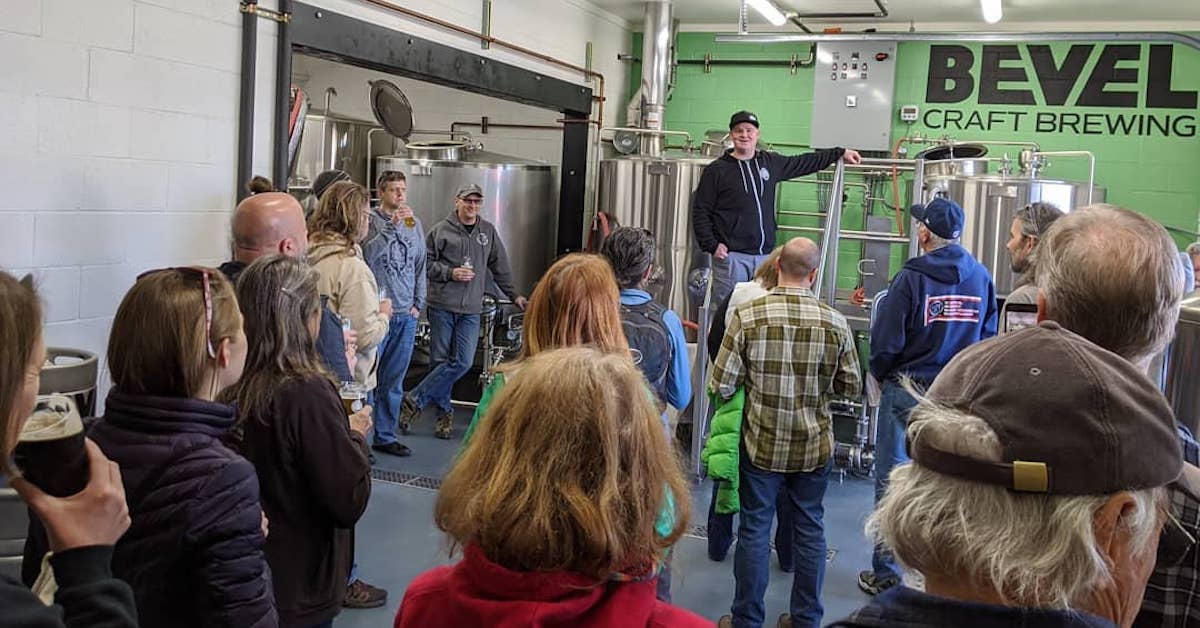 Nate: It wasn't so much a mental thing; it was more just physical. Think about it: to be a professional in anything, whether it's athletics or literature or whatever you're doing, you've got to be a hundred percent dedicated to it, and we didn't really have to turn that off. We played our last tournament and two days later we started demo on the space that we were going to move into. So we were immediately a hundred percent dedicated to that and there wasn't a huge mental transition. It was just a difference in what we were physically doing. 

It's definitely been a transition but it's been long enough now that I feel pretty comfortable. Still, at the end of the day there's definitely that little itch to play that we just can't seem to scratch right now because we're so busy.
Valarie: I feel like what we do at the brewery now is just more stable. On the disc golf tour, you get into that routine of traveling and figuring out where to go, but now we know what to expect every day; we know we're going to get a paycheck at the end of it; we know if we put in the hard work, we're going to reap the benefits.

Disc golf is a little bit more of a roller coaster ride. You never know if you're going to hit all your putts and win a tournament.
UDisc: Are you guys actively working to try to get to a point where you'll still be closely involved with the brewery but be comfortable enough to be hands-off and pursue some of your personal interests other than brewing?

Nate: I think that's everybody's goal, to go out and be able to go after your own goals—

Valarie: [half-joking, half-wistful] Take a vacation.

Nate: For sure. But I'd say right now this is one of our personal crusades and this is something that we are really dedicated to doing. I try to have fun with it every single day. But in the long run, the best thing about owning a business is providing jobs for other people and putting people in positions to be successful. That's one of our big goals: to have employees that can enjoy what they do. And that would also give us the opportunity to focus on other aspects of either our business or just our lives.

UDisc: How many people does Bevel employ at the moment?

Nate: We have six people. That includes Valarie, our other business partner, an avid disc golfer named Justin Celmer, and myself as official employees. Then we have three bartenders that work for us as well: Matt, Mitch, and Aubrey. It's a really great team, and being such a small size, we're all really close.

Valarie: They all also happen to play disc golf. Of course we need people with good beer knowledge, but we also like to hire disc golfers because we have a disc golf brewery. We've got a whole wall of discs, disc golf on the TV at all times. They're explaining to people how to play and expanding knowledge of the sport to people that are coming in just to grab a pint of beer. Disc golf is definitely a huge part of the brewery, so it's pretty cool to have a team that's really passionate about it as well.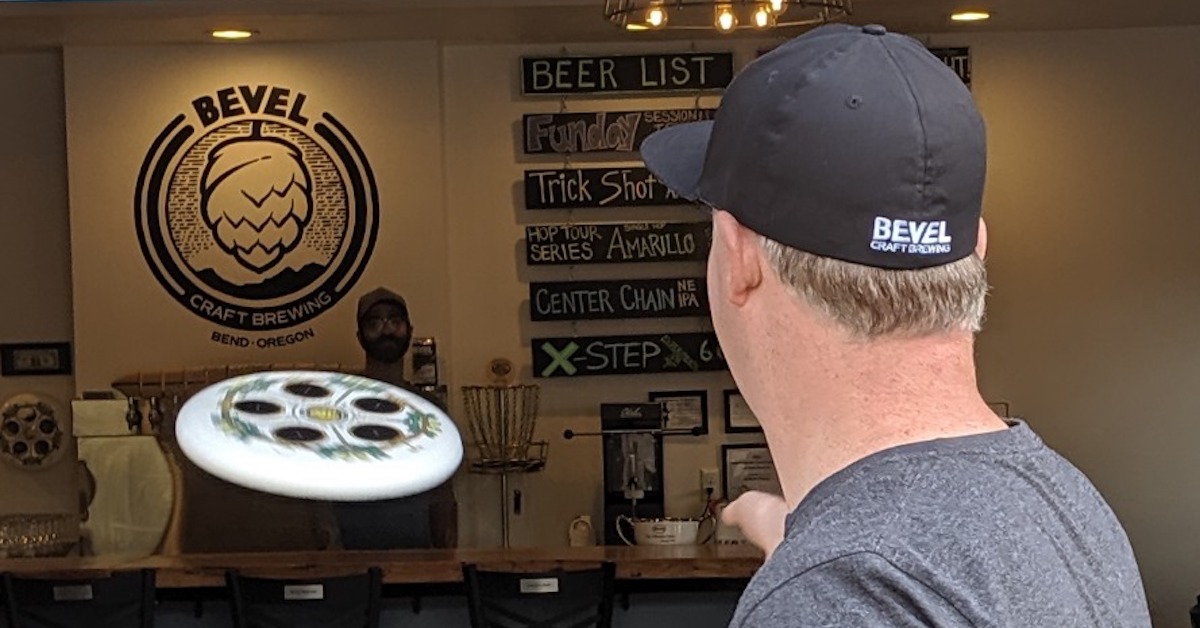 UDisc: Do you have any sense of how many of your customers come in because of disc golf as opposed to just hearing about good beer?

Valarie: I'd say maybe about 10% of customers are disc golfers?

Nate: It's tough to really tell. If somebody's a disc golfer from out of town, we know it if we're around the brewery.

Val: You can tell—they have wide eyes, jaw is dropping.

Nate: And that's so fun. It's cool when people are coming there for that and they made it a part of their vacation. It's nice that we live in a place that people love to come visit and vacation to.

But, yeah, I think Val's numbers are probably about right. I would say maybe 10 to 15% of customers are disc golfers. But a lot of Bevel's business is from a great local community of people that have started to come in and that's been really fun to see grow.

UDisc: How involved is Bevel in Bend's disc golf scene?

Valarie: We support it any chance we get. We've got a putting league on Wednesday nights that's really popular, and we just handed over a check to support the bag tags the club is purchasing this year. And everyone who's in the club gets a dollar off their pints. We also help out local tournaments, whether it's disc golf or ultimate.

UDisc: What has business been like over the first year compared to your expectations?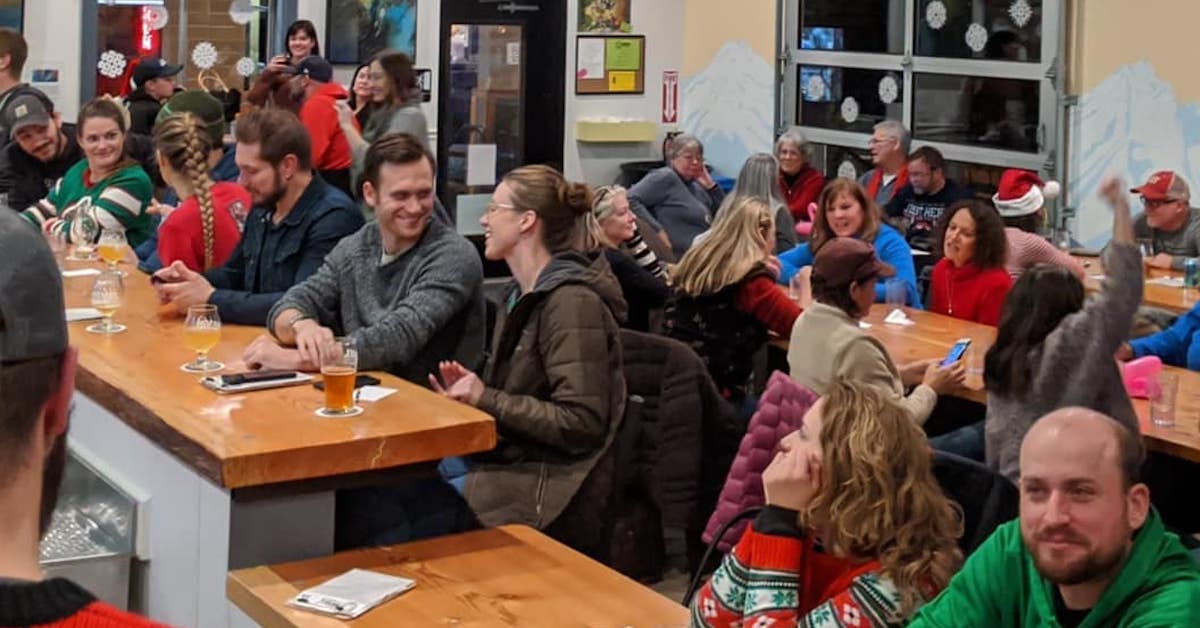 Valarie: I would say above and beyond. It's been incredible. We had to write the business plan and present it to investors and the bank and everything, so you have to put down numbers. We wanted to make sure we were meeting those numbers, paying the bills, that everyone was supported and successful.

But when we opened in April last year, that little spring warm-up set us off for the summer, and summer was just incredible. I mean, we were getting packed houses, people were coming to check us out for the first time, and now that fall and winter have set in, I feel like we've really developed that local base. We're kind of on the edge of this industrial park, but we're really surrounded by a lot of neighborhoods right in the middle of Bend, so we've got these people that love coming a couple times a week.

Sometimes we know everybody in the tap room—even if it's full, we know everybody by name or we know one person in a group. It creates that kind of Cheers vibe when you start to know the people that are coming into your place. It's just been an incredible ride.
UDisc: What have your biggest beer or brewery-related accomplishments been in the first year?

Nate: We were in a local Hazy IPA festival and won the People's Choice award, and that was really exciting. Also, we recently took a silver medal for our Cascadian Dark Ale, Black Ace, in a competition called the Best of Craft Beer Awards, which is an international beer competition.

Those are the verifiable achievements, but I think for us personally, the biggest thing is the fact that we're just doing it. We have a brewery, and we're making beer that people are coming in and enjoying on a weekly basis. We're always talking about new ideas for beers and then go ahead and execute those beers. So to me, just the fact that we're able to have that opportunity is more of an achievement than any award could ever be.
UDisc: You're in an area with a high density of craft beer options. What do you think helps your brewery stand out?

Valarie: We always knew we wanted to be in this specific area of Bend—on the east side of town, more residential, more of that neighborhood/local vibe. And I think that's really paid off. There's kind of a void in our area: no other places to come grab lunch during your work day or to go grab a beer after work on your way home. We're in a really great spot where people feel comfortable bringing their families.

We also have four food carts that are parked outside seven days a week, so that helps bring people in at all hours of the day.

Nate: Just to add to that, a lot of people talk about how we're in Oregon, we're in Bend, and there's a lot of competition. But we always like to say that everybody who's making craft beer is really working towards a common purpose, which is to make great beer—do it kind of locally, do it a little bit more independently than some larger breweries. So we really feel like we're a part of a community of businesses that provide great beer for people. What it really comes down to is what we can provide uniquely, and what we try to provide uniquely is just a great experience.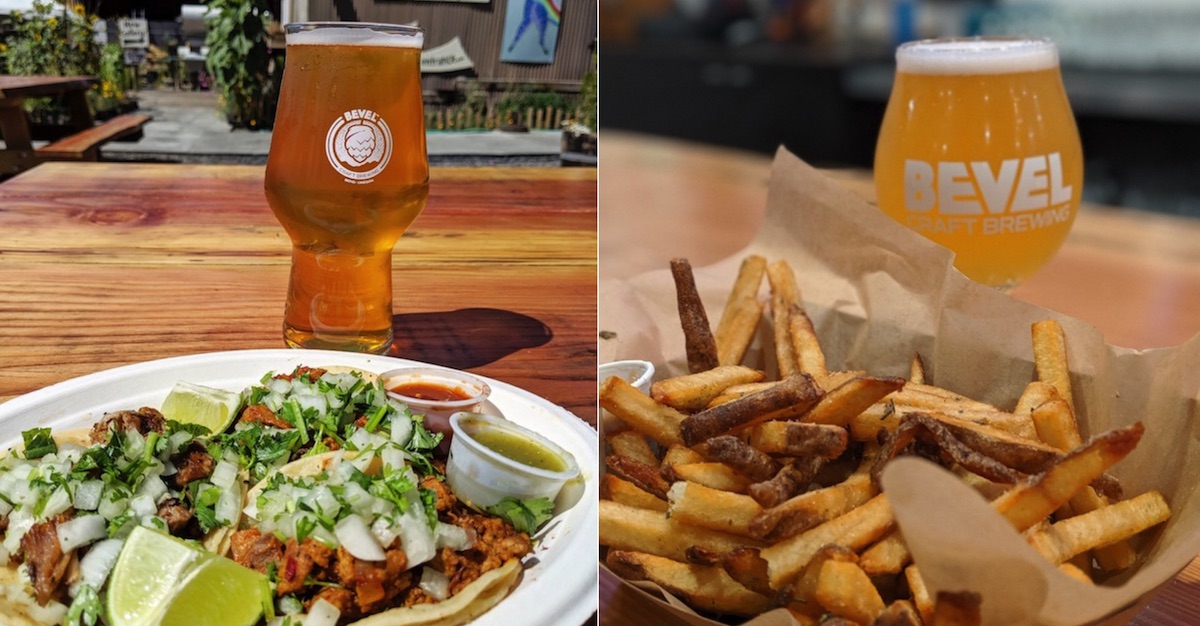 UDisc: Also, one thing you often hear is that craft beer drinkers want to try different beers, not just drink the same ones over and over.

Valarie: Yeah, and that's definitely something good about the system we have. We're not a high-production facility; we're a brewery with a taproom. Nate keeps coming up with these incredible recipes and we're able to try something new because stores aren't expecting us to have that one brand all the time.

UDisc: Moving away from the brewery, the Disc Golf Pro Tour is starting up soon, and you guys will be commentating again this season. What has it been like to just talk about people playing and not doing it yourselves?

Nate: It's funny because we were talking earlier about the idea of going from playing 150 to 200 rounds to playing five to 10 a year, but we were part of seven tournaments last year calling the golf, being in the commentary booth. I'll tell you that was just as exciting, almost, as playing, so it's really been a lot of fun. I love talking about sports. I love live sports in general, so having that opportunity to be a commentator was great. The one thing I always tell people is you're always in the lead group and you're always going to be there at the end, so it's pretty exciting.

Also, suspending my drive to be playing in that group and just focusing on calling it really allowed me personally to see how great these players are—really get to appreciate them in a different way versus competing against them.

UDisc: Because before you always wanted to beat them and this way you just appreciate their skill and talent?
Nate: Yeah. And a common thread amongst all great athletes in the world is that no matter how good they are or how many accomplishments they've had, there's a drive to just get that little bit better. Watching these competitors try to do that instead of having to try it myself is a lot of fun in a lot of ways. Both Val and I have had are our share of lead card rounds and trophies, and this is just an awesome new aspect of the game for us.

Valarie: It's really fun. Like Nate was saying, we're living vicariously through these players. We're going through that entire round with them, good or bad. At the end of any round, you're exhausted because you feel those emotions as a player while you're watching them go through it.

It's definitely not an easy job. I'd never been put in that position to be a commentator, and with the men's and women's rounds, we were doing eight hours of talking in a day. We made a million mistakes and learned a lot last year, but it's going to be fun this year to have Jamie Thomas taking on the role of the show's host. That'll lift a little weight off our shoulders, and we're excited to be there and be a part of it again.
UDisc: Did either of you feel any sort of unexpected connection to a player once you observed them so closely as just a player and not a competitor?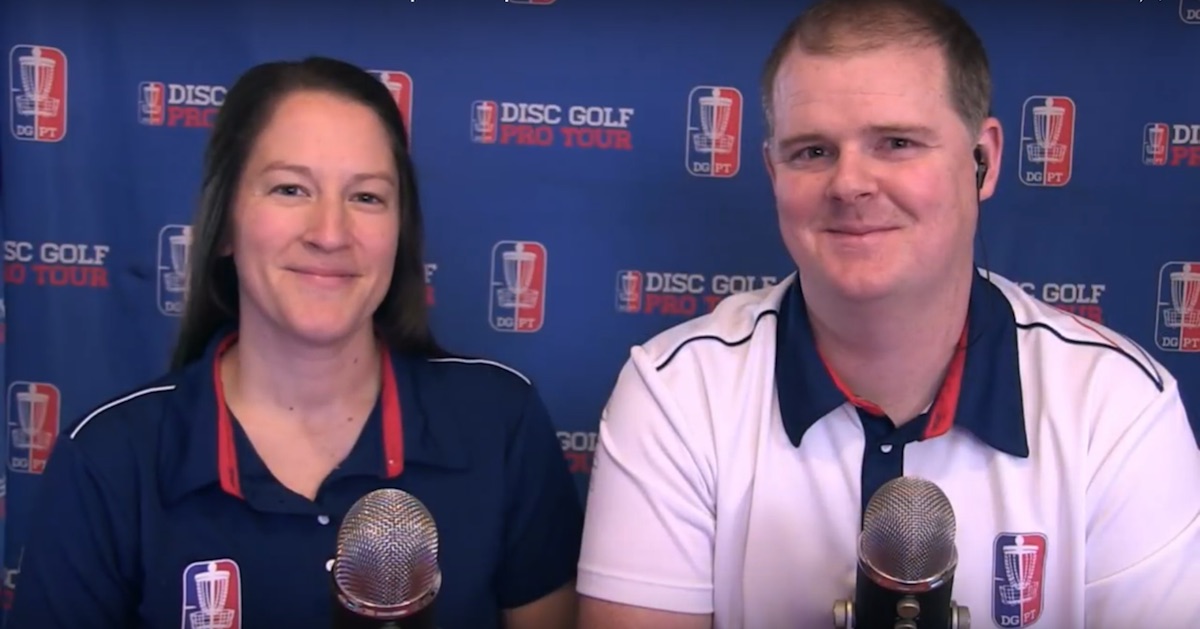 Nate: I didn't necessarily look at any of the individual players and I didn't want to make any assumptions, but I guess now that I'm talking about it…I've known Simon [Lizotte] for a long time. We've competed against each other and all those things. But watching him compete, I really thought in my head, "You could do so much better," and I did reach out a few times to Simon and tell him how pleased I was with his play and how excited I was to see what he was going to do. Definitely one of those guys that I really appreciated more.

Valarie: We were just watching these players do what they do, and being with those groups so long, we knew their strengths and their weaknesses. It was exciting as each round unfolded to see if they could overcome those. We're just rooting for good golf because that's what makes for great storylines.

UDisc: And, I have to ask, did you guys buy a new sheet for the first Disc Golf Pro Tour Event coming up this weekend?

Nate: That is so funny! In a lot of ways, I'm glad that that happened. I certainly learned a lot about the internet. As a competitor you just ignore all that. Everbody's always saying, "Great round!" or this or that. But the first episode we did, you know, the first show we did—the sheet was on the wall, and the internet just blew up. It was up for sale, blah-blah-blah. It was just hilarious.

Still, I can confidently say the sheet will not be coming back, but we do have a new backdrop with the new Disc Golf Pro Tour logo on it.


Bevel Craft Brewing is celebrating its one year anniversary on April 11, 2020 with a big bash. See more details here. Also, the brewery is the presenting sponsor of the 2020 Portland Open where visitors will be able to buy cans of this year's version of Bevel' special Disclandia beer featuring art that will only be used for the 2020 batch.