Caddies have been lugging around around clubs on traditional golf courses since at least the 17th century. While disc golf is comparatively new, for much of the sport's history, carrying the bag has been the plight of the player. But in recent years, as disc counts, available accessories, and bag sizes have increased, more players have opted for a little help with equipment management.
But what exactly does a disc golf caddie do other than carry a backpack of discs? A lot, it turns out.

We spoke with three caddies of professional players: Tom Szevin, fiancé and caddie of Missy Gannon; Charlie Zalewski, trial lawyer and caddie for Eric Oakley; and Bradley Inman, an eighth-grade student who has caddied for Garrett Gurthie and Jessica Weese. 
Tom Szevin: Caddie to Missy Gannon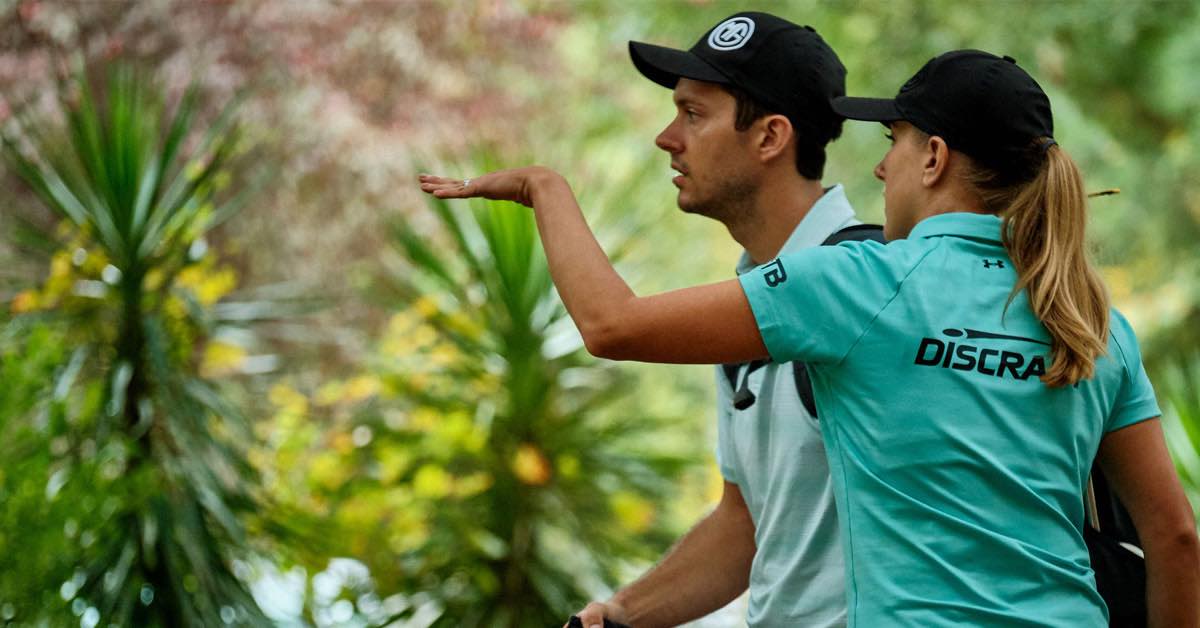 Tom Szevin hails from Garrison, New York, where he first met Missy Gannon when the two were in high school. Szevin and Gannon both graduated from the State University of New York at Cortland, but it took a few more years for their disc golf journey to begin. 

Szevin worked in construction in New York City for a few years, but then he and Gannon moved to Colorado in 2014 where a friend from college introduced them to disc golf. The two fell in love with the sport and got serious quickly, which led to Szevin's debut as a prime time caddie.
"In 2017, I got my first taste of caddieing on a bigger stage when Missy played Am Worlds," said Szevin. "I had no expectations and no real idea of how Missy would stack up against the best female amateurs, so when she found herself on the lead card after the first round, I knew she had what it took to be great."
After Gannon placed third, the pair altered their plans.
"Missy and I got engaged and had a date set to get married in 2018," Szevin recalled. "But things changed and instead, we both quit our jobs and hit the road to see if Missy could make it as a professional disc golfer – and me as her professional caddie."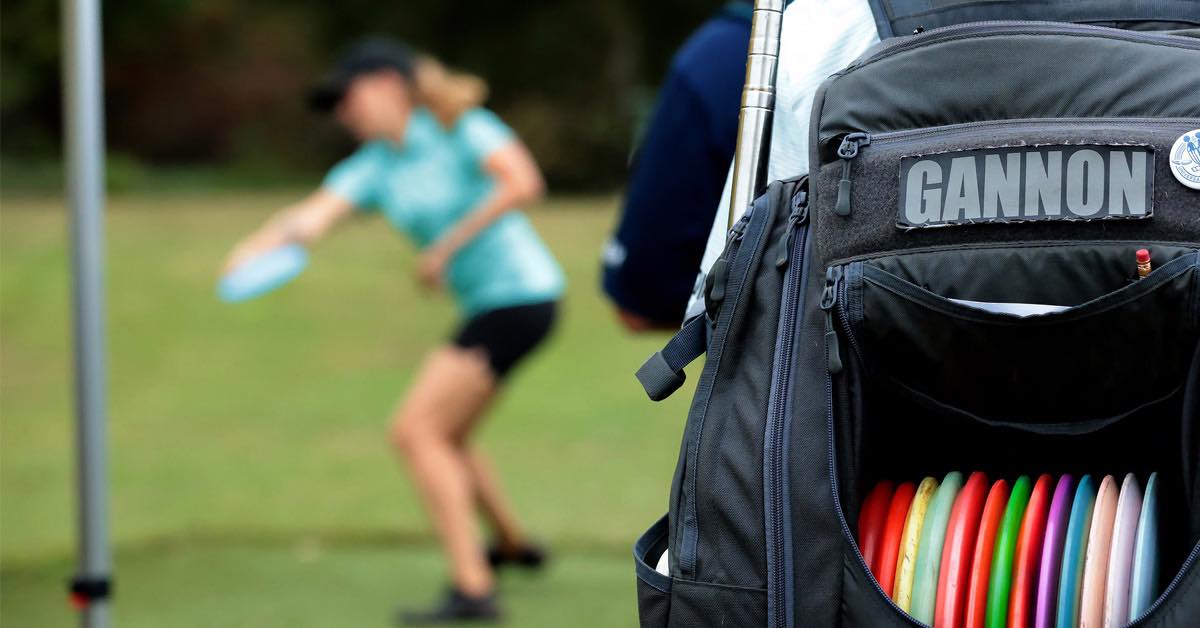 One of the most important things Szevin says he can do as a caddie is maintain a positive mindset. He keeps his emotions in check, cheering for the good shots and disregarding the not-so-good ones. 

He also helps Gannon keep her head in the game and ready to make adjustments if she needs to.
"I like to remind Missy that every shot is different, even if she has the same lie she had the previous day," said Szevin. "There are so many variables on the disc golf course like wind speed or direction, weather, card mates, how a player feels – even just the differences between rounds make it impossible to ever have the exact same shot. I believe that this can help with having expectations on the course."
Along with managing expectations, he's also in charge of an array of disc golf accessories.
"It is important to always be prepared," advised Szevin. "That means having snacks, bug spray, sunscreen, rain jackets, hand warmers, an extra mini, a Whale Sac, and anything else that you think you might need. The weather can change fast...and it can make for a very uncomfortable round if you are underprepared."
To those wanting to lend their hand to a caddie-less professional, Szevin had some advice: ask how much conversation the player would like – if everyone is trying to focus on their round, just carry the bag and cheer for good shots as the players are professionals and don't need any tips or critiques. And when in doubt, don't say anything.
Over the seasons, Szevin has figured out many tricks of the caddie trade, but because of his unique situation as both caddie and fiancé, he gets an insight most caddies don't.
"Being Missy's fiancé I also am able to just be someone that she can strategize with or vent to if need be," explained Szevin. "I play every practice round with her and know her game better than anyone else, which is a big advantage when she is unsure about which shot to throw or just needs a little reassurance...I can also read her body language and have a good idea how she is feeling. Just having the same person on the bag every round is something consistent that can help lead to consistent golf."
Their partnership has led to some incredible tournament experiences.
"The most memorable moments are definitely her three big wins [in 2021]: the Des Moines Challenge, the Throw Pink Women's Disc Golf Championship, and the Pro Tour Finale," Szevin said. "Each more exciting than the last. I'll never forget saying to Missy on hole 18 at DMC, 'If you make this, you win,' and then she confidently nails the 25-foot putt for her first Pro Tour win."
The choice to hit the road is clearly paying off, with Gannon's 2021 season setting the record for the highest total single-season earnings of any FPO player ever. But her earnings haven't been the only plus side.
"Seeing so much of the country and the many iconic disc golf courses is incredible," said Szevin. "Also meeting some incredible people like Paige Pierce and James Conrad and so many others whom we call our tour family is amazing and such a great support system on the road."
Charlie Zalewski: Caddie to Eric Oakley and Others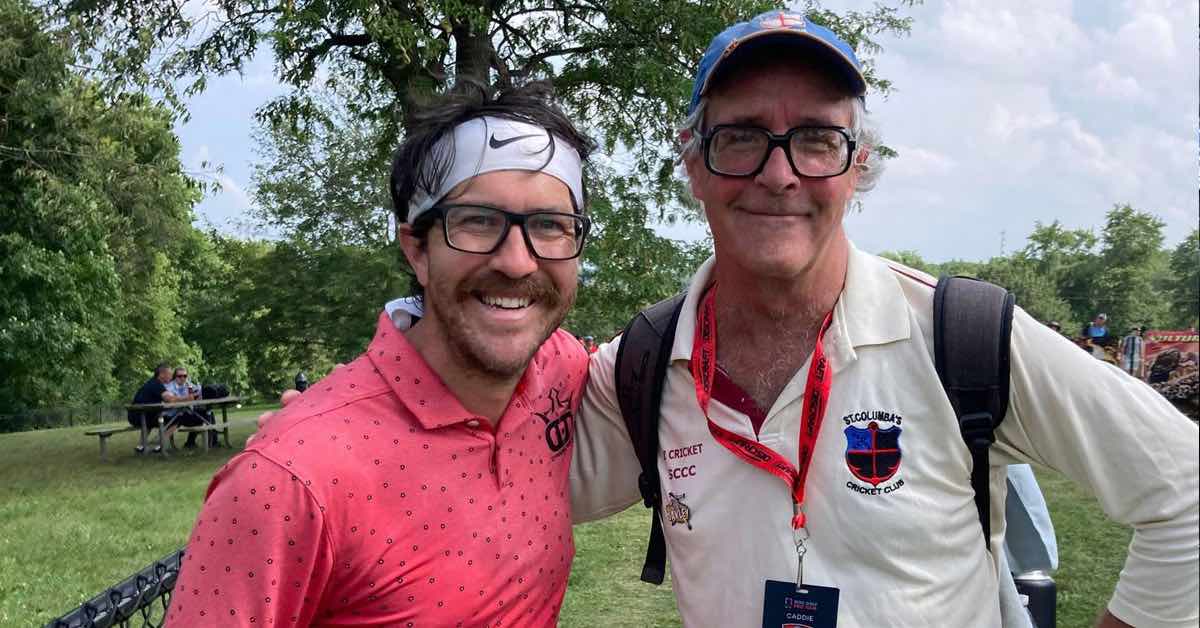 The first thing you'll notice about Charlie Zalewski is his "whites" – a traditional caddie outfit – and his professional demeanor. His first experience as a caddie was for golf 50 years ago, but he only transferred that skill to disc golf for the first time at the 2018 MVP Open. 
A trial lawyer from Fall River, Massachusetts, Zalewski is Eric Oakley's regular caddie – though at different tournaments you can also find him on the bag for other pros. He discovered disc golf in 2017, and he saw some serious upsides to the sport as compared to traditonal golf.
"I was amazed to find that the strategy and play of disc golf is similar to early ball golf, before that sport became over-homogenized by turf, club, and ball technology," Zalewski explained. "Disc golfers are more respectful, but less formal than ball golfers. The rules are clear and simple. The competitions are challenging and absorbing to watch."
Zalewski watched every professional disc golf video from 2016 to 2018 and learned the professional side of the game. He was drawn to the competition at the professional level and felt he could contribute in the support role of caddie to a strong player.
"I joined the staff of the 2018 MVP Open under Steve Dodge," recalled Zalewski. "I met Eric Oakley on a practice day. He took a chance on me."
With his experience over the past three years, he has become a busy caddie with a comprehensive game-plan.
"First, I take care of the physical aspects of the job: have the bag available to the player at all times, keep up with him, keep the water jar full, find the disc, retrieve the disc," Zalewski said. "I pay attention to the player at all times. I do my homework and learn as much about my player as possible: what makes him comfortable, what bothers or distracts him...During a round, I only offer advice that is immediately useful, and I am emotionally supportive of my player at all times."
Zalewski sees himself as the personal servant of the player, with the main goal of getting them to concentrate solely on their game. He isn't afraid to shush noisy spectators, halt passing cars, move debris from the lie, or anything else necessary.
"A strong player-caddie relationship is an emotional bond of trust," Zalewski elaborated. "In an otherwise individual sport, the good caddie is wholeheartedly on the player's side, sharing all of the ups and downs of a high pressure competition. By acting and looking dignified and professional, he encourages the player as well as the spectators to take themselves and the competition seriously."
Due to many disc golfers' lack of familiarity with the traditional role of a caddie, they're often reluctant to use Zalewski's services to the max. For example, some players think it's disrespectful at first to let him gather their discs after warm-up throws, get their discs out of water hazards or briars, or to use the towel he keeps on his belt for them to dry their hands. But to Zalewski, these are simply the duties of a good caddie.

When asked if he had any tips for aspirational caddies, Zalewski had some definite insight.
"Dress appropriately so that your player and the gallery take you seriously," Zalewski said. "I prefer whites, but there are many ways to be comfortable and dignified. Be involved with the player's struggle – understand the pressure he is under and how difficult his shots and decisions are to him. Know the game inside and out, and consider taking the test to be a Certified Rules Official."
Bradley Inman: Caddie to Garrett Gurthie and Jessica Weese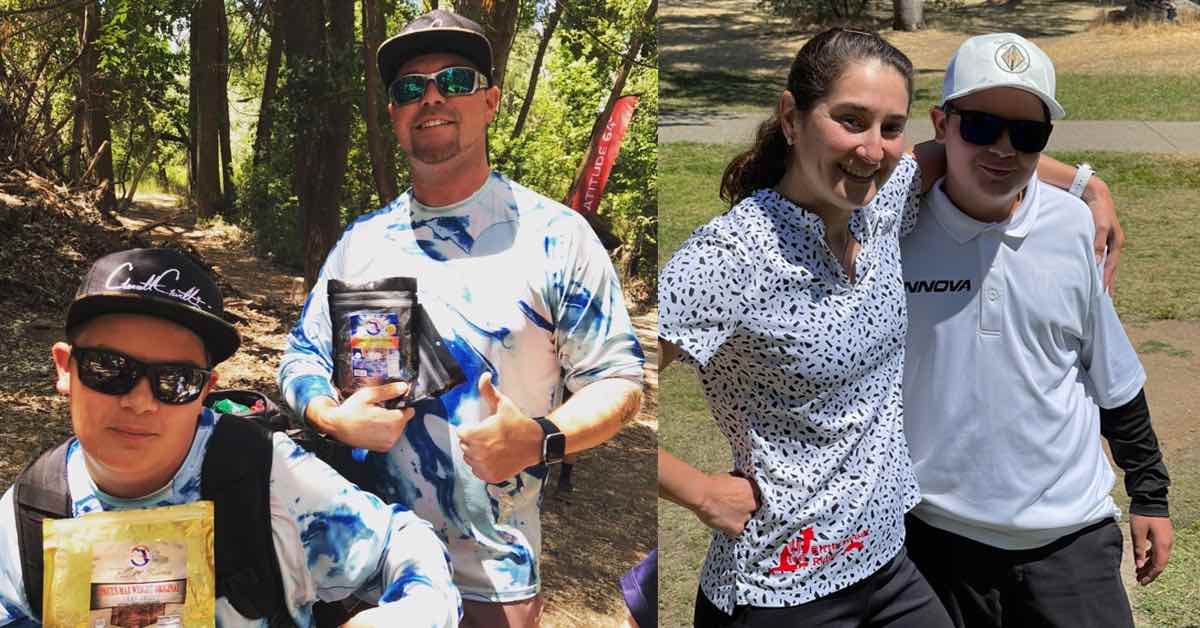 Professional disc golfer Garret Gurthie cashed in his first event at 12 years old, so he knows the importance of fostering young disc golfers. In 2021, Gurthie had Bradley Inman caddieing for him at eight events, and Inman was also on the bag for Jessica Weese at two events.
"I first started [playing in] 2016 with my older brother," said Inman. "Then, I slowly got my dad into playing disc golf and it turned into a family event."
From there, Inman and his family have been able to visit numerous tournaments, meeting Gurthie and Weese in 2020. 
"I was introduced to Jessica Weese and Garrett Gurthie at our local city disc golf park last year during their offseason," Inman recalled. "We all hit it off and became great friends. We played a lot of disc golf together, and they really helped me improve my skill and game playing ability. We had become so good of friends and [they] became a part of our family. They invited me to caddie for the All Star Opener in Fountain Hills, Arizona. It just so happened to be my 13th birthday weekend – it was amazing."
Because of the pandemic, Inman's school was entirely virtual in 2021. He took his laptop on the road, doing his homework and checking into class online. Gurthie and Weese showed him the ropes of caddieng and Inman picked them up quickly.
"Being a caddie you just have to be respectful – watch the game, stay out of the way," advised Inman. "Some players out on tour do not like having caddies, I've noticed."
Along with caddieing, Inman has used his friendship with Gurthie and Weese to grow his ambitions in disc golf.
"Watching in person has been a great learning experience," Inman said. "I plan to become a professional someday. I would like to become the youngest pro disc golfer in the world."
Caddie Up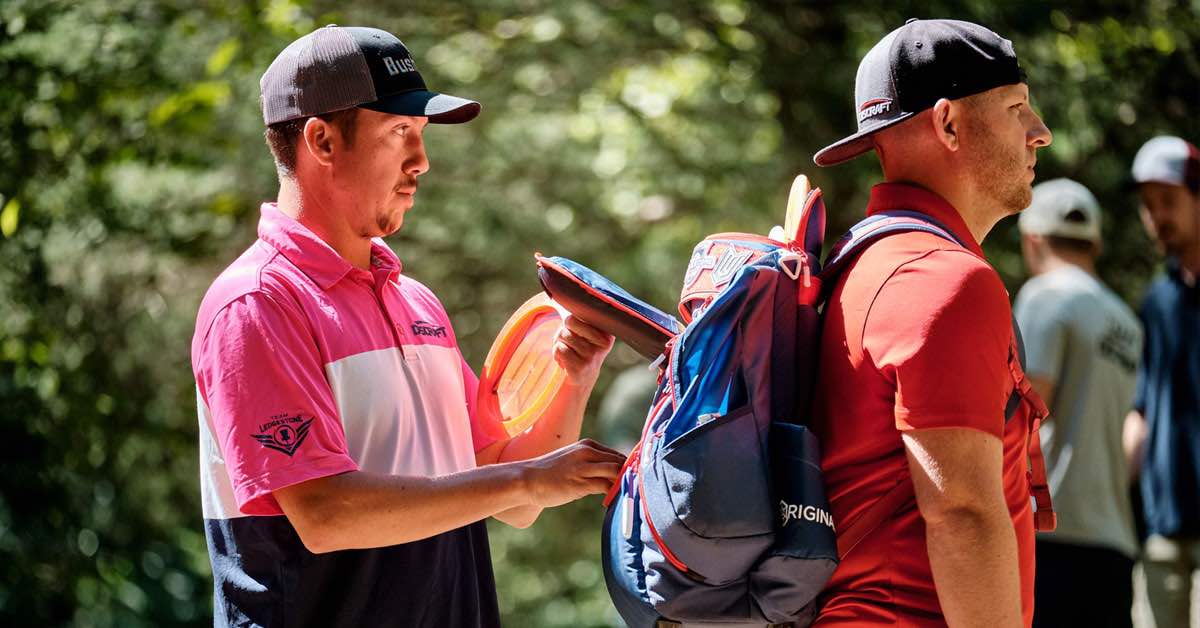 Being a caddie is tough work and takes a lot of dedication. But as the sport of disc golf grows, more and more elite players will be looking for professional caddies to help lift the burden – literally. If you want to lighten the load for your favorite pro on the circuit, get prepared and get out there. 
Have a cool caddie story to share? Email this post's author at ian@udisc.com.