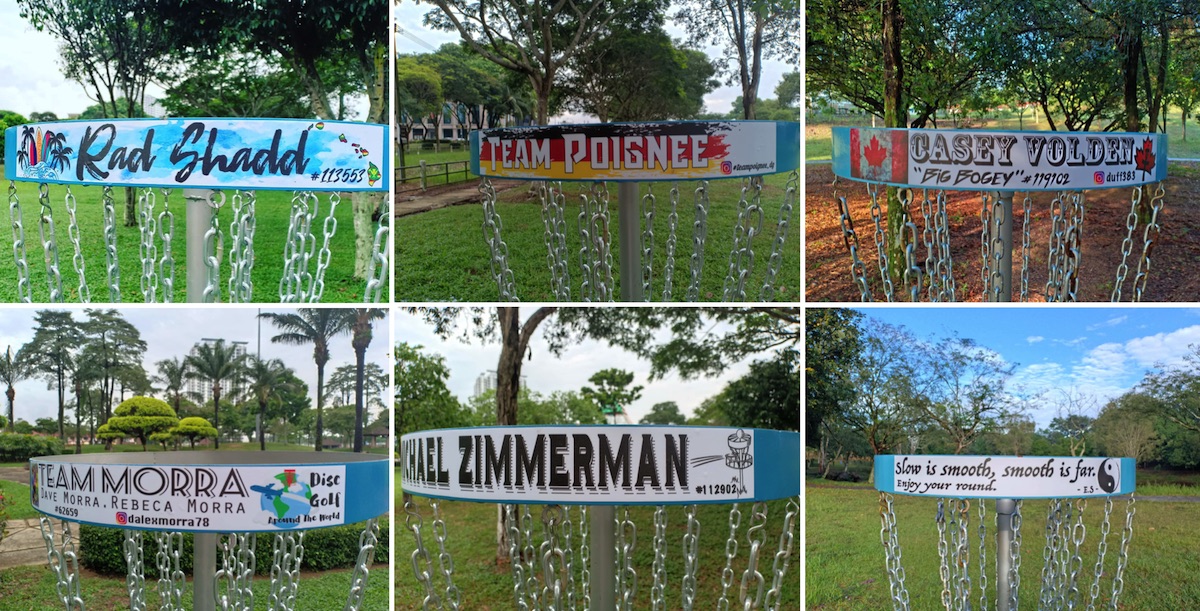 In May we ran a story about the recent and rapid growth of disc golf in Malaysia (read it here if you haven't already), and ever since we've been keeping tabs on how things have continued to develop. Recently, we noticed the Facebook group Disc Golf Malaysia making repeated posts thanking people or groups, and those posts always came with a picture of a basket. The baskets featured bands with interesting graphics and the names of individuals, families, or businesses.

We wanted to know what exactly was going on, so we reached out to the group to find out. What we discovered is not just a heartwarming story of the disc golf community's generosity, but also a possible model for other areas seeking to grow disc golf on a very limited budget.
Ask And You Might Receive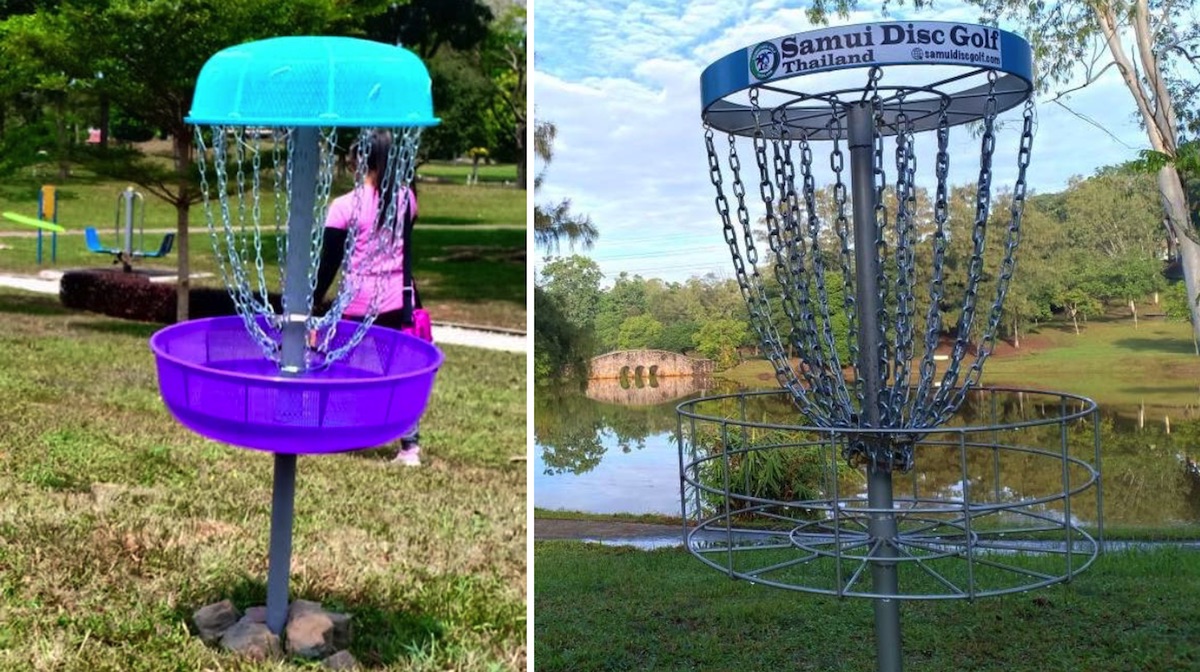 The person we contacted was Eric Grover, a U.S. citizen living in Malaysia whose importance to the Malaysian disc golf scene is covered in our previous article. 

"We had the old DIY plastic baskets in all the parks here, and I finally found a local welder who said he could make the steel baskets," Grover explained. "But it was so much money from my own pocket, so I asked him if he could make a four-inch band on the top so we could potentially find sponsors to advertise there—same as Triple-A baseball back home."

He also said that following the publicity in May, the Instagram and Facebook pages for Malaysian disc golf have seen a huge increase in followers. That prompted his wife Jenna, who also plays and has been integral to Malaysia's growth, to take to social media letting people know about the chance to support the scene: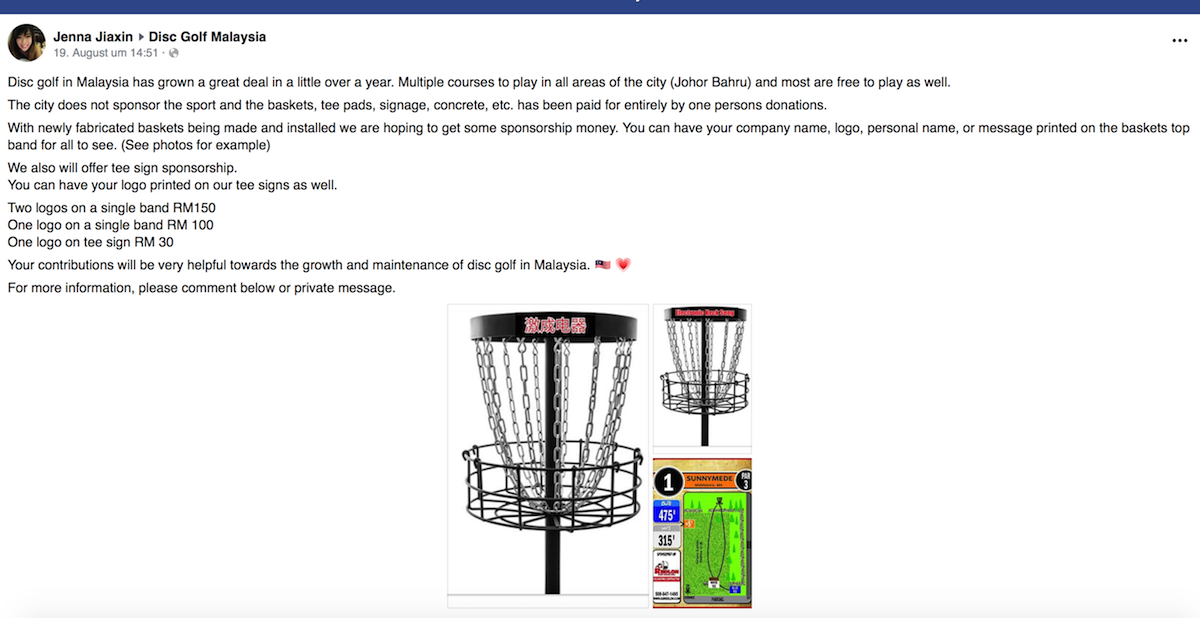 The costs in that post are about $25 to sponsor a basket band and $8 for a tee sign. The response has already been greater than anything the couple expected. 

"The Pelangi Indah course cost $1700 to build including tee pads and signs," Grover said, referring to a course that was completely redone with metal baskets. "We have recouped around 40% of the cost so far through the sponsorship program."

And while they're of course very thankful to all their sponsors, they couldn't help getting a special tingle when a disc golf World Champion got in touch.

"Even Gregg Barsby reached out!" Grover said, clearly thrilled that the 2018 champion wanted to support disc golf in Southeast Asia.
Why Are People Donating?
So what is it about Malaysian disc golf that makes people want to help it so much? Here are three reasons donors from around the world gave:
I loved the hospitality and spirit of the players in Malaysia when I visited there last December...I decided I want to help the best I can and being able to donate towards a disc golf basket was a great opportunity to do that.
-Tero Rautio (Kirkkonummi, Finland)
I thought the basket donation was a great idea and I want to support the growth of disc golf in Malaysia in any way I can. It's gone from nothing to many courses and players in just a short time. It's really exciting to see!
-Ron Turner Jr. (USA / Kuala Lumpur, Malaysia)
We decided to sponsor a basket in Malaysia because we like the country and would really like to see the sport continue to grow in Malaysia. When we last visited, everybody was very kind and helped us find our way around the courses. So all the nice people we met is part of the reason as well.
-Emanuel Ringbom (Tyresö, Sweden)
Can Your Community Emulate Malaysia?
As wonderful as the disc golf world can be, it's unlikely just any community could put a call out for financial support and have success like Malaysia. If you're thinking that this model of sponsorship and donations could be a way forward for your local scene, here are some things to keep in mind:
Have a strong digital presence: Active Facebook and Instagram pages, as well as having courses entered into and well-mapped on UDisc, help others discover your scene. This is especially important when visitors and potential visitors are looking for information about where to play in your area.
Be welcoming: You'll notice that two of the three donors we cited specifically mentioned how the locals treated them as a reason they decided to give when the chance arose.
Reach out to media: Getting media exposure from publications with the right audience can help make people aware of your efforts. Release Point (the name of the blog you're reading right now) is always looking to help disc golf grow in any way it can. If there's a good story to tell about your up-and-coming community, reach out to our editor at alex@udisc.com.
Note: If you're interested in supporting Malaysian disc golf, reach out to the community on Facebook or Instagram. Also, if you happen to be in Southeast Asia around December 14, there are plenty of spots left in the Capital City Crush in Kuala Lumpur.