Though building a disc golf course is fairly inexpensive compared to other outdoor sports and recreation facilities, it's also less of a known quantity. This makes it tricky to successfully pitch disc golf to decision-makers and property owners in areas where the sport's popularity is low. After all, it isn't easy to get someone to fund something they've never heard of.
Enter: Mobile disc golf courses.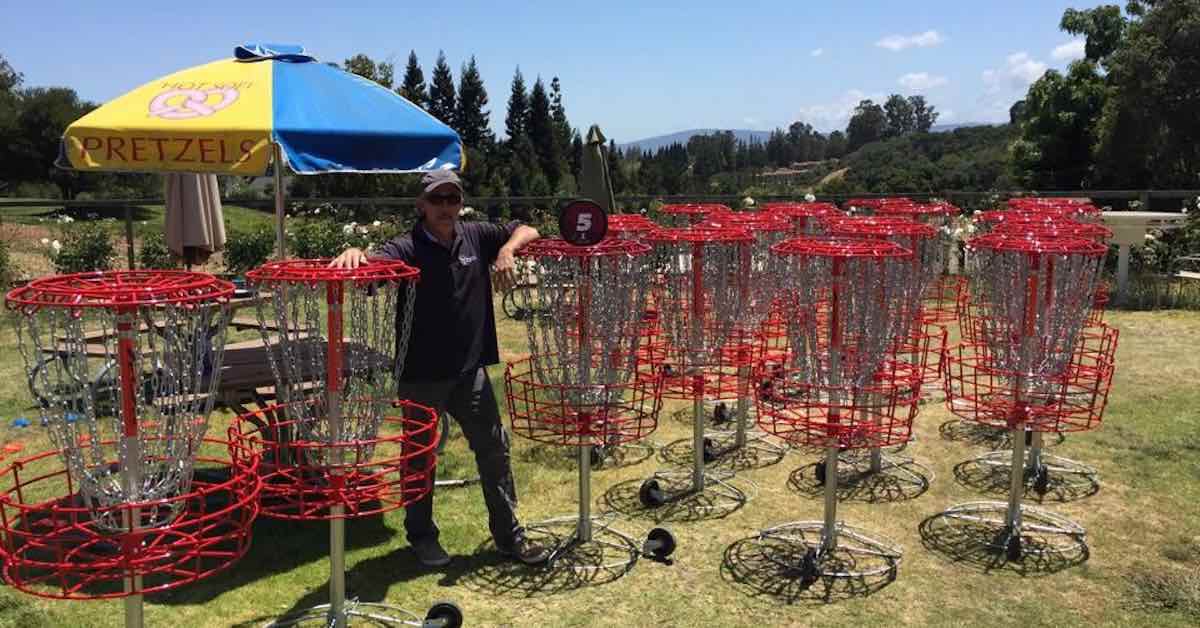 These are collections of high-quality, mobile baskets and could include roll-out turf tees, too. A mobile course is meant to be rented out, so all the equipment is kept in a trailer people can haul to new destinations. You arrive, place your baskets and tees (maybe set up a course map in UDisc, too), and you're ready to play disc golf. When your event is over, you pack up, return the trailer, and the equipment is ready for someone new. Whether they're used for simple pop-up courses or official tournaments that demonstrate disc golf's potential to draw tourists, mobile courses offer an inexpensive way to show people the joy our fast-growing but still-niche sport can bring.
Currently, mobile disc golf courses aren't widely available, but it's a model with tons of potential – as shown by two sources we tracked down who rent out mobile disc golf courses on the West Coast of the United States. Both have seen multiple pilot courses turn into permanent ones. Below, we break down their stories and take a look at important dos and don'ts when lending out a portable disc golf course.
Mobile Disc Golf in the Pacific Northwest
The South Puget Sound Disc Golf Association (SPSDGA) is the main club in the greater Olympia, Washington, area and has a track record of running successful leagues and tournaments as well as getting new courses in the ground.
The SPSDGA was a catalyst for the installation of one of the best college disc golf courses in the world at Evergreen State College in 2015. Prior to the permanent course, the college had temporary baskets provided by the SPSDGA for years. Once Evergreen's course was up and running, the club again had those mobile baskets at their disposal.
"We realized we almost had enough baskets for a full course," said club treasurer Mark Hill. "So we purchased a few more baskets and piled them onto a flatbed trailer to add holes at the tournaments we run each year."
The big lightbulb moment came a little later when a member of the local disc golf community got in touch to see if he could borrow equipment.
"He asked if anyone had some baskets he could borrow for a pop-up tournament," Hill said. "That was the start of it, and you can say the rest is history."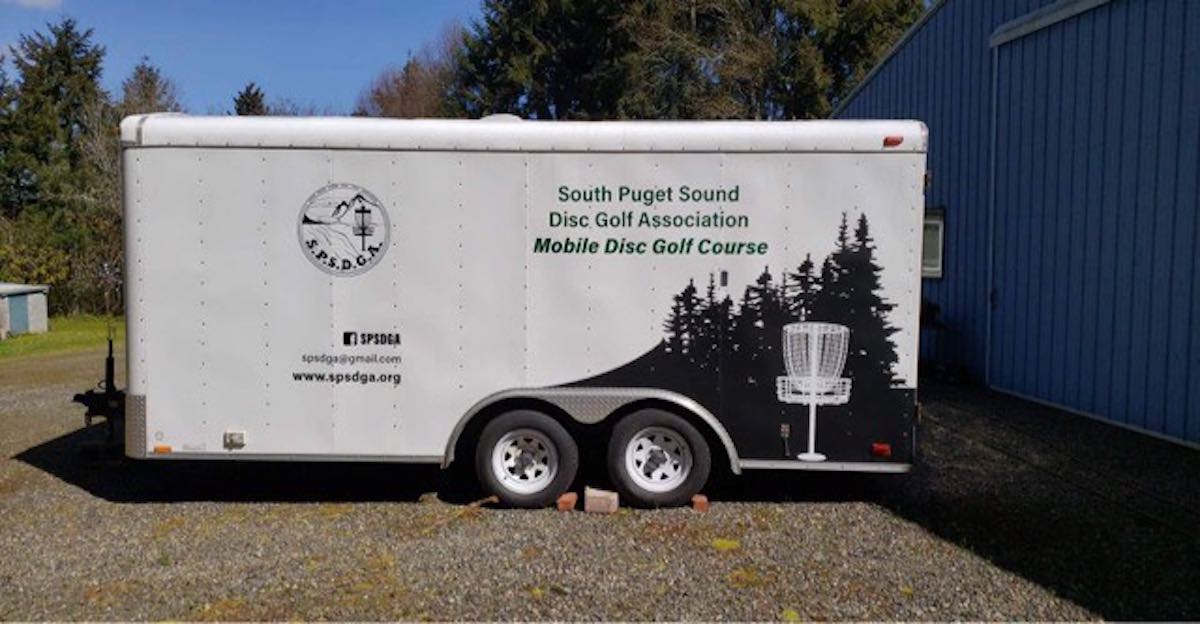 The SPSDGA currently offers 18, fully-assembled Mach V baskets, one Mach II practice basket, locking devices to discourage theft, 18 A-frames for tee signs, and a case of orange marking paint with a wheel for spraying out-of-bounds lines. As of this year, this is all packed in a fully-enclosed trailer customized with the club logo. The SPSDGA rents out their mobile course for $100 per week or $300 per month – a price most prospective locations are quite willing to pay to gauge the feasibility of disc golf.
The operation is still in its infancy, but the mobile course has successfully introduced disc golf to several new locations. Delphi Golf Course, Gleneagle Golf Course, and Skyline Golf Course have all rented the SPSDGA portable course in 2022 and subsequently put in a full course of their own within weeks.
Hill said their course has traveled from the Washington-Canada border all the way down to the Washington-Oregon border along the Columbia River. If the client is willing to come pick up the trailer, the SPSDGA is willing to provide their mobile course.
Portable Disc Golf from a Famed Course Designer

In California, legendary course designer Leonard Muise has his own mobile disc golf course. Though well-known in his region and among design buffs, Muise's name is most likely to ring a bell for those who follow pro disc golf. He designed the courses used for both the San Francisco Open (last held pre-pandemic) and the OTB Open.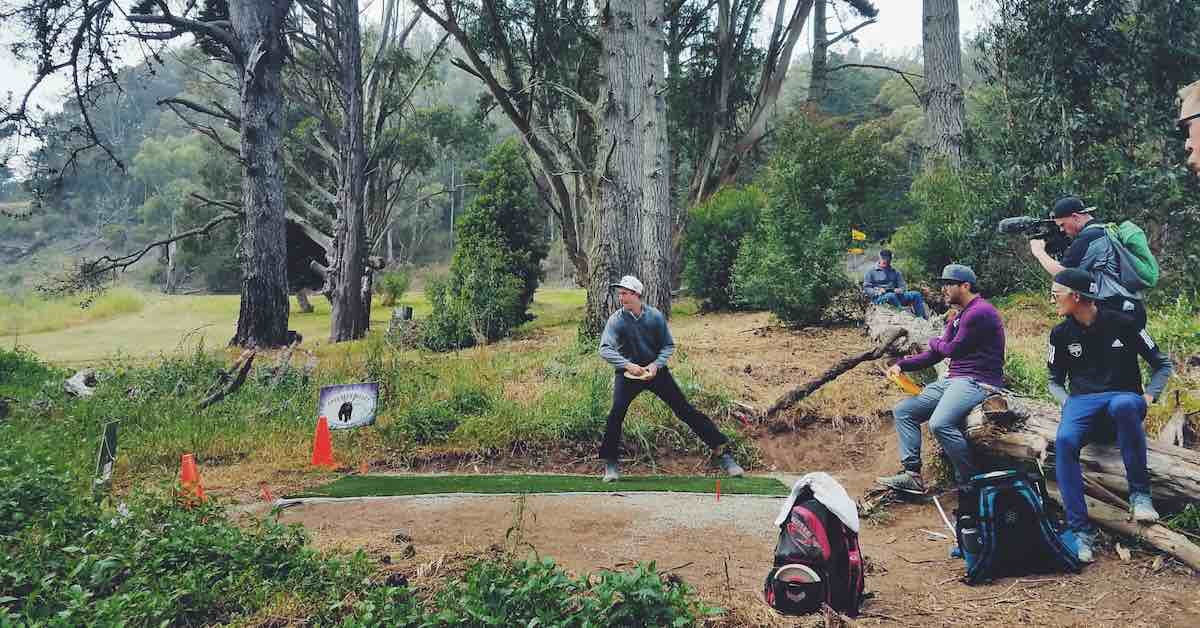 Like the SPSDGA, Muise has a trailer filled with disc golf equipment he rents out to organizers, but he's been in the mobile disc golf course business a lot longer. He got the idea to start a collection of baskets in the 1980s when, much like in recent times, disc golf was booming and tournaments were filling very quickly.
"I noticed we were scraping together extra baskets just to expand an 18-hole course to a 24," he said. "So it was always in the back of my head that having extra baskets would be useful."
Four decades later, the interest in adding disc golf courses is growing again. With the limited land available in California, that interest has specifically stemmed from golf courses.
"If I say I can just demo what a course would look like for them, it suddenly sounds very interesting," Muise said. "There's nothing better to convince someone who's considering it than to just show them."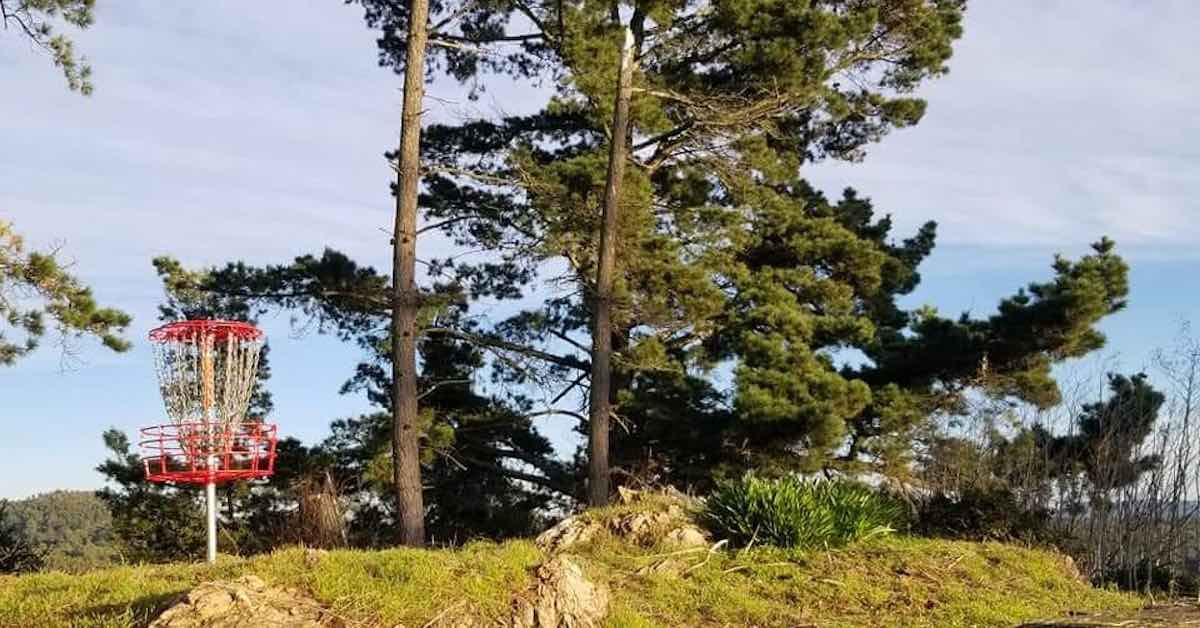 Over the years, Muise has sent his mobile course to numerous locations curious about disc golf. Of those pilot setups, eight have turned into permanent layouts, and he's most proud of the installation at Emerald Hills Golf Course in 2015. 
"It was the first course in a county with about 750,000 people...[and] the first dual golf course in the greater Bay Area," Muise said, who uses "dual golf" to refer to a property that offers both disc golf and traditional golf.
Just seven years later, the Bay Area will see its seventh installation of a dual golf course.

Muise's setup includes a fully-enclosed trailer along with 20 Mach V baskets, 10 Mach VII baskets, and turf tee pads. He charges $500 per day for nine holes, $750 per day for 18 holes, and $500 for each additional day. However, most of the time he donates the course in exchange for the rights to sell disc golf discs and merchandise on the premises.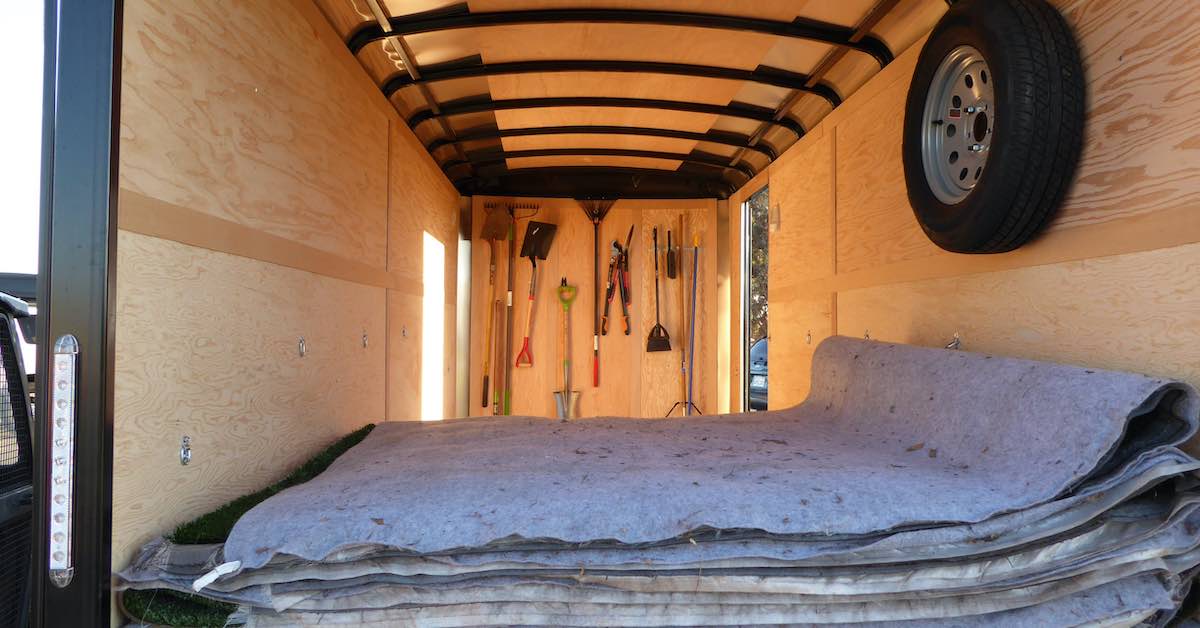 Beyond pilot events and tester courses, Muise is also a major promoter of local tournaments throughout the year. His turf tee pads are used at the OTB Open and he also helps out fundraiser events and other competitions that need a few extra baskets to increase the field size.
"I have the most fun bringing my baskets to a temporary layout at the Little River Inn Golf Course," he said. "We're up to five years running now. It's a really great venue and is part of a winter charity series. Right through the middle of winter they sell out this trophy-only charity event and raise quite a bit of money."
Mobile Disc Golf Courses: Top Tips
If these stories have got you thinking that your club should put together its own mobile course, great! Here are some tips the SPSDGA and Muise gave us based on their experiences lending out disc golf courses:
Get a big trailer that fits all baskets fully-built.
Both of our sources said an appropriately sized trailer was a must. If your baskets don't fit in it when they're completely built, it's a problem.



"Get a trailer that is big enough to house the baskets fully-assembled," Muise said. "The baskets certainly break down much smaller, but that's a lot of work. Many don't leave them up overnight, so you have that morning and that evening to set them up and take them down. If you add assembling to that process, that's nuts."

Create a clear contract.
Make sure for your sake and your renters' that it's very clear what's expected from both sides so there aren't misunderstanding or arguments.

"

We've only been doing it for a year and a half, so we're still tweaking the contract to make sure nothing's missing in that, but it's important to make sure liabilities, insurance, and any damages are all spelled out in writing ahead of time," said Hill of the SPSDGA.

Make sure the baskets stand out.
Muise said that because the baskets will be used at brand new courses where almost no one will know where to find them, it's a good idea to make sure they're very visible. He suggested powder-coating them with color, but if that's not an option, it's worth thinking of other ways to assure the targets aren't hard to find.
Make reservations easy.
The SPSDGA recently created an online reservation system and calendar so people can easily find out when the mobile course is available. It also means they use less of their leaderships' time when renting out the course.