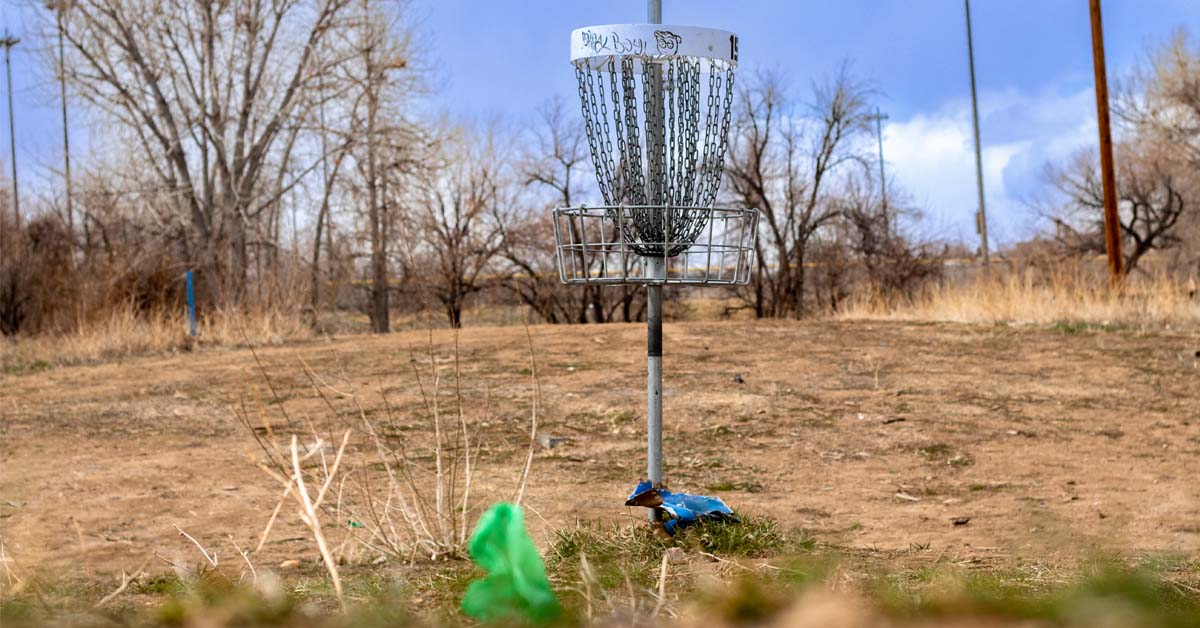 There's an elephant in the metaphorical room of disc golf. And as with most elephants in rooms, it's big, dirty, and most of us didn't ask it to be here. 
Yep, we're talking about trash on the disc golf course. 
Now, I know what you're thinking: "How did it get here?" Even better: "Who put it here?" 
If I'm being honest, it's natural to want to figure out who or what is to blame. But we don't have time for the blame game because the problem is massive and we have a choice to make: Do nothing or do something.
Wait…Is Trash on the Disc Golf Course Really That Big of a Problem? 
From a single-use plastic bag found in the bottom of the ocean (-36,000 ft / -10,973 m) to microplastics found near the top of Mt. Everest (+29,000 ft / +8,839 m) to that empty can of Coors sitting next to the tee pad, trash has made its way to every corner of our planet. 
Every year, we dump an astounding 2.12 billion tons of trash on the planet. To put that in perspective, if that same waste was loaded onto trash trucks, they would line up bumper-to-bumper around the world 24 times. 
This is why we're well past the blame game. 
Instead, we need to act, because even though something (read: trash on the course) may not be your fault, you can still take responsibility.
OK, I'm in. What can I do? 
Good news: You don't need to be strong enough to pick up an elephant!
At Trash Panda, we fundamentally believe it's not about someone doing everything, but rather everyone doing something. 
If you're an individual who wants to take action, we encourage you to pick up one piece of trash during your next round. (After all, what would our courses look like if everyone picked up one piece of trash during every round?) 
And if you're a leader who wants to take it even further, we've outlined our guide for gathering the community and hosting a successful course cleanup below.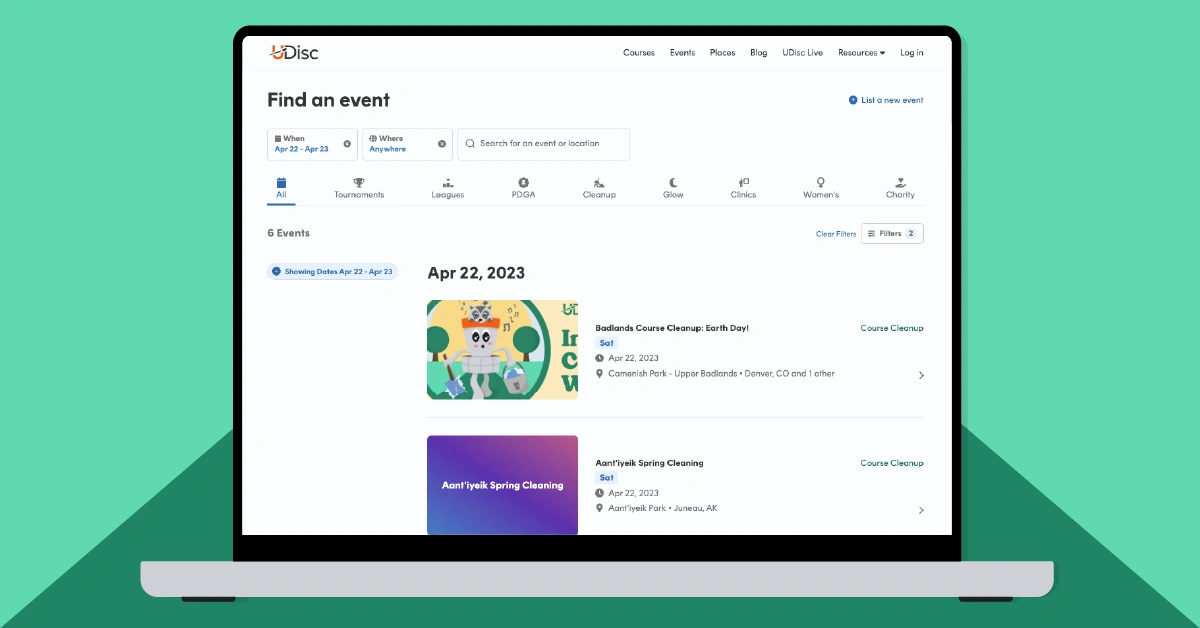 Making Disc Golf Course Cleanups Happen
Course cleanups are, hands down, one of the best representations of the disc golf community. It's literally just a group of people gathered together with one end in mind: to clean the course. Maybe there are some discs thrown (because when there's a basket, how can you not?), maybe there's a prize or two (for CTPs: "Closest Trash to the Pin"), and maybe there's a photo taken for reddit (aka bragging rights). But, mostly, the focus is simply on leaving the course better than you found it. 
In our experience, we've identified five steps to hosting a successful course cleanup.
Step 1: Identify Your Why 
Successful course cleanups always start here: Why are you doing this? What course will it be at? What is the end goal? 
Your answers to these questions will both help you and the individuals who participate to feel purposeful about what they're doing. For example, sometimes there's too much trash on a course for a single cleanup. If the "why" is to clean up everything, then it can be draining; but if the "why" is to make a dent, people will feel motivated throughout and encouraged at the end.
It's: Ready. Aim. Fire. Not: Ready. Fire. Aim.
Step 2: Rally the Community 
An African proverb rings true here: "If you want to go fast, go alone. If you want to go far, go together." 
Once your "why" is defined, it's time to gather the people. Where does the local community gather (UDisc, Facebook, Discord)? What clubs and local retailers can collaborate with you? How can you encourage people to show up? 
People want to be a part of something, so rallying the community through Facebook pages, local shops, your course's info boards, and more is a surefire way to increase the impact of your cleanup. 
We'd also encourage you to list your course cleanup on UDisc. With hundreds of thousands of players using the app, it's an easy win when it comes to getting your event in front of tons of eyeballs. You can get started at udisc.com/events.
Step 3: Make a Plan 
Before the clean-up, be sure to create a plan that is intentional yet flexible because no one wants to feel like their time was wasted. Here are some key questions to answer:
What equipment will you need (gloves, bags, masks, trash grabbers, etc.)? 

Where will the trash go once it's collected? 

Would the city or county like to be involved? 

Would the local parks department provide any equipment? 

Where will you meet before and after? 
Since time is our most valuable resource, making a plan and being ready is key. But remember, you can still make an impact even if you don't have all the answers. Getting out there, even with just a simple plastic bag, is a start.
Step 4: Have Fun 
Even though picking up trash is dirty work, it doesn't have to be boring. 
How can you make it fun? What creative elements can you add to make it enjoyable? Maybe there's a round played during or after. Maybe there's a CTP prize for the person who finds the "Closest Trash to the Pin." Maybe there's a putting challenge (like a "Ring of Fire") held after. 
We're all there for the love of the sport, but it's easy to be bogged down by the realities of trash on the course. Instead, help the community remember why they are there by keeping it fun!
Step 5: Clean the Course 
Ok, yes, this one is obvious. But it's worth saying: Just do it! 
When the disc golf community rallies together, good things happen. 
International Course Cleanup Weekend: April 22-23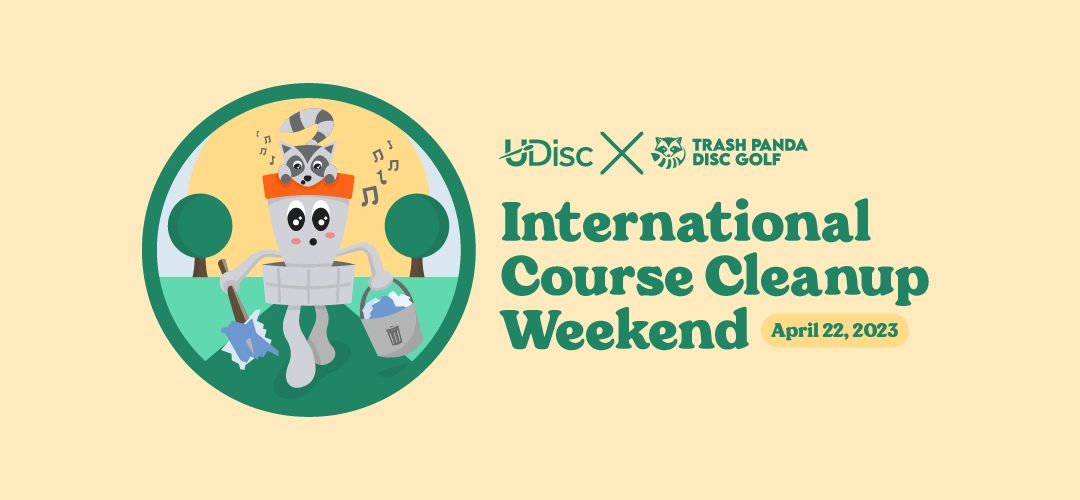 Speaking of the community rallying together… 
If you need one final push, we're encouraging everyone to go out and clean their courses around Earth Day for the first-ever International Course Cleanup Weekend! Whether you move the baskets at a course in Finland or run tournaments in Alabama – or are an individual who just wants to be the change – we want to clean up with you. 
Here's how to get started:
Go to udisc.com/events

Use the "Cleanup" filter at the top to find an event in your area
If there is an event listed:
Great! Put a note on your calendar and get ready to clean.
If there is not an event listed:
Add one yourself! It's easy to set up with UDisc's new Events platform.
Go to udisc.com/events

Click the "List a new event" button

Get started and select "Disc Golf Event"

Select Course Cleanup

Add the details!
Bonus: The first 100 Course Cleanups added for the weekend will receive a prize pack! You can split up the goodies within and give something away to the biggest trash collector, CTP winner, or just a simple thank you. We've teamed up with some great partners to make it happen. Here's what it includes:
1 Trash Panda Inner Core putter

3 one-year subscriptions to UDisc Pro

1 Whale Sac

1 FlighTowel
Here are some extra event listing best practices for International Course Cleanup Weekend:
Select a course that needs some TLC. If there has been a tournament there recently, it's probably in solid shape. But what about the well-trafficked 9-holer down the street?

Add a start and end time so people can appropriately plan.

Right-click and save the photo above, then use it as a cover photo so your event will really pop – plus, you'll show solidarity with other Course Cleanup events that weekend!