New places to play disc golf go up all the time. In 2021, the rate was 5.28 new disc golf courses per day. This expanding infrastructure is necessary to support the immense growth of the sport over the past several years and its longevity for years to come.  
With 90% of courses free to play, disc golf is accessible to almost everyone, but funding a new course can be a major hurdle. So, how do you pay for a new disc golf course?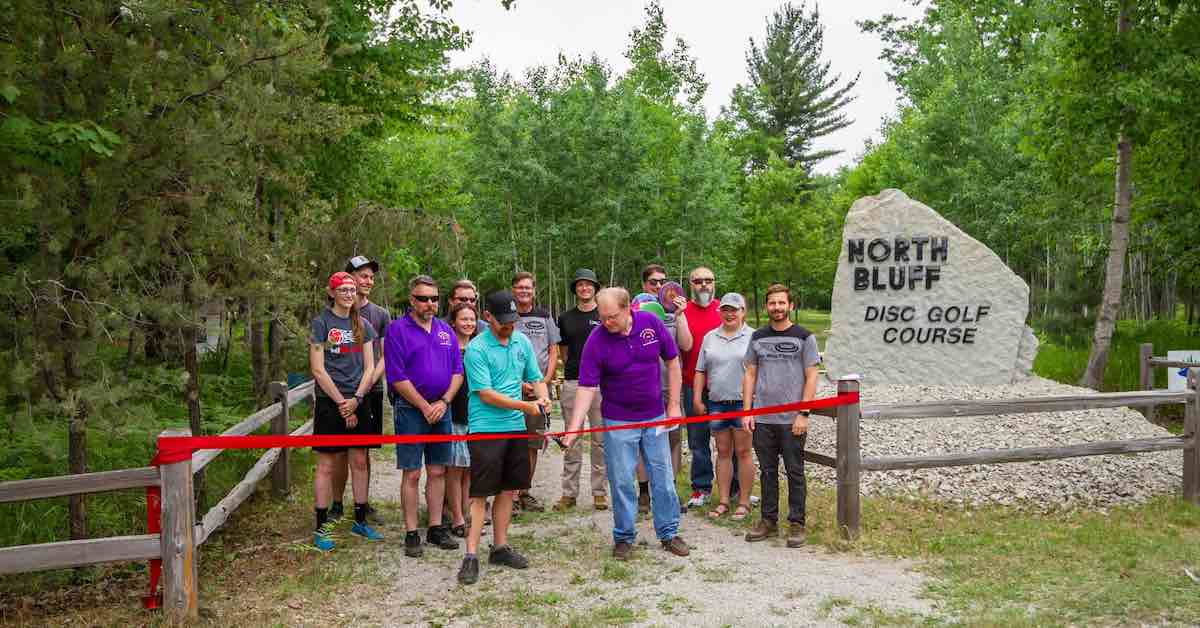 One excellent option is crowdfunding. This online funding model allows projects with wide-reaching community support to raise the cash they need by gathering small-dollar donations from a large number of people. 
We'll take you through the steps of how to crowdfund a disc golf course based on expert advice from Noc Bay Flyers Disc Golf Club in Gladstone, Michigan. They crowdfunded over $25,000 and used it to create North Bluff Disc Golf Course, which is now one of Michigan's top disc golf courses.
THE MOST IMPORTANT THING
There's something you should keep in mind through every single step of campaign planning: Disc golf courses are not just for current disc golfers, but for entire communities.
Especially in areas where disc golf is lesser-known, never forget that 1) your campaign's goal is to make your course (or at least its mission) appeal to as many people in your community as possible and 2) most people have never set foot on a disc golf course. These facts should be guiding lights as you develop your course plan, promotional strategies, and messaging.
"Make sure you don't just 'sell' the dream to disc golfers," said Rick Elrod, Secretary of the Noc Bay Flyers Disc Golf Club (NBFDGC). "While we received quite a few donations from local avid disc golfers, the majority of our donations came from local businesses that wanted to help improve recreation and tourism opportunities in the community."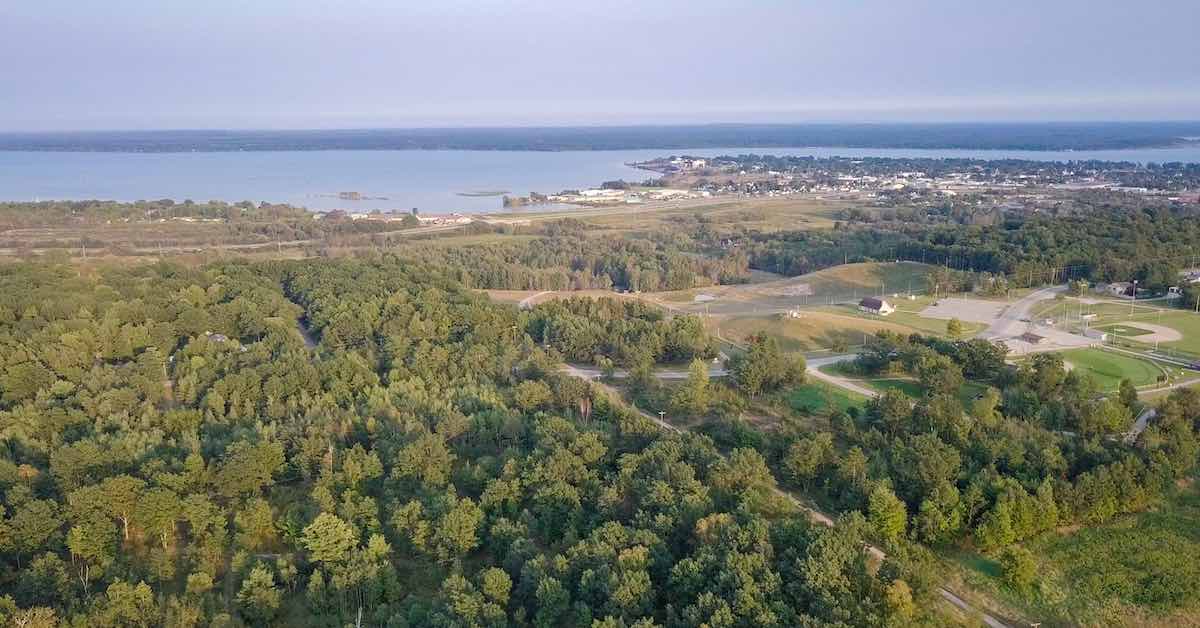 If you'd like stats to help show the sport's potential to non-disc golfers during your campaign, we at UDisc are happy to help. For information about the sport's general growth and popularity, see our annual Disc Golf Growth Report. We can also provide play counts and other information from local courses or nearby areas. Just reach out to us at help@udisc.com with the figures you're looking for.

And, just to be clear, that's all free. We just want to help you grow the sport.
FOUNDATIONS OF A DISC GOLF COURSE CROWDFUNDING CAMPAIGN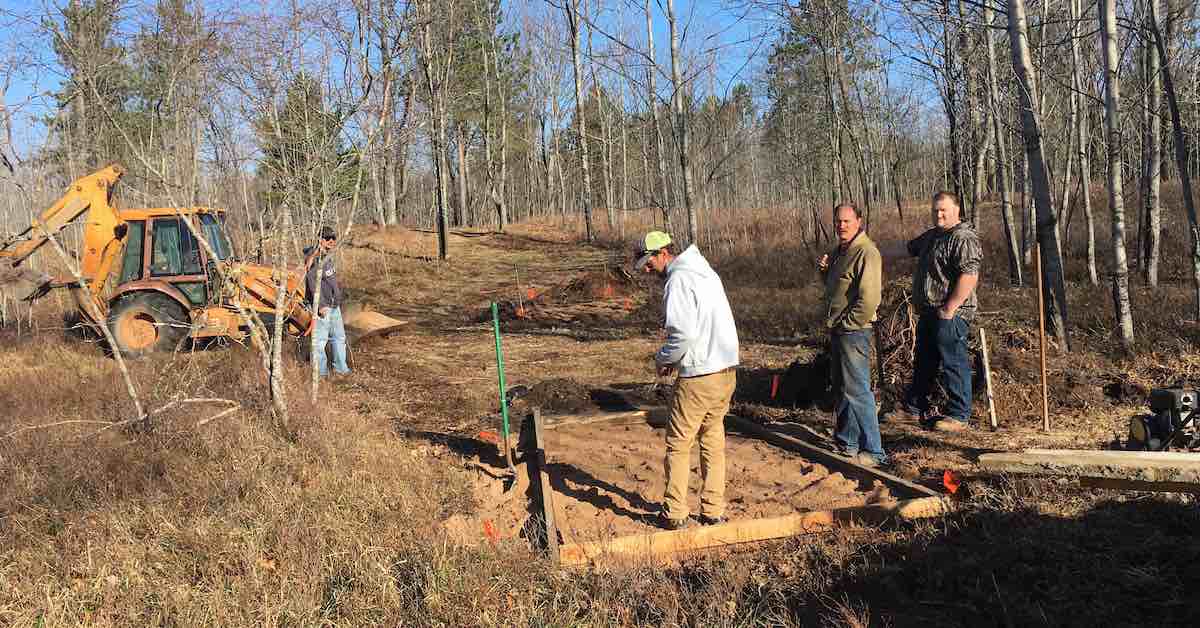 Before you start thinking about the right platforms and strategies, you'll need solid fundamentals in place. Below are the building blocks of good disc golf course crowdfunding campaigns.
Team 
Having a team is crucial to running a successful crowdfunding campaign, and your local disc golf club is a great place to start building one. Community organizations and/or parks departments that are interested in offering new recreational opportunities would also be phenomenal allies and lend your campaign authority.

As you create a team, consider that some of the assets you'll need most are...

Excellent written communication

Media production skills (photos, video)

Time and talent for frequent, engaging social media promotion

Knowledge of local groups and organizations likely to support your efforts
With a dedicated and well-organized team, you'll be ready to start planning your crowdfunding campaign. 
Finalized Course Details
Before you launch your crowdfunding campaign, having course details ironed out is a must. Without knowing what the course you plan to build will look like, there's no way to create a budget.

Elrod emphasized that one of the most important things is having express permission to use a specific area of land if your course is successfully funded.

"One of the first steps in the process for us was to sell the idea to the city and get formal approval from the recreation department as well as the city commission, contingent on the fact that we would raise the funds for it," said Elrod. 

If the land isn't secured, you won't be able to provide an adequate campaign promise to potential backers. The uncertain nature of your course will leave backers feeling unsure about your project and make them unlikely to contribute. 

Once you have the right property locked down, create a detailed course plan that potential backers can look at and get excited about when your campaign starts. The clearer your vision is, the more confidence potential backers will have in it.
Budget
With land and a plan in place, it's time to create a budget, AKA your campaign goal.

Your team should consider everything it needs to make your course a success and how much it'll cost. Baskets, tee pads, signage, benches, trash and recycling cans, as well as all the labor that will go into installing these assets and carving fairways. You may even need to create a new parking area or build infrastructure like bridges or stairs. Each course is different, so be sure to consider every detail of yours carefully when creating a budget.
NBFDGC also included funding for ongoing course maintenance in their budget, sweetening the deal for the city.
"Both the recreation board and the city commission were excited about the project, but it was important to them that the project cost them very little, if anything, since they didn't have any funds budgeted for it," Elrod said.
PLANNING THE LAUNCH OF YOUR DISC GOLF COURSE CROWDFUNDING CAMPAIGN
You have a team, a detailed course plan, and a budget. Here's what you'll need to do next to launch a successful campaign.
Select a Crowdfunding Platform
There are a lot of crowdfunding platforms available to launch your campaign, but some may be better suited to a disc golf course than others. Consider the platform fees, audience, and customer support before selecting a platform for your campaign. 
Kickstarter, for example, says itself that its "mission is to help bring creative projects to life." While that worked well for Løft's straight-flying putter and Idio's disc golf shoe, it's probably not the best fit for a community infrastructure project like a disc golf course.
The Noc Bay Flyers Disc Golf Club found success on Patronicity, a civic crowdfunding platform specializing in place-based projects. In addition to providing one-on-one project coaching to all crowdfunding campaigns, the platform partners with organizations that provide additional funding through matching grants. 
By reaching their crowdfunding campaign goal, the project unlocked an additional $25,000 from the Public Spaces Community Places matching grant program created by the Michigan Economic Development Corporation (MEDC). 
"The biggest selling factor on using Patronicity was the fact that they already had a built in relationship with the MEDC, which included some matching funds from their Public Spaces Community Places program," said Elrod. "Of course having the option to receive the grant funds was a great financial benefit, but it also helped give the project a lot more credibility and made people more willing to donate knowing that if we met the goal, their donations would essentially be doubled."
It's also important to consider the funding options available. Platforms typically offer all-or-nothing and partial funding options. All-or-nothing funding can incentivize backers to give to your campaign by creating a sense of urgency. However, partial funding may provide a safer option if you're worried about not being able to reach your goal. Having the option to create something that will benefit your community (e.g., building a nine-hole rather than an 18) could be preferable to building nothing. It could also lead to more public interest in funding upgrades at a later point.
Create a Campaign Strategy 
Effective campaign strategies will vary greatly depending on the type of course you're hoping to create, how well disc golf is known in your area, and other factors. Still, there are some basic questions you can ask to help identify potential backers and develop a campaign narrative and timeline. 
Who will the course benefit most?
This question will help you consider how you will pitch your campaign to potential backers. Consider why your course is important and how it will support your community.
Who will back your campaign?
With your team, create a list of potential backers to reach out to about contributing to your campaign. It is recommended that you create this list before you launch your campaign so you are ready to make your ask when the campaign goes live.

Consider local disc golf club members, local businesses, youth organizations, and others who could benefit directly from the course. But think bigger, too! Consider the larger benefits the course will provide to your community and approach local government, tourism organizations, community foundations, and corporations for their support.

"The biggest challenge was just convincing a few large contributors to jump on board to get the ball rolling," said Elrod. "It was also a bit challenging to pull together all of the selling factors for installing the course that would make it appealing to the general public and businesses, many of whom were not disc golfers. We wanted to make sure we highlighted all of the benefits the course would bring to the community."
What's the best way to reach potential backers?
Once you've identified those most likely to support your campaign, create a promotion and communications plan targeted at them. Are they most likely to be on Facebook or Instagram (or Twitter or TikTok, etc.), or would it be better to send an email to a leader who might be willing to forward your request organization-wide or include it in a company newsletter? You can also reach out to local media outlets to see if they're interested in writing a piece about your efforts (here's a guide to getting disc golf in the news if you'd like some tips).
How long should your crowdfunding campaign last?
Your campaign should last between 30 and 60 days. Providing a short timeline creates a sense of urgency and excitement around your campaign. Projects with longer timelines are likely to lose steam and community interest. 
LAUNCH YOUR DISC GOLF COURSE CROWDFUNDING CAMPAIGN
The pieces are in place, and you're finally ready to launch your campaign! It's all hands on deck to spread the word. Every team member should be engaged in reaching out to potential backers, contacting the press, and sharing on social media. 
It's important to keep your campaign at the forefront of people's minds. Consider events as another way to get your community involved, whether through charity tournaments, volunteer days, or clinics. The options are endless to get the word out about your campaign, so get creative!  
Consider offering rewards to campaign backers at various contribution levels. Rewards provide an additional incentive for backers to give. This could include commemorative discs, hole sponsorships, or other unique, limited edition items.
Your campaign progress will likely ebb and flow, with large support at the beginning and end of the campaign. Be persistent and don't lose faith in your team if there is a lull. With hard work and community engagement, chances are good that you'll reach your goal.
INSTALL YOUR DISC GOLF COURSE
Once the campaign is over, the work is just getting started! It's important to deliver on your campaign promise. Keep your community engaged throughout the installation by sharing updates and getting them involved in the process.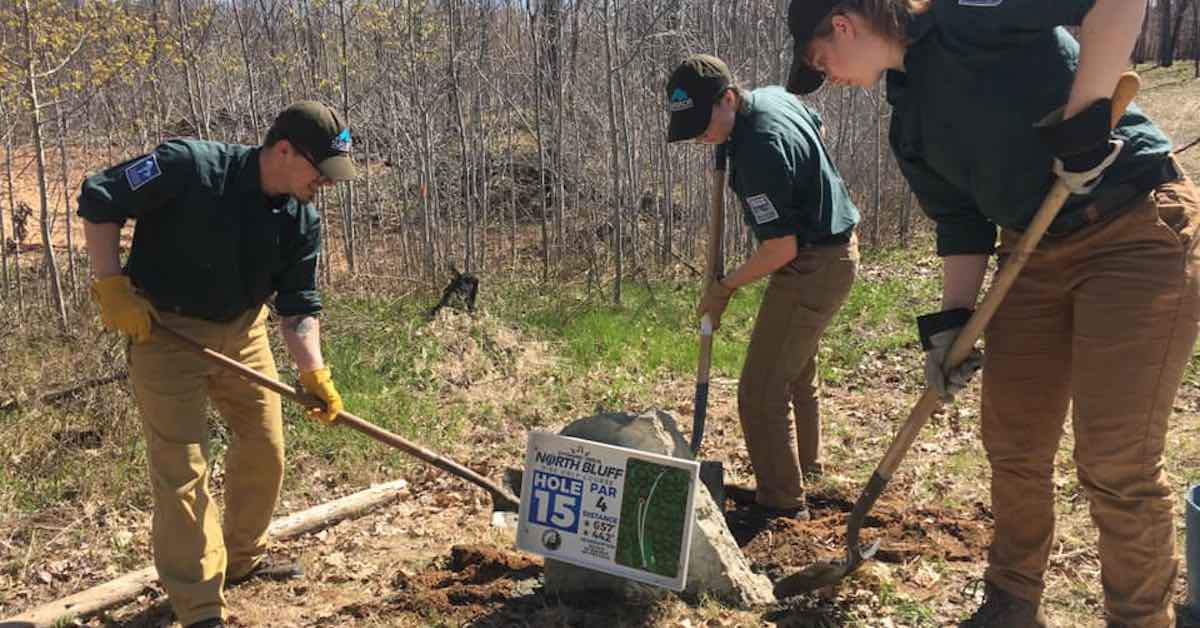 Community events or work days to support the promotion and installation of the course are excellent methods to engage your community in the process. This is also a way to include individuals that are unable to give financial support to your campaign. 
Thank your supporters for their donations and hard work. A groundbreaking or ribbon cutting event can be a great way to involve supporters and community in the course installation. These events can also be a great driver of press coverage for your course.
Final Words of Wisdom
"We didn't just want to install some disc golf baskets in the woods," said Elrod. "We wanted to build one of the best disc golf courses in the Midwest, so we hired professional disc golf course designer, Eric McCabe, to dream up the best course he could think of with the land we had available. Even though the course was much more expensive to install than a standard 18-hole course, the fact that it was unique and had the potential to draw tourists from out of town was a big selling factor for many of our donors and contributors."
That vision paid off. In 2022, North Bluff Disc Golf Course was ranked as the second best disc golf course in Michigan and the 64th best disc golf course in the world. You can take a look at their campaign on Patronicity to get ideas for your own.