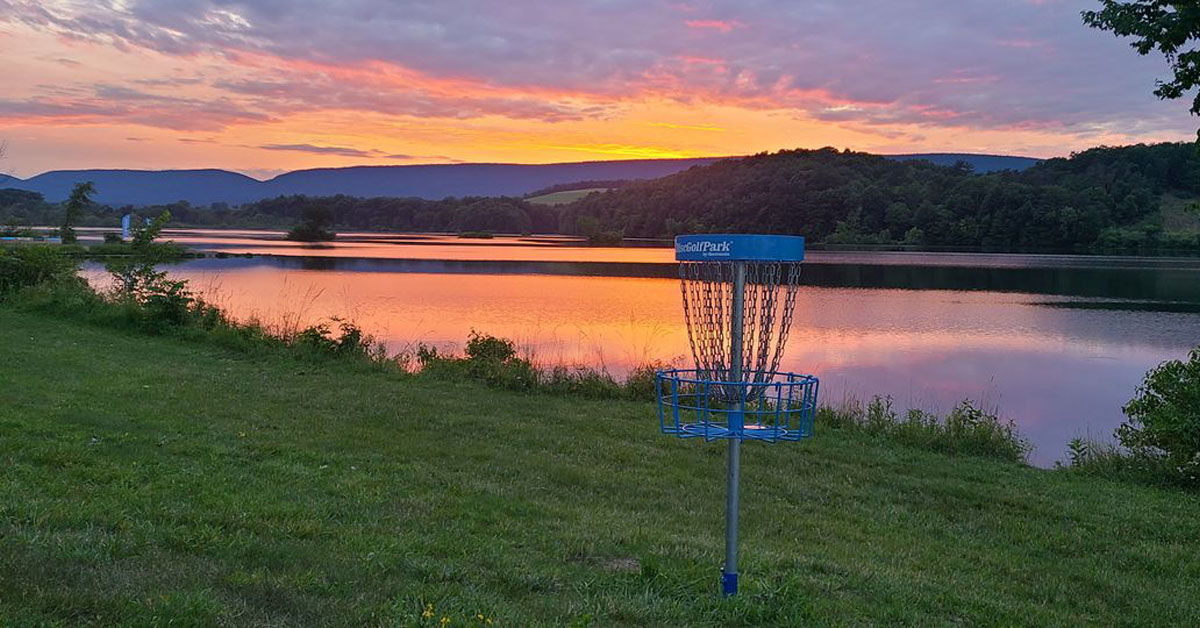 Disc golf's affordability is one of its strongest selling points, a notion further underscored by the fact that 90% of disc golf courses worldwide are free to play.
We also shared in our 2023 Disc Golf Growth Report that half a billion people live within 6.2 miles/10 kilometers of a course, meaning it is easier than ever to find a place to score your next round.
Until 2021, though, Lee Zimmerman was not one of the lucky half-billion. And that's where the story of Faylor Lake DiscGolfPark, the world's best free disc golf course, begins.
'It All Fit Together'
Actually, the story starts even further back, in 2014. That's when Zimmerman, a lifelong Central Pennsylvania resident, first became a casual disc golfer. But with a young family and work commitments, there was little time to play. 
Add in the fact that his nearest course was more than an hour away, and that made the little time more like nonexistent. Still enamored with the game, though, he was content to throw discs in his backyard for practice.
In 2020, he moved to Beaver Springs and found himself two miles from Faylor Lake, a 750-acre/303-hectare recreation area overseen by the Snyder County commissioners. Located less than a mile from state route 522, the property features hiking trails, some of the state's best fishing, and still plenty of the quiet solitude of nature despite its close proximity to a major thoroughfare.
"It's a fantastic piece of property–it's so beautiful," Zimmerman said."It's just you and nature. It's incredible."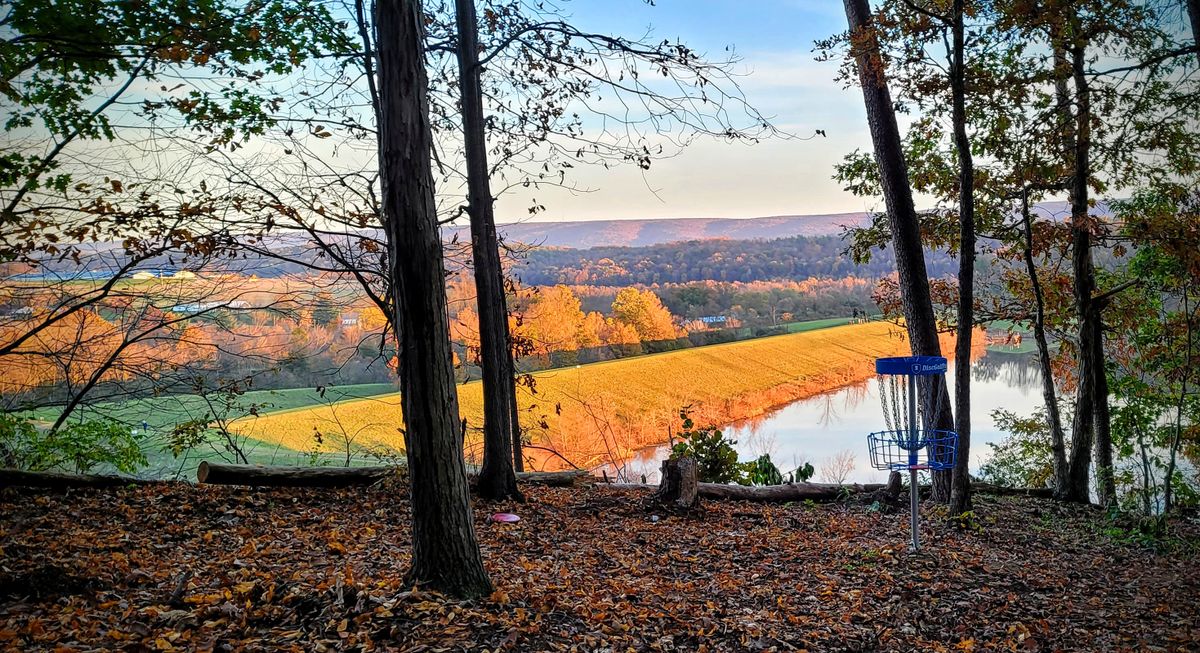 And with that, Zimmerman saw an opportunity to finally get a course near him. So he connected with the county commissioners, who took him on a tour of the property and helped him find an area that was overrun with invasive species. 
"It was currently not used for anything, and the commissioners wanted to clean up this section anyhow," he said. "They were looking for input from the public to drive tourism to the area. It all fit together."
And so they planned for a nine-hole course in the park, but Zimmerman also figured it wouldn't hurt to enter Dynamic Discs' "Pitch For Pins" competition, which would award 18 new baskets to one lucky winner. Faylor Lake didn't get the nod, but when word got out locally that a full course was on the table, a local disc golf shop owner suggested Zimmerman get in touch with Steve Braud, a Pennsylvania-based designer for DiscGolfPark.
"At this point I had a preliminary design for the first five or six holes and I decided I would call Steve and tell him what I had going and see if he would be willing to come out," Zimmerman said. "At the very least I could pick his brain on some things."
'It Was A Risk I Was Willing To Take'
Braud might not be the busiest person in disc golf, but he's certainly vying for the title. In addition to leading DiscGolfPark's east coast sales and design efforts, he's also the head of business development for Upper Park Disc Golf, runs tournaments under his recently developed Lost Valley Management Group, and has a to-be-announced retail venture in the works.
And more courses. He had recently finished The Preserve at AGA DiscGolfPark, another of Pennsylvania's top five disc golf courses, and was working on three other projects when Zimmerman contacted him and asked him to come check out Faylor Lake. Braud normally needed a contract in place to come consult but, intrigued by the prospect, he simply charged a $500 fee to come scout the location. 
Instead of trying to jump through more hoops with the county for a course that wasn't entirely promised, Zimmerman decided to put up the cost himself.
"My thought was that if Steve could come out and see the property he would either love it and explain the DiscGolfPark concept to the commissioners himself, or he would decide not to get involved and I would lose the $500," Zimmerman said. "It was a risk I was willing to take."
That gamble paid off the moment Braud stepped out of his car. A bald eagle flew over his head, Zimmerman recalled, and the close encounter with nature, combined with the venue's incredible potential, had him hooked. 
"The commissioners bit on the fact that we should be designing a world-class disc golf course," Braud said. "Because the property screamed it."
They were now set to construct the 18-hole beauty that is in place today. Zimmerman already had rough ideas in mind but had never designed a course. Still, that doesn't mean Braud completely scrapped the work Zimmerman had put in. Instead, as an experienced golfer and designer, he took the foundation and built something bigger.
"Hole 1 is this uphill, beautiful shot," Braud said. "Lee wanted the hole to go to the top of the hill, and I got to to the top of the hill and said, 'This is the landing zone.' I was starting to stretch his ideas as we were going through the course."
Zimmerman's generosity and the county's resources combined to help the project come together more quickly than anyone could have imagined. Braud said Zimmerman, who owns local construction business Zeiset Equipment, would often front equipment rental costs and other fees to keep construction hustling along. They planted 30 acres/12 hectares of grass seed to beautify fairways, cut down trees as Braud walked the course and identified what needed to be cleared, and got the course done in less than 10 months. 
A project of this scope normally takes 18 months at a minimum, according to Braud.
"The level of commitment Lee and his team showed – I will never find another disc golf project like this as long as I live," Braud said.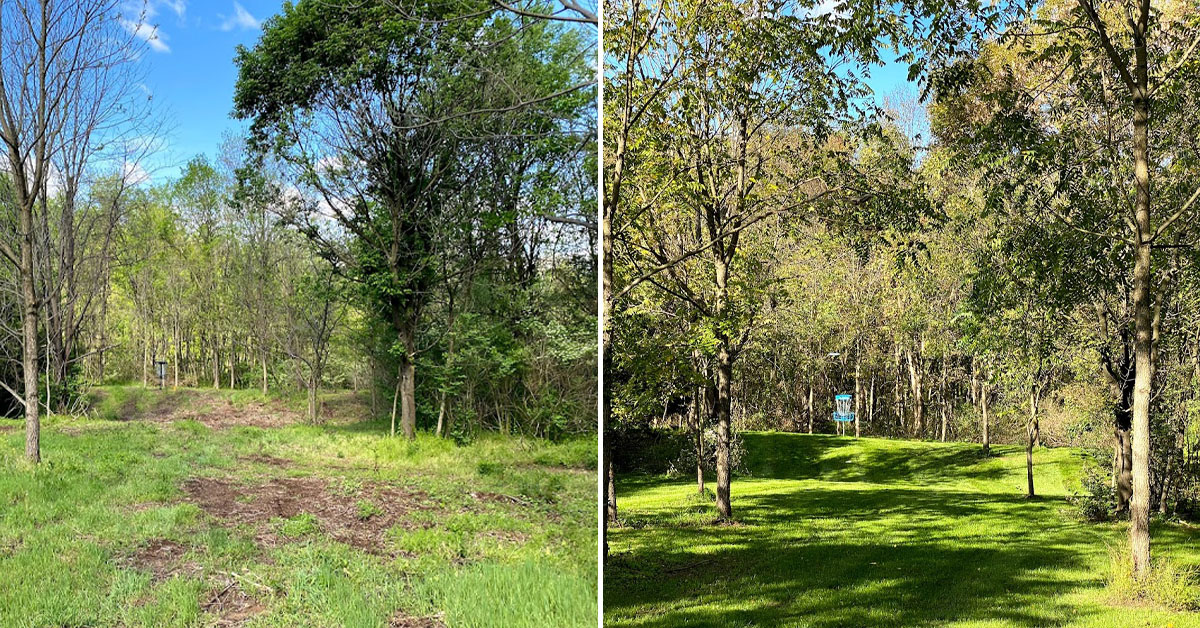 Braud put his heart into it, too. He called Faylor Lake a tribute to the now-defunct course at Nockamixon State Park, which his father-in-law designed in the early 2000s. It's a place Braud spent countless hours at over the years creating memories – he even proposed to his wife at the park – and he wanted to make sure its legacy lived on.
"I was looking at Nocki the whole time I was building Faylor Lake," Braud said. "It's an homage not only to the people that built Nockamixon, but also my inspiration to get involved in disc golf."
'A True Destination Course'
Now, the new course is picking up the mantle Nockamixon left behind. 
Featuring both an accessible red layout and a demanding championship-level gold configuration, Faylor Lake quickly gained a positive reputation, with its 4.8 rating across almost 750 reviews on UDisc earning it the title of 14th best course in the world. That's tops among free courses and places it above renowned tracks like Harmony Bends, Idlewild, and fellow Pennsylvania classic Lakeview at Moraine State Park. 
Zimmerman said an additional set of baskets is currently being planned that will boost the course to four layouts. The new pin positions will be aimed at intermediate to advanced-level players and give them a sweet spot between the existing options.
What kind of golf are you getting at Faylor Lake? A little bit of everything. Replete with well-defined fairways and demanding placement shots, there's a serene beauty that permeates the property. It's overwhelmingly green thanks to all of the grass seed, giving traditional golf courses a run for their money in the hue department. Elevation, lakeside pin placements, and a fair balance of open drives and punitive rough make it an enjoyable challenge.
"What stood out to me from the start is its remote feel," Zimmerman said. "Many times while watching pro tour coverage you see roads and traffic in the background and players having to throw across parking lots or pavement. Here you don't even see a road–you have a 100-foot elevation drop, a beautiful lake, wooded and open areas, and the list goes on. Yet all this is located less than a mile from a gas station, restaurant, and the main road through the area. It really is the best of both worlds."
Professional disc golfer Simon Lizotte pumped up the course on his popular YouTube channel, lending the venue even more cache; through four holes he dubbed it "one of the best courses I've ever seen–both aesthetically and golf-wise."
The accolades are making waves in Snyder County. Businesses have reported sold-out lodging and increases in visitors, a byproduct of the players who came from 40 states to visit the course in 2022. 
When Joe Kantz, one of the Snyder County Commissioners involved in the project, shared that figure with his colleagues, they were stunned.
"It's hard to believe, it really is," Kantz said. "A year and a half into it and that's the kind of statistics we've had already? It makes you wonder what it's going to look like 10 years from now." 
"It is a true destination course," Braud said. "You get to Beaver Springs, Pennsylvania, and it's pretty much you have a pizza place, you have an RV sales place, you have a hardware store, you have a gas station–that's it. The amount of people that traveled to play this course is ungodly."
And they've done it all with few amenities onsite. Expansions to parking, plus the addition of bathrooms, a picnic pavilion, and a pro shop are on the horizon. None of these facilities come without a cost, though: The county has already contributed roughly $100,000 to the project, Kantz said, and by the time the course and its enhancements are complete the final price tag will likely double. Mowing alone adds another $50,000 per year, according to Zimmerman.
Still, Zimmerman hopes Faylor Lake DiscGolfPark can remain free to play, even if that means opening the course up to a donation model. Kantz also said the goal is to keep it free, and he thinks events could generate future revenue, too.
"The money to maintain the course has to come from somewhere. That is one of the reasons we are excited to do our best to lure some future big-name tournaments to the Faylor Lake DGC," Kantz said. "We are very pleased with the feedback we've received from local businesses who have seen their sales increase on weekends when tournaments are being played here. We are working with our local Tourism Promotion Agency, the Susquehanna River Valley Visitors Bureau, to help attract even more visitors."
As the project continues to develop, Zimmerman is starting to let go as his baby grows up. He's handing off course promotion and tournament management to local organizer Andy Klinger, who has run the local disc golf club and multiple events. He's ready to scale up his efforts as Faylor's legend grows.
"I have a lot of irons in the fire beyond disc golf, and having Andy come on board in this project is a godsend," Zimmerman said. "Andy does a fantastic job of running events and managing the course Facebook page and returning lost discs."
Klinger already has multiple events scheduled, including two B-tiers. A GK Pro Skins match is in the works, and Klinger has said he hopes to attract a Disc Golf Pro Tour stop sometime down the road. Another course may even be in the cards, too.
"The goal continues to be the same as it was when we started, and that is to have the best, most scenic, and hardest disc golf course in the world," Zimmerman said. "Beyond that we want to have a course that is fair, so that even when a player shoots 20-over, they will still say, "That's the funnest course I've ever played!'"
While the course attracts players from far and wide, its greatest impact has been on Snyder County.
"I'm in my 16th year as a commissioner, and when I first got here this property sat basically unknown and somewhat unused," Kantz said. "To see that kind of turnaround in one and half years is incredible."
And it wouldn't have happened without a disc golfer who simply dreamed of having a course closer to home.
"Lee deserves the majority of the praise for what happens at Faylor Lake," Braud said. "It's a really good design, but it never would've happened without him."