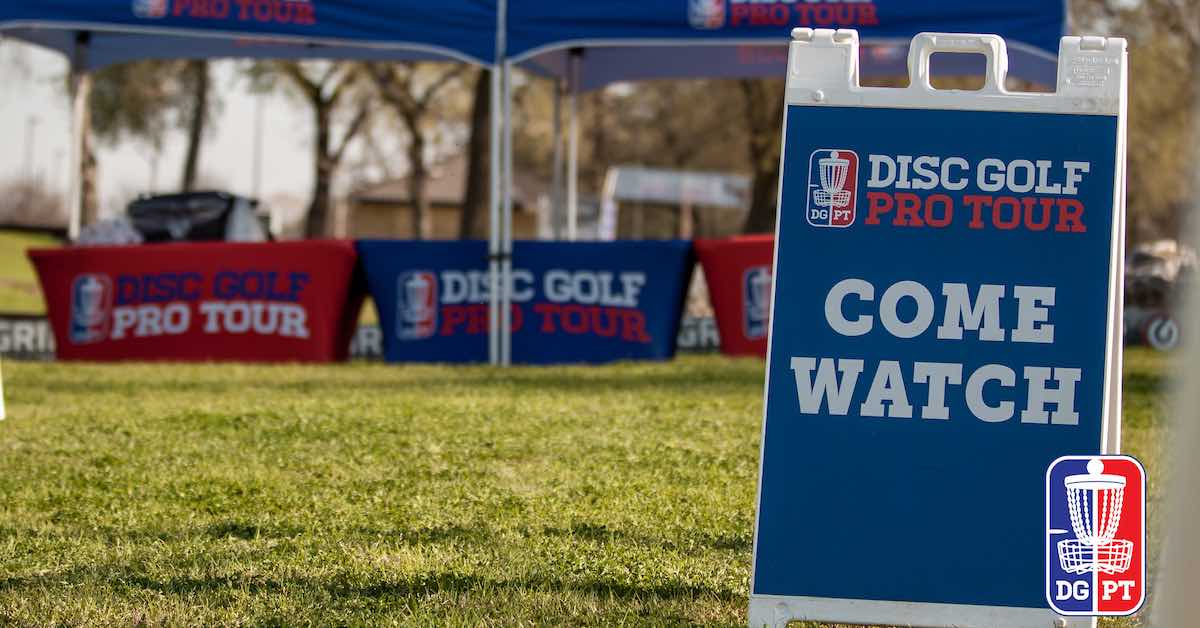 This is part two of a three part series. If you haven't read part one of our Disc Golf Pro Tour history, we suggest you do so before continuing.
2017: Clean Slate with the PDGA, Growth, and New Partners
In late 2016, then-Professional Disc Golf Association (PDGA) Executive Director Brian Graham announced he was stepping down to take on a role at a non-disc golf media company. Given that Graham and Disc Golf Pro Tour (DGPT) founder and director Steve Dodge had very publicly clashed in September 2016 following the publication of a post Dodge called "a shot across the bow of the PDGA," Graham's move gave Dodge a chance to reset relations with disc golf's governing body.
And through 2017, that reset and more appeared to be going well for the DGPT.
"The Pro Tour was regaining trust slowly with the PDGA and also succeeding on its own merits," said Jeff Spring, current DGPT Tour Director and then PDGA Liaison for the tour. "I felt like it was quite on track."
The positives the tour was noticing had a lot to do with one of the DGPT's core missions: creating an event series that made sense for players in terms of dates, geography, and payouts. Not only were players responding well, but the more streamlined organization also made it easier for disc golf media teams to travel to each event. That spurred now-disc golf media giant JomezPro's decision to put a team on tour full time in 2017, and in their video announcing the decision, they specifically cited the DGPT as a reason they were taking the leap for the first time.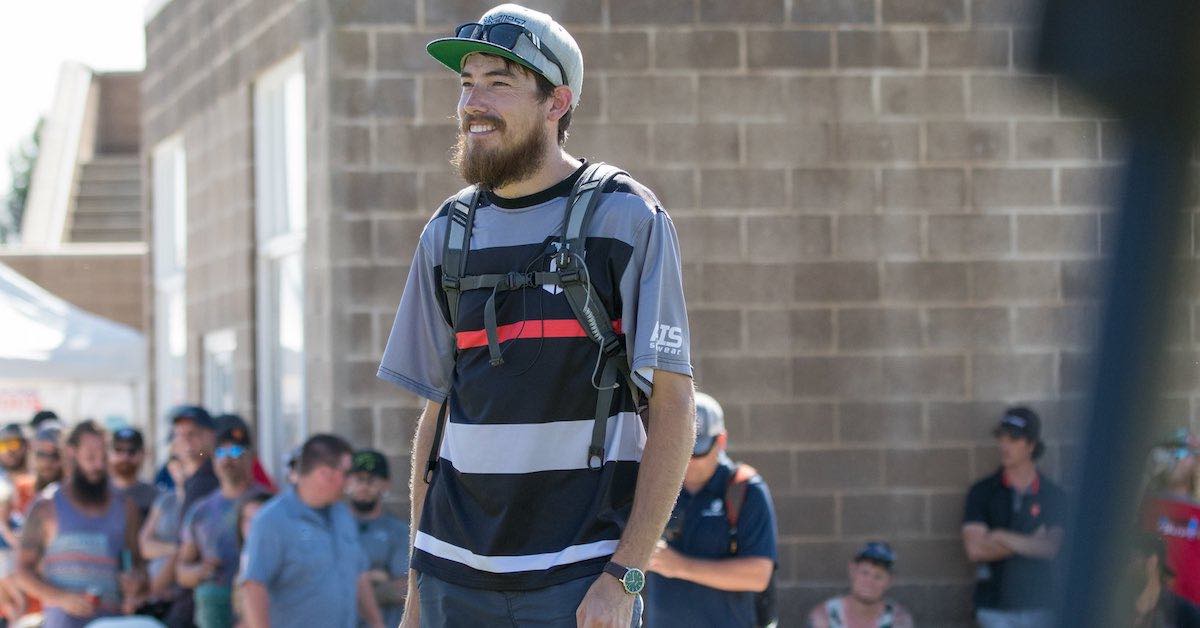 According to Seth Fendley, the DGPT's current Administrative and Operations Director who started with the organization in 2017 as a volunteer managing the tour's social media channels, that season was also a time when Dodge began to focus on expanding the tour.
"Steve came to the realization that to make the tour be really successful, we had to start filling in the schedule," Fendley said.
Dodge did this by pinpointing highly rated courses and then encouraging people he trusted to run events there, Fendley said. That's how the Idlewild Open, for example, first made it onto the schedule.
Opened in 2000, Kentucky's Idlewild Disc Golf Course quickly gained notoriety as an excellent and challenging course, but it was so difficult that it was rarely used for tournaments. The DGPT had shown that it could attract the world's best players, however, and Dodge believed fans would love to see those competitors take on a track with a reputation for being so tough. The venue is also not far from Cincinnati, which is near The Nati, a popular disc golf store and event organizing business.
"Steve went to the guys at The Nati and said we needed an event at the course because of the course's stature," Fendley said. Store owners Jason Kerl and Adam Jones agreed, and the Idlewild Open has been part of the DGPT since 2017.
Thanks in part to this kind of scouting, the DGPT grew from a six-event inaugural season to a 10-event sophomore year despite dropping two tournaments. And that wasn't all that increased: The larger number of events helped attract more top players and increasingly professional media teams, which proved to be an effective formula for audience growth. Just look at the jump in disc golf viewership on YouTube in 2017: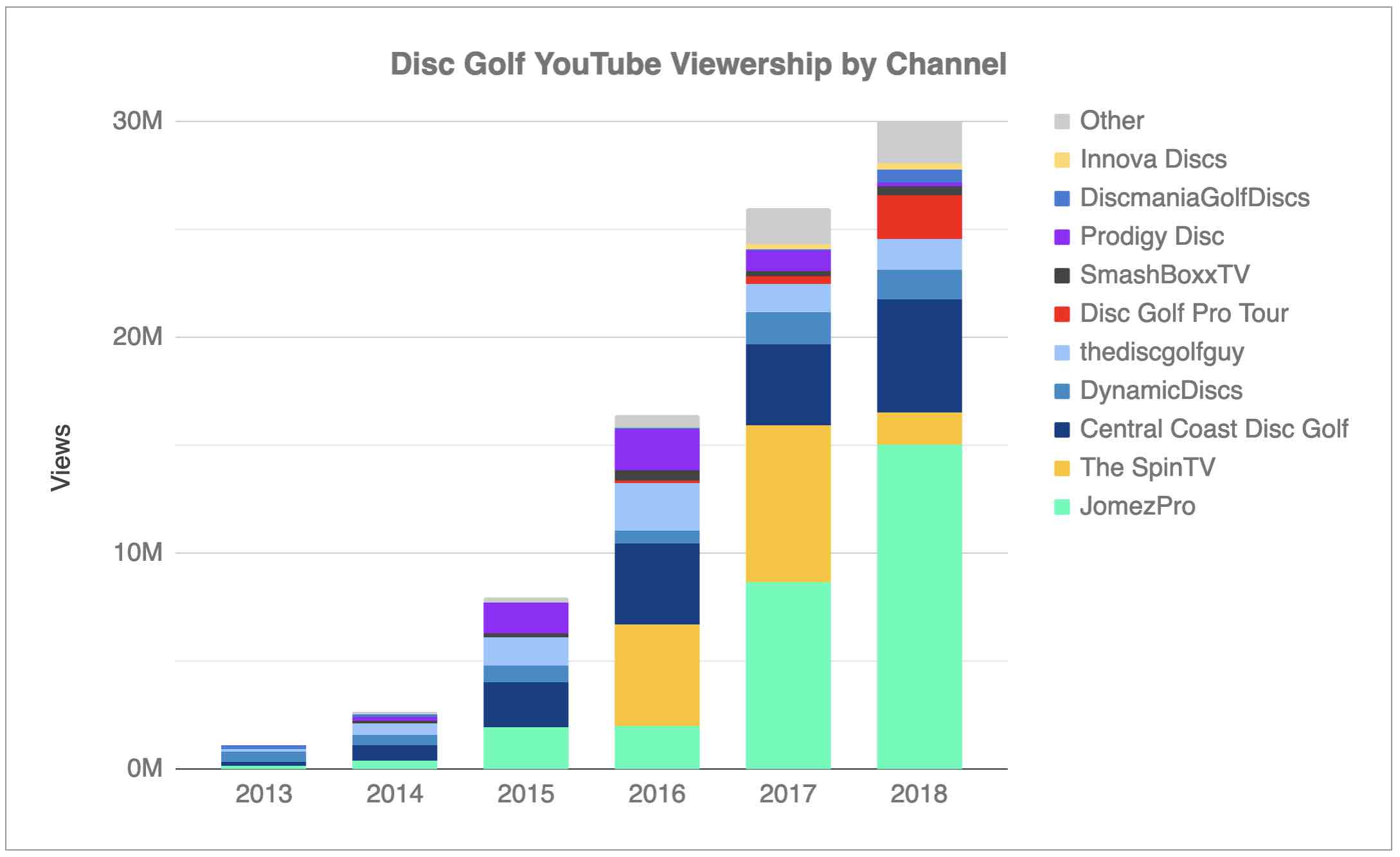 Though the spike can't be attributed to the DGPT alone, the tour certainly played a significant part. The majority of the millions of views shown above came from tournament coverage, and tournaments of high interest to a large number of people would have been much rarer without the DGPT.
With the fan base growing rapidly, it started to get a little easier to pitch the tour to businesses that were potential partners. Current DGPT Director of Partnerships, Sean Jack, who has helped the tour forge partnerships since before its inaugural season, noted a particular watershed moment during that pivotal 2017 run.
"Steve and I used to go to an event called Outdoor Retailer, which is the nation's biggest outdoor apparel convention," Jack said. "In '17, we were walking around, and this really weird cart went by us that people were pulling around, and Steve pointed at it and said, 'We should follow those people.'"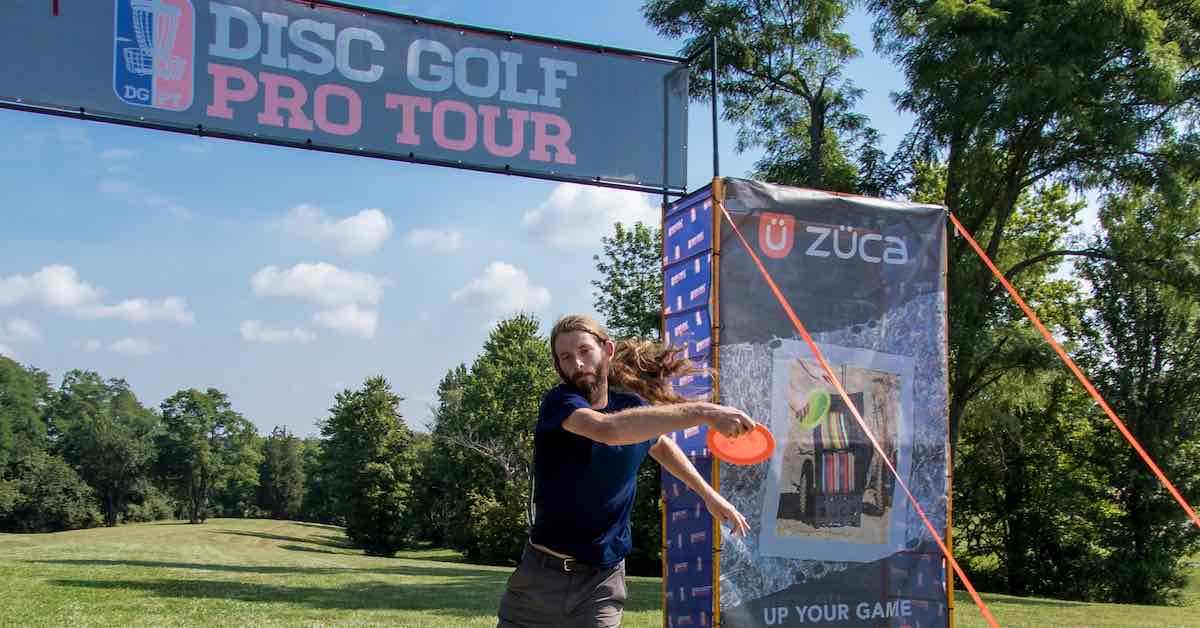 When the pair did, they found themselves at the stand for luggage manufacturer ZÜCA, which had just recently started producing a version of their rolling carts specifically for disc golfers. Jack and Dodge spoke with the company's representative, and it didn't take long to get an enthusiastic response.
"We told him about the Pro Tour, and in 10 or 15 minutes he said, 'Count us in,'" Jack recalled.
Netting the ZÜCA partnership felt like a major stepping stone, Jack said. Though ZÜCA was selling a disc golf product, their position as a well-established company that was far from dependent on the disc golf market made it feel almost like he'd secured a significant financial commitment from a business not endemic to the sport – something increasingly normal today but a rarity then. Jack is also quick to point out that the investment seems to have paid off by making ZÜCA a go-to cart company in the sport.
2018: Cracks in the Veneer

The momentum from 2017 carried into the first half of 2018 for the DGPT. Audiences were growing for post-produced and live coverage and there was plenty of interest in the tour's events.

Ironically, though, a perfect round highlighted how things weren't going perfectly for the tour.
On July 7, 2018, five-time world champion Paul McBeth's carded an historic 18-under par round at the 2018 Great Lakes Open presented by Discraft, a DGPT tournament. The feat was so impressive that it appeared on an ESPN SportsCenter segment called "Haven't Seen It...Should," during which lead anchor John Buccigross narrated a nearly two-minute highlight reel of the round with commentary that weaved in quotes from Shakespeare's Macbeth.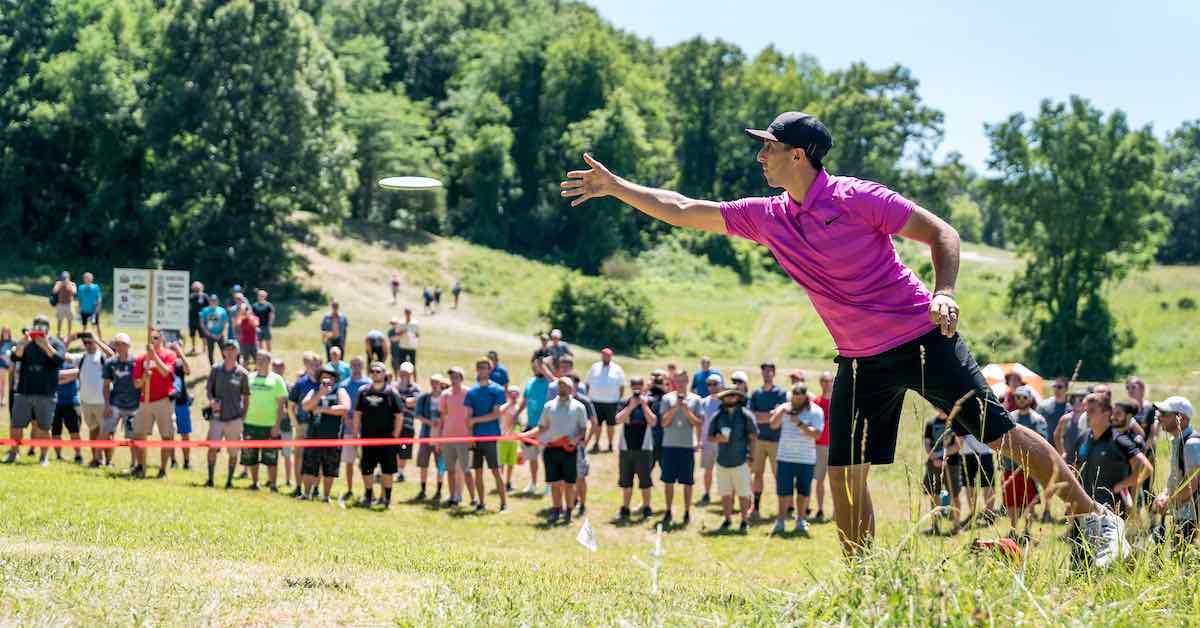 While everyone in the disc golf world rejoiced at the sport's moment in the spotlight, some had reason to mute their enthusiasm.

The Great Lakes Open footage used on ESPN was not provided by the DGPT but instead by JomezPro. While this likely made little difference to the average viewer – indeed, the post-produced quality was higher than that of the DGPT's live coverage at the time, so it played better for the wider ESPN audience – Jomez's tour coverage that year was sponsored in large part by Innova Discs.
Throughout the ESPN segment a small, but noticeable, Innova logo stayed on the screen. Tournament sponsor Discraft, meanwhile, received virtually no extra publicity from the spot though it had invested heavily in the event the footage came from.
"That moment crystallized so many issues that were intertwining," Spring said. "There's just so much that goes into that – decisions that Steve was making, decisions that independent media teams were making, decisions that manufacturers and the biggest sponsors of each event were making – the event teams themselves....That all manifested itself when Paul McBeth at Discraft Great Lakes Open gets the longest and most impactful media clip of all time on ESPN to that point by far and Jomez's coverage had Innova sponsoring it. It became a big issue to everyone involved, and I'm not going to get into that, but you can just imagine if you're Discraft…you're thinking, 'What just happened?'"

That incident – as well as other obstacles the tour had dealt with in relation to media all year – brought the question of how to simplify the tour's media plan to the fore.
2018 Offseason: Changes to Media Plan Cause Backlash
As the 2018 offseason started, Dodge was considering ways to unwind the tangled web of interests that came with the model of using multiple independent film crews. According to Fendley, media ownership wasn't the only issue. From Dodge's perspective, as well as some others working with the DGPT, operations needed to be streamlined. Having multiple camera crews on the same card to produce separate live and post-produced coverage was seen as a waste of resources (why couldn't the same cameras do both?) and – on wooded courses especially – caused congestion on tees and fairways.

The DGPT approached existing, popular disc golf media outlets to see if they would agree to double duty, i.e., filming live for the DGPT and creating post-produced footage from what they recorded. However, some simply didn't agree with the concept and others couldn't do it for logistical reasons. Talks got furthest with Central Coast Disc Golf (CCDG), but both CCDG founder Ian Anderson and Fendley confirmed that logistical concerns stopped a deal from happening.
In November 2018, Dodge made a significant announcement about media plans on disc golf podcast/YouTube channel SmashBoxxTV – the same channel that, to that point, served as the tour's live streaming broadcast outlet.
Hear what Dodge had to say in the clip below:

Yes, that was Dodge telling SmashBoxx co-hosts Terry Miller and Jonathan Van Duerzen he planned to let them go. (He also mentioned that all parties had previously discussed the decision prior to the interview. So, though the news shocked viewers, Dodge wasn't springing this on the SmashBoxx team on their own show.)
As word spread that popular media outlets might be on the outs in 2019, fan reactions ranged from skeptical at best to incensed at worst. Many top pros were also upset, worried not only that the quality of coverage would drop but also that they'd garner less exposure without the established channels' viewership base.
With the situation deteriorating publicly, Spring – fresh off running a successful PDGA Pro World Championships – agreed to take on the role of Interim Director of Public Relations for the DGPT. He believed the best route to fixing the PR issues was creating a compromise that would retain the tour's previous media relationships while addressing some of Dodge's concerns. Spring thought at one point that he had all parties "moments away" from a formal agreement. Dodge ultimately opted out of the deal.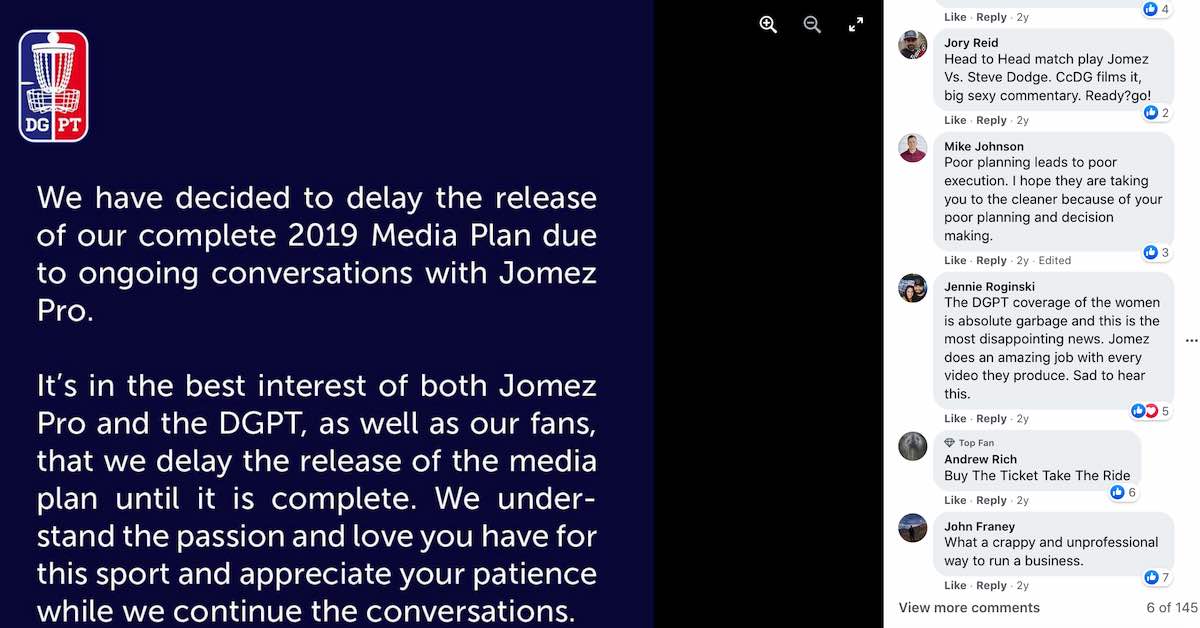 Having made the call to turn the DGPT into both a tour organizer and a media company, Dodge had to purchase gear and find people capable of doing all the jobs previously performed by the outside media teams. Dodge readily admitted that the process didn't go as planned.
"We decided to bring the media in-house, and in so doing we spent a lot of money getting equipment and building the team, and we did not do a good job of it," Dodge said.
While interviewing Dodge for this series, we also presented him with a chance to comment on or correct the record of any events. He did not offer any specific changes or alternative perspectives.
The Story Continues

Media woes led to a fraught 2019 season that ultimately brought about a changing of the guard. We take a look at why Dodge sold the tour in 2019 and how it has fared since in the final installment (for now) of this series: "History Of The Disc Golf Pro Tour, Pt. 3: 2019-2021."