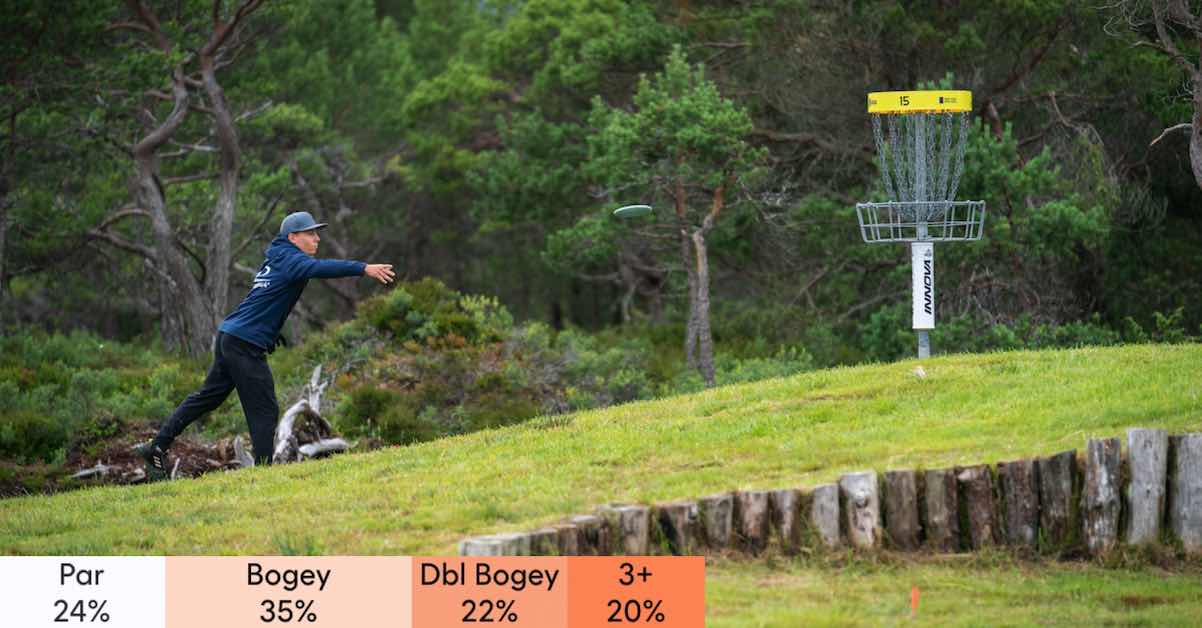 As in previous years, UDisc is using the first few weeks of pro disc golf's offseason to dig into the stats from the world's most prestigious tournaments and shine a light on the most interesting takeaways.
If you want to know which holes tracked with UDisc Live were the hardest and easiest for the pros in 2022, you've come to the right place. UDisc Live was used for every premier tour on the planet to track live scores and stats (all Disc Golf Pro Tour events, PDGA Majors, the European Pro Tour, and Finland's Prodigy Disc Pro Tour), so these stats include results from fields of the best disc golfers on some of the most challenging layouts in the world.
Click or tap any of the following to jump to the stats that interest you most:
And a stat-head like you might also enjoy these other recent releases:
Tips Before You Read
We wanted to make sure you could thoroughly investigate any hole featured below. Here are some ways we did that in the tables below:
On first mention, all hole numbers link to a flyover of that hole on YouTube (except #1 hardest holes, which have embedded fly-over videos).
On first mention, all tournament names link to results on UDisc Live, so you can see for yourself how players performed.
On first mention, all course names link to their UDisc Courses pages, so you can see photos, ratings, reviews, and more.
If you see any hole numbers, tournament names, or courses not linked, it's because we've talked about them in an earlier section and you can find a link there.
European & U.S. Results Are Separated – Here's Why
Though European disc golf is on the rise, the strongest fields are almost always in the United States. For example, even the European Open, a PDGA Major, attracted less than half of the current top 20 disc golfers in the world. That group's attendance at stateside Disc Golf Pro Tour Elite events was much more consistent.
Since we ranked holes based on average score relative to par and field strength greatly affects that, it made sense to separate events played in the two areas.
HARDEST & EASIEST HOLES IN EUROPEAN DISC GOLF: MPO
Hardest Hole in Disc Golf: Europe | MPO | 2022
Hole 15 at Øverås Discgolfpark from Norway's PCS Sula Open was disc golf's most difficult hole last year for any MPO field at an elite tournament. On average, competitors finished the 951-foot/290-meter par 4 in 5.48 throws.

The hole was never birdied at the event, and no one even reached Circle 2 (within 66 feet/20 meters of the basket) in two shots.

The hole's length, fairway lined tightly with out-of-bounds, and elevated green all helped make it a real doozy. When wet, chilly, windy conditions were added to that, you got 2022's hardest hole.
You can take a look at a fly-over below where we've left in coverage of a player's drive so you can see the rough conditions at tournament time:


Top 5 Hardest Holes in Disc Golf: Europe | MPO | 2022
The only Disc Golf Pro Tour event in Europe in 2022, the PCS Sula Open really brought the heat in terms of difficulty despite being just a Silver event. Holes from its courses took three of the top five spots for hardest holes.
However, the course where two of those holes came from, Vasset Diskgolfpark, won't be a part of 2023's PCS Open (notice the drop of "Sula" from the name, which refers to Vasset's location). The event will be played solely at Øverås next year and will be the first-ever DGPT Elite event in Europe.
Top 5 Easiest Holes in Disc Golf: Europe | MPO | 2022
Give high-level players fairly straightforward holes around or well under 300 feet/91 meters, and you're going to have a bunch of birdies and very few bogeys. That – plus one fairly short par 5 – is exactly what we see here from Europe's easiest disc golf holes for MPO.
HARDEST & EASIEST HOLES IN U.S. DISC GOLF: MPO
Hardest Hole in Disc Golf: U.S. | MPO | 2022
For the fourth year running, Northwood Black's hole 12 from the Ledgestone Open was the hardest U.S. hole for MPO. At 1,050 feet/320 meters, this tightly wooded, twisting monster of a par 5 has been wreaking havoc on scorecards with its increasing elevation since it debuted at the 2019 Pro Disc Golf World Championships.

Three super-humans managed to birdie it in 2022: Ben Callaway, Garrett Gurthie, and Albert Tamm.

Otherwise, the hole played 1.28 strokes over par for the field. That is, players finished the par 5 in 6.28 throws on average.
Take a look at it – if you dare – in this fly-over:


Top 5 Hardest Holes in Disc Golf: U.S. | MPO | 2022
This table helps show just how hard hole 12 at Northwood - Black is compared to others played by top fields in the United States. It was nearly a half-stroke harder than any other U.S. hole in 2022. That might not sound like too much, but it's significant. Remember that around a half stroke under par was what it took to be one of Europe's easiest holes.
Something interesting here is the year-to-year drop in difficulty from Northwood's hole 14, which in 2021 played 1.31 strokes over par and was only 0.03 strokes behind hole 12. This is the result of tons of hours of work from the Ledgestone team that addressed player concerns about the hole after its debut last year.
It's also worth pointing out that Belton's hole 13 (#5 above) was also in our 2021 post, but it was the easiest hole on tour. It was the exact same hole, but back then it was a par 5.
Top 5 Easiest Holes in Disc Golf: U.S. | MPO | 2022
Three of these holes are just like the easiest ones in Europe – short par 3s that pros could birdie blindfolded the majority of the time. Something a bit different are the two short par 4s.

One of those takes the #1 spot: Hole 9 at Blue Lake, which always gets pro coverage commentators griping (just listen in the video linked to the hole number in the table). It's a short par 4 that seems like it's built to tempt players into eagle bids, but it has an almost-island green that makes the risk-reward math for that type of shot never add up. Instead, pretty much all players lay up and are left with less than a 200-foot/61-meter upshot to park for birdie.
The hole in the #2 spot, hole 6 at Fox Run Meadows, has also long been a target of commentator critique. Fox Run will be under a lot of scrutiny as it'll be used in the 2023 Pro World Disc Golf Championships, and we'll have to wait and see if hole 6 survives in something close to its current form.
Thanks to Everyone!
Nothing you read above would have been possible without UDisc Live's partners or the amazing volunteers who scored and tracked stats for the pros throughout 2022.

We want to extend a huge "Thank You" to them all.
And if you like what you saw here, consider subscribing to our Release Point newsletter and never miss any post we put out.