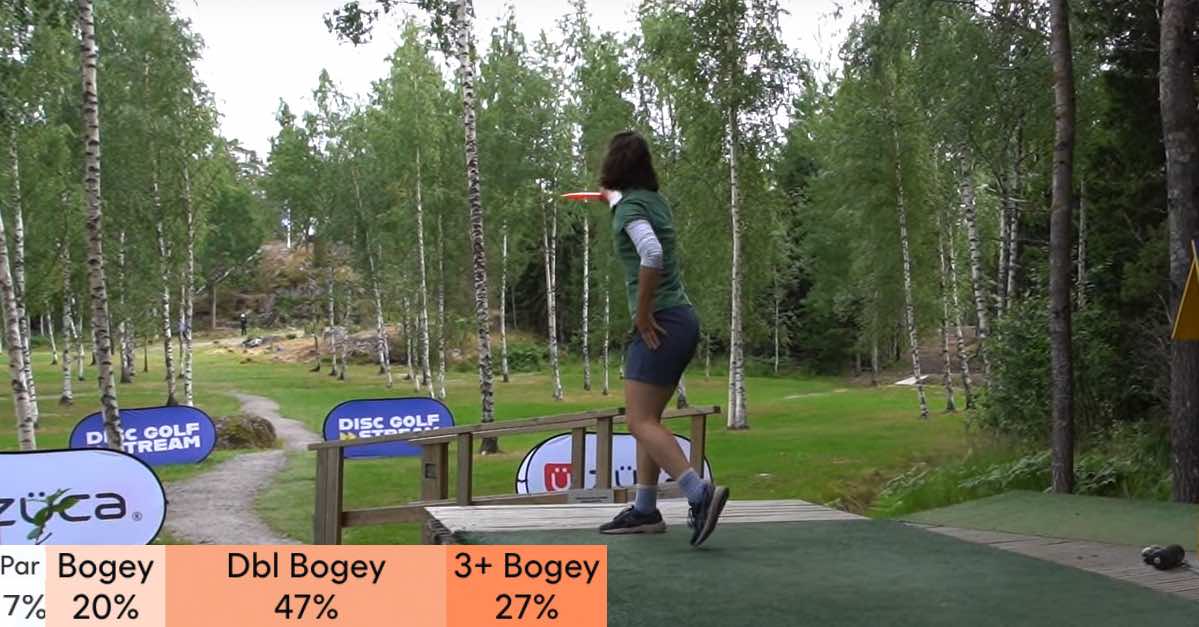 As in previous years, UDisc is using the first few weeks of pro disc golf's offseason to dig into the stats from the world's most prestigious tournaments and shine a light on the most interesting takeaways.
If you want to know which holes tracked with UDisc Live were the hardest and easiest for FPO competitors in 2022, you've come to the right place. UDisc Live was used for every premier tour on the planet to track live scores and stats (all Disc Golf Pro Tour events, PDGA Majors, the European Pro Tour, and Finland's Prodigy Disc Pro Tour), so these stats include results from fields of the best disc golfers on some of the most challenging layouts in the world.
Click or tap the following to jump to the stats that interest you most:
And a stat-head like you might also enjoy these other recent blog posts:
Tips Before You Read
We wanted to make sure you could thoroughly investigate any hole featured below. Here are some ways we did that in the tables below:
On first mention, all hole numbers link to a flyover of that hole on YouTube (except #1 hardest holes, which have embedded fly-over videos).
On first mention, all tournament names link to results on UDisc Live, so you can see for yourself how players performed.
On first mention, all course names link to their UDisc Courses pages, so you can see photos, ratings, reviews, and more.
If you see any hole numbers, tournament names, or courses not linked, it's because we've talked about them in an earlier section and you can find a link there.
European & U.S. Results Are Separated – Here's Why
Though European disc golf is on the rise, the strongest fields are almost always in the United States due to payout, audience size, and other factors. Top European competitors, including reigning world champion and current #1 FPO player in the world Kristin Tattar, spent most of their seasons in the United States.  Since we ranked holes based on average score relative to par and field strength greatly affects that, it made sense to separate events in the two places.
HARDEST & EASIEST HOLES IN EUROPEAN DISC GOLF: FPO
Hardest Hole in Disc Golf: Europe | FPO | 2022
The hardest hole for European FPO was the 1,020-foot/311-meter par 5 at Sibbe Disc Golf played during the Tyyni tournament in Finland. It played 2.15 strokes over par, meaning the average was a bit over a double bogey. Given that the hole was the third hardest for MPO in Europe and there was no FPO tee, this comes as absolutely no surprise.
Though the primarily U.S.-focused Disc Golf Pro Tour has made separate FPO and MPO tees the norm at big events stateside, it's still extremely common to have the same tees for both divisions in Europe. Time will tell if this stays the same or alters as competitive play on the continent continues to evolve.
Take a look at the this twisting, tight-fairwayed menace below:
Top 5 Hardest Holes in Disc Golf: Europe | FPO | 2022
Like Tyyni's hole 1, the other hardest holes for European FPO were par 4s and 5s that had treacherous elements to them. Tiny island greens (Talin 17); lengthy, skinny gaps off the tee (Tampere 17); a long, skinny fairway generally (Tampere 1, also one of the hardest European MPO holes with no FPO tee); and a fairway that sloped toward out of bounds in a way that disadvantaged right-handed backhand throws (Talin 1).
Top 5 Easiest Holes in Disc Golf: Europe | FPO | 2022
Short par 3s with little danger tend to make for easy holes relative to par. Those who miss the birdie often get pars, so there are few bogeys (or worse) that drive average scores up.
HARDEST & EASIEST HOLES IN U.S. DISC GOLF: FPO
Hardest Hole in Disc Golf: U.S. | FPO | 2022
The hardest hole for FPO competitors in U.S. pro disc golf was Blue Lake's hole 11, a 669-foot/204-meter par 4, from the Portland Open. Players averaged 1.76 strokes over par.

If you watch the flyover below, it's easy to see why this hole tore up score cards. It ended in an extremely narrow passage to the basket that had thick trees on the left and OB on the right as well as immediately behind the basket. To see any of that, though, players had to throw a fairly far and pinpoint accurate shot. Otherwise, they had a wall of trees forcing a blind spike hyzer into the small area of safe landing zone.

The hole was played 88 times, and players racked up 68 OB strokes.

You can look at this one from the safety of your own home below:
Top 5 Hardest Holes in Disc Golf: U.S. | FPO | 2022
Other than a 550-foot/168-meter monster par 3 that would likely be a par 4 if it wasn't for Masters Cup organizers wanting to keep the old school tradition of "everything's a par 3" alive, these holes fall into the same categories as Europe's hardest. They're par 4s and a 5 with teeth.
Blue Lake 11's has a tight landing zone and OB right next to the basket. Jones Supreme 7 has a lake right in the perfect FPO landing zone. Mill Ridge 17's fairway is lined with OB to the right and thick trees to the left and is far enough that only the current top distance throwers in FPO could dream of birdieing it. Harmony Bends' 18 has it all: trees, OB, a creek, elevation, and distance.
Top 5 Easiest Holes in Disc Golf: U.S. | FPO | 2022
This list highlights the difference in European and U.S. norms. Since European FPO rarely has its own tees, no par 4 or 5 made its list of easiest holes...because par 4s and 5s geared toward MPO are rarely easy for FPO. Stateside, tees made specifically for FPO make some par 4s and 5s short enough that bogeys are rare occurrences and birdie rates are high.
Thanks to Everyone!
Nothing you read above would have been possible without UDisc Live's partners or the amazing volunteers who scored and tracked stats for the pros throughout 2022.

We want to extend a huge "Thank You" to them all.
And if you like what you saw here, consider subscribing to our Release Point newsletter and never miss any post we put out.