On Wednesday, February 23, 2022, the Artemchyk family – mother and wife Tatiana, father and husband Sergii, and their then 14-year-old son Sasha (a short form of Oleksandr) – had to make a decision: Stay or go?

Russian forces were massed at Ukraine's borders and seemed poised to attack. If they did, the Ukrainian capital Kyiv, where the Artemchyks lived, was an extremely likely target. The family could either ignore the warning signs and keep on with life as usual or head to Tatiana's sister's home 40 kilometers/25 miles outside the capital.
The biggest factor complicating the choice was that Sergii had recently had a brain tumor removed. Leaving the city meant he'd be farther from the medical help he needed to cement his recovery.
Because rumor had it whatever Russia was planning would happen that night and could be just a one-time attack, the Artemchyks opted to spend the night with Tatiana's sister.
"We didn't want to leave, honestly," Tatiana said. "But at nine in the evening we decided we would go. We'd stay for a night and we'd come back in the morning."
The Artemchyks haven't seen their home since reluctantly driving away from Kyiv that evening. The next morning they awoke to the news that Russia had invaded Ukraine.
March 17: A Party in Amsterdam
A group gathered in a dining room in the Netherlands' capital. Tea, snacks, and a small cake covered with icing and fruit sat on the table.

It was Sasha Artemchyk's 15th birthday.
A man named Dean Schaub arrived. Sasha hadn't met him before, but his parents had spoken with Schaub – a U.S. expat who lives in Amsterdam – for three hours the previous day.
They'd told him the story of arriving in Amsterdam after barely being allowed to cross from Ukraine to Romania, taking car and train rides lasting days, and quarantining after Sergii tested positive for COVID in Hanover, Germany. All of this had happened while they worried about Sergii getting the follow-up treatment he needed to beat back cancer and the situation in their homeland deteriorated.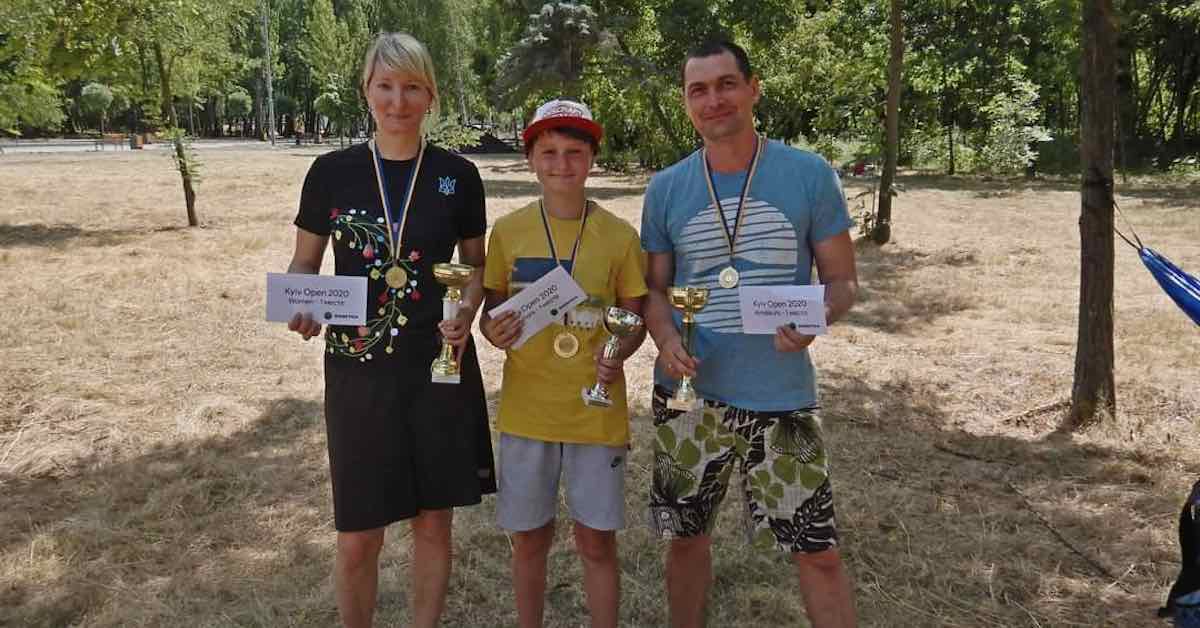 Throughout it all they had to rely greatly on friends of friends of friends for support. Indeed, that's how they'd ended up in the house they were in at that moment.
Circuitous relationships were also the only reason Schaub and the Ukrainian refugees knew about each other. Schaub, like all the Artemchyks, is an avid disc golfer with an international network from the sport. Tatiana and Sergii had corresponded with members of the Hanover disc golf community before Sergii's quarantine, and a German contact told Schaub the two were headed to Amsterdam.
The Artemchyks' story struck a nerve with Schaub. When he heard that they had left their home without any gear to play the sport they loved, he wanted to help. Schaub is the founder of Dutch disc golf group Disc Sport Alliance (DSA) and runs an online shop called TPFDiscs.
He'd brought Sasha a birthday gift made possible by donations from DSA members and others in disc golf communites across Europe: a disc golf backpack filled with new discs and all the accessories the teenager could want.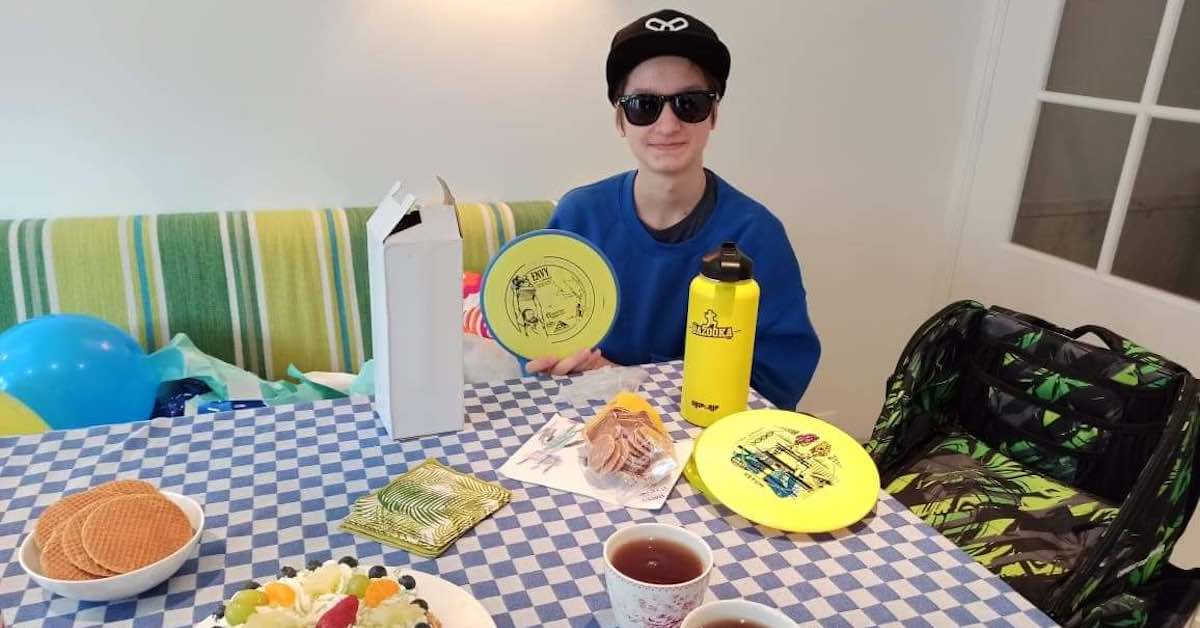 "Oh, I was almost crying," Tatiana said, recalling her son's reaction to the surprise gift.
It could seem strange that people in the Artemchyks' situtation would care in the least about disc golf, but Tatiyana sees the sport as a key to mental stability amid all the uncertainty the family faces.

"The best psychologist for me is to go on a course and play disc golf," Tatiana said. "To go in the park, throw discs, and have these nice people with me – it's a sort of relaxation, a feeling that you're in normal life."
Late February to the First Days of March: Getting Out
The family spent four days at the home of Tatiana's sister, largely crammed in the basement as bombing increased and the realities of war settled in.
"There were all these military planes around all the time, and we could hear shootings, this 'pop-pop-pop-pop-pop-pop,'" Tatiana said. "It was crazy. At first we were scared to hear the bombings one or two times, and then they started happening all the time."
As Russian attacks began to hit hospitals – including a maternity hospital – the family lost any hope that Sergii would get the medical care he required in Ukraine, and they decided to leave the country. With all the gas stations out of fuel or bombed, they at first weren't sure how to manage the 600-kilometer/373-mile drive to the nearest safe border. Luckily, they found a religious organization that had secured fuel supplies to help those fleeing Ukraine.
Eventually, the Artemchyks (along with Tatiana's sister and a friend's family) made it to the city of Chernivtsi, which is just over the border from the northeastern Romanian city of Siret that's a major thoroughfare for Ukrainian refugees seeking the saftey of the European Union (E.U.). During the long, dangerous journey, the travelers witnessed bombs dropping in the near distance, saw the sudden blasts of fire and smoke, and had the windows of their car nearly shatter from the vibrations.
At the border, everyone in their group got the OK to cross – except Sergii. As a Ukrainian male between 18 and 60, he was expected to stay and fight the Russian invaders despite the copious documents Tatiana had brought proving his precarious health. Exhausted, the couple sent Sasha ahead with their traveling companions, seeing no option but to bet on finding a military doctor in Ukraine who would certify Sergii's condition.
The next day they were back in Chernivtsi, where they went to a Ukrainian military center in hopes of accomplishing their goal.

"It was so crowded," Tatiana said. "So many men came inside and wanted to fight, and there were people busy organizing their documents. We spent five or six hours inside, and I was hysterical. Eventually, I found a man, medical personnel, to help us. He confirmed that Sergii couldn't fight and that he was in a dangerous situation and needed therapy."
The two traveled back to the Romanian border and waited in long lines late at night in freezing temperatures and snow. They were eventually allowed through though it still took a number of phone calls before the border guards let Sergii pass.
"It was a strange feeling," Tatiana said. "Happy, upset, stressed, tired, cold, thirsty – everything at the same time."
Early March: Romania to Germany to Amsterdam
Tatiana had already planned to take Sergii to German specialists in Hanover to get second opinions about treatment before the Russian invasion. Once in the E.U., she decided Hanover was the place she and Sergii should go while their son went with his aunt to a more predictable situation in Amsterdam. The couple would stay in the German city with family of a disc golf friend from Kyiv.
Unfortunately, after an arduous journey to reach Hanover, Sergii tested positive for COVID while registering with local authorities. This meant mandatory quarantine as well as missing a number of medical appointments and having to reschedule them. The processes for getting set up with health insurance and other necessities were also creeping at a snail's pace.

When Tatiana told her sister about these issues, she suggested that the pair come to Amsterdam. It seemed that relatively few Ukrainian refugees were making their way to the Netherlands, and the systems designed to help them were moving much faster than in Germany.

Sick of bureaucracy and happy to reunite with their son, Tatiana and Sergii boarded a train for Amsterdam shortly after Sergii's quarantine ended.
March 19 to Today: After the Party
Sasha's birthday was on a Thursday, and the family planned to have a bigger party for him the Saturday after. They invited Schaub and his family, who showed up bearing even more gifts – but this time for Sergii and Tatiana.

"They arrived with a huge box of discs and bags and all the necessary stuff for me and Sergii," Tatiana said. "It was like Dean was Santa Claus at Christmas time."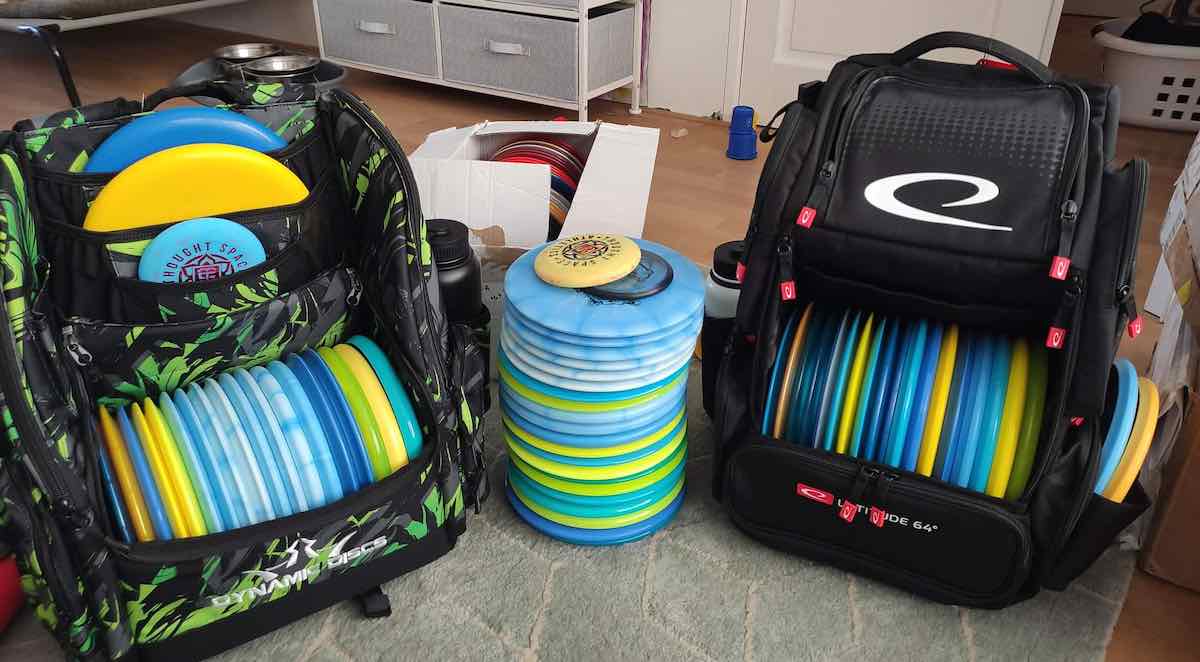 Additionally, Schaub let the family know that donations – which amounted to over 1,000 Euros/1,100 USD – had taken care of their memberships to the local club and many other things related to disc golf they could need or want. He'd also provided a lot of their equipment at cost from his store stock, meaning the donations stretched further than they could have otherwise.
His hope was that these efforts would make disc golf one aspect of the family's life that could be stress-free and purely revitalizing.

"If you take one thing off someone's plate, it helps a lot," Schaub said. "The way I view disc golf: It's a lot bigger than sports, and it's a lot bigger than free time. It's mental health. It's taking your mind off of whatever's going on in your life that's negative, and it gives you an opportunity to view things through a different lens."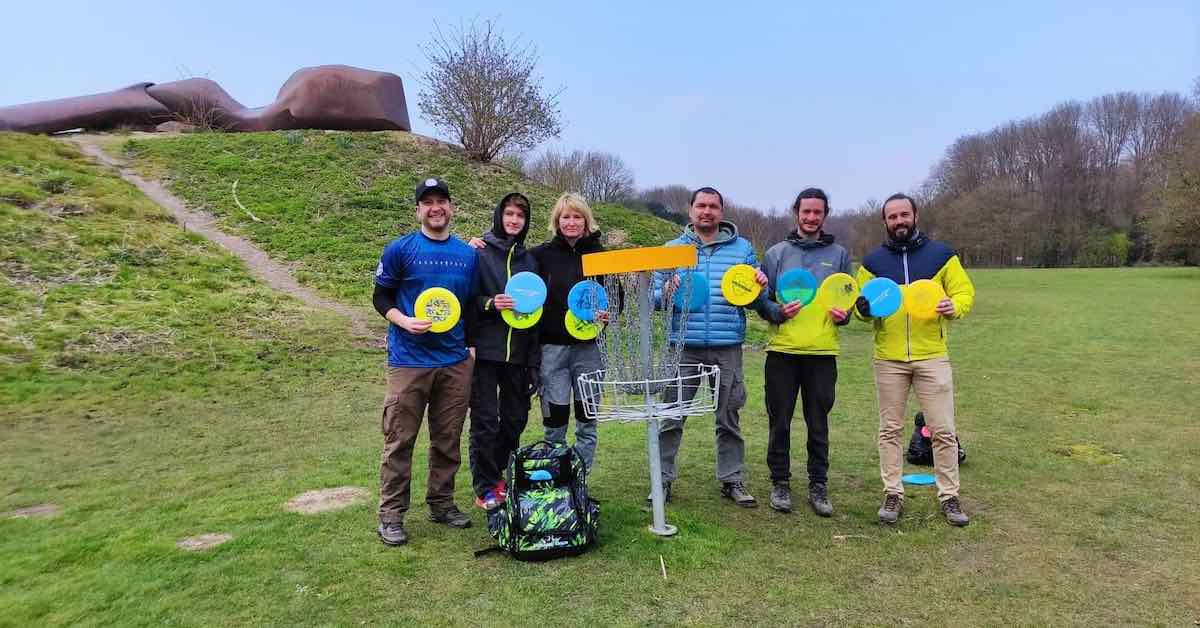 The day after the party, the Artemchyks got to play their first round of disc golf in the Netherlands at Amsterdam's Sloterpark with Schaub and two other local club members. And if you need proof that disc golf can truly help people forget their other troubles, we have it.

Despite all the ordeals her family has gone through, despite the mingled guilt and relief of watching the war unfold from afar, and despite her anger at a despot ruthlessly destroying her homeland, when Tatiana began talking about her last round, it seemed like her only concerns were how disappointing her score was – and getting out to the course again to prove how strong her game really is.
Editor's note: Tatiana recommended that anyone interested in learning about the Russian invasion through the lens of a Ukrainian disc golfer still in the country should follow posts from Bodyk Alexeev on Instagram. Additionally, you can donate to help the Artemchyk family with housing and medical expenses on GoFundMe.