Footwear is probably not the first thing most players think about when picking up disc golf. Immediate attention always goes to discs, bags, or even practice baskets. But a shoe is the sole point connecting a player to the ground, providing leverage and the basis for a good shot.  
Along with constant torque and friction on the tee pad, disc golfers' shoes have to stand up to abuse in mud, snow, rain, and sometimes treacherous terrains. When you first start out, it can be difficult to identify what qualities to look for in the ideal disc golf shoe. This post should help you do that and become familiar with brands and models popular among disc golfers.

Jump to a section you're most interested in by clicking or tapping below:
Note that this post contains affiliate links, which means if you buy a product you find through this post, UDisc could earn a little money for helping you discover it. This would happen at no cost to you. You would pay the same price you would otherwise but at the same time support the UDisc team's efforts to continue to improve the app, publish (hopefully!) helpful articles like this one, and bring new innovations to the sport of disc golf.
Is There a True Disc Golf Shoe?
In the latter half of 2021, startup company Idio Sports ran a successful Kickstarter to fund the production of their shoe the Syncrasy. Unlike any other shoe we'll talk about, this one was designed specifically for disc golf. It has gained the support of top pros like Nate Sexton and Corey Ellis.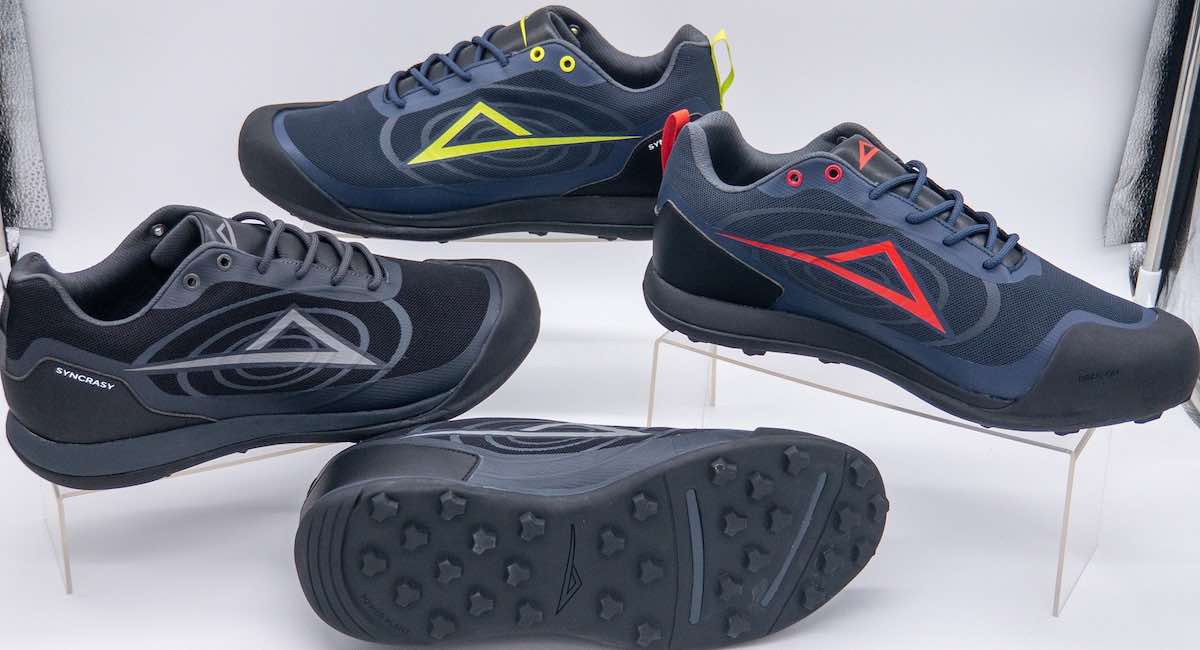 The first Syncrasies only reached the waiting feet of the public in the latter half of 2022, but they've received generally solid reviews for their performance. They have special features like a toe guard that stops the shoe from being destroyed by toe-dragging (common in disc golf), multi-directional treads that allow for the sort of rotation used in disc golf throws, and flexibility in the places disc golfers need it most. They're also made of water-resistant materials.

We reached out to Ellis, a power-thrower and one of the best putters on the planet, to learn why he has opted to wear Syncrasies on tour. He said that while he'd always dreamed of having a shoe sponsor, he didn't bite on partnering with Idio until he'd tried out the product for months while playing and practicing for some of the world's highest profile disc golf events.

He found that Syncrasies delivered on their creator's promise to be better for disc golf than other athletic shoes not made specifically for the sport.
"Throughout the years, I've tried New Balance, Keen, Vans, Adidas, and several other major shoe brands," Ellis told us. "I had mostly used the Adidas Terrex but frequently experienced sore feet post-round. The Adidas were very stiff as they are made for trail running. The Syncrasy forms to and moves with your foot while providing support and protection."

Ellis has also been very impressed with the grip the shoes' treads provide.

"My favorite thing about the Syncrasies is I don't have to worry about slipping in a vast majority of conditions," Ellis said.
If you like supporting small businesses rather than big corporations, Idio fits the bill. Syncrasies are the brainchild of a disc golfer and all-around sports enthusiast who got inspired to create a disc golf shoe...and did it. You can learn more about the inventor of the Idio Syncrasy and the shoe's creation in "Shoe Of Our Own: Behind Idio's Syncrasy Disc Golf Shoe."

You can check out Syncrasies more closely on Idio's site.
Barefoot Shoes for Disc Golf (AKA, the Shoes Eagle McMahon Wears)
Little-known in the U.S., British shoe brand Vivobarefoot has become popular for disc golf in Europe in the last few years. This is especially true in Finland, where the company sponsors big events and its shoes grace the feet of some of the disc golf-loving country's best-known pros. But Vivobarefoots are also the shoe of choice for one of the world's best disc golfers: Eagle McMahon.
McMahon, currently ranked among the sport's top three players, said on Instagram in early 2022 that Vivobarefoot shoes have been a great fit for him.

"My feet have become stronger [which has] alleviated any foot pain I once had," McMahon wrote. "I also believe that they [the shoes] have benefited my disc golf game because of their low profile and great grip. They allow me to be more in touch with my environment and the ability to have greater control and grip when on the course."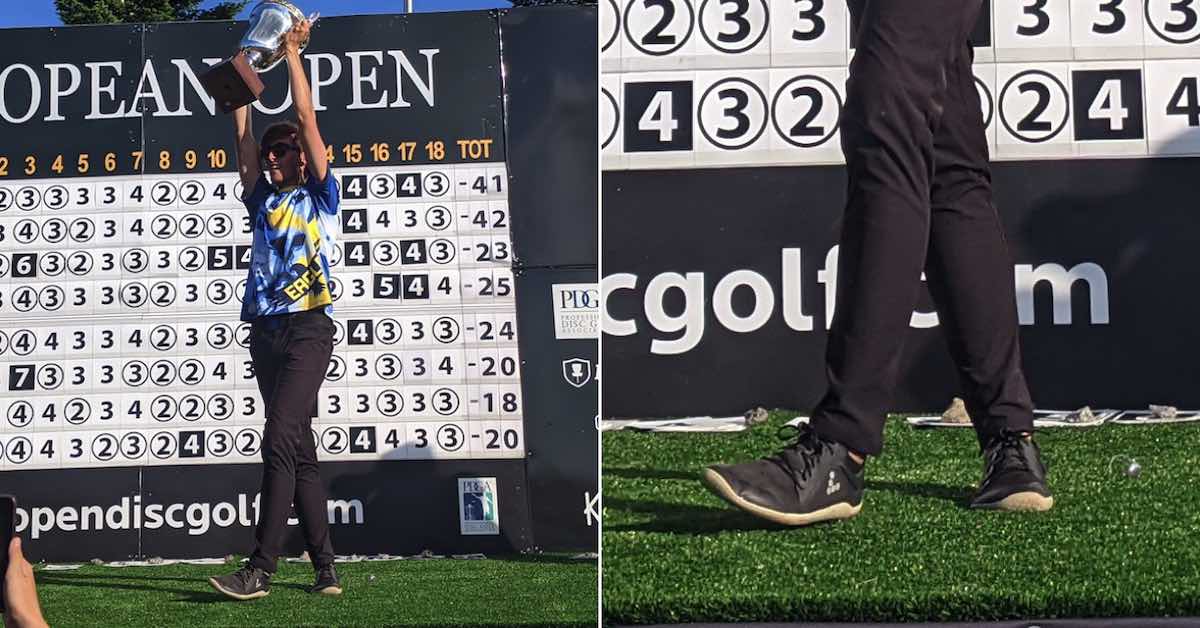 As the brand name suggests, Vivobarefoot shoes are meant to be as minimal as possible. They do have puncture-resistant soles and their trail running models have treads (three-pronged, similar to Syncrasies). However, there is little cushioning, and the shoes are zero-drop, meaning the heel isn't elevated above the level of the toes. Typical running shoes elevate the heel around 10mm from toe-level.
For disc golfers used to typical outdoor or tennis shoes, Vivobarefoots (or any barefoot shoe) will definitely intensify what your feet sense as you play, and it'll be up to the individual to decide whether that stronger connection to the ground is for them or not. Additionally, barefoot shoes can take time to get used to, and it's a good idea to transition into them slowly – especially for athletic use.
Other Popular Disc Golf Shoe Brands
While other brands are on the rise, more well-known ones still dominate disc golf footwear. Shoes made for trail running, hiking, and other outdoor endeavors from companies like Merrell, Keen, Salomon, and New Balance are extremely common out on the course.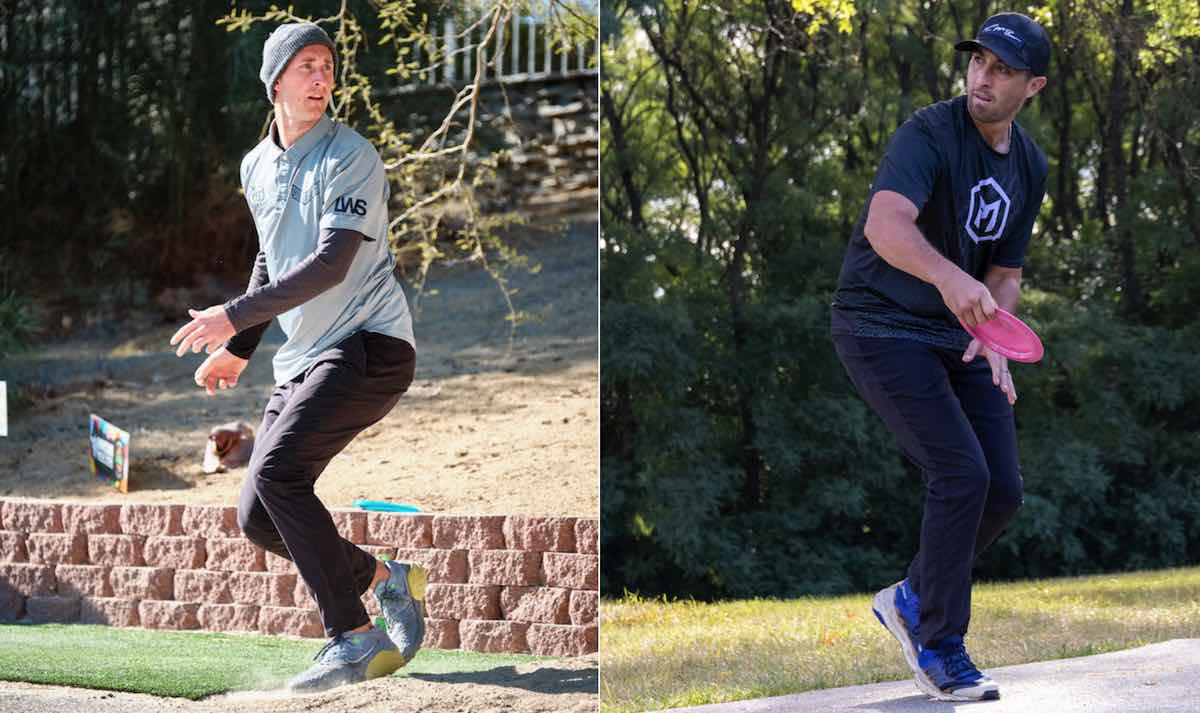 But the two most popular shoe makers in the world are also among the most popular in disc golf: Nike and Adidas.
Shoes from Adidas' outdoor Terrex line became a staple when the brand sponsored now six-time World Champion Paul McBeth as well as FPO competitor Kona Panis for a short stint. Though a management change ended Adidas' sponsorship of disc golfers, the few years were enough to cement Adidas' outdoor shoes as a part of disc golf culture. McBeth still competes in shoes from the Terrex line.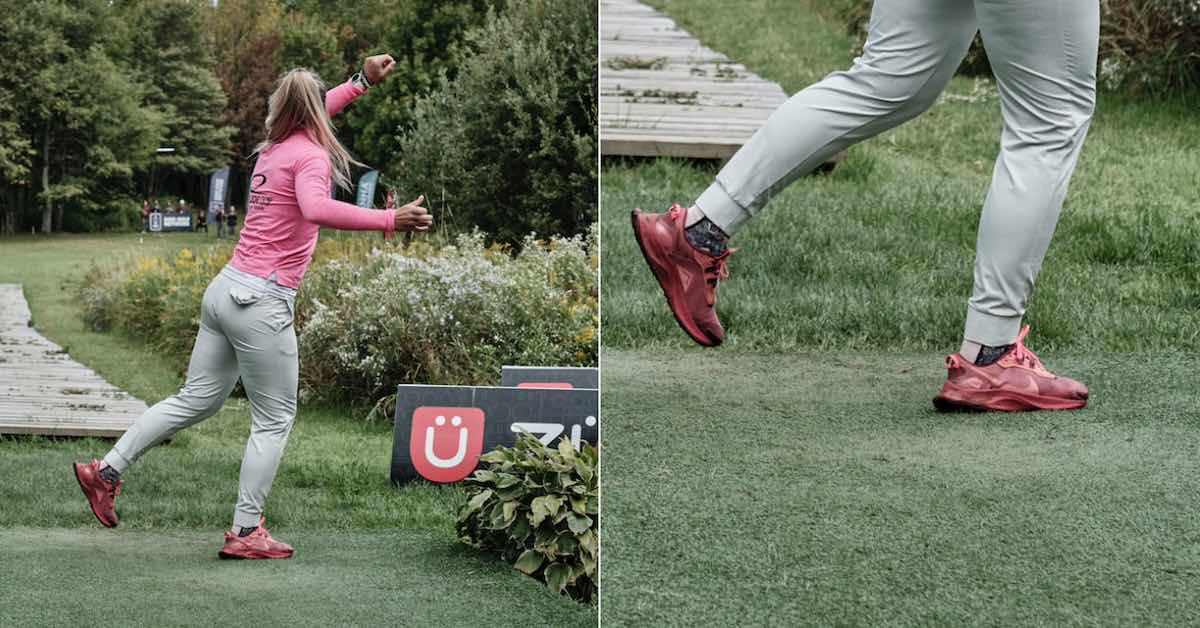 Though Terrex likely has the biggest name recognition in disc golf, Nike has made significant in-roads. Shoes from its trail running lineup are worn by a number of pros, including the MPO and FPO players who ended 2022 ranked #1: Ricky Wysocki and Kristin Tattar.
To find specific models of shoes from any of the brands mentioned in this section, check out the table of popular disc golf shoes at the end of this post.
What Makes a Good Disc Golf Shoe?

No matter what your budget is or which shoe brand seems to suit your feet best, there are some qualities almost all disc golf shoes have. Here's a checklist of things to look for in a good disc golf shoe:
Good traction: Make sure to try out a shoe on multiple surfaces before buying so that you know you can trust its grip both on the tee and off of it.
Lightweight: Long days of disc golf mean lots of walking, so save your legs a little effort. Lighter shoes can also help your footwork by keeping you a bit more agile.
Durable: Though no disc golf shoe will last forever, make sure to look for a brand and model with a reputation for holding up well to the demands of outdoor sports. Shoes not made for outdoor use don't last long and can fail at important moments.
Waterproof: Though not technically necessary, lots of disc golfers prefer waterproof shoes. Whether it's dew during early-morning rounds, rain, snow, or puddles, protecting your feet from moisture is a huge step toward a comfortable day at the course. Look for 'GORE-TEX' (a waterproof material often shortened to 'GTX' on labels) or other guarantees a shoe is waterproof.
Finally, don't forget that you need to be comfortable in whatever shoe you buy. Just because a pro or experienced player says one brand is their favorite doesn't mean it's the type that will fit your body.
Popular Disc Golf Shoes with Prices

To further help you in your decision-making, we've created an overview of shoe brands and models that have been used by elite disc golfers and/or are popular among amateurs. You'll find four tables below:
Keep in mind that we put shoes in categories based on their non-waterproof cost, but waterproof versions of shoes, when available, tend to cost $20-$40 more. Below you'll find the costs of both from the manufacturer at time of publicaton. You may be able to find sale prices from retailers that are lower than what's listed below. Additionally, we list the cost of the latest version of each shoe as older models may not be available in all sizes.

All tables are alphabetical by brand and within brands are organized by cost from highest to lowest.

Disc Golf Shoes Under $100
| | | | | | |
| --- | --- | --- | --- | --- | --- |
| Brand | Model | Price: Non-Waterproof | Price: Waterproof | What Pros Have Worn/Are Wearing Them? | Notes |
| Adidas | Terrex Swift R | $70 | $80 | Paul McBeth, Kevin Jones, many more | This is the price of Swift R3s released in early 2022. It's a sale price before the currently unannounced release date of R4s. Get them at this price point while you can. |
| New Balance | Nitrel | $75 | N/A | | Price of v5. v3s and v4s also work. |
| Nike | Wildhorse | $90 (men's), $111 (women's) | N/A | Kyle Klein, Ricky Wysocki, Drew Gibson | Price of Wildhorse 7 |
| Nike | Air Zoom Terra Kiger | $98 (men's), $140 (women's) | N/A | Catrina Allen | Current price of Terra Kiger 7 and 8 in men's. Just Terra Kiger 8 in women's. |
| Obōz | Arete Low | $95 | $110 | James Conrad | |
If you're on mobile, swipe left/right on the table above to see all columns.
Disc Golf Shoes From $100-$124
| | | | | | |
| --- | --- | --- | --- | --- | --- |
| Brand | Model | Price: Non-Waterproof | Price: Waterproof | What Pros Have Worn/Are Wearing Them? | Notes |
| Adidas | Terrex AX | $100 | N/A | Ezra Aderhold, Juliana Korver | Price of AX4. AX3s and 2s could also work if you find them. |
| Merrell | Moab | $110 | $150 | | Price of Moab 3. There are many Moab variations and all are likely to get the job done on the course. |
| Nike | Pegasus Trail | $120 | $160 | Kristin Tattar | Price for Pegasus Trail 4. Pegasus Trail 3s are also a good option. |
| Vans | Ultrarange Exo | $100 | N/A | Drew Gibson, Ben Callaway | |
If you're on mobile, swipe left/right on the table above to see all columns.
Disc Golf Shoes From $125-$149
| | | | | | |
| --- | --- | --- | --- | --- | --- |
| Brand | Model | Price: Non-Waterproof | Price: Waterproof | What Pros Have Worn/Are Wearing Them? | Notes |
| Brooks | Ghost | $140 | $160 | Missy Gannon | Price for Ghost 15 |
| Idio | Syncrasy | N/A | $129 | Nate Sexton, Corey Ellis, Eric Oakley, Adam Hammes | The only shoe made specifically for disc golf |
| La Sportiva | Bushido | $145 | $175 | Bradley Williams | Price for Bushido II |
| Salomon | Speedcross | $140 | $160 | | Price for Speedcross 6. Speedcross 5s may be available and much less expensive. |
| Salomon | XA Pro 3D | $130 | $150 | Sarah Hokom | Price for XA Pro 3D V8 |
| Saucony | Peregrine | $130 | $150 |   | Price for Peregrine 12. 11s may still be available for lower prices. |
| Vivobarefoot | Primus Trail Knit FG | $135 | $195 |   | Prices vary for this shoe depending on color. This price is for black (men's) and gray (women's). |
If you're on mobile, swipe left/right on the table above to see all columns.
Disc Golf Shoes $150 and Above
| | | | | | |
| --- | --- | --- | --- | --- | --- |
| Brand | Model | Price: Non-Waterproof | Price: Waterproof | What Pros Have Worn/Are Wearing Them? | Notes |
| Adidas | NMD | $160 | $180 | Hailey King | Price for NMD_V3. These shoes are a bit unorthodox. We'd suggest not buying without trying. |
| Adidas | Terrex Free Hiker | $160 | $180 | Cale Leiviska | Price for Free Hiker and Free Hiker 2. |
| Altra | Lone Peak | $150 | See 'Notes' | Sarah Gilpin | Price for Lone Peak 7. At time of publication, no waterproof model. However, there are older model Lone Peak All Weather (low) shoes you may be able to find. Lone Peak 6s are another older model that will be less expensive. |
| KEEN | Targhee | N/A | $165 | | Price for Targhee III. Targhee IIs also available. |
| KEEN | Terradora | N/A | $165 (women's only) | Paige Pierce | Price for Terradora II waterproof. |
| Vivobarefoot | Magna Trail | N/A | $210 | Eagle McMahon | Price for Magna Trail II FG. Magna FG is essentially the same shoe at the same price but made with sustainably-tanned leather. |
If you're on mobile, swipe left/right on the table above to see all columns.

Note: This post was originally published in April 2020 but updated in December 2022.