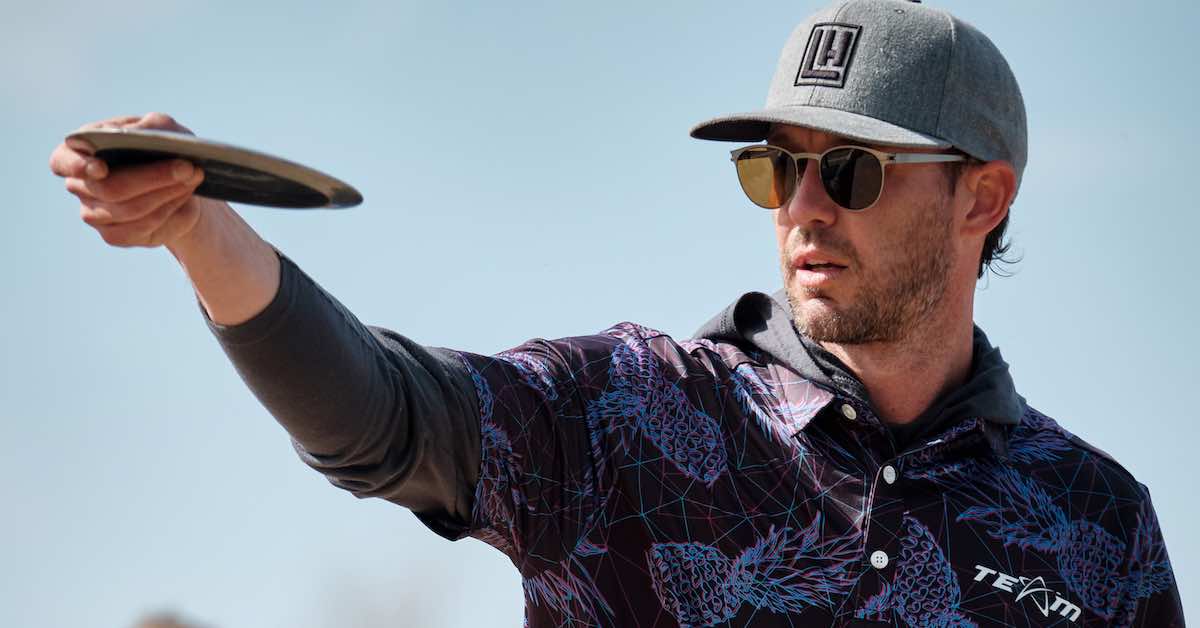 When Luke Humphries popped up at the top of the leaderboard at the Disc Golf Pro Tour (DGPT) Elite Series events the Las Vegas Open and WACO in 2022, it surprised a lot of pro disc golf fans.

It wasn't that he was a complete unknown. Plenty of viewers recognized him as the chill host of disc golf YouTube channel GK Productions' popular skins matches, where he MCs as top pros battle for serious cash in a playful atmosphere. Some even knew that Humphries had claimed an amateur world title in 2018.
However, during the 2021 season, Humphries' average finish at DGPT Elite Series events was outside the top 50, so it was unexpected to say the least when he became the Tour's points leader after two events the very next year – unexpected to almost everyone but Humphries, that is.

We got in touch with the rising star from the Midwest to talk about his disc golf journey, tour life, love of rocks, and goals for this season and beyond.
Luke Humphries Discovers Disc Golf
Humphries is age 34, which means he has quite a bit more life experience than most up-and-comers on tour. But there's a reason he only hit the disc golf scene in recent years: Previously, he was focused on making it in traditional golf.
"It wasn't until 2017 when I stopped playing golf on a day-to-day basis," he said. "But I had always planned on returning to ball golf. I couldn't wait to join a club and become a member again."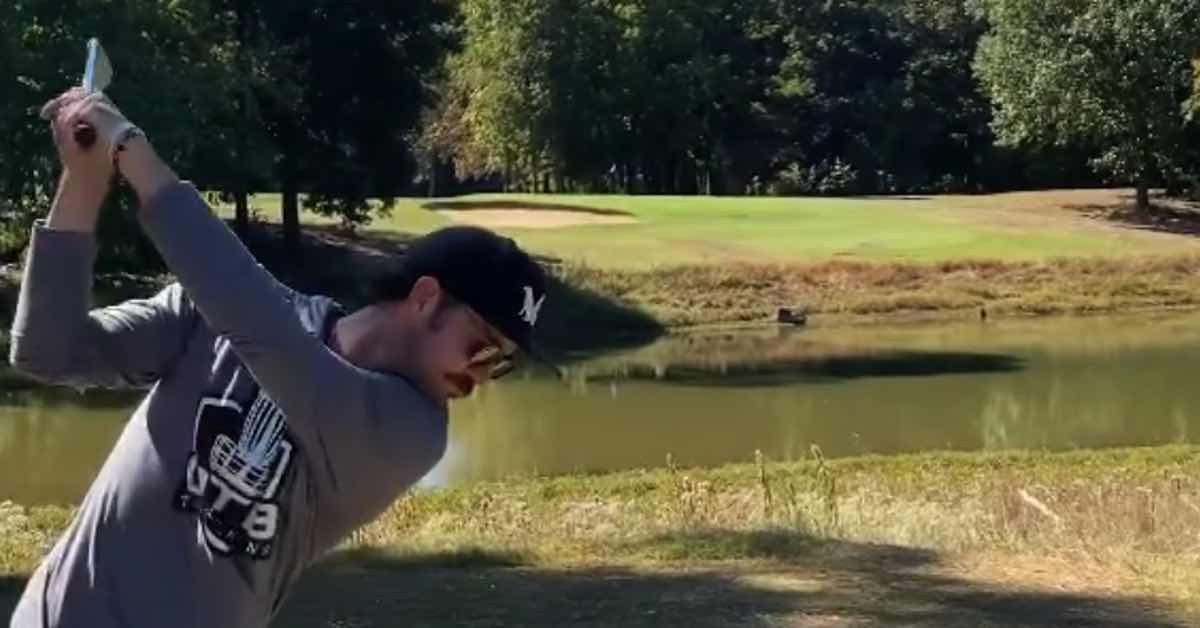 Though his golf game got strong, disc golf slowly came to the forefront of his life after he received his first disc (an Innova Champion Teebird) from his friend Trey Thompson. Humphries says he even recalls his first-ever birdie in 2013.
"It was hole 5 at Oak Park [in Wichita, Kansas] from the long pad," he said. "It was a really hyzery hole (I couldn't get anything to go straight). I skipped around the corner and then hit the best putt I've hit in disc golf thus far from the back of Circle 2. I remember that first birdie vividly."

One reason Humphries fell so hard for disc golf was that it allowed him to admire not just where his disc landed but its whole path from hand to ground. Much like Game Of Thrones star Kristofer Hivju once told us, Humphries loves the emotional journey a throw takes you on.
"It was the flight for me with how far you could throw, but how slow it would take," Humphries said. "When you hit a ball, it disappears and you watch the landing zone and watch it reappear. With a disc it's a whole experience between that tee and the basket."
Though Humphries' time on the links dwindled, his role models from traditional golf still shaped his mindset about disc golf.
"My hero, Bobby Jones, the only player to ever win all four majors in the same year, remained amateur his entire career and never accepted a dollar playing golf," Humphries said.
Jones designed the Augusta National Golf Club where the hallowed Masters Tournament – an event Jones co-founded in the 1930s – takes place. Despite Jones' influence and skill, he never turned professional. Instead, he dominated the amateur circuits, earning his way to PGA Majors through amateur qualifications. That's the model Humphries planned to follow when he got serious about disc golf.
For awhile, he did just that. He remained amateur for years and cleaned up on the local circuits. However, competitive disc golfers aren't used to highly skilled competitors remaining in the amateur ranks, and Humphries eventually received enough heat that he decided to test himself against a higher caliber field.
"The reason I went to the USADGC [U.S. Amateur Disc Golf Championship] and Am Worlds was because of the flack I had taken for remaining an amateur," Humphries said. "The reason for that was because of my golf background. There are big amateur tournaments and you can even qualify for Majors through some of those tournaments. It was a big deal to remain amateur."
Top of the Am Field
In June 2018, Humphries made the trip north to Milford, Michigan (not far from Ann Arbor), to tackle the famous Toboggan course as a competitor in the USADGC.
Heading into the final round he held a two-stroke lead, but a series of early bogeys and double bogeys ended up costing him the victory. He lost by two strokes, finishing second to Clint Calvin.
"At that time, I don't think I should have lost," Humphries said. "I did some things and threw some poor putts that ultimately cost me the tournament."
To make things worse, within a week of the disappointing USADGC loss, Humphries was conned by some people he had considered friends and ended up losing a lot of money. Many people would have folded right there, but Humphries took it all and flipped it into motivation.
"I went to Am Worlds with a chip on my shoulder like I had something to prove," he said. "I was confident."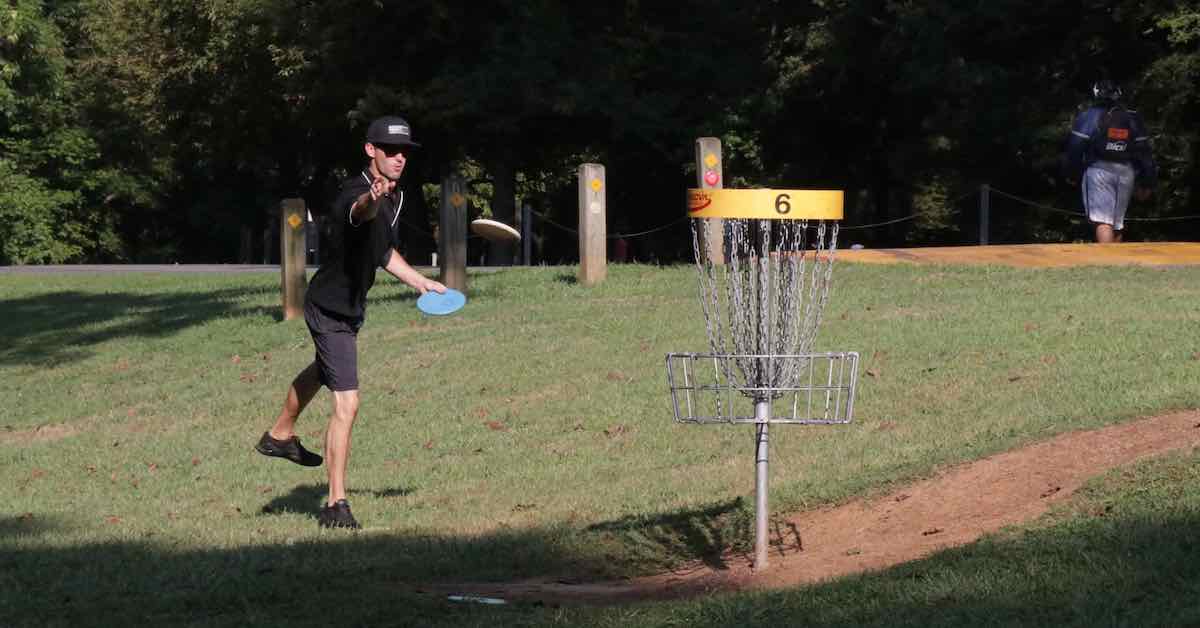 Less than two months after the USADGC, Humphries arrived in Charlotte, North Carolina, as the favorite to win a coveted amateur world title in the Advanced division (the highest-tier amateur division).
"There was a Charlotte amateur crowd that was talking smack that they weren't going to let me win Am Worlds," he said. "They said I wasn't going to come into their town and win."
The adversity didn't stop there.
"After the second round I got stroked for turning in a wrong score," he said. "Then the next round at Hornets Nest I went bogey-free, 9-under par and they took two holes out of that round because of the rain and half the field being unable to play it. I was one of three people in the field to birdie them and they took them out."
Despite the trials of the tournament and the previous two months, Humphries finished the tournament with a dominant 14-stroke victory, leaving Charlotte as a World Champion.
From there, the pursuit of disc golf took over his life.
Luke Humphries' Sponsorships
Following his Amateur World Championship, Humphries became a popular target for disc manufacturers around the world. Prodiscus offered him a deal which included touring the country in their company RV. He jumped at the opportunity.
"The RV gave me the ability to cruise around with less risk than what a lot of other people were trying to tour around with," he said. "I took the RV from Austin Hannum who had it the previous year and cruised around with Jamie Espinosa."
It was with Prodiscus that Humphries learned the importance of skill over plastic.
"After a year with Prodiscus I knew the discs didn't matter as much as I thought they did prior to that," he said. "We're talking about fractions of differences in the durability of plastic at this point. Everybody's stuff is pretty good nowadays. The best in the world could do it with anything."
After a year with Prodiscus, Humphries found himself holding the 2019 PDGA Rookie of the Year award and courting a multitude of high-level sponsors. Eventually he settled with Prodigy, inspired by the community they could provide.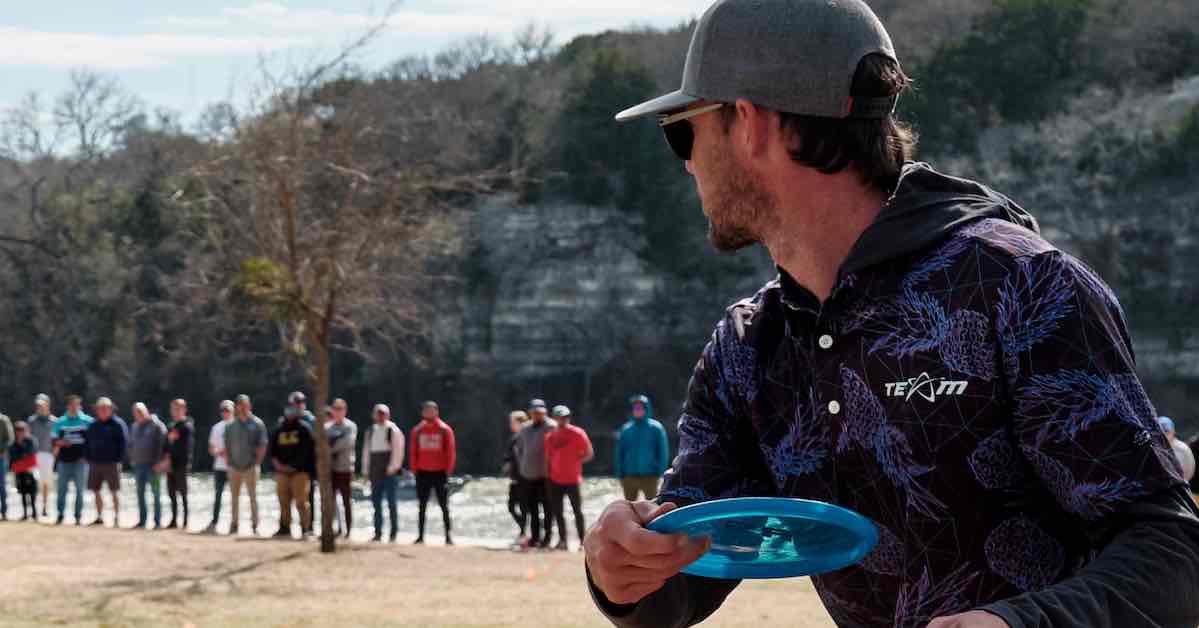 "Having a team was one of the top criteria that influenced my decision," he said. "I wanted to be with people who were throwing the discs I was throwing. When I was at Prodiscus I was kind of a lone wolf out there. I was the only guy throwing that plastic which left me on a bit of an island. I had discussions with several companies and team captains and ultimately decided Prodigy was the best place for me. It was the best decision I could have made."
Inspirations
Out on the road, Humphries has a novel way to decompress before and after competing on disc golf's biggest stages: searching for rocks.
"My love of rock hunting is half the reason I'm out on tour," Humphries said. "We go to some amazing places and travel through amazing places along the way. There is no shortage of minerals, of colors, of structures. It's an infinite well of knowledge and amazingness. To be able to pick up a few things with my friends along the way is a special thing for me."
He spends time grinding down his rock and mineral finds with tour buddies like Calvin Heimburg.
"In Belton, Calvin and I were out back behind the Airbnb for hours grinding down rocks and making jewelry," Humphries said. "Calvin made a fantastic piece of jewelry out of an agate from Oregon. It helps us relax and nerd out a little while we're on the road."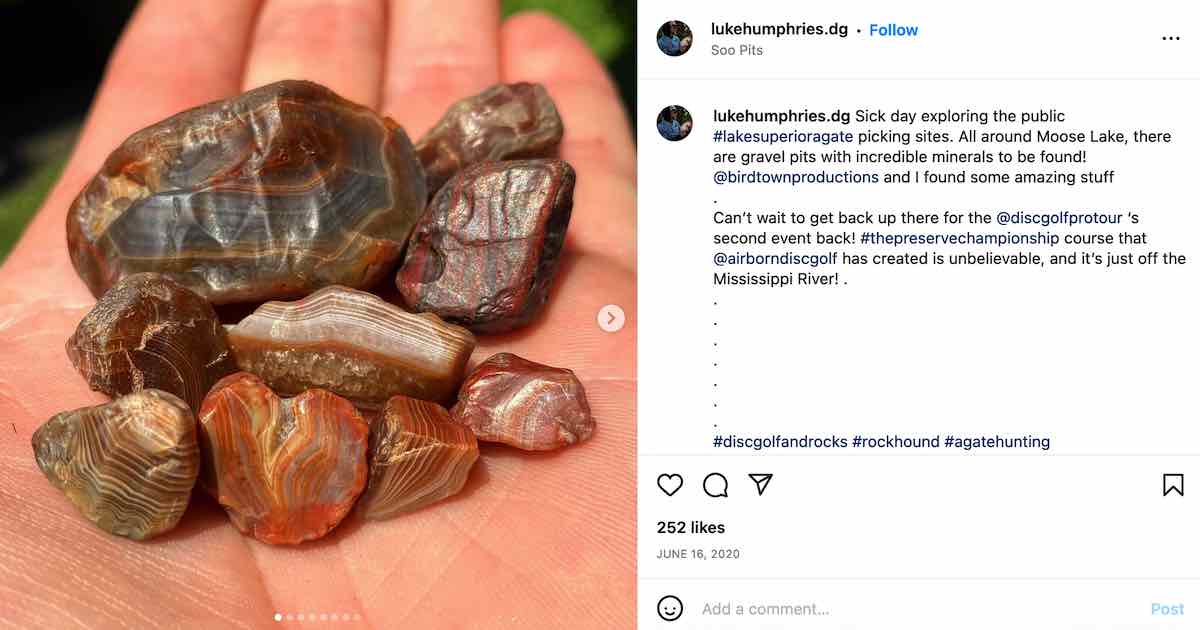 Humphries makes jewelry, sells some of the finished products on his website, and also keeps plenty of his finds for himself or gives them to friends. The cabinet doors within his van feature several of his prettier treasures as handles.
Along with having a hobby that helps take his mind off the pressure of competition, Humphries credits the community he has found with Prodigy and his strong Christian faith with his ever-rising performance.
"I don't think any of this is an accident at the end of the day," he said. "My Lord and Savior, Jesus Christ, gifted me these talents that have allowed me to be in this position. That and the people I'm surrounded by are the reason I'm doing what I'm doing. Practicing my putt is nothing compared to my faith, friends, family, and the businesses I work with."
GK Pro and "The Good Boy"
The reason many disc golf fans knew Humphries before his top five finishes in 2022 was his presence on the GK Pro YouTube channel.
He has hosted almost all of the 53 (and counting) episodes of the OTB Tour Skins as well the Go Throw Show, which has helped him build a brand and a fan base without appearing on lead cards every week.
"It happened organically with COVID and Arkansas being the first state to open up," Humphries said. "Nobody had any disc golf content at that point. Ultimately, Tour Skins came from that and turned into a weekly thing. If it hadn't been appreciated, it wouldn't have continued, but the people loved it."

It didn't hurt that a Humphries-hosted skins match produced one of the most-watched disc golf throws of all time: Kevin Jones' slip-and-fall ace on an over 500-foot/152-meter hole.


In the video above, it's Humphries who runs up to high five Jones and confirm the ace.
The skins productions have also shown fans a lot of moments with Humphries' best friend: his dog Hogan.
"Every day I come home – win or lose – and he's sitting there smiling at me, just stoked to see me," Humphries said. "He's accepted by the community, which is really important. His attitude, his gentleness, and his calmness are some things that have allowed him to be there where I don't think other dogs could have. Having all the skins matches and memories and photos and videos will be awesome. He'll live on for sure."
Growth & Approach
Since his first major win at the Amateur World Championships in 2018, Humphries has continued to gain experience, but he believes his biggest weapon on the course is an ability he's long had: thinking like a golfer.
"With distance and power comes great responsibility," he said. "My game is a lot based on ball golf and getting yourself around the course rather than overpowering the course."
He finished in the top 10 at the 2021 Portland Open, and he said that was a large confidence boost. The Dustin Keegan-designed track was the longest course in DGPT history and yet Humphries, a player without extreme power, was able to beat a multitude of the furthest throwers in the game with his course management and ability to play within himself.
Something clicked for him in Portland and he rode that wave to a top 20 finish at the United States Disc Golf Championship before heading into the offseason. During the 2021-22 winter, his major focus was nailing down his putt.
"My take on putting was to not work on it until the round and then just hit your spot because of its simplicity," he said. "I tried to have the simple take, but that's not how you become an expert at something. This offseason I realized that if I wanted to master putting I needed to understand the intricacies and the nuances that come with the stroke."
Looking Ahead
Thanks to his course management and honed putting stroke, Humphries started 2022 off with a bang with a fourth place finish in Vegas and a second place finish in Waco. He currently sits near the top of the DGPT points leaderboard, and that's where he'd like to stay.
"I'd love the first round bye for the Pro Tour Championship," he said. "It would be awesome to have that locked in and have some cash in the bank already with a chance to play for the largest purse in disc golf history."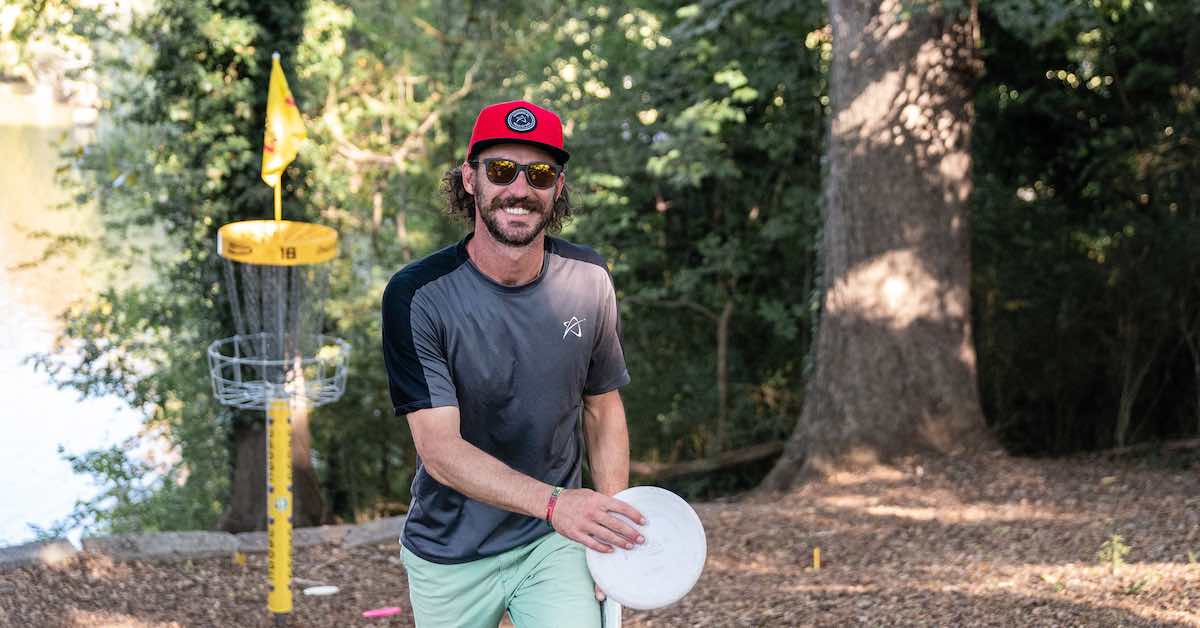 Humphries also has his sights set on a Major championship in 2022. He thinks the Winthrop course at the U.S. Disc Golf Championship suits his game especially.
"That course sets up well for me," he said. "It's a forehand-friendly course and I have some accurate forehands that I can bring to the table. It's a brutal course. It treats you bad and does you dirty. I like it."