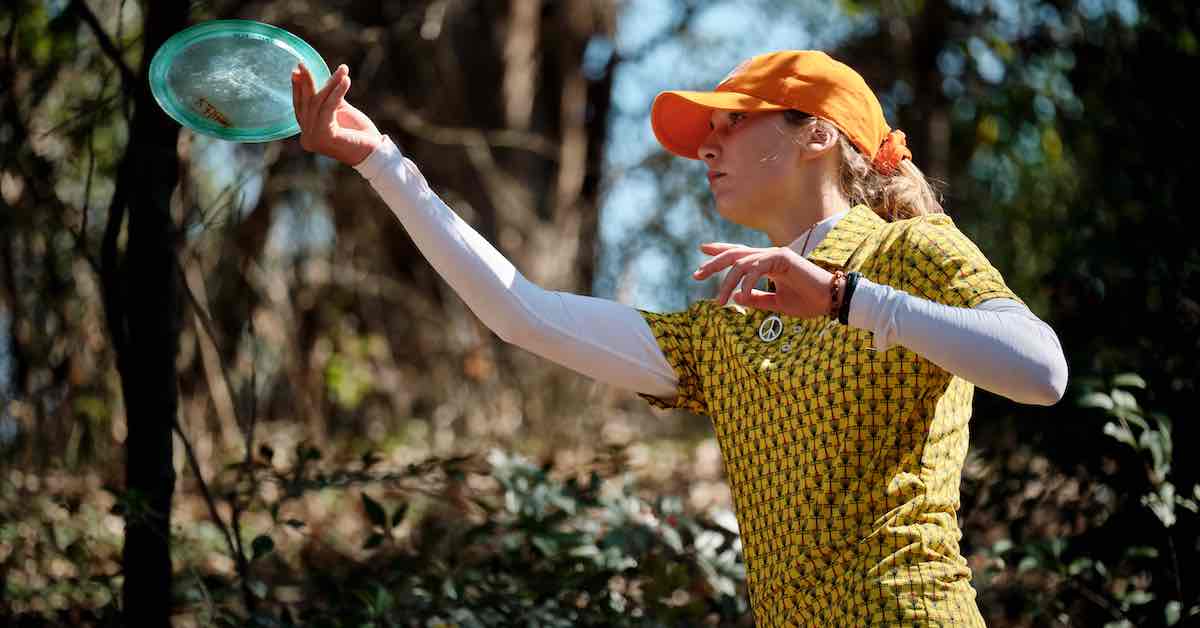 There's a rising force hailing from the South Central United States, and her name is Kat Mertsch.
The Arkansas native's disc golf abilities have steadily improved since her initial appearance on the Disc Golf Pro Tour at the Jonesboro Open in 2019. By now, she's one of the most promising young stalwarts on tour.

After taking the Professional Disc Golf Association's Rookie of the Year title in 2020, she earned four top 10 finishes on the DGPT and National Tour the following season. In 2022, she is currently eighth in FPO in DGPT tour points and has six top 10 finishes in Elite Series events, which includes a podium finish at the 2022 Jonesboro Open.
We spoke with the young sharpshooter to learn more about her disc golf beginnings, her steady rise, and what makes her such a unique player to root for.
Kat Mertsch's Disc Golf Beginnings
In the grand scheme of things, the 20-year-old Mertsch is still in her early days.
She has been throwing discs competitively for over five years, but her first experience with the sport came earlier than that – and she readily admitted her initial impression of disc golf wasn't great.
"My brother found this game, so he wanted to go play and compete against each other," Mertsch said. "I'd seen the baskets in the park so I knew what he was talking about, but I just didn't get the concept. I couldn't figure out how to throw the Frisbee like he was throwing it. He was throwing it a lot farther and a lot straighter. Everything I was trying to do was going about 80 feet [24 meters] to the left. I really didn't like it."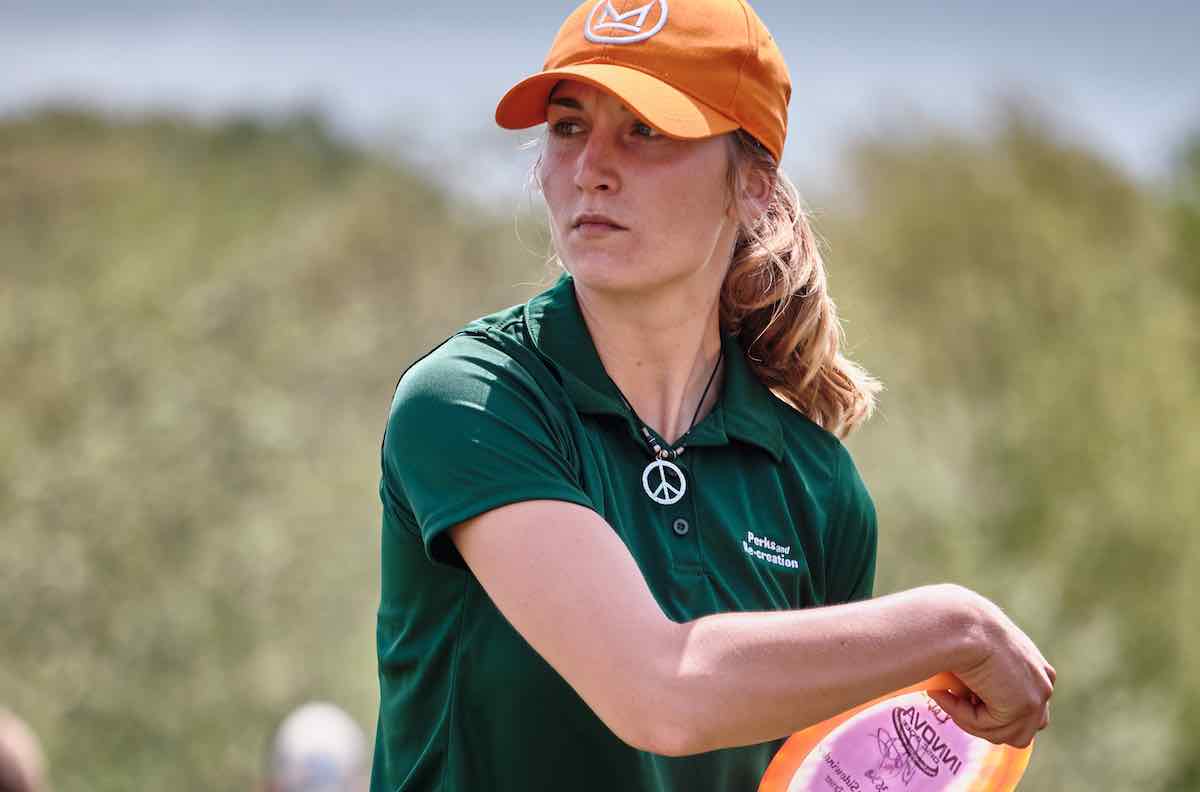 Her brother, Wedge, kept pressing her to play and eventually it clicked. He handed her a yellow, David Wiggins Jr. edition, Innova Blizzard Boss. Inspired by her brother's forehand skills, she tried the Boss out on a forehand line and instantly fell in love.
"I was out at a pool," she said. "We weren't even at a course. I was just throwing Frisbees around a yard. Wedge threw the forehand a lot and I was just trying to make fun of him, but I threw it really well. I was like, 'This is what's up.'"
Mertsch had been involved with many sports in her life but had never had much success. When she won her first disc golf event in the FA2 division at the 34th Annual Arkansas State Championships, her whole mindset changed.
"I had never won anything sports-wise," she said. "I was just kind of there helping out. Winning that tournament gave me a sense that this was something I could do, and this was something I could do well potentially. Disc golf gave me something I could feel proud about."
Mertsch's Sponsors
The first company to sponsor Mertsch was Prodigy in 2019. But even then it was only as a part of the Prodigy Street Team, a Prodigy program targeting grassroots players who love the brand, love the plastic, and will impact the sport on a local level.
"Prodigy was the first company to reach out to me when I was young," she said. "But after a little while I decided to part ways and go my own way. I remember thinking it was a big decision for a 16-year-old to handle."
She took a step up in 2020, accepting an offer from Kestrel, an Iowa-based disc golf company. With limited molds available, Mertsch was still able to compete with a mixed bag consisting mostly of Innova.
"They were so supportive," she said. "I am so grateful for people like that in the world who believe in people like me."
Following her Rookie of the Year award in 2020, much larger manufacturers came knocking. One of those companies was Innova, which was a no-brainer for Mertsch.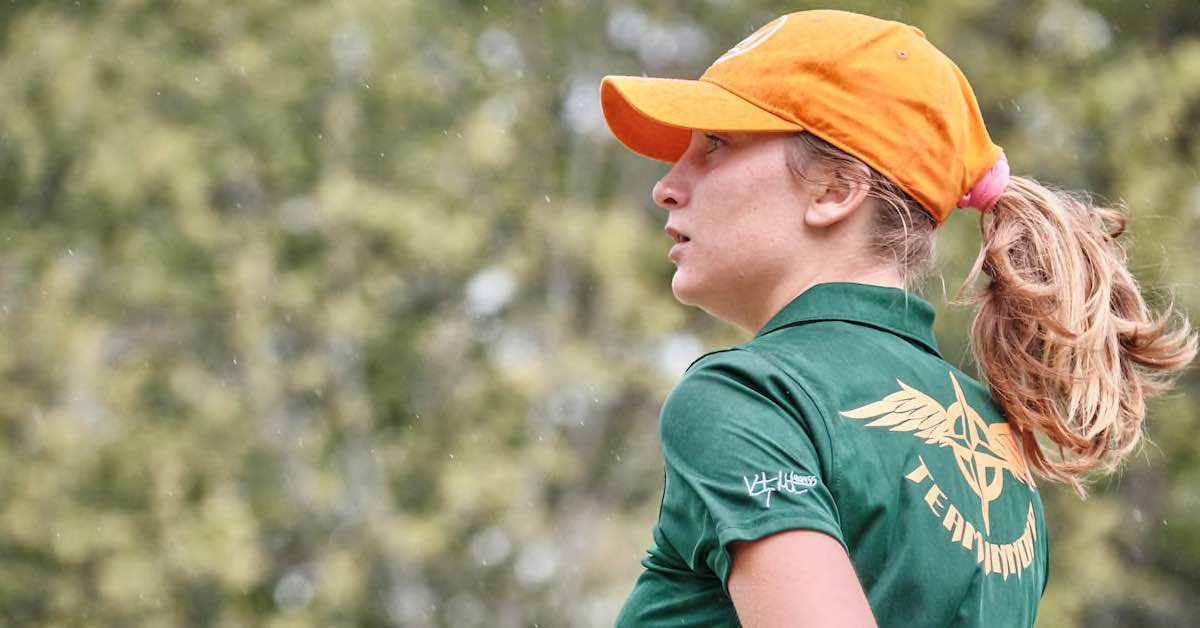 "I always wanted to be sponsored by Innova or Discmania," she said. "I always liked the molds and have been throwing Innova since I started. At the end of 2020 I got a text from Jonathan Poole at Innova and now I'm sponsored by Innova. I loved it."
A Focus on Mental Health
Mertsch is a strong advocate for mental health. Experiences both from disc golf and a challenging family life resulting from being raised in a split household have made her value protecting her mind just as much as her body.
"Spending too much time on the course or in the field is a good way to exhaust yourself and to potentially injure yourself," she said. "The mental part does not get touched on the way that it needs to. Taking care of your mental health as a person affects your disc golf game."
Mertsch is very open about her struggles with anxiety. She recognizes that if enough time isn't spent working on her mind, her disc golf game takes a hit.
"My anxiety isn't even about disc golf," she said. "It's about life and everything else. You have to baby yourself and take care of yourself mentally before you can move forward physically. You can absolutely get out there and grind it physically if that's who you are, but you cannot neglect the mental health at all."
On the course, Mertsch has what she calls her "safe spot," a mental stronghold that she says is the quietest place she knows.
"I put myself in this little bubble where all I can hear is ducks and other weird sounds around me," she said.
During the offseason, the mental preparation looks a bit different without having to prepare for competition every weekend, but Mertsch still focuses on it heavily. In the most recent offseason, Mertsch spent significantly less time on the course in January.
"I tried to relax the entire month of January," she said. "I read books, did a lot of mental work, did a lot of spiritual work, and burned sage on Mondays and Saturdays. It's just about doing a bunch of little things to build up to the big thing."
The positives that come out of having mental fortitude and putting in the time to take care of herself are what she lives for.
"I run off of feelings a lot," she said. "I'm a very emotional person and very sensitive to energy. That feeling of playing well is what I'm after when I play Frisbee golf. It's an indescribable feeling that you can only feel once you've succeeded at something."
Career Journey
Mertsch notched her first official professional win in her home state of Arkansas at the Persimmon Ridge Flex Start Friday event in 2018, but as the only competitor in the FPO field, she views the next tournament she played as her first 'real' win. The 13th Northshore Invitational was where she got that first taste of victory.
In 2018 and 2019, Mertsch tested herself at the PDGA Junior World Championships, coming up just short of a title on both occasions. She also took trips to the two nearest tour stops in 2019: the Glass Blown Open and the Jonesboro Open.
Using those character-building experiences, Mertsch was primed for a breakout year in 2020. The wrench COVID-19 threw into the tour schedule shook things up for the entire world, but Mertsch managed to battle through it and still logged 24 FPO events through the year. Some highlights included three top 15 finishes on the DGPT, a podium finish at the Mid-America Open and, of course, the 2020 Rookie of the Year.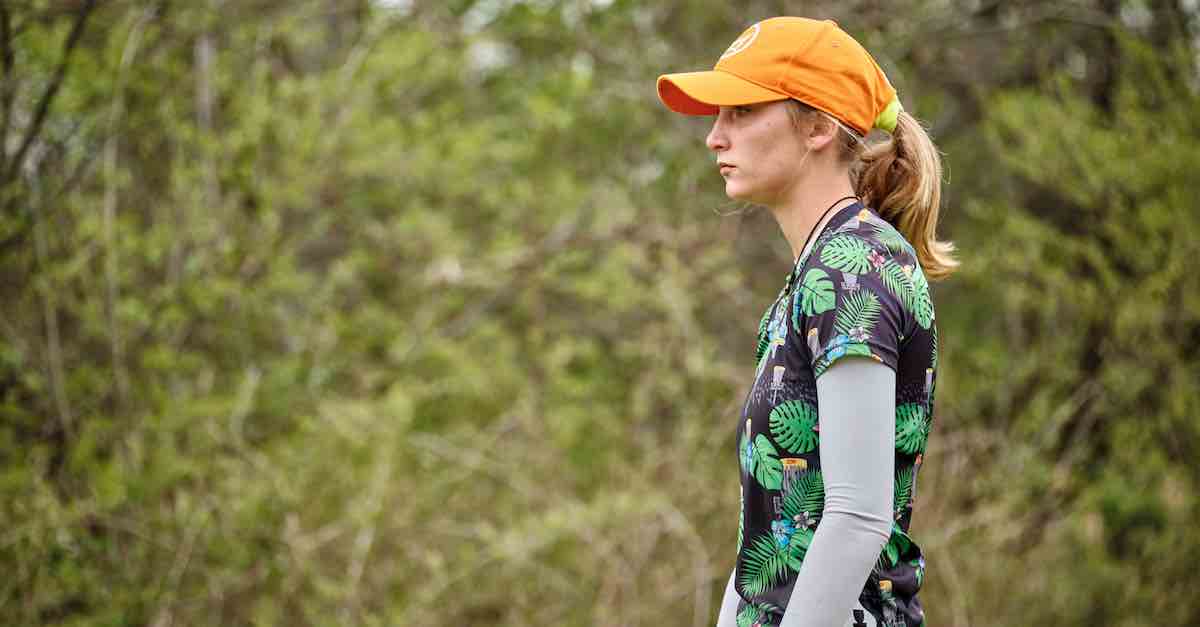 "It was pretty cool to win Rookie of the Year," she said. "It became my goal after I played the Silver Cup. After that, my mom told me I had a chance to win Rookie of the Year. And I went out and did it. It made me happy."
As the pandemic loosened its grip on the world, Mertsch entered 2021 with plans for a full tour. After a slow start, she found her groove in June and July, placing top five in back-to-back DGPT Silver Series events before taking two DGPT top 10s back-to-back at the Des Moines Challenge and the Great Lakes Open. She headed into the offseason with high hopes for 2022.
"I was younger and didn't understand the functionality of it all yet," said Mertsch. "I knew I had no idea what I was up against when I came out on the road last year. I always want to win, but in reality I knew I didn't know how to come about the win because you have to come about it a certain way. From there I set my mind on the tour and trying my very best to gain experience so I can attack this year. I still am learning how to come about the win in my own way, but I'm closer than I was last year."
Seeing How It Goes
Mertsch's introspection and self-awareness have allowed her to be objective with her own game and to continue to grow as a player.
"I realized that I suck at upshots," she said. "I worked a lot this offseason with midranges and putters. I feel like I've built a lot of confidence."
As she hones her skills, she is continually setting new goals for herself. She wrote specific things she wants to accomplish on a piece of paper at the beginning of the season to refer back to.
"I'd like to get one big win, three A-tier wins, and become a stronger forehander," she said. "Other than that, I'm doing what I set out to do so far and we'll see how the rest of it goes."