Volunteers are the lifeblood of disc golf. Without them, pesky limbs wouldn't get trimmed, out-of-bounds lines would never be marked, most disc golf events would never get planned, very few new disc golf courses would go in the ground, and the list goes on.
Of course, when my disc golf journey started in 2019, none of that was on my mind. As a casual player, I just wanted to get out there and play! But after competing in my first tournament and seeing how the sport can bring many different types of people from various stages of life together behind a common goal, I wanted to get more deeply involved.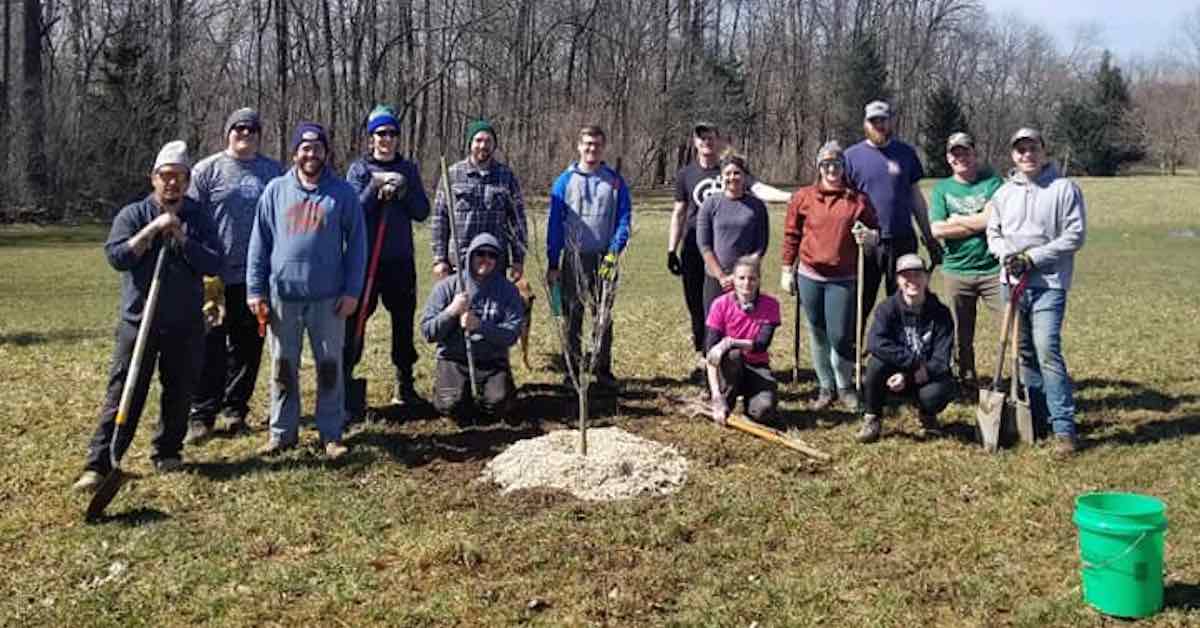 That turned out to be harder than I thought it would be, and I've had a difficult time figuring out how to assist the local club and help with events. My struggle got me interested in how disc golf community leaders could make it as easy as possible for disc golfers to become a part of building and maintaining the sport in their regions – as well as how they can keep volunteers feeling happy and appreciated.
To dig into these topics, I reached out to Shea Abbgy, Brian Frawley, as well as Sean and Sheila Callahan. All are involved with running disc golf shops, but they also organize large and effective disc golf volunteer groups in their areas. Abbgy and Frawley are associated with Great Lakes Disc in Michigan and the club Grand Rapids Disc Golfers United (GRDGU) and the Callahans own Dellwood Disc Golf and oversee maintenance, improvement, and event planning at the most popular and best disc golf course in Illinois, the Canyons at Dellwood Park. Additionally, Sean is the president of J-Town Disc Golf Club.
Advertise Volunteer Opportunities Widely 
The most important thing about creating a volunteer pool is letting people know there's a need for one and doing so with as many forms of communication as possible.
Of course, social media groups are a popular way to communicate, and they can be very effective. For instance, Frawley told us GRDGU has a lively Facebook group. Still, different generations of disc golfers prefer different platforms, and some people are trying to stay away from social media altogether. It can be hard to catch everyone if you stick to just one or even two social media outlets, and it's a ton of work to maintain vibrant communities if you expand beyond that.
For these reasons, though social media is definitely a key communication tool for disc golf organizers, it shouldn't be the only one.
One time-tested method is having flyers that hang permanently at local courses and/or gathering points during leagues and events with a call for volunteers and ways to get in touch with club leadership. These flyers could also include a QR code to a digital list – like a Google Form or online volunteer sign-up system – where people interested in volunteering can provide contact information. At in-person events, those unafraid of deciphering handwriting could have a paper sign-up form for possible helpers who might find the QR code off-putting.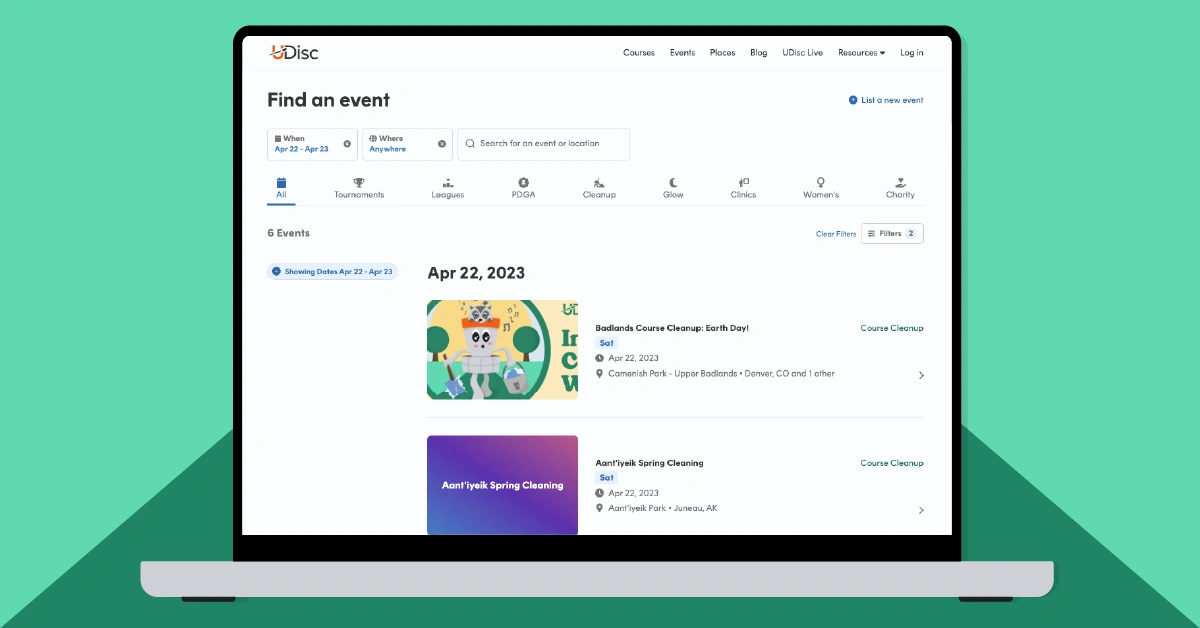 The newest weapon in disc golf community leaders' arsenals is the recently revamped UDisc Events. Along with advertising competitions, Events can be used to organize course work days like clean-ups or tournament prep. These will show up in the Events tab on the UDisc app so anyone looking for leagues, weeklies, or tournaments could also learn about a chance to help out the local scene. UDisc Events appear on courses' pages on the online UDisc Courses directory and the one in the app, too.
Be Honest & Transparent
Frawley has a background in volunteer management and he noted the importance of clear communication for people at all levels, from long-term leadership positions to short-term event volunteers. That includes admitting when you don't know how someone can help.
"Be open and honest with people when they do reach out to help out," said Frawley. "'We'd love you to help out, but we don't know what that means yet, so we're going to circle back.'"
Finding specific assignments for volunteers is key to retention. If someone comes out to assist but ends up twiddling their thumbs, they won't want to come back.
"You don't want to ask a volunteer to come out and volunteer if you don't have something for them to do," said Abbgy. "We make sure that we have roles for them."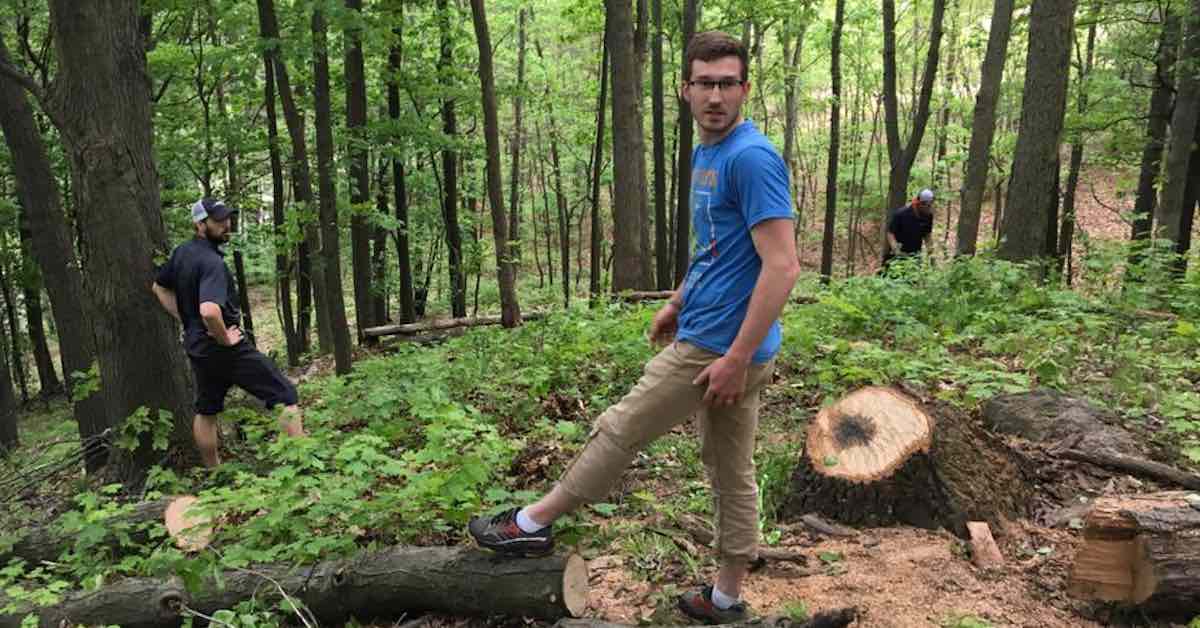 It can also inspire volunteers when they understand the larger vision they're helping to realize. GRDGU makes that possible by hosting monthly community meetings that are open to club members where they address questions and concerns as well as share upcoming events.
"It's so often not about what's currently going on; it's what's coming down the pipe one year, two years, three years – courses we know that we won't be able to play until 2025," said Frawley. "We're still out there walking through the woods and getting approval. We can see those long-term things."
The Callahans have found transparency can also put a stop to disputes and the sense that others are profiting monetarily from volunteer labor.
"When people do this type of thing, what ends up being the problem is money – people not knowing where that money is going or how it's being allocated," said Sean Callahan. "We've always been super simple and transparent about everything we're doing. If we have a tournament, I'm listing where every penny is going."
Be Open to New Faces & Promote Compromise
For those in existing top positions, guiding the next generation of volunteer leadership is key to disc golf's continued growth. This is something that Abbgy is acutely aware of as he helps build GRDGU's club leadership.
"How do we create more opportunities to get involved and keep the spring of new players feeding us?" said Abbgy.
One answer they've come up with is sunsetting inactive board members. Recently, the club asked a number of such board members to resign to make room for fresh voices.
"We are really trying to build a structure where new players know there is an invitation to be more involved if they choose to do so or can add value in some way," said Abbgy.
One of the most important things to model for these incoming volunteers who aspire to leadership positions is willingness to compromise. That of course means compromising with others in the disc golf community, but it's also about fostering their ability to see the broader picture and understand that disc golfers' desires often need to be balanced against those of town and park governance.
This is something Abbgy is familiar with as he earned respect in his disc golf community by mending a tattered relationship with the city. 
"The real authority of how fast and how successful the community can be lies with the parks department," said Abbgy. "They own the property. They are elected or hired to be the stewards between the community and the parks. You really have to earn their trust. They need to be able to trust that you are going to promote the parks in a way that is inclusive and is not destruction."
Abbgy's genuine interest in supporting parks department goals through disc golf ended up being what was best for the sport in the area, too.
"When I came in, we got the city relationship repaired and I saw that was what the [disc golf] community really wanted," said Abbgy. "They wanted to see the parks improved. They wanted to see leagues being run. They wanted to see better tournaments."
Recognize Work & Achievements
When people give up their time to help organize an event, clean a course, run social media campaigns, and all the other myriad things it takes to create a successful disc golf ecosystem, it's important for community leaders to recognize their input. The Callahans know how critical showing appreciation for people's hard work is and annually host an awards night called The Dellys to make sure helpers in their area get moments in the spotlight.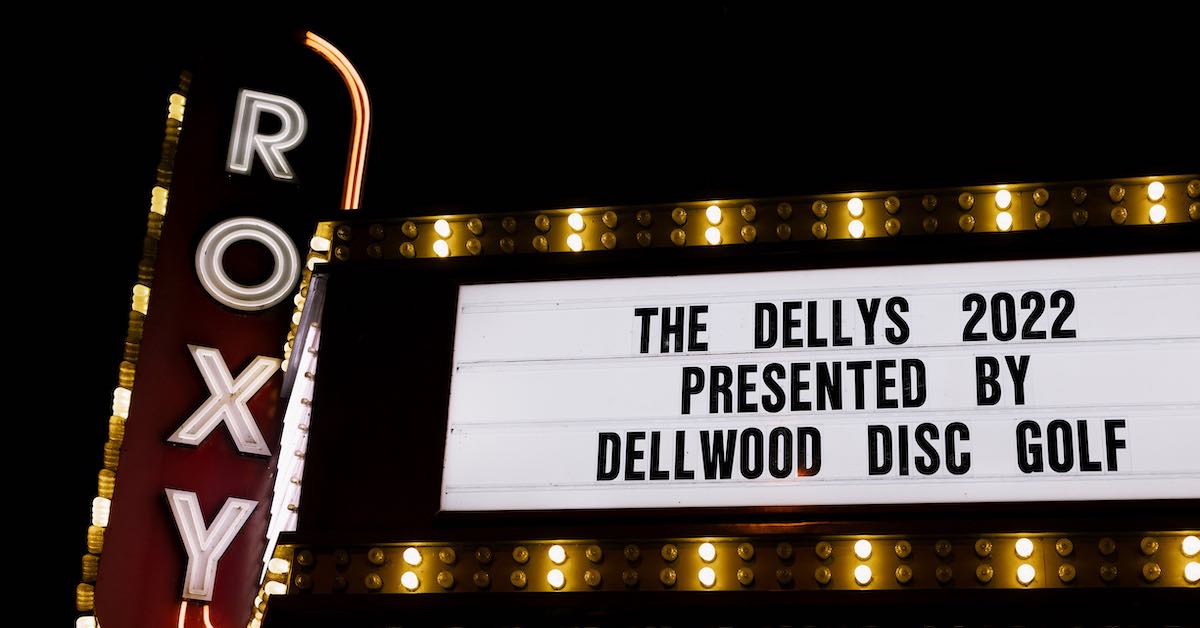 Inspired by the Dundie Awards from the television show The Office (U.S. version), Dellys are cheesy and heartfelt. The Callahans loved the idea of being able to honor standout people in the community, both for great play in the Greater Joliet Tour Series and for positive impact on the community. The event has become an annual celebration of the disc golf community, complete with special guests. Past appearances include those from veteran pro and current Disc Golf Network commentator Philo Brathwaite and Terry Miller, AKA The Disc Golf Guy, who's long been a key figure in pro disc golf media.
"This is just a night for everyone to come together, hang out, eat, drink, and just celebrate with everyone in the community," said Sheila Callahan.
It's not necessary for leaders to create an entire awards show for their disc golf community, but some form of publicly acknowledging and thanking volunteers' hard work is crucial.
Don't Let Small Disagreements Overshadow the Big Picture
In any group of people, there will be times when some disagree with certain decisions. Groups of volunteers in disc golf will be no different. Legitimate concerns voiced through the proper channels definitely deserve thoughtful consideration, but heated petty squabbles can spoil the volunteer spirit. When that starts happening, community leadership should do its best to redirect the conversation and remind everyone they're on the same team.
"Always maintain a positive attitude about things," said Abbgy. "Whether there are disagreements about the direction to go or what steps to take. If we have a disgruntled member or a quarrel among members in the community, making sure that everyone knows that whatever disagreements we have are really insignificant to the long-term goals that we are pushing for and nothing should derail that."
Learning from Each Other
Whether you're starting your own disc golf community, thinking of taking on a leadership role in an already-established one, or are already a leader who's always open to advice, I hope you've found some good tips and ideas for managing your community's disc golf volunteers effectively. As Sheila Callahan emphasized, disc golfers should always be ready to share and adopt what's working.
"Everybody learns from each other and feeds off each other," said Sheila. "They see what works with us and use us as a blueprint to get things going where they're at."