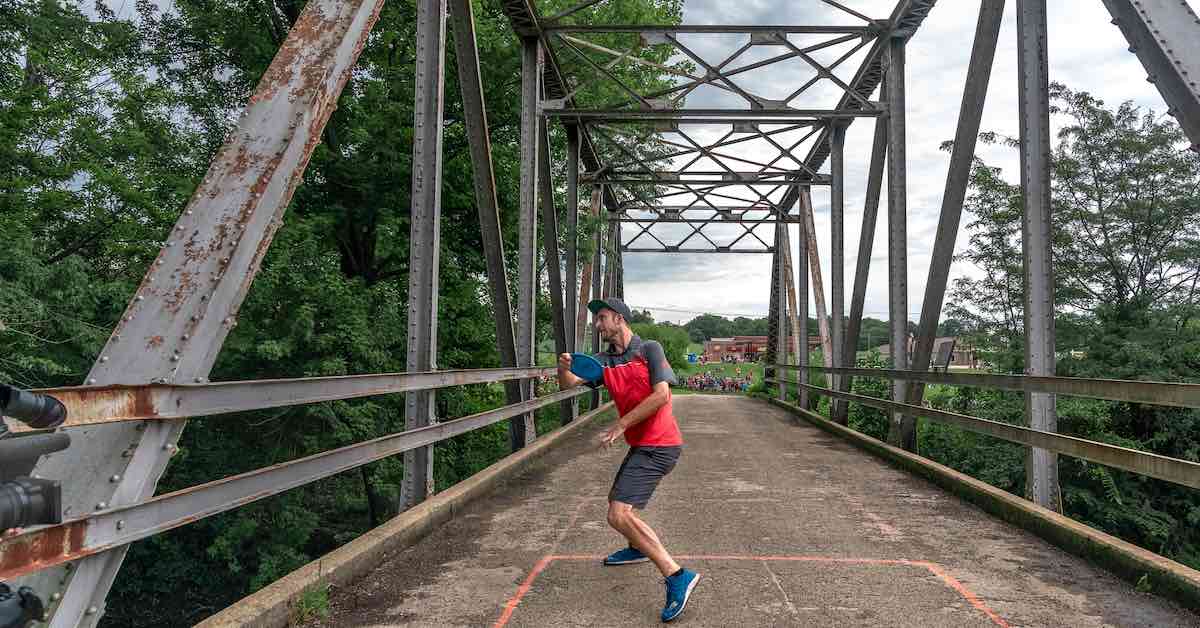 Known for big payouts and punishing courses, the Ledgestone Open in Peoria, Illinois, is one of just three events that have been a stop on every single Disc Golf Pro Tour since the competition series started in 2016. One course played at Ledgsetone, Northwood Black, is considered by many competitors to be the hardest course in pro disc golf.

The 2022 event went from Thursday, August 11, to Sunday, August, 14.
Learn more about the Ledgestone Open below:
How to follow the 2022 Ledgestone Open disc golf tournament
Who won the 2022 Ledgestone Open disc golf tournament and who shared the podium
How to watch the 2022 Ledgestone Open disc golf tournament
History of the Ledgestone Open disc golf tournament
Past highlights at Ledgestone Open disc golf tournaments
2022 Ledgestone Open Disc Golf Tournament Scores & Tee Times
You can find live scores, stats, tee times, and more for the 2022 Ledgestone Insurance Open on UDisc Live.
Who Won the 2022 Ledgestone Open?
Ricky Wysocki and Missy Gannon won the 2022 Ledgestone Open disc golf tournament in MPO and FPO, respectively.

You can find individual scores on every hole, in-depth stats, and more at the UDisc Live results page for the 2022 Ledgestone Open.
MPO
Who won the 2021 Ledgestone Open?

Who shared the podium at the 2021 Ledgestone Open?


FPO

Who won the 2022 Ledgestone Open in FPO?



Who shared the podium at the 2022 Ledgestone Open in FPO?


Ledgestone Open Disc Golf Tournament History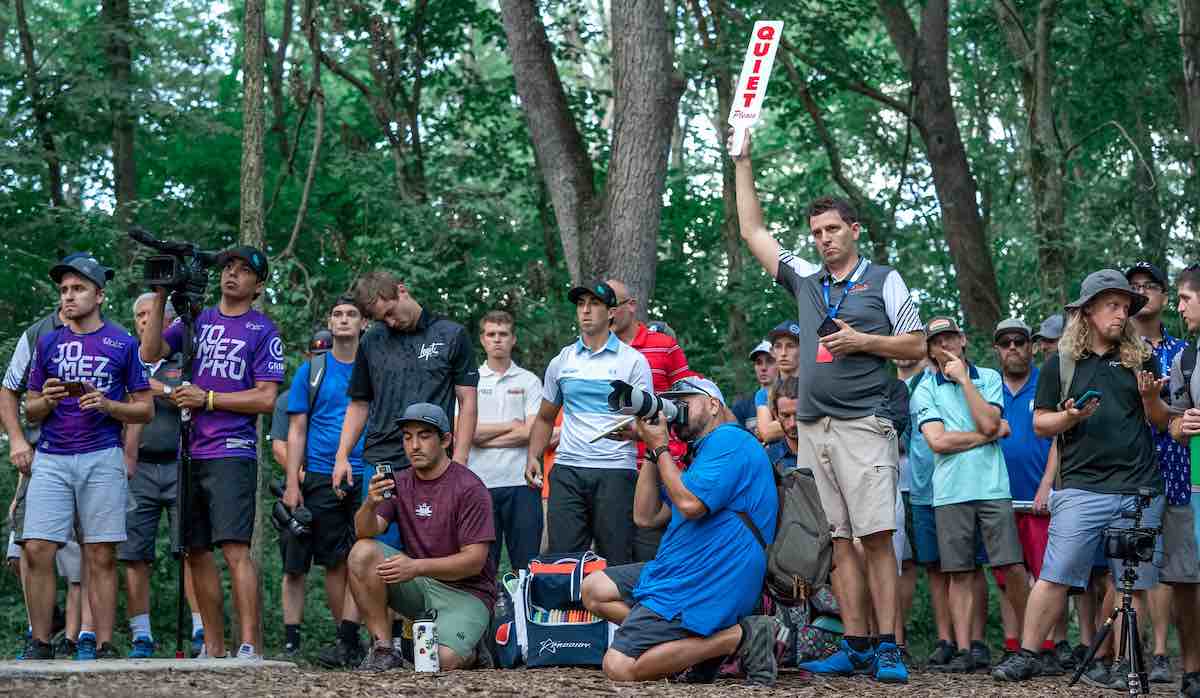 In June of 2011, Nate Heinold had an idea.
He wanted to run a disc golf tournament to help get more eyes on his insurance business. Just two months later, the Ledgestone Open was born.
It started as an unsanctioned event in its first year but by 2012 had grown into a massive A-tier, serving as the finale for the Ledgestone Insurance disc golf tournament series in the greater Peoria area.
From 2012 to 2014, Heinold ran three successful Ledgestone Opens with A-tier status, watching names like Catrina Allen, Sarah Hokom, and Nikko Locastro take home victories. By that point the tournament had become a popular stop for many touring pros but wasn't yet known across the country.
That all changed in 2015.
The PDGA National Tour came knocking, wanting the Ledgestone Open to be a part of their elite series. This alone rocketed the tournament to the top of many players' must-play lists. But Heinold was able to pull off an even greater feat to make the 2015 Ledgestone Open a moment that went down in disc golf history.
"It was a turning point in the history of the sport," he said.
The pro purse totaled $117,453, which was the largest payout in disc golf history to that point not considering inflation (more on this in the Past Highlights section later on). The huge purse enticed nearly every big name to the event, which helped promote and hype the tournament even more.
The Ledgestone Open made history again the next year by being one of just six events on the inaugural Disc Golf Pro Tour in 2016.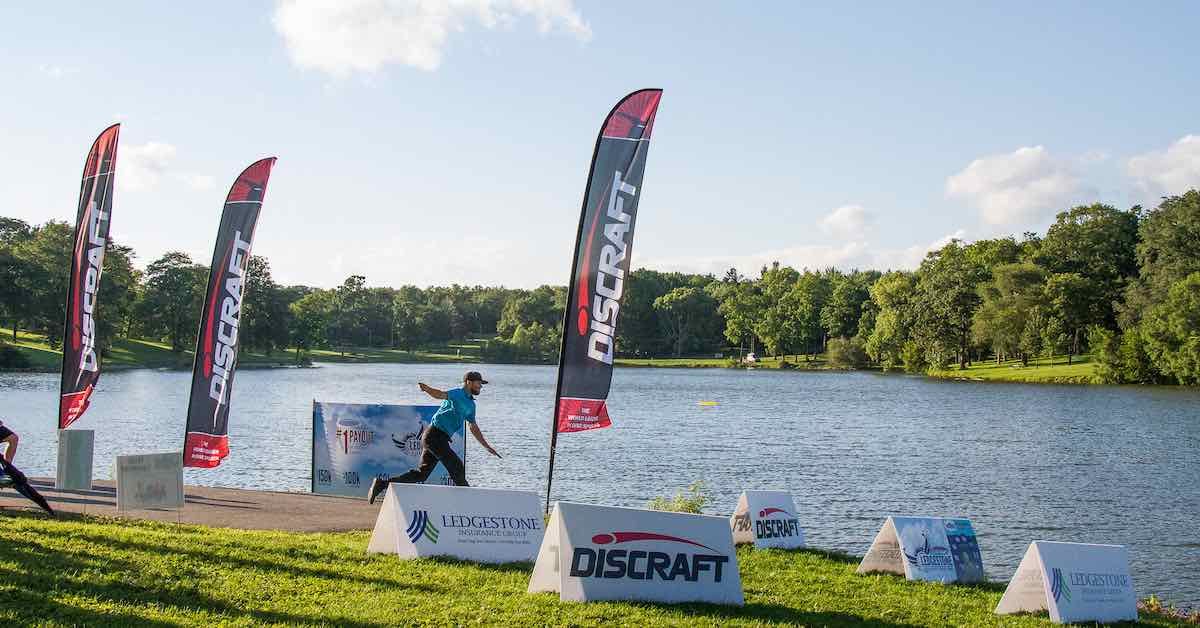 As the event grew and gained more attention, it also had to adapt. The biggest change was that event staff decided to let go of one of the tournament's controversial hallmarks: stroke-and-distance out-of-bounds rules. These rules made it so that when a player went OB, they were forced to both take a stroke penalty and re-throw from their previous lie. Typically, a player who goes OB is penalized a stroke but gets to advance up the fairway to the place their disc was last in bounds.

Based on player feedback, the desire of the DGPT to move away from stroke-and-distance rules, and other factors, typical OB rules have been used at Ledgestone since 2017.
The tournament has continued to provide huge payouts for professional players while the amateur side of the tournament has kept growing. The 2021 event was the largest tournament in disc golf history with 1,975 players participating across all divisions. It has become much more than just an event to promote Ledgestone Insurance.
"It has changed from promoting my insurance business to being a business on its own," Heinold said. "It's its own little village of people. This year we'll have 74 people on staff and around 200 volunteers. It has evolved into an army."
The ever-growing number of competitors, staff, and volunteers has allowed the philanthropic side of the event to shine through. In 2014, the Ledgestone Open began a partnership with St. Jude Children's Research Hospital, donating $182,000 through 2020. In 2021, the tournament was expected to donate an additional $150,000 to St. Jude and other charities, make the event's total charitable donations total $332,000 over the past eight years.
How to Watch the 2022 Ledgestone Open Disc Golf Tournament
When was the 2022 Ledgestone Open?


Thursday, August 11 to Sunday, August 14

How to watch the 2022 Ledgestone Open:


On mobile swipe left/right to see all columns in the table above.
Past Highlights at the Ledgestone Open Disc Golf Tournament

Here are some of the standout moments of past Ledgestone Opens.

Bogey-Free Rounds Recorded at Northwood Black for the First Time in 2022
Northwood Black is a monster of a course and when it debuted in 2021, no player was able to complete it without at least one bogey. In 2022, that finally changed as two players out of a field of over 140 finished with clean scorecards: Andrew Marwede and Isaac Robinson.

Pierce's 2021 Blind Eagle at Northwood Black

Paige Pierce wasn't off to the start she'd likely hoped for during her first Ledgestone round in 2021.Through five holes, she was 3-over par with no birdies on her scorecard.

Ever the fighter, Pierce got out of her funk by doing something spectacular on the par 5 hole 6: She put a blind shot into the basket from 240 feet/73 meters away to get an extremely unlikely eagle.

You can see the shot in coverage from GK Pro below:



Pierce would go on to completely dominate the 2021 tournament, and this could've been the spark that ignited her fire.

"Baseball Field Hole" Magic in 2017

If you want to get near the basket on hole 5 at the temporary course at Lake Eureka, it'll take a 476-foot/145-meter pump over a fenced-in baseball field that plays entirely as OB. That distance is a big ask for the majority of players, but it's well within top pros' wheelhouses.

At the 2017 Ledgestone Open, Gregg Barsby and Paul McBeth proved that.

In round one, Barsby aced the hole. Though the shot wasn't videoed, Barsby was just behind a card being filmed by Prodigy, and in their video, you can hear the basket rattle, a cheer erupt, and Barsby victoriously retrieving his disc from the basket. The players on the card even stop to take in the moment before they continue play, with one amusingly remarking, "Got me by four strokes."



McBeth almost repeated Barsby's feat on film in the final round. He arrived at the hole behind first place by seven strokes but only three strokes out of second. If he was going to push his way up the podium, he needed to start making a move.

He stepped up looking to put his drive inside of Circle 1, but he ended up getting a bit closer than that.
Watch this clip from JomezPro:


2019 Pierce and Allen Battle
Paige Pierce and Catrina Allen have been battling for almost a decade, so the 2019 Ledgestone Open was just another entry in their long saga. But this one was no less exciting.
Allen out-dueled Pierce by one stroke in each of the first two rounds, entering the final day with a two-stroke lead. The two would trade blows throughout the front nine.
Allen had a one-stroke lead heading into hole 9 with a chance to take her lead back to two strokes with a birdie. Her drive got her to about 36 feet/11 meters, but she was directly behind a fluffy bush with no way to run the basket apart from a floated putt over the top.
GK Pro caught the action on her birdie putt:



Now down by two strokes entering hole 10, Pierce needed to make something happen. She stepped up to the tee and delivered a dime:


By hole 18, Pierce had given herself a one-stroke advantage. Allen's putt to potentially force a playoff went wide and Pierce had the opportunity to pitch up for the win…but she had other thoughts:


2015's Record-Setting Payout

The fifth edition of the Ledgestone Open was groundbreaking in the disc golf community. The event was now a part of the PDGA National Tour, which gave a bigger stage to the unveiling of what was then the largest payout in disc golf history.
The event gave away a pro purse valued at $117,453, smashing the previous record and completely obliterating the 2014 Ledgestone purse of $18,965.
The 2015 tournament set a new standard for disc golf events across the country and around the world, giving touring pros hope that they could indeed earn a living playing disc golf. Since then, the disc golf world has seen more high-paying events break onto the scene. In 2020, the DGPT Championship took over the record for largest disc golf payout in history with a $130,400 purse.

Interestingly, if you adjust totals for inflation, the largest purse ever at a disc golf tournament was actually paid out at the 1979 WHAM-O $50K Frisbee Disc Golf Invitational. Today the buying power of that tournament's purse would be about $150,000. However, unlike Ledgestone's landmark 2015 payout, the 1979 tournament's didn't come at a time when the disc golf community was expanding at a rate that could make such high payouts sustainable.