When the season is over and skiers have packed away their poles, some of America's most popular skiing destinations undergo a transformation. It turns out that the hills so perfect for ski slopes when they're covered in powder make great disc golf courses when they're covered in grass.
Winter sport areas diversifying their offerings to be profitable throughout the snowless off-season isn't a new phenomenon. Adventure parks, hiking trails, ropes courses, and mountain biking are all fairly common. But as disc golf's popularity has taken off as of late, a growing number of ski areas have found that the sport can be a powerful draw. One ski resort, Smugglers' Notch in New England, has even hosted a professional disc golf world championship and created two of the best disc golf courses in the world.
Here we focus on two other ski areas: Arapahoe Basin of Dillon, Colorado, and Magic Mountain Ski Area of Londonderry, Vermont. Though on near-opposite ends of the country, both resorts are alike in that they have booming ski seasons and have recently added disc golf courses to help keep business brisk in the summer.
Arapahoe Basin Disc Golf Course – Dillon, Colorado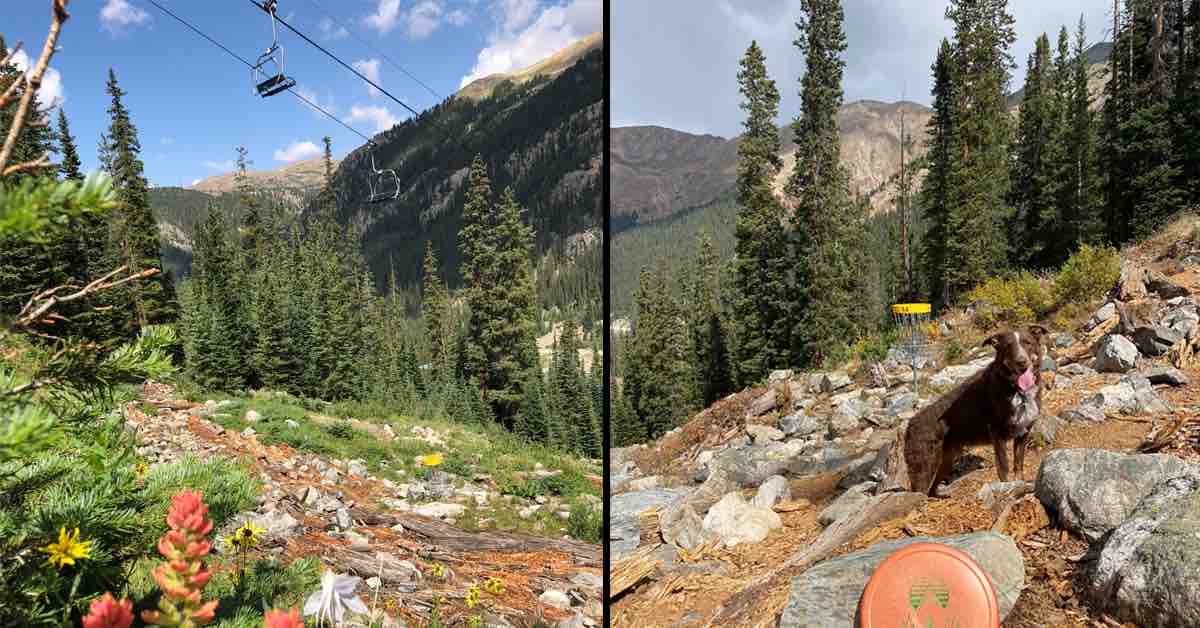 Arapahoe Basin – often called A-Basin – sits on the continental divide, the ridge of mountains that runs from Alaska to the southern tip of South America. An hour west of Denver, the Colorado ski area is extremely popular, known for its high altitudes, picturesque vistas, and prolonged ski season. Its alpine environment allows for snow to stick around well into June and occasionally even July.
Lift Operations Manager and long-time disc golfer Ben Morton was the driving force behind adding disc golf to A-Basin's off-season offerings.
"It actually started in 2015 for the USA Pro Challenge," Morton recalled. "We put in three holes, which seems kind of silly, but at least it was a foot in the door. Of course it didn't attract many people only being three holes, but it was a good insight into the potential that the ski area has."
Having played disc golf courses at skiing areas near the world famous Vail – Beaver Creek, Steamboat Springs, and Copper Mountain – Morton knew that there was demand for disc golf and adding a course at A-Basin could increase the destination's chances of attracting off-season visitors. He finally got the chance to expand in 2017.  
"The idea got a little momentum behind it only because I wouldn't stop bothering the head of the ski area about it," said Morton. "Just randomly one day I grabbed the Lift Maintenance Manager's dog, who's also an avalanche dog, and we hiked the mountain and I just started putting ideas together." 
Once he had a firmer idea of what the course could look like, Morton had to pitch his plans to the rest of the management. He focused on how disc golf could increase off-season visits to the mountain while also preserving the land and environment. 
"My biggest thing was just to get more people up there and to take advantage of the existing trails that we have," Morton said. "It's not like we're cutting trees down or mowing fairways or anything. It's just really using what we have that is accessible and usable for disc golf in the summer."
It was actually essential that the course do little in the way of altering the existing landscape as A-Basin has a summer and winter-use agreement with the U.S. Forest Service. Indeed, every bit of Morton's plans for the course had to be approved by the USFS due to the delicate nature of the high alpine environment.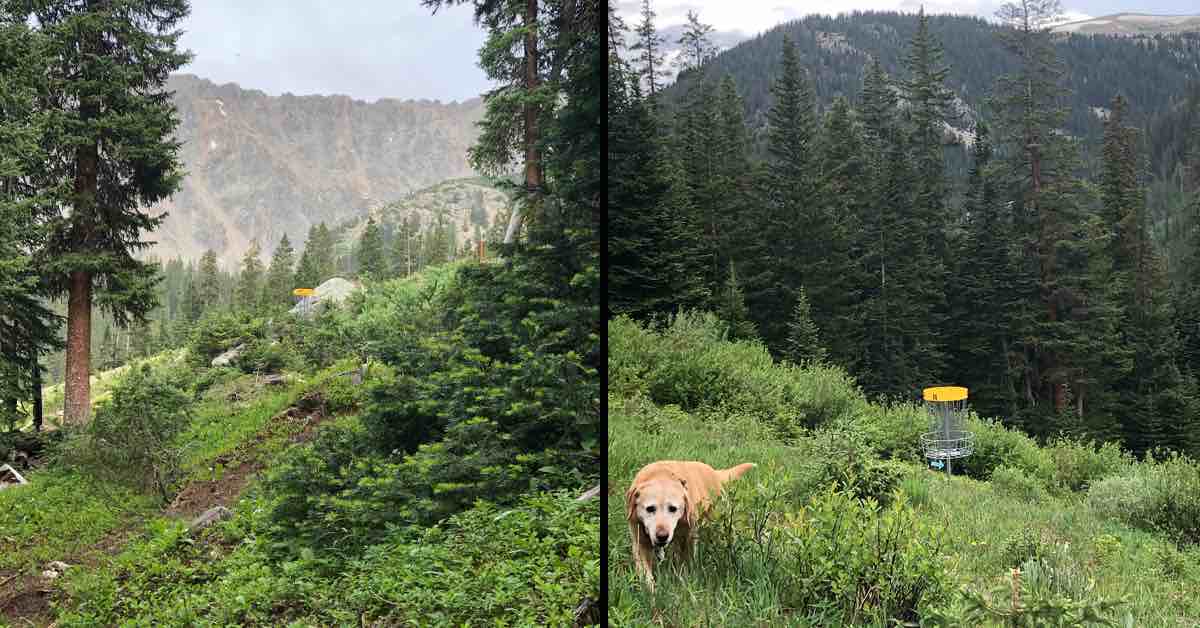 "We had to present a plan to the Forest Service, and then eventually the head of the local forest district came out with a botanist and we walked all the holes," Morton said.

The group ensured that sensitive plants that are part of a healthy alpine environment were kept in foot-free zones and that holes were planned in a way that severely limited the temptation for players to do any off-path trekking.
Along with environmental concerns, Morton also had to keep in mind the need for hole variety on land where the main feature is elevation. The course begins at around 11,000 feet/3,200 meters above sea level, and players climb 1,000 feet/304 meters as they play.
"One of my biggest challenges was trying to make it feel like you weren't throwing uphill every hole," Morton said. "So in between baskets and tee pads you might be hiking uphill, but I definitely tried to make it to where you aren't throwing uphill or downhill for every hole."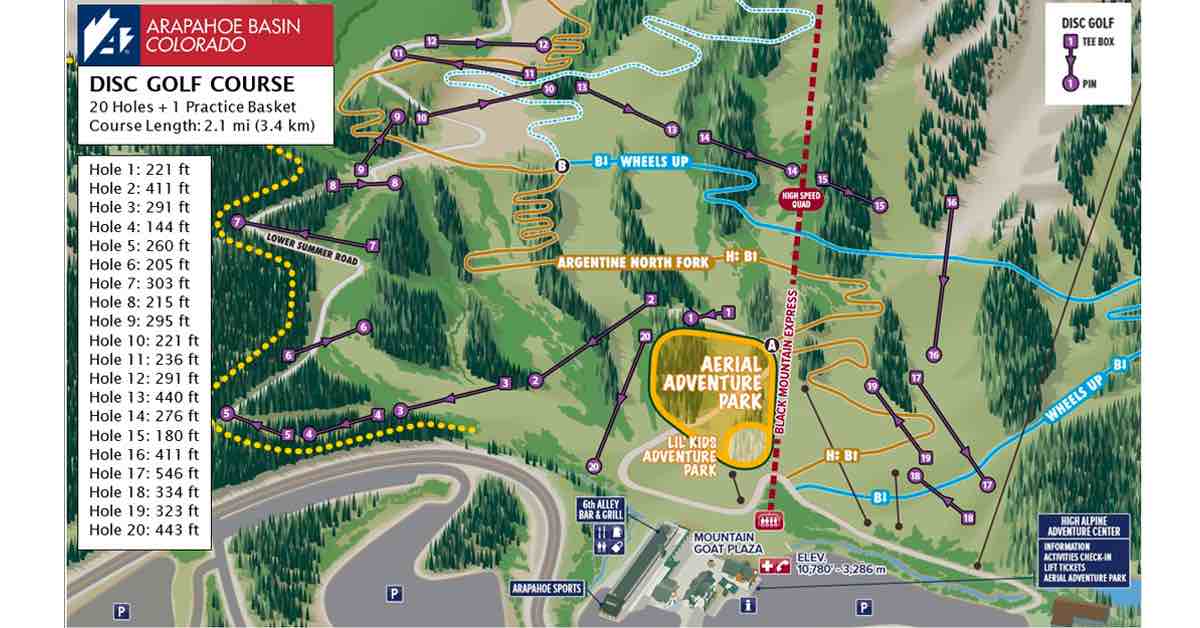 Once the plans were complete and fully approved, Morton and his team of summer lift operators – whom Morton said "he cannot thank enough" – built the course.

All the time taken to plan the course has proven to be well worth it. Morton said that disc golf was one of the key factors in making the 2020 off-season one of the busiest A-Basin has ever had. The course's popularity is evidenced by how over 1,000 UDisc scorecards were logged last year alone at the property. And those numbers are likely to rise significantly in 2021 since last year's off-season success led to the decision for the area to be open seven days a week during the summer for the first time ever this year.

Notably, the course is entirely free to play, but it's serving as an effective way to draw in visitors and expose them to the other experiences the area offers.
"We run the lift for foot passengers, we have an aerial adventure park, Via Ferrata [a high-alpine mountain climbing experience], mountain biking and hiking trails, restaurants, and a robust wedding-venue infrastructure," Morton said.
Morton also had encouraging words for other ski areas that are considering disc golf but have reservations about its potential.
"Whether you're having people pay to play or whether it's free, it's a different way to see the mountain," Morton said. "The course takes you on a lot of people's favorite runs, and there's a different appreciation and different nostalgia that you give people, and it makes them come back."
Though the course is already well-rated (4.5 stars out of a possible five on UDisc with over 360 reviews), quite a few upgrades are in the planning stages, including permanent tee pads, a potential additional course at mid-mountain, and a better-stocked disc golf pro shop.

If you're in the area or planning a trip to Colorado, the disc golf course opens on June 21.
Magic Mountain Ski Area Disc Golf Course – Londonderry, Vermont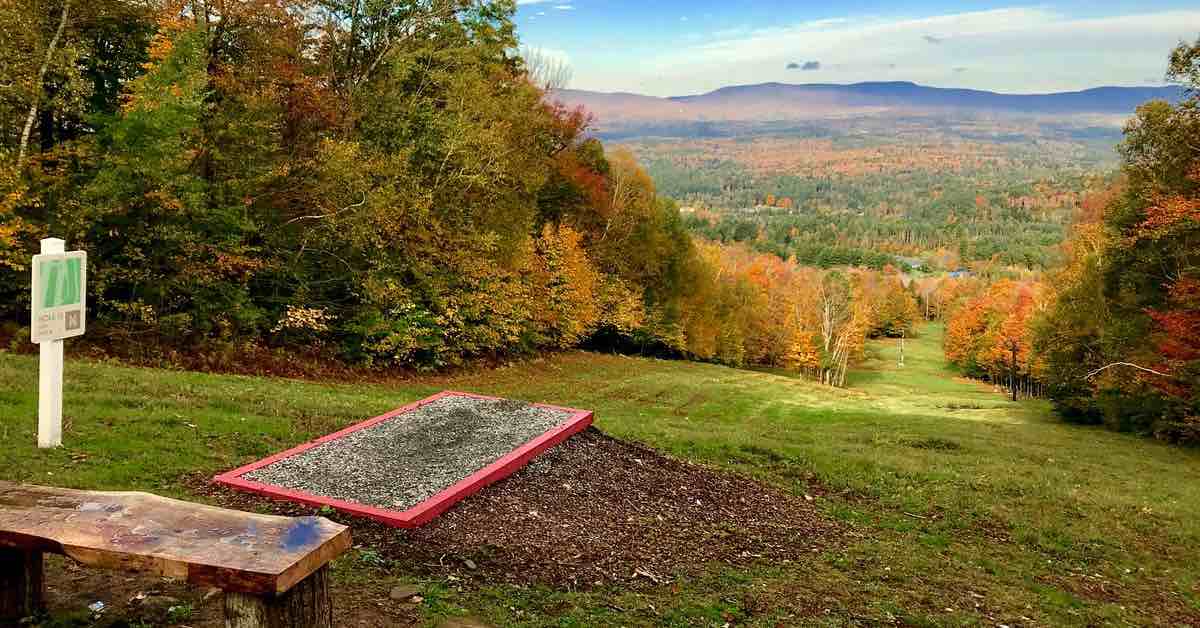 For over 60 years, Magic Mountain Ski Area on Glebe Mountain in Londonderry, Vermont, has been a popular destination for skiers across the northeast. In 2017, it became home to Magic Mountain National disc golf course thanks in part to the willingness of Matt Cote, the ski area's Operations Manager, to listen to his coworkers.
"The idea for a disc golf course was 100% Tim Garvey's idea," recalled Cote. "He was an employee of ours at the time who now works for Okemo [another Vermont ski resort]. He kept telling me about this awesome sport and how it would be perfect for our demographic and how it was the fastest growing sport in the world."

It didn't take long for Cote to hop on the bandwagon. After trying disc golf himself, his love for it grew with the speed of someone on a black diamond run. Just six months after discovering the sport, he said he had a large collection of discs and was making lists of destinations for disc golf road trips.
Convinced of disc golf's viability as an off-season draw, Cote and his team created a business plan that included pricing, the estimated time to build and install the course, disc rentals, and course fees. Cote then presented it to the ownership of the ski area, who loved the idea and green lit it immediately.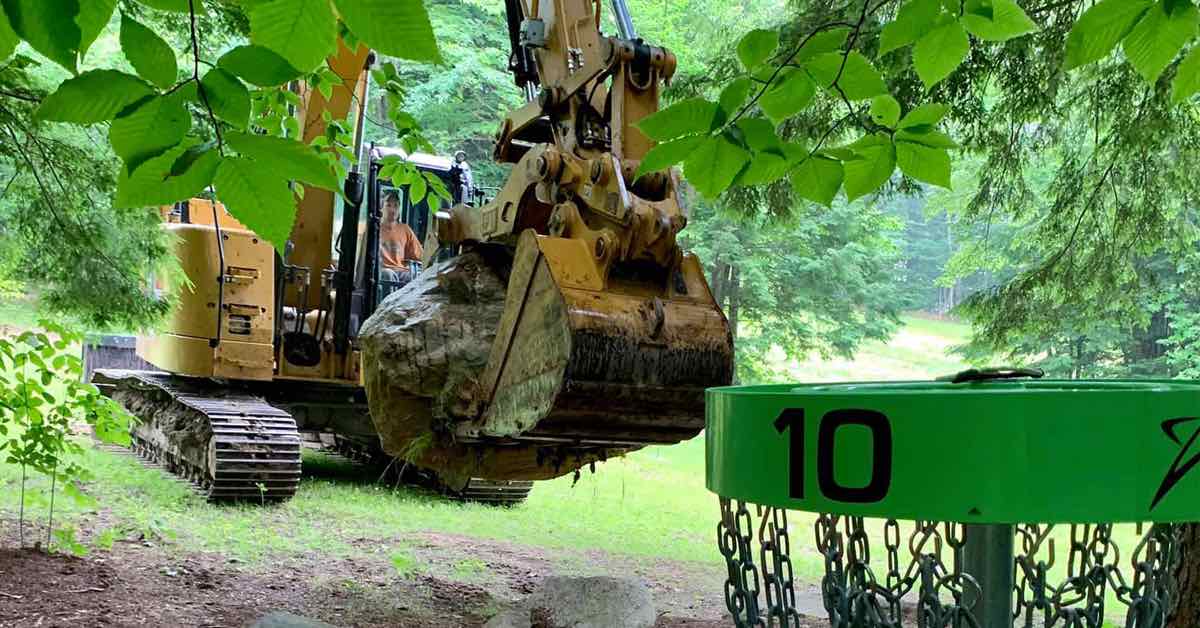 Though the course is now 18 holes, Cote and his crew began by installing just nine.
"It was essentially designed by input from a group of disc golfers who also helped design the Okemo course," Cote said. "[The design] tried to utilize the trail crossovers to minimize the amount of ski-season danger – snowcats are not kind to tee boxes – to our amenities, and also tying in cool natural features like streams, unique elevation changes, rock formations, and the like."
The bulk of the work was done by Cote and Garvey over the course of a few months with the help of some heavy machinery and extra hands when available.

After playing the front nine countless times, Cote's vision for the back nine clearly formed. Part of his aim was to make sure the course and existing ski area infrastructure complemented each other as much as possible.
"Specifically, hole 1 and hole 18 start and finish in full view of the ski lodge and deck," said Cote. "We also have a remote bar and grill location between the front and back nine to offer during bigger events, so in the event of backups you can just sit and order food and have a beverage – levels of service that we would all love to enjoy but just aren't realistic unless you already have it to work with."  
Additionally, after July 4th, the ski lodge's Blackline Tavern opens, and players can enjoy after-round eats and drinks while watching other players take on the course's first and last holes. Cote says those features are great during tournaments, as well.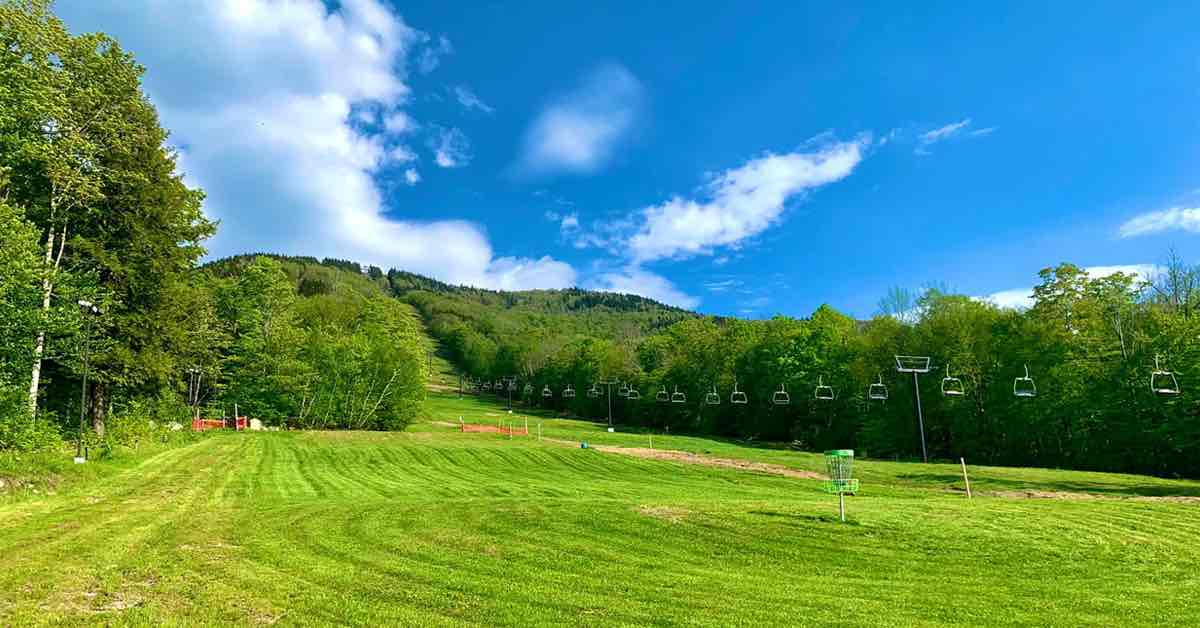 While Cote made it clear that the course has led to an increase in off-season traffic, he believes that ski areas and resorts considering disc golf should be sure to keep their ambitions on par with what's feasible in their areas.
"It's worth noting that returns are directly attributed to investments and commitments made to programs designed to capture revenue," explained Cote. "Keeping your installation costs in line with your expected returns is a big one, too. Don't put in a fountain if your location is remote and payback may be slow."

Another bit of advice Cote has is that for disc golf to truly be successful at a ski area, courses need to be designed so that they provide experiences other destinations would be hard-pressed to create. For example, maintaining well-mown grassy fairways that go down the better part of a mountainside would be financially prohibitive for public parks or individual private landowners but ski areas have access to equipment that make such feats relatively time-efficient and affordable.

Speaking of upkeep, Cote says it's essential to stay on top of if you want happy players and the positive word-of-mouth advertising that will come with them.

"Our crossover exposure to people who have never seen disc golf before is massive, so it has to be on point to be taken seriously," said Cote. "We do a great job of keeping it looking visually stunning and in line with what people expect when they hear the word 'golf.'"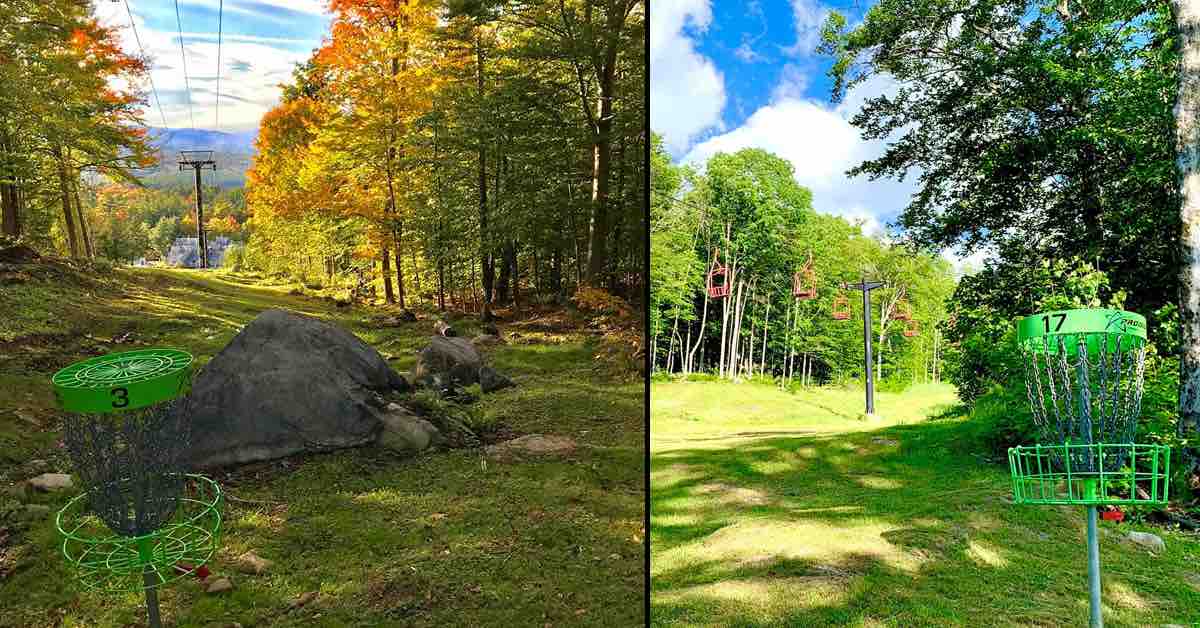 Following all this advice is also good for more than just attracting everyday disc golfers. Ski areas with the right courses can host disc golf tournaments with the potential to draw large crowds of players for multiple days. For instance, Magic Mountain's course hosts the The Magic Mountain Open, which is part of the Disc Golf Vermont Tour.
"For the B-tier [tournament] we have scheduled this summer, we have overnight camping, mini golf, glow golf, live music, food and drink, a distance competition under the lights, a putting competition, a CTP [closest to pin] competition, and more," Cote said. "All with sponsors like Bushnell, Innova, Prodigy, and of course our local, regional, and ski-specific sponsors paying close attention."

Finally, it never hurts nowadays to have a social media presence. Magic Mountain's disc golf course has its own Facebook group and Instagram account that make it easy for disc golfers to find information about upcoming events or see what course conditions are like.
Magic Mountain National opens each summer once the snowpack has melted and the ground is dry enough. It closes a week before the snowblowers start churning out powder in November. The fee to play is $10 per person unless, of course, you have a season pass.
Should Ski Resorts Add In Disc Golf?

The stories of these two disc golf courses show us why more and more ski areas are adding disc golf to their off-season repertoires. The terrain and infrastructure needed to create exceptional disc golf experiences are readily available, and there's a rapidly expanding disc golf player base that those experiences can attract.

But ski areas considering disc golf should also realize that getting the most bang for their buck will require more than plunking down baskets on the slopes. Course plans should be carefully thought out to maximize player enjoyment and basic maintenance such as mowing fairways and areas around baskets is a must.

All-in-all, when done with the right amount of care, adding a disc golf course can be a low-investment, high-reward move for ski areas as it has been for other businesses, like traditional golf courses and wineries.

If your business has a unique story involving disc golf, we'd love to hear it! Contact our editor at alex@udisc.com.