According to research published by the CDC, very soon after the pandemic began altering all of our lives in early 2020, it also started taking a toll on many people's mental health. With the challenges caused by COVID-19 continuing to impact the world, these effects have only become more common.

In response, communities and individuals have started initiatives to ease the mental toll the virus is taking, and some of them see the healthy, accessible, and relatively COVID-friendly sport of disc golf as the perfect tool for the job.
Disc Golf Offers University Students a Chance to Get Out & Connect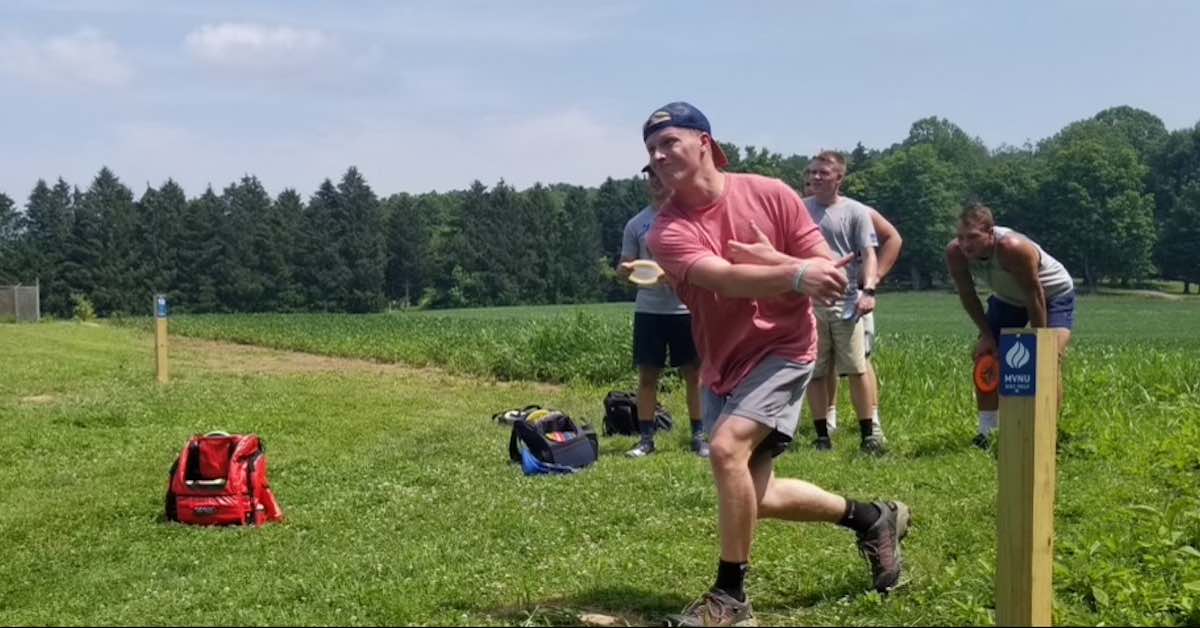 Located in Mount Vernon, Ohio, Mount Vernon Nazarene University (MVNU) has embraced disc golf as a solution to the rising number of mental health issues among their students.

In 2020, states received federal money as part of a pandemic relief bill. Ohio decided part of those funds would be granted to higher education institutions to combat mental health issues related to the pandemic. MVNU received a grant and gave their Student Life Committee control of how to spend it.
The committee opened up a contest to students, tasking them to create solutions to the mental health crisis. The winning ideas would receive funding from the grant. The three requirements for all suggestions were to 1) Connect People on Campus, 2) Make the Community Smile, and 3) Directly Address Mental Health Issues. 
When Vice President of Student Life at MVNU, Tracy Waal, first listened to a group of students advocating disc golf as a possible mental health booster, he believed that it "checked all three boxes perfectly."

"We know through lots of research that being outdoors, getting sunlight, and exercise are positive ways to address mental health," Waal said. "In addition, people play a major role in mental health. My observation, as an outsider, is that there is a definitive community and connection in disc golf."

Though the school already had some disc golf facilities, a group of students believed that expanding to a full 18-hole course and improving the existing holes would lead to more students playing and benefiting from disc golf. Waal helped the group by endorsing disc golf to the Student Life Committee, and they successfully secured a portion of the mental health grant and various other funding. 
Once the finances were in place, a team got to work. The course improvements and expansion – including tree-cutting, basket setting, and fairway-clearing – took a group of disc golfers ten full work days to complete.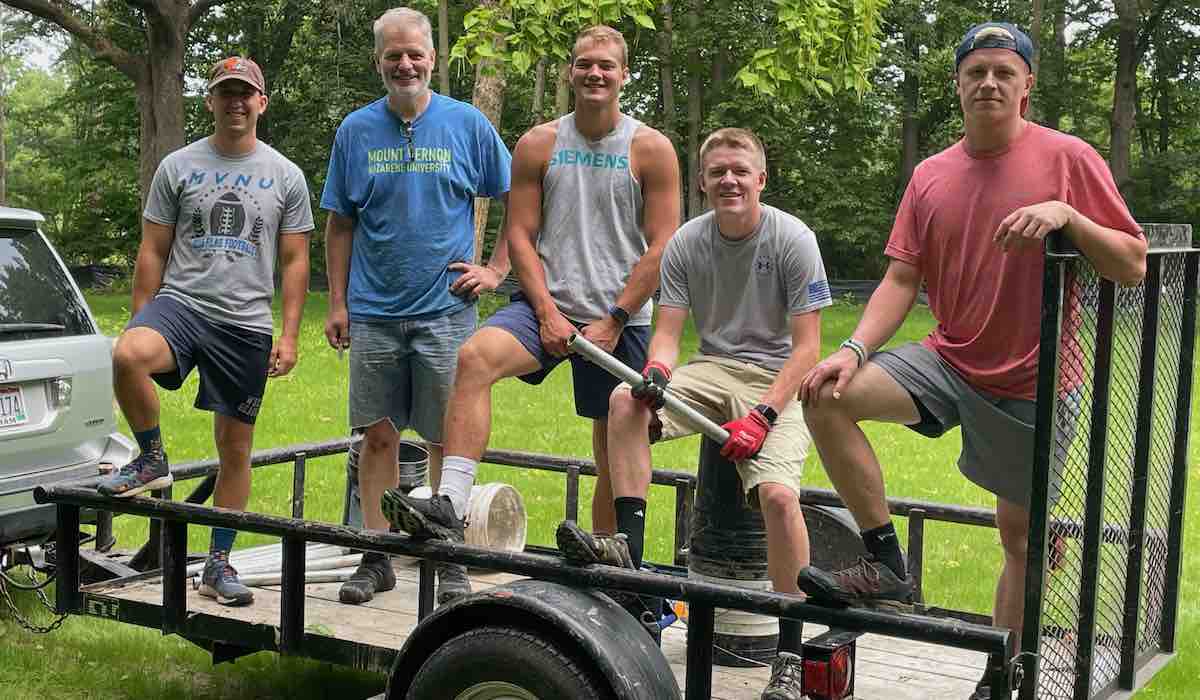 John Mohnasky, MVNU Intramural Coordinator and alumnus who endorsed disc golf to the committee, was thrilled that the project was approved and completed. Unsurprisingly, he and others already familiar with disc golf began using the course daily, but he was blown away by the number of others who took advantage of the new facilities.
"I remember sending a picture to my friend of the full parking lot because I couldn't believe how many people were out playing disc golf," Mohnasky said. 
The counseling office is happy with the decision to expand the disc golf course as they prepare for the upcoming school year. They wanted an outdoor space where they could walk and talk with students and a community they could direct students to during hard times. Disc golf offers both.
As students look toward the start of the fall semester and the pandemic continues to make life uncertain, the new disc golf course, upcoming tournaments, and a growing and supportive group of disc golfers await them.
Disc Golf as Suicide Prevention Tool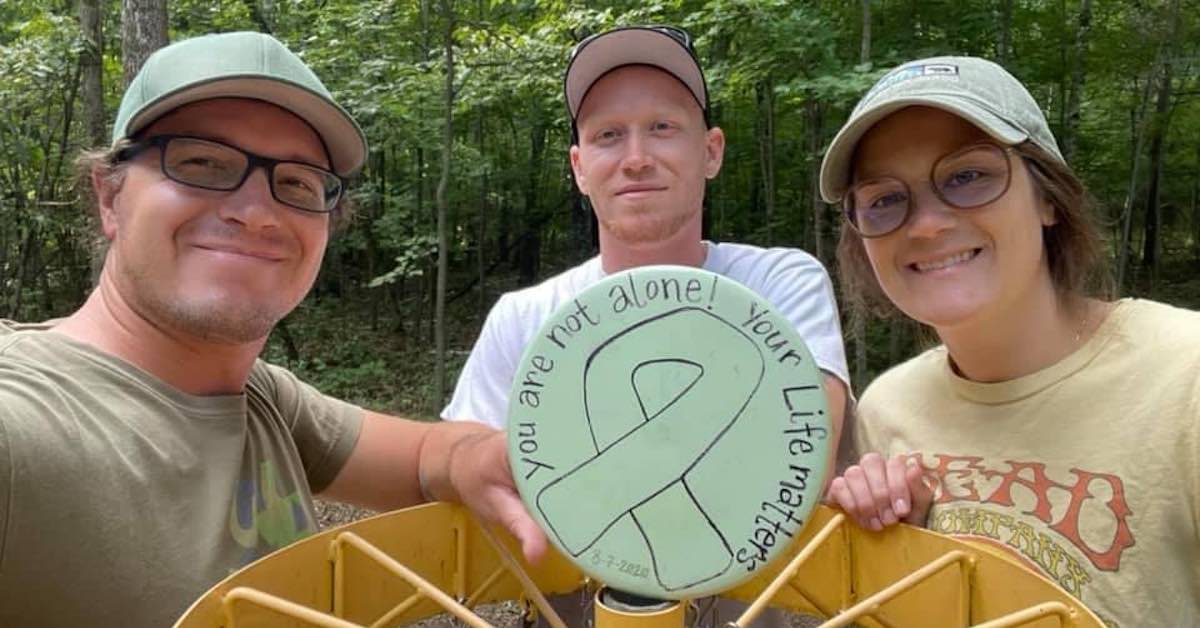 Disc for Life, an organization started in Omaha, Nebraska, was created to generate awareness of mental health issues and promote disc golf as a solution. The organization's tagline, 'Your round isn't over,' highlights their primary focus of suicide prevention. The organization has only existed a little over a year, but they've already made an impact throughout the disc golf community.
"I lost my father last year," said Chad Duncan, President of Disc for Life. "My sister and I used disc golf as an outlet of sorts for our grief. I made a memorial disc for my dad and shared it on social media. When it blew up online, we knew we were onto something."

On social media and courses alike, memorial discs have continued to be created and spread. These discs typically have supportive messages on their tops and writing on the bottom stating the community member lost and resources those struggling with mental health can reach out to for support. Players are encouraged to play a hole with a memorial disc and then leave it in the basket for the next player to find and play with.

Disc for Life has a Facebook community page where individuals can share photos of their memorial discs and seek support during tough times. 
"People will often post topics along the line of having a bad day or going through a rough time," said Duncan. "The community really supports them in these times."
Disc for Life has focused their efforts on fundraising events, working with the American Foundation for Suicide Prevention, and building communities. From disc golf rounds to hosting a table at Nebraska's Pride parade, the team is driven to spread their message of hope.
Ricky Murphy, co-founder of Disc for Life, joined a video interview we did for this story while at a doubles event held in support of a community member who suffered a recent loss. He showed the massive crowd at the event that was waiting to play and donate to the family. 
"The community is why disc golf is a perfect fit for suicide prevention," said Murphy. "All of these people [gestured to crowd] are here to support a community loss."
The team strongly believes disc golf is a great resource for those struggling with mental health issues of all sorts. 
"For me, when I go out to a disc golf course, I can put all of the stress and bad from my day into my disc," said Murphy. "Then I release it; I release all of the bad. It's an amazing sport, and the community is more than willing to support our cause."
The power of community within the disc golf world was also mentioned frequently by all members of the Disc for Life team.
"I'll randomly meet up and hang out with people I wouldn't otherwise see for a round of disc golf," Duncan said. "Sometimes it's a long time friend; sometimes it's a stranger I met at hole 1. By the end of the round, you have that feeling of community."
To learn more about this initiative, visit Disc for Life's website. There you can view upcoming fundraiser events, make a donation, or send a disc to help spread awareness. 
Support

Though disc golf may be a way to ease the burdens strained mental health can create, it won't fix every problem. If you or anyone in your community is struggling with mental health, please utilize free resources available in your area.

The National Suicide Prevention Hotline in the United States can be reached at any time at 800-273-8255. Internationally, you can find resources available in many countries on the International Association for Suicide Prevention's website.