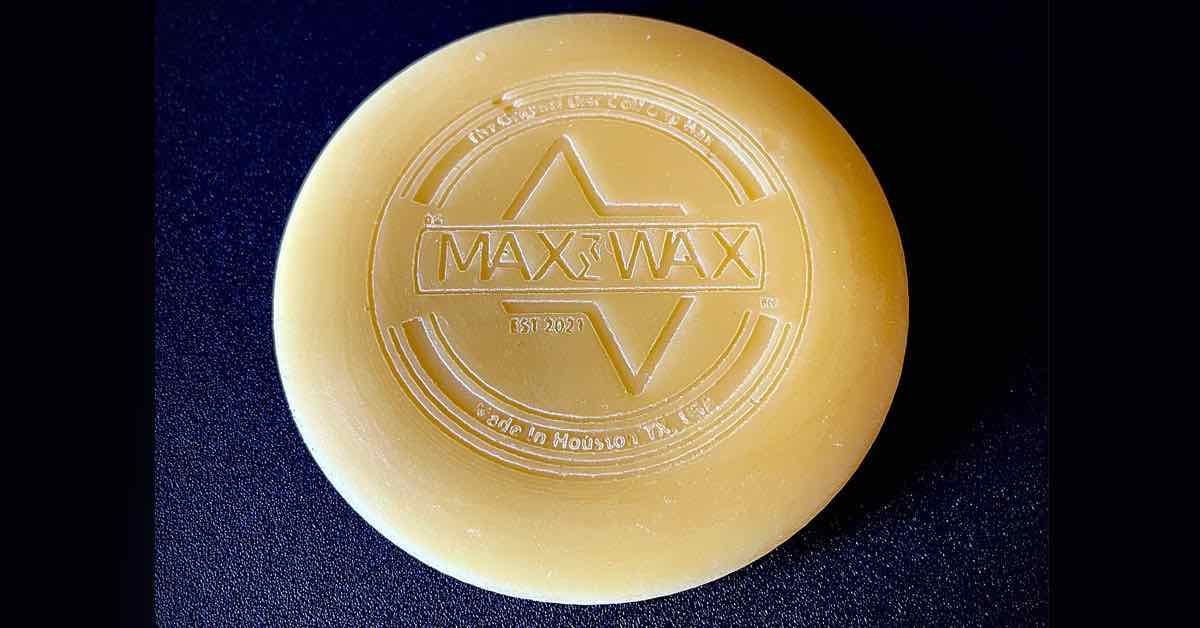 When you're slicked with sweat under a summer sun or muddling through a round in the rain, getting a strong grip on a disc isn't easy. While we've covered a few ways to combat poor grip before, we recently heard about a new product on the market that isn't quite like anything you'll find in the majority of disc golfers' bags right now.
This new grip enhancer is called DG Max Wax. With beeswax as its main ingredient, Max Wax creates a water-repellent coating for your hand that its creator, Josh Ozuna, says allows players to have a consistent grip on their discs in almost all conditions.

We've noted before on this blog how there are more and more opportunities for people seeking to earn an income from disc golf-based businesses, and we are very interested in those who earnestly pursue them. For example, just this year we've taken a look at stories behind new disc golf shoe company Idio Sports and a man in Vermont who quit his full-time job to build a disc golf event management enterprise.

Here we take a look at what led Ozuna to create DG Max Wax as well as what he claims his new product can do for disc golfers.

Also, for those who are wondering, grip enhancers are legal in formal disc golf competition. We discuss that near the end of the piece.
The Idea for DG Max Wax: Inspiration in Atlantic City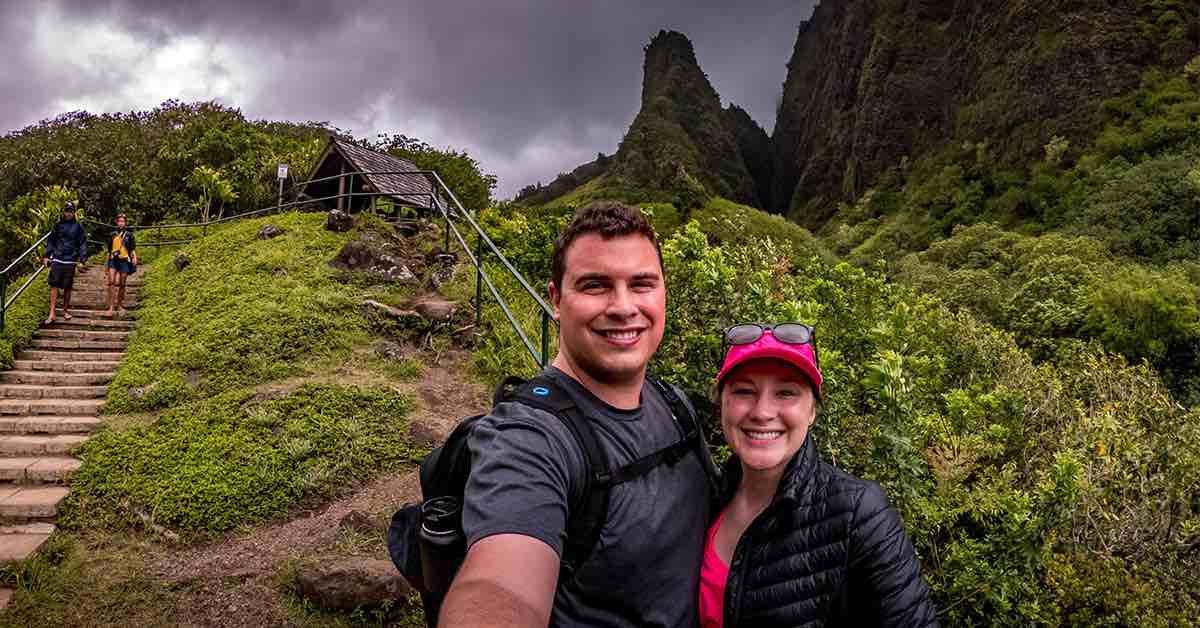 Ozuna is a product support specialist in the recreational boating industry based out of Houston, Texas. Originally from Peoria, Illinois, he first got involved with disc golf in 2005 in a more hands-on way than most. 
"I learned about it in my welding class in high school," Ozuna explained. "My teacher had us making baskets – he said, 'We're gonna make these things and we're gonna install a course on the school grounds.'"
Intrigued by the sports equipment he was fabricating, Ozuna and his father bought a pair of starter packs and began playing. With the recently-built Northwood Park and Lake Eureka disc golf courses both less than 30 minutes away, the Peoria area was just becoming the disc golf hotbed it is today, and the pair were quickly enthralled with the sport. After several years of casual play, Ozuna eventually got into competitive tournament play, too.
Ozuna and his now-wife Brittany moved to Philadelphia in 2017, and it was on a trip with Ozuna's parents to Atlantic City in New Jersey (just over an hour's drive from Philly) that the idea for Max Wax came to him. It happened when Ozuna stopped at a surf shop in hopes of finding a kite for his dad.
"My father really likes flying kites, but they didn't have any kites at this surf shop," said Ozuna. "They did have a boogie board and a skimboard, which I'd always wanted to try – ever since I watched Baywatch as a kid. So I grabbed one of each and as I was checking out they said, 'You're gonna need some wax for that skimboard.'"
The surf shop proprietor sold Ozuna "Sticky Bumps Surf Wax," a product made to give feet grip on slick surfboards even while riding the gnarliest of waves. After many mostly unsuccessful tries at skimboarding, Ozuna was tossing a Frisbee on the beach with his dad and happened to have some surf wax residue on his hands. He immediately noticed how much more snap and spin he could put on the disc with his waxy hands, and it was just a short leap to think how useful that would be in disc golf.
Making Minis: Perfecting the Max Wax Recipe
If you're hesitant to believe that surf wax could actually help with grip, you don't have to take just Ozuna's word for it. Paul McBeth – 2021 U.S. Disc Golf Champion, five-time World Champion, and one of the world's top-ranked disc golfers – has a video showing it can.

In the video, McBeth and another disc golfer throw relatively low-power drives (by McBeth standards) during the hottest part of a sweltering August day when sweat is truly altering their grip. With each throw, they test a different substance to see if it increases their grip and distance, one of which is surf wax.

Here's McBeth's throw with no enhancer:



And here's his throw with surf wax:


Without surf wax, McBeth threw 349 feet/106 meters and with it, he threw 387 feet/118 meters. It's a significant difference, and McBeth even praises how the wax feels at the end of the clip.

But what McBeth tests in the video was only the inspiration for Ozuna's product, which, to be clear, isn't just surf wax rebranded for disc golf.

Ozuna noticed that surf wax softened at a fairly low temperature and could get far too gooey for disc golfers to be interested in carrying it. He experimented with different blends and formulas and eventually discovered a recipe using beeswax as a base that created a durable product that enhanced grip and didn't soften until beyond the highest temperatures he could find, even in the Texas summer. DG Max Wax can withstand 130° F/54° C temperatures for over an hour, according to its creator.

With the right recipe in the bag, Ozuna tried to think about how to make his product as appealing to disc golfers as possible.

"You can't just sell disc golfers a block of wax," Ozuna explained. "So I thought, well, what if I made it in the shape of a disc? And what if I make it a legal mini disc if they want to use it as one? Or at least, they can store it in the mini pocket."

Along with making the product good for disc golfers' hands, he also had the idea to make it pleasing to the nose. Current DG Max Wax products are scented with a mixture of citrusy essential oils called "Citra-Delic" that may help with focus and, at the very least, will leave your hands smelling better than you'd expect after a round of disc golf.

Once DG Max Wax had a formula and basic shape, Ozuna tried to create a final 3D mold design for his product himself. After some time with no success, he hired a 3D modeler to help with the design, and that resulted in a digital mold model and a subsequent high-resolution 3D print. Though he had no experience as a candlemaker or waxworker, Ozuna poured his new recipe into the mold, and what's now dubbed the "Wind Surfer Mini" was born.
A Waxing Business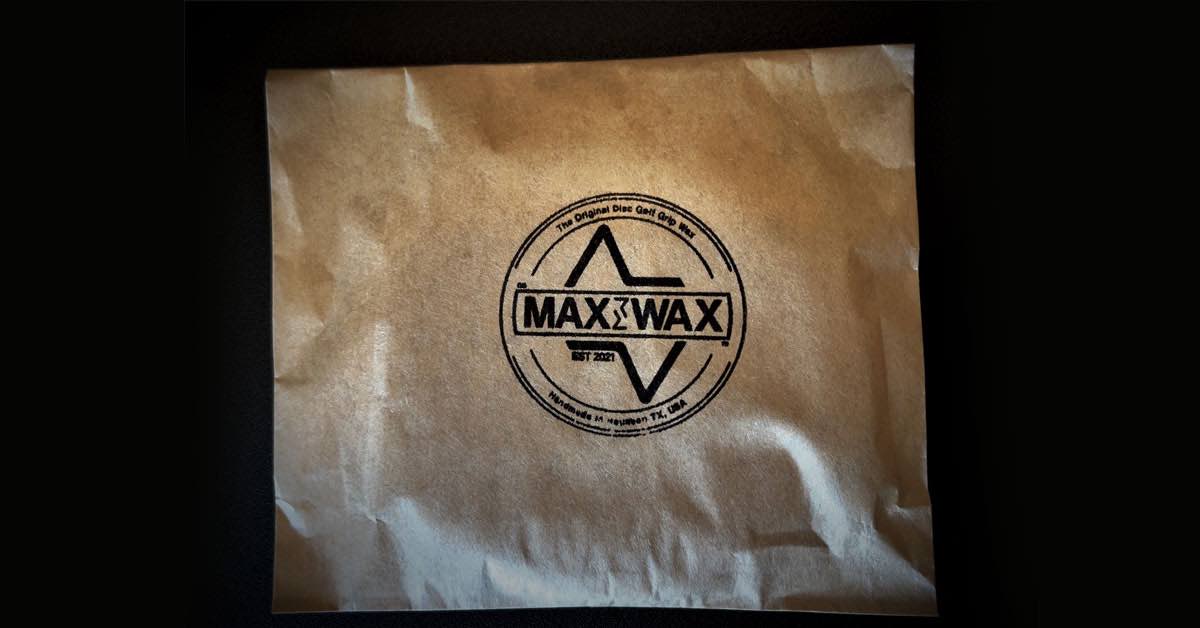 Before widely distributing Max Wax, Ozuna wanted to test its appeal and viability within his local disc golf community, so in September he began selling it at league nights. He said it didn't take long for people to fall in love with it.

"When I first set up shop, people were kinda skeptical," said Ozuna. "But then I had [a sample] and said, 'Pick that up and just rub it on your hands a little bit and then feel your disc.' And you could just see their eyes light up, like: 'Oh wow, that's the perfect grip.'"
Ozuna had also reached out to a dozen existing disc golf companies hoping for advice on how to get his business off the ground. The only people he heard back from were Scott and Amanda Bresee of FlighTowel, who Ozuna called "unbelievable" for helping guide him through the ins-and-outs of the disc golf economy. After the Bresees tried Ozuna's product, they were so impressed that they quickly contacted Dylan Durrant, who works at the popular online disc golf equipment retailer Infinite Discs.

Durrant was interested in DG Max Wax, and it didn't take long for Infinite Discs to put in an order for Ozuna's product. Infinite bought 100 Max Wax Minis that recently went on sale, and Ozuna said they've already sold over 85 of them. Durrant was enthusiastic about supporting a new disc golf entrepreneur.

"It's always a pleasure to find new business partners, especially ones who are trying to make a living in disc golf," Durrant said. "Infinite Discs loves to partner with these newer, smaller brands. Our partnership with Max Wax is mutually beneficial: they can provide us with a new product to diversify our website, and we can help them get their product in front of more people! The Max Wax Windsurfer Mini itself is, to my knowledge, the first of its kind. I personally have not tried it yet, but a few of our employees have purchased one and they have all agreed that it works wonders!"
Along with FlighTowel and Infinite Discs, Ozuna's wife Brittany has been a great help to the business. 
"She's kind of my thermometer when I have an idea," Ozuna said. "She's the voice of reason. I'll have crazy ideas and want to really go fast and she helps me be more reasonable. She helped me come up with ideas and source some bulk suppliers to get my costs down quite a bit."
Ozuna says initial reviews have been extremely positive, with his customers often noting that the wax stays on their hand for quite a while after application (though Ozuna himself reapplies before each throw), doesn't cake up, and provides grip enhancement more reliably than powder bags.
Along with dgmaxwax.com, you can find Ozuna selling his wax at the Zube Mini, a local league at Zube Park Disc Golf Course.
"On a lot of nights there's a hundred-plus people out there, so it's been really good for exposure in the local area," Ozuna said. "It was a little nerve-wracking, but I decided, 'I'm just taking this out there, I'm going to set up my little table, and we'll see what happens.' And people really responded well to it."
Are Grip Enhancers Allowed in Disc Golf?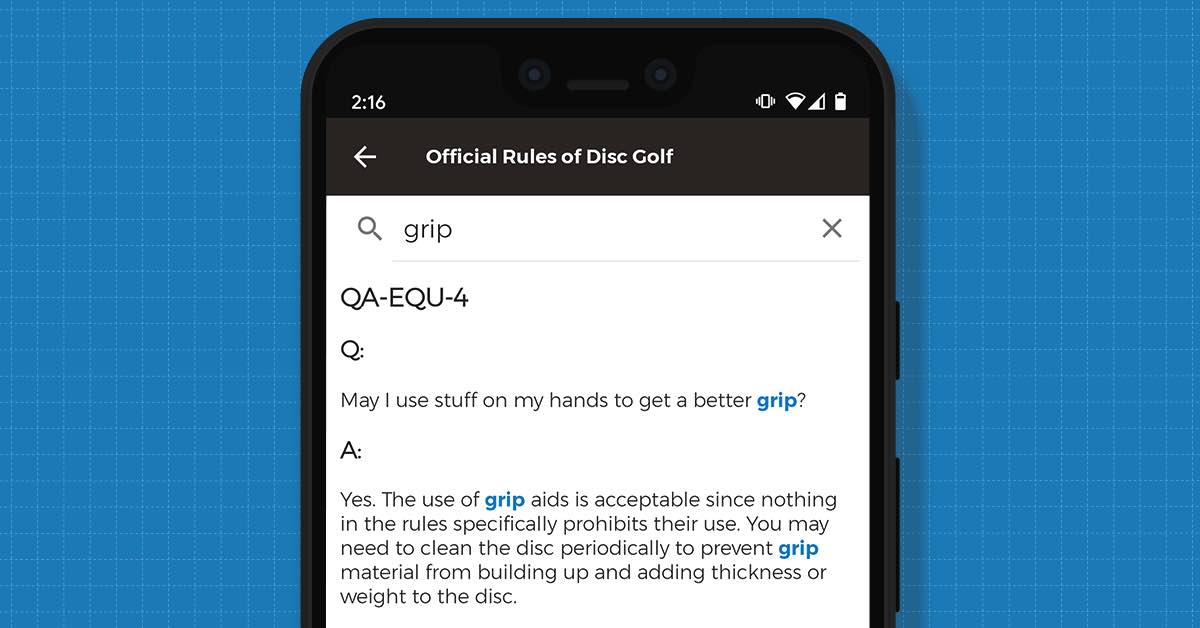 According to the Professional Disc Golf Association in a Q&A accompaniment to its Official Rules of Disc Golf, grip enhancers are legal for players to use. Here are the PDGA's own words on the subject:
The use of grip aids is acceptable since nothing in the rules specifically prohibits their use. You may need to clean the disc periodically to prevent grip material from building up and adding thickness or weight to the disc.
Those caveats at the end refer to rule 813.01, which states that discs are illegal if "painted with a material of detectable thickness." While wax isn't technically painted, keeping the disc clean of wax buildup is something you'll want to do from time to time, just to be on the safe side.
Along with this, the Wind Surfer Mini conforms to the PDGA's Technical Standards for minis and can be used to mark your lie, making it a matter of course to reapply before each throw to assure consistent grip.
Good Vibes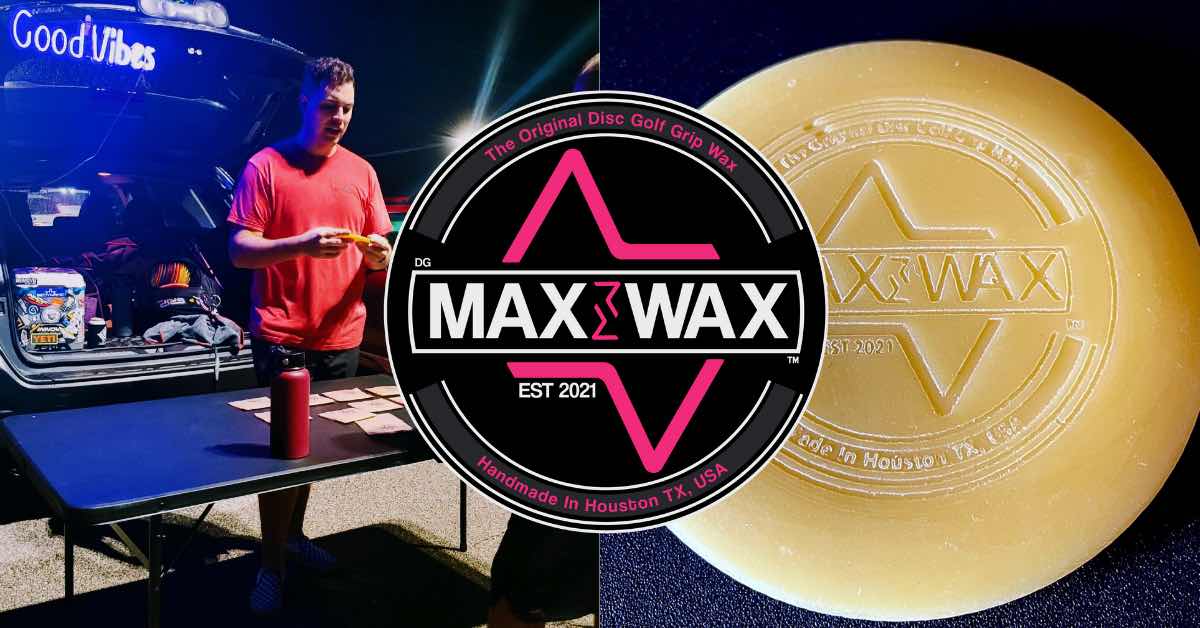 Ozuna's recent success has only made him more energetic. He already has plans for another model with a relaxing lavender scent and is looking into making glow-in-the-dark wax for the grippiest of night rounds. An apparel line is even in the works – more formal clothing for tournament wear and some fun items for casual rounds.
"We have a baby on the way coming November 28th," said Ozuna. "I had been inching towards this and procrastinating it for a long time, and I was just like, 'I need to get this done before the baby comes because if I don't do it now, I don't know if I'm ever going to do it.' So I just started getting re-motivated."
When Ozuna sells his product in person, he always does it with a glowing sign behind him that reads "Good Vibes." The sign says exactly what he hopes DG Max Wax creates within the disc golf community.