UDisc's directory of over 9,000 courses is a powerful resource for any disc golfer. Contributing to the directory is possible for anyone with a free UDisc account, and doing so benefits everyone using the app. There are many ways you can contribute, including but not limited to:
Adding new courses

Updating information about existing courses
Creating and updating layouts
Setting active layouts
Updating the course conditions
The information provided in this article will give you the tools you need to keep your favorite courses up to date. By doing your part to contribute, you can ensure that UDisc provides an accurate representation of your favorite courses. This not only improves your own experience with the app but that of visitors who may not be as familiar with the course.
Each course in UDisc consists of the course itself, any number of layouts, and the individual holes within each layout. Let's look at each of these in more detail.
Courses
A course is — and this may come as a surprise — a location where disc golf can be played. Some courses might have a couple different sets of 18 baskets. There are object golf courses with no baskets at all. A course could be on a military base, or in a busy public park, or even in someone's back yard. Any of these can be legitimate entries in the directory, as long as the details are entered correctly.
Sometimes, there are multiple playable courses at the same location. If they have separate tee pads, baskets, and fairways, they should be listed as separate courses to avoid confusion. The separated fairways is an important distinction to make. A hole with two tee pads and two basket positions over the same fairway is an example of two different layouts on the same course.
Similarly, the number of holes on a course should never exceed the number of baskets. In UDisc, a course with 9 baskets and 18 tee pads is a 9 hole course with two layouts. A third layout can be created for 18 holes, but the course description itself should say 9 holes. This is important for accurately displaying the hole count in the course directory.
If a course has not yet been added to UDisc, you can do this yourself. Adding a course to UDisc is easy.
Layouts
Each course must have at least one layout. A layout is a unique combination of tee pads and basket placements for a course. Most courses have multiple layouts, and the currently active layout changes frequently.
There are some layout concepts which are common or even standardized across different courses. Examples you have probably seen are things like "Red Tees," "Gold Tees," or "short basket positions." If a course's layouts are properly updated in UDisc, a player creating a scorecard will only see layouts which can currently be played. Users can set any layout to Active or Inactive, and all inactive layouts are hidden when creating a scorecard.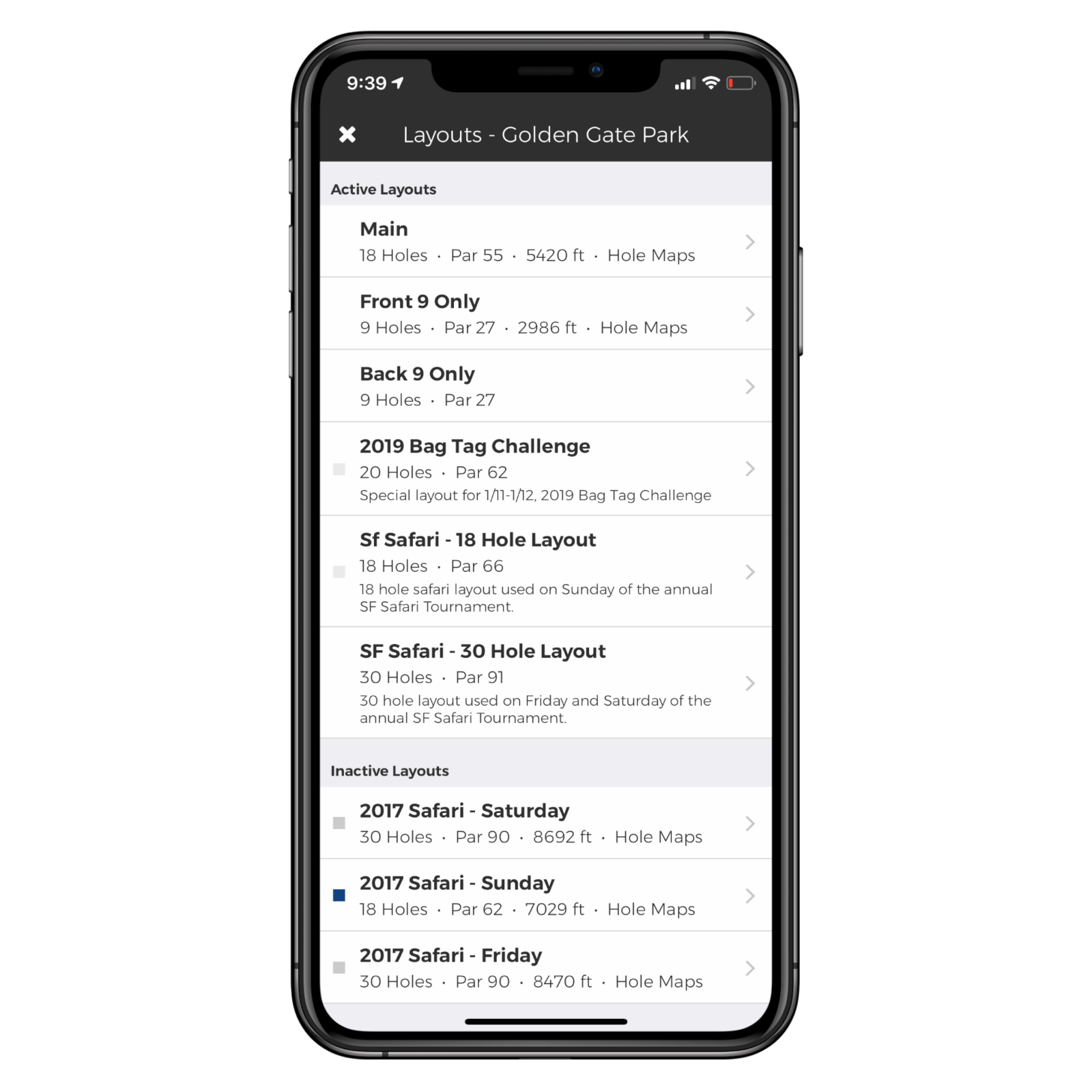 Layouts are either "Active" or "Inactive", depending on whether or not they can currently be played.
For example, if baskets are moved from short to long positions on an 18-hole course, the people responsible for the change should open UDisc and change the short layout to Inactive, and the long layout to Active. This way, anyone who visits the course and starts a round will be using the right layout. Keeping layouts properly updated is also useful for tracking your stats. Your best score playing the short basket positions is usually very different from the long positions.
If any holes are changed on a course, the layout should be deactivated and the correct one activated. If a change to the layout is permanent, the layout can simply be updated to reflect that change. UDisc layouts can be created and edited easily.
Holes
I'll spare you the definition of a hole, but it's important to understand that in UDisc's system, each layout is made up of some number of holes. Keep in mind that Courses contain Layouts and Layouts contain Holes. If the basket position moves for a single hole, the layout has changed enough to be deactivated and the correct one activated.
There is room for subjective interpretation here. Baskets are sometimes moved a tiny distance—for example, 15' to the left or right. In these cases, it may not be necessary to change the active layout if the hole distance and difficulty is the same.
Each hole in UDisc has a map, which is shown during scoring and is also used to set the hole's distance. It's easy to create or update maps.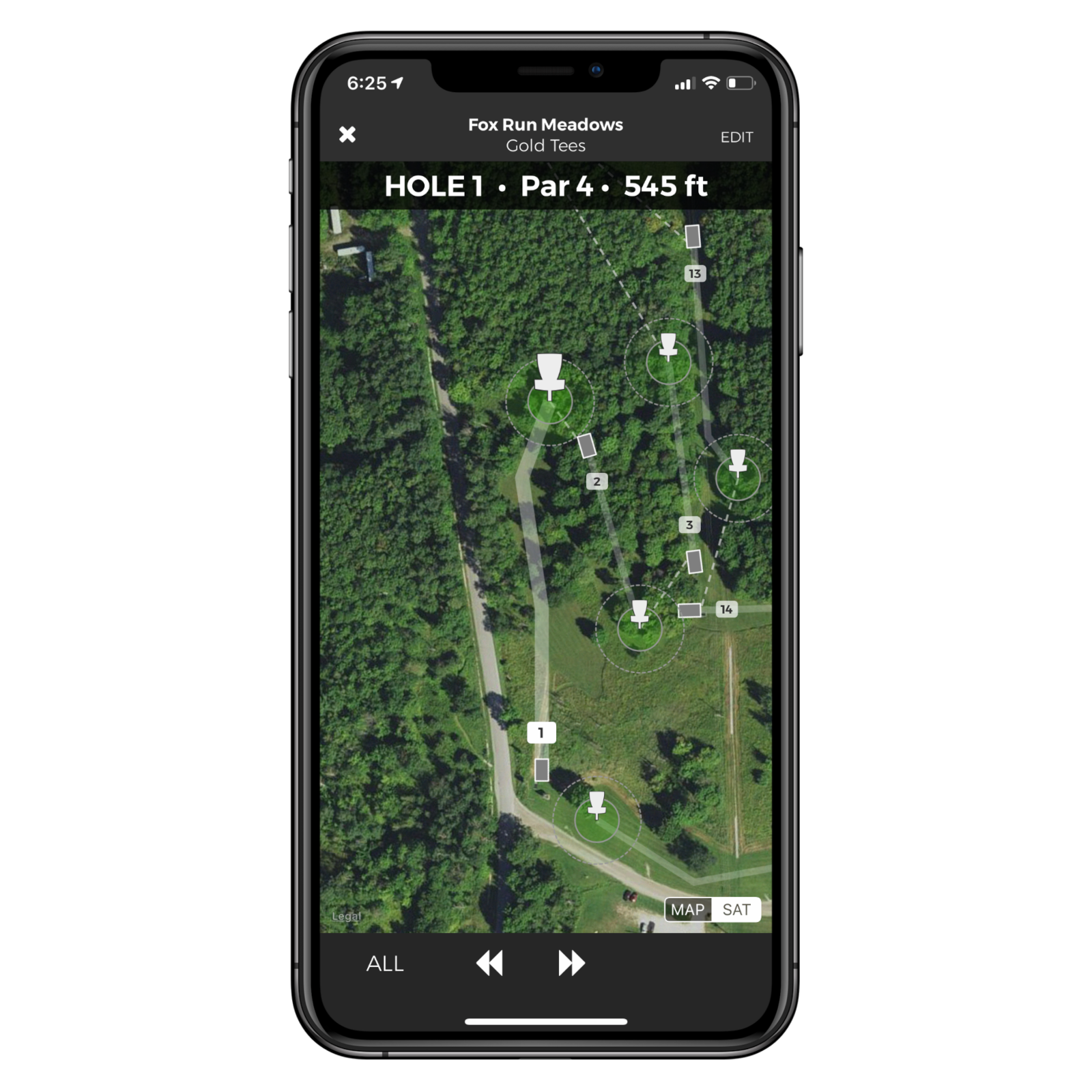 Hole maps give you all the information you need to navigate a course.
General Information
Along with courses, layouts, and holes, the course directory also acts as a source for general information about a course. Ever wonder if a course is dog friendly? Check the directory. Want to filter every free-to-play course in the area? We've got you covered. Need to see user reviews and ratings for a course? No problem.
You may be familiar with the 5 Ws: Who, What, When, Where, and Why. Well, any course in UDisc's directory needs to have these questions answered, or at least some of them. UDisc has the 3 Ws and the F. Who, When, Where, and Fees... Ok, that is a terrible comparison and I'm sorry I mentioned it. Let's just move on to how we edit this information.
It's all editable from a course's main page. Simply navigate to the Courses tab in the app and select the course you wish to edit.
Once you are viewing the course, tap Edit and select Update Course.

First, select "Edit"

Then "Update Course"
Who?
Many courses are not fully accessible to the public, and it's frustrating to travel to a course only to learn that you aren't allowed to play it. You can easily describe such restrictions by answering the question "Who can play here?" There are three answers which cover all the bases: Everyone, Limited, and Invite Only.
Everyone means... everyone. There are no restrictions on who can play this course. That being said, it does not indicate whether a course is free-to-play or open 24/7. This information is listed elsewhere.
Limited refers to a course which has some restrictions. You can't just show up and play. When you label a course as Limited, you will need to specify at least one Access Restriction:
Contact the owner to play - This course requires scheduling a tee time with the owner, or at the very least contacting them to receive permission to play.
Registered Guests Only - Some courses may only allow players if they are staying on property, like at a campground or resort.
Military ID Required - Self-explanatory. Applies to courses on military bases.
Student / Employee ID Required - As above, but for certain courses on college or company property.
Other - While the above options should cover the vast majority of options, if your course has a unique access restriction, select "other" and write in the restriction.

Lastly, an Invite Only course is one that is only available to play if you are invited. If this option is selected, the course will not show up on the map or list of courses in the directory. The only way for players to pull it up will be to search it by name.
Invite Only courses have the extra option to keep the location of the course private. By checking this option, it will not be possible for anyone to find the course with the "Get Directions" option or by viewing course maps. Selecting this option means maps cannot be created for the course.
When?
A course's availability can be one of three things: Available, Unavailable, and Permanently Closed.
Available courses are currently playable. They may still close in the evening, but these courses are open during normal hours.
Unavailable courses are not open but will be at a later date. Seasonal courses are a common example of using this option, since they are temporarily closed for part of the year. A course marked unavailable will still show up on the map for users looking in the area.
Permanently Closed courses, sadly, will never open again. A permanently closed course will not appear in the UDisc course directory. Scorecards you have from playing this course will still remain.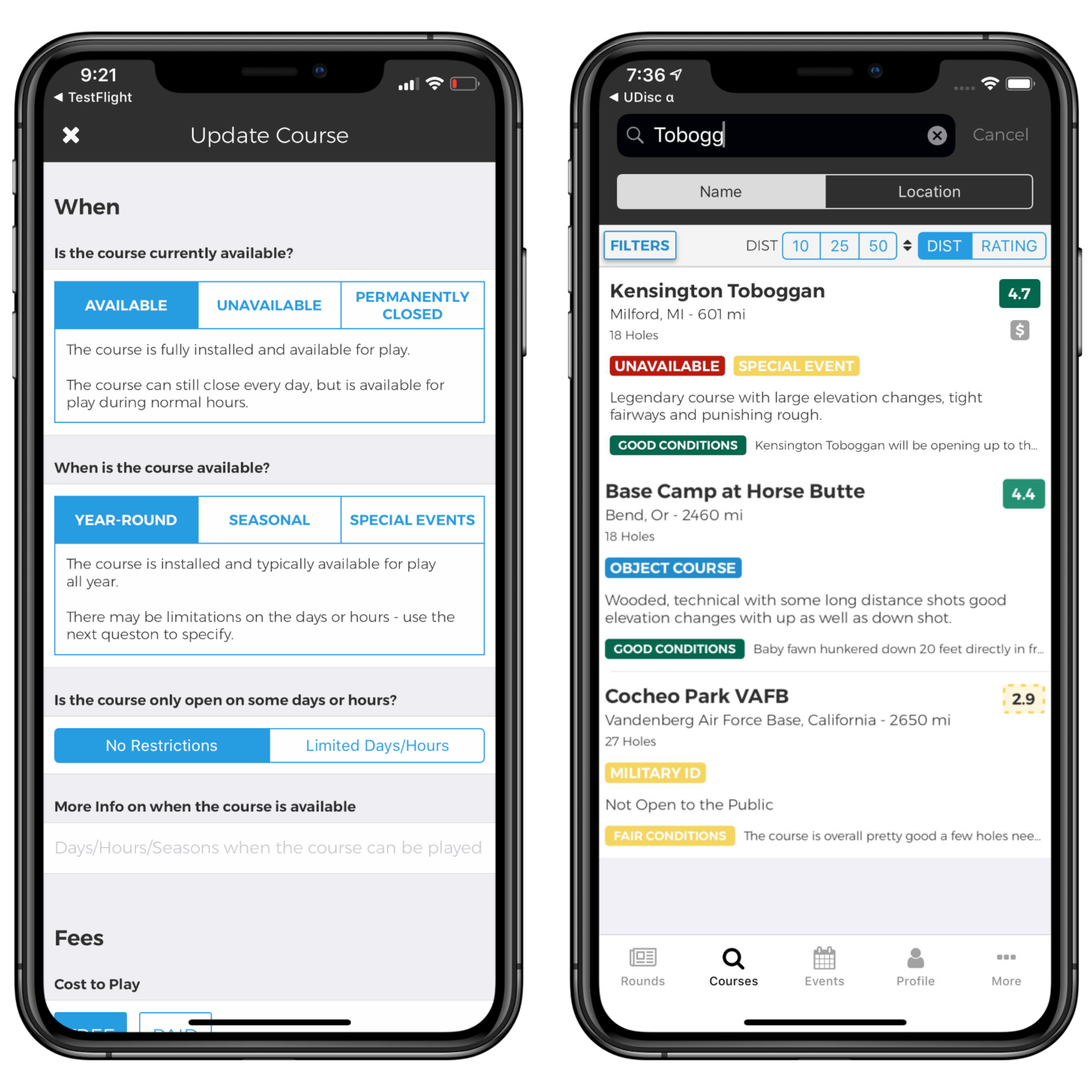 Many of these details are shown when viewing courses in the directory
To complete the picture, you also need to answer the question "When is the course available?" The three options, Year-Round, Seasonal, and Special Events, cover all possible situations. A ski resort course open during the summer would be Seasonal. A course which is installed and operating all year long would be Year-Round. A temporary course for a tournament would be Special Events.
Special Event and Temporary courses are a bit unique. The individual or group responsible for maintaining the course need to make sure that they switch its status between Available and Unavailable as needed. For a once-a-year tournament like Ledgestone, this means labeling it as a Special Events course and marking it Available once it's setup. After the conclusion of the tournament, it is switched to Unavailable. The same is true for a temporary course open during the summer months, except it is marked as seasonally available instead of only for special events.
And lastly, you need to specify if course access is limited to certain days of the week or specific hourly windows. The Limited Days/Hours option is really only intended for courses which have unusual hours. A public park that closes at sundown should be marked No Restrictions. A golf course that allows disc golf between 8 AM and 1 PM each day should be marked as Limited.
Fees
In this section, you simply specify whether or not the course is free-to-play. If it isn't, you specify the cost. Things like parking are not part of the course fee, so if a course is free to play, you can mark it as such and then fill in details for parking fees or other costs in the Other Fees box. Courses with a fee to play are marked with a $ icon next to their names in the course directory.

The fees section is simple and straightforward.
Where?
The Where section describes the course setting. This descriptor makes it clear where you are headed before you set out. First, you need to specify if the course is Mixed Use. In other words, is the course only for playing disc golf, or is it in a mixed-use area, where people may be picnicking, hiking, walking, or riding their bikes?
Then, you choose as many of these location descriptors as apply to the course.
Public Park
Golf Course
Ski Area
Military Base
School
College/University
Church
Hotel/Resort
Camp
Brewery/Vineyard
Private Land
Other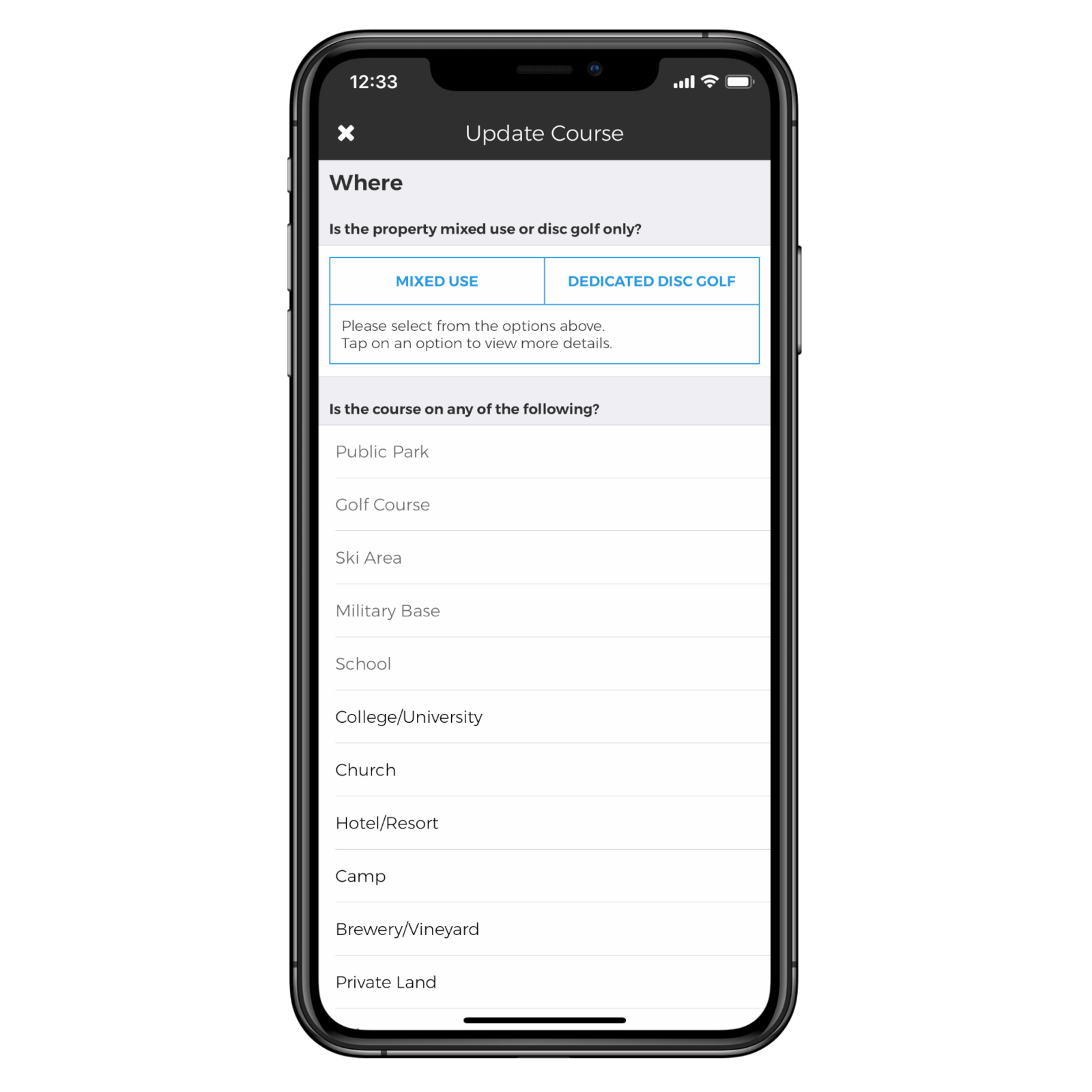 It's definitely possible that a course fits more than one of these location descriptions, so you can select as many as needed. 
Other important fields
There are several other optional fields to fill out in addition to what we've already covered. When these fields are complete, anyone with questions about a course should be able to find all of the answers they need.
Headline - A short description that is displayed on UDisc's map and the course list. When writing this, think about what makes this course stand out from those around it. Is the terrain interesting? Is it historic? The Headline is a nice place for any eye-catching information.
Cost - How much does it cost to play at this course, or is it free?
Description - Like a much longer version of the headline. This might have details about the history of the course and the surrounding area. It can also describe terrain details, water hazards, how difficult this course is, etc. This should include information that would be helpful for new players or someone who has never played the course.
Tee Type - The tee pad material: concrete, grass, rubber, some combination of these, etc.
Target Type - This can be switched between baskets and objects. For baskets, you can specify the type, such as DISCatcher, MachX, or custom. For objects, you can add whatever detail you'd like in order to describe the targets.
Services - Choose all that apply: dog-friendly, cart-friendly, restrooms available, drinking water available.
Contact - The name, email address, and phone number of the course contact. Not always necessary, but private, pay-to-play, or tee-time courses should have contact information listed.
Website - The course's website or the next best thing, like a Facebook group or other page dedicated to news and information about the course.
Year Established - When was this course founded?
Submitting Changes
The final step in the process is submitting your changes for approval. Changes are usually approved right away, but certain changes will require more review. Whether your change is approved or not, you will receive an email to let you know.
If there's a person or group of people dedicated to updating and maintaining a specific course, we can restrict editing rights to those people on request. Get in touch with us via email to ask about this.