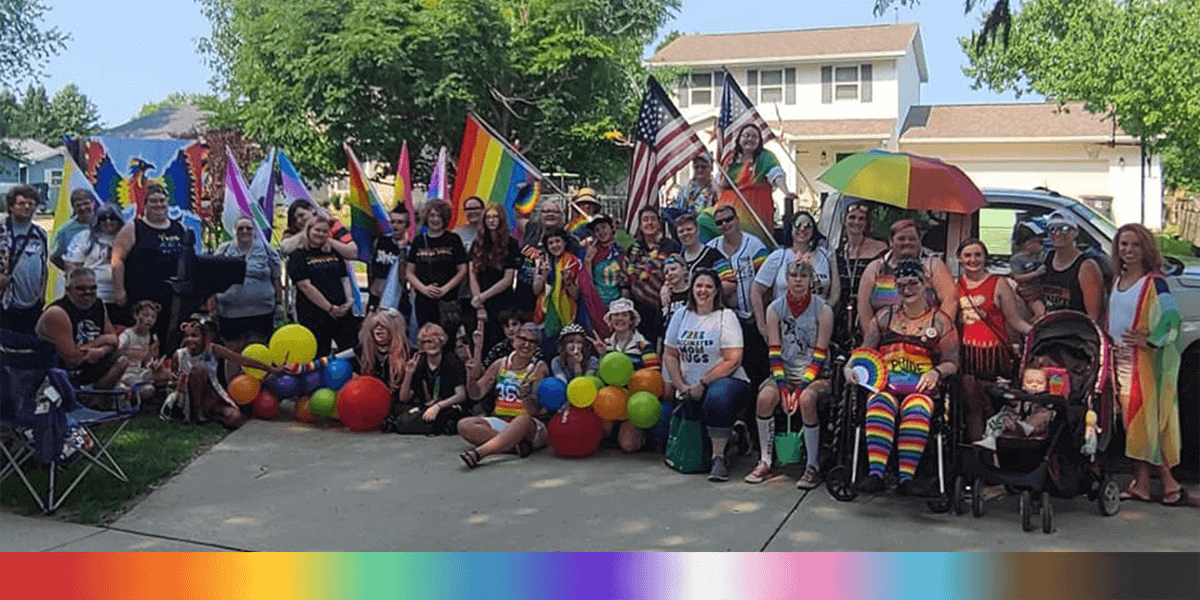 One of our core values at UDisc is to include everyone. We're determined to help disc golfers of all backgrounds and skill levels succeed, from beginners to world-class professionals and, as always, we treat everyone with respect. So, we're taking time this Pride Month to celebrate the people and events making a difference in the LGBTQ+ disc golf community. We encourage players to take an inclusive mindset to the course and offer a spin on the common idea of "playing through" a group. Instead, play with. You might find that disc golf can be better with an open embrace.
In 2009, the 6,000-person town of Evansville, Wisconsin, experienced tragedy. Already suffering from self-reported rates of substance abuse amongst students that were higher than the state average, the tight-knit community was rocked by two youth suicides and a fatal DUI-related car accident.
In response, local leaders organized and created Building a Safer Evansville (BASE). The federally funded community coalition non-profit is focused on preventing substance abuse and supporting better mental health for the kids in their community.
In 2018, BASE evaluated the updated Youth Risk Behavior Survey (YRBS) data for their local schools and observed even more alarming rates of alcohol and drug abuse among LGBTQ+ students. In their pursuit to understand the gravity of these implications in their town, they surveyed students and discovered one in four identified as LGBTQ+.
These students are not just at risk of substance abuse. For its 2022 National Survey on LGBTQ+ Youth Mental Health, LGBTQ-focused non-profit The Trevor Project surveyed nearly 34,000 LGBTQ+ youth ages 13 to 24 across the United States, and they reported some troubling figures:
45% of LGBTQ+ youth seriously considered attempting suicide in the past year 
Nearly one in five transgender and nonbinary youth did attempt suicide
LGBTQ+ youth of color attempted suicide at higher rates
In response, BASE applied for and was granted the Sober Truth On Preventing Underage Drinking Act Grant (STOP Grant) in order to create events, spaces, and resources for their town's LGBTQ+ youth. BASE Project Coordinator Mark Mellecker has been working diligently since 2019 to transform Evansville into the supportive community that their kids need.
Mellecker described his approach as "Simple: We're trying to create a more inclusive and welcoming space for these kids to live in."
BASE has taken this on by:
Rallying support from local community leaders and businesses.
Creating accessible events and spaces where LGBTQ+ youth feel safe and supported.
Educating the community and pushing through backlash together.
And it just so happens that disc golf has been a significant part of the process.
Creating a Pride Disc Golf Tournament
Where did Evansville turn to find a public, accessible, and visible space to host a Pride event? The Evansville Disc Golf Course. The 4.1-rated nine-hole track offers a variety of challenging shots, as well as short and long tee pads that suit any skill level. The course is beautifully maintained, and holes navigate through trees, stonework, island greens and a winding river.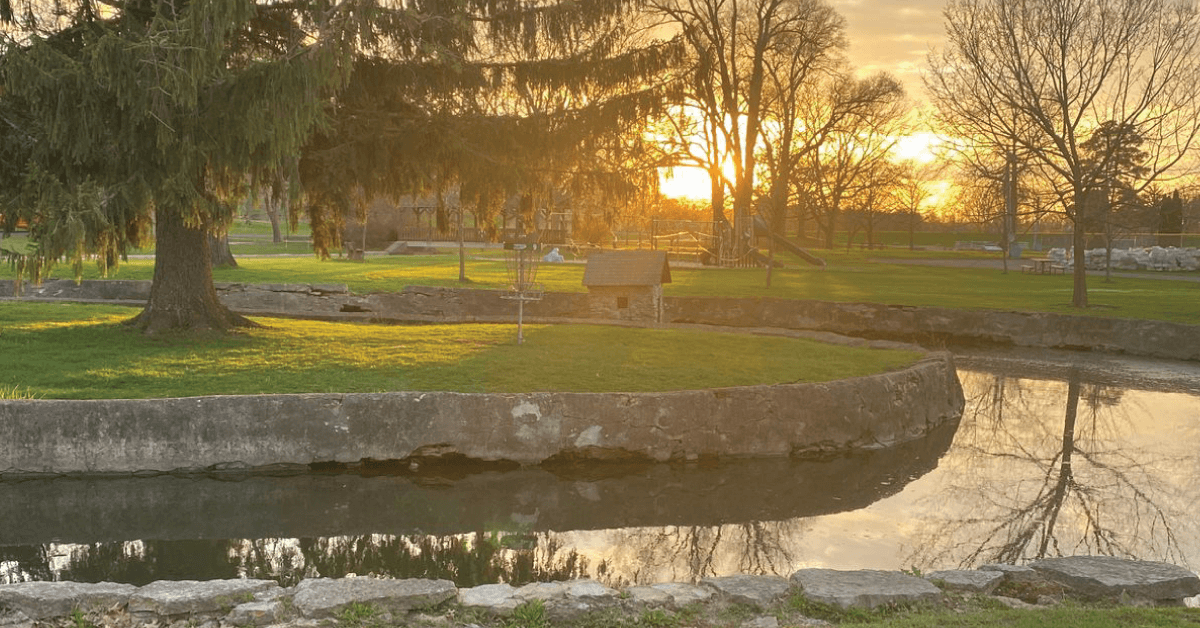 In June of 2020, BASE launched its Pride Disc Golf Tournament, where youth and community members could score their rounds and submit them anytime during the month of June to win a prize. The event encouraged kids to get outside, enjoy a healthy activity, and feel supported while they were doing it. It also gave Evansville a place to get together to show its support for the LGBTQ+ community in a new and fun way throughout the whole month.
"We already had a great course in an area of town that is really accessible, even if the water does eat up some discs," said Mellecker. "It's active and it brings people together. Like, 'Hey, you play disc golf. You may not be LGBTQ+ but there are people who are that play disc golf. They're just like you.' We're trying to normalize it. It doesn't have to be 'You're only LGBTQ+,' it's trying to encourage different communities to interact in a way that doesn't have to be combative."
Getting the event off the ground was fairly inexpensive. BASE printed paper scorecards and ordered Innova starter packs that they stickered with a Pride logo. The city of Evansville had a lockbox installed at the first tee with scorecards, pencils, and stamped discs for new players to borrow. BASE and LGBTQ+ affirming community partners have come together to maintain it and keep it stocked. To get the word out, BASE and partners posted all over social media, built out a part of the city's website dedicated to Pride activities, and even hung billboards around town showcasing the Pride disc golf tournament.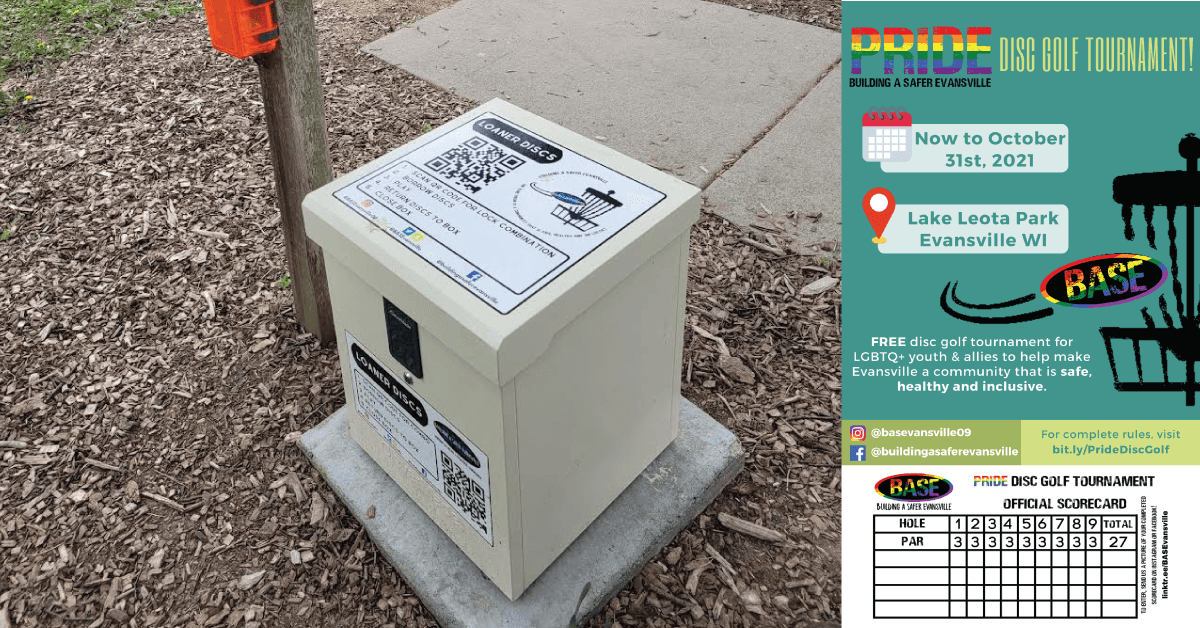 "The disc golf community has been ultra-supportive," Mellecker noted. "One disc golfer I met told me, 'I saw a Pride sign – and then I saw a disc golf Pride sign – and I thought this is amazing.' The people that we reach with it, to some people, it's this life-changing understanding of what our community is. To others, it really has pissed them off. But, we've got so many people in town who support it and benefit from it, and people who are coming to our community and realizing we're not just some little town that doesn't care about this stuff. We deserve to be here."
BASE has run this event three times since 2020, and Mellecker said the kids love it. More than 55 people have participated since its inception, and hundreds have logged rounds at the park on UDisc. They are set to run the tournament again this month and encourage community members to come and try it out.
How to Make Pride Disc Golf Events Happen in Your Community
BASE's Pride initiatives have required a huge amount of support from the Evansville community. In order to create events like this in your area, here is Mellecker's advice:
Take time to understand your community's needs. Every town is different, so survey your students, interview their parents, and take them seriously when they tell you what they need.
Get in contact with your local community leaders. Come equipped with the data you've collected from citizens. BASE has fostered support for their Pride events from the mayor, city council, and the park board. If it's disc golf-related and the town has already made an investment in the disc golf course, they will likely support you.
Find support for your events with local businesses. Especially in small towns, local businesses are incredibly influential over how safe and supported citizens feel. Create ways to give back to the businesses that support you by offering them visibility in your events and social media.
If you come up against some hesitancy from potential partners, Mellecker recommends leading with data and stories that are close to home.
"You just have to go in and ask," he said. "You can take the feedback from your survey to your local businesses and community partners and say, 'Hey, look. This is something that's important. We want our youth to feel comfortable here, and YOU can play a big part in that.'"
He also mentioned that speaking to businesses in their terms can help.
"We created a flyer that lists the economic benefits of being open and affirming – being LGBTQ+ inclusive," Mellecker explained. "Because I think a lot of businesses, their first thought – especially being in a small town – is, 'Is this going to negatively impact me?' Statistically, no, it's not. Studies have shown it's not going to cause problems for you."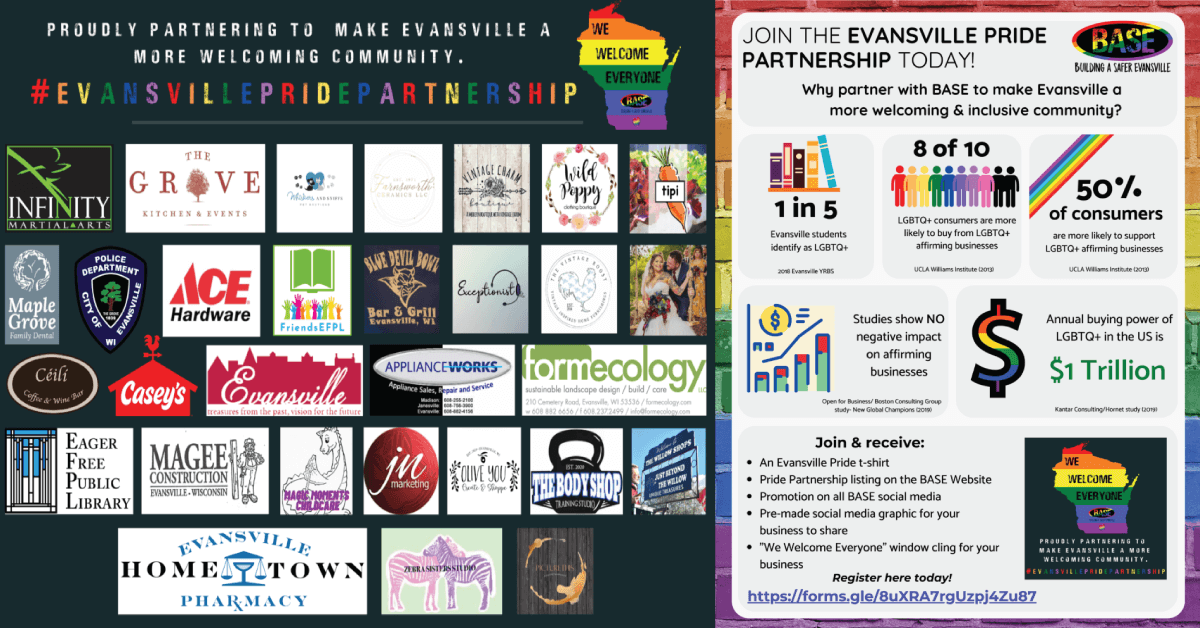 Since 2019, BASE has found more than 30 business partners that are LGBTQ+ affirming and support their initiatives. They provide them with window clings to show their participation, graphics to share on their social media pages, and website promotion.
Other tips Mellecker shared for those wanting to effect change in their community include:
Understand you will face backlash – but your community can get through it together. BASE has created an LGBTQ+ learning series for Evansville leaders in order to educate them on how to be better partners. This includes workshops related to law enforcement, inclusion in the workplace, terminology, school support, LGBTQ issues in faith-based institutions, and building safe spaces. Encourage your partners to take their role seriously and condemn harassing and hateful behavior in their own spaces, and give them the language and resources to advocate for LGBTQ+ citizens.
Create infrastructure to make it easy to get involved. For the Pride tournament, BASE made sure that the event took place in a central location that was easy for people to access. They created a way to help anyone new to the sport get the tools they needed to play a round, and they posted about it on social media and with physical signs around town so everyone knew it was happening.
Continue to support these communities when June ends. BASE has run the tournament in the fall, as well, and has had great success rallying interest regardless of the season.

"While June is a great month, it is also really busy for Pride-related things," Mellecker said. "We don't want to be focused on Pride for just one month out of the year. We are committed to inclusivity year-round."
One of the other statistics that The Trevor Project reported was this: LGBTQ+ youth living in a community that is accepting of them reported significantly lower rates of attempting suicide than those who do not. After three Pride tournaments and countless other initiatives – including Pride bowling night, prom, musical events and a virtual parade – Evansville has set a new standard for inclusivity. The town has officially recognized June as Pride Month, and it's a time when they fly the many colors of the Pride flag in front of city hall.
"Evansville is a different community than it was three years ago, and I'm very proud of that," Mellecker reflected. "We've opened the door for inclusivity, and I feel so lucky that people have decided to enter."