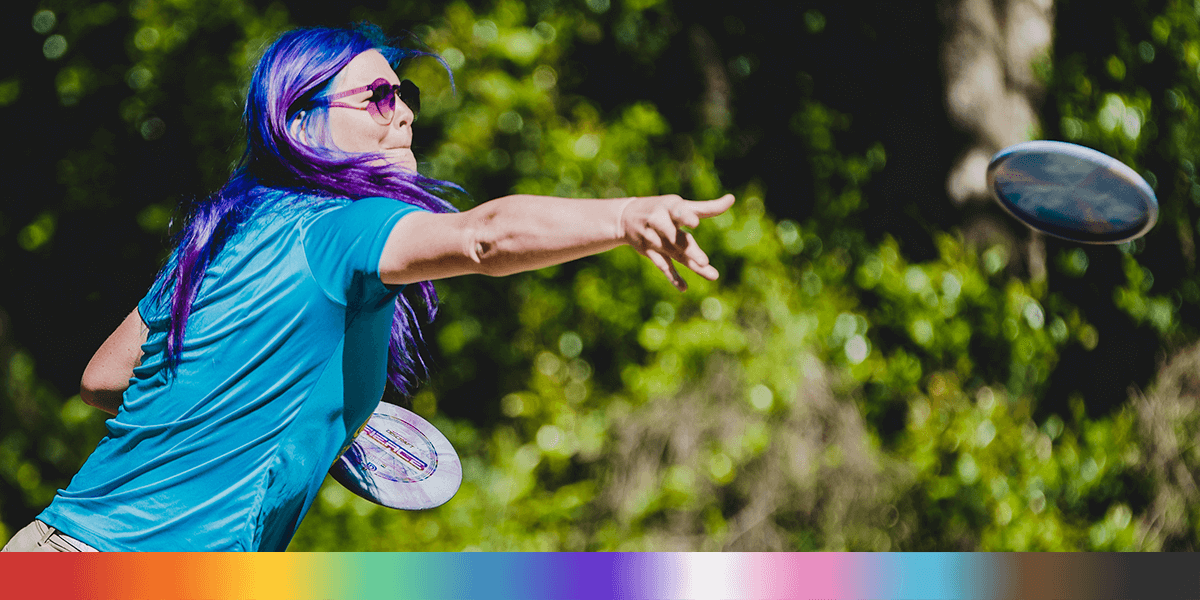 One of our core values at UDisc is to include everyone. We're determined to help disc golfers of all backgrounds and skill levels succeed, from beginners to world-class professionals and, as always, we treat everyone with respect. So, we're taking time this Pride Month to celebrate the people and events making a difference in the LGBTQ+ disc golf community. We encourage players to take an inclusive mindset to the course and offer a spin on the common idea of "playing through" a group. Instead, play with. You might find that disc golf can be better with an open embrace.
During the final round of the 2022 Dynamic Discs Open in Emporia, Kansas, Chloe Alice aced the iconic 320-foot/98-meter island hole 16. The crowd that had set up chairs to watch the hole all day for the chance to see such a shot commenced a celebration that was as you'd expect: amazing and energetic.
Once her Discraft Undertaker hit the chains, Alice jumped up and down in excitement and sprinted for the basket, a train of high fives and raucous cheers guiding her the whole way there. At that moment, everyone there was simply celebrating a great disc golf shot, as you can see in this footage from MX Disc Golf:


For Alice and other transgender disc golfers, though, such moments of collective joy aren't the norm.
Alice is a transgender woman competing in the FPO division. She has played disc golf since she was 14 years old, but at age 27 this is her first year setting out to play PDGA Majors and on the Disc Golf Pro Tour. She began her transition five years ago, fully meeting all PDGA criteria (which includes multiple diagnostic tests of testosterone levels) to play in the gender-protected division.
Local Support, Intolerance on the Road
When Alice began competing, her local community in Pensacola, Florida, was largely supportive. She shared that, while there were some individuals who made it well known they did not approve of her playing, they were the minority. However, as she began traveling for tournaments, she was not always greeted with the same level of support.  
"While playing a tournament in Mobile, Alabama, I was winning going into the final round," Alice said. "I went onto the local Facebook page to look for tee times and was horrified to see a post that said 'Congrats to the men who will win MPO and FPO this weekend' with over 300 comments. The post itself was bad, but the 300 comments were worse, talking so badly about me for just showing up." 
Out of the 300 comments, only around 50 of them were defending Alice.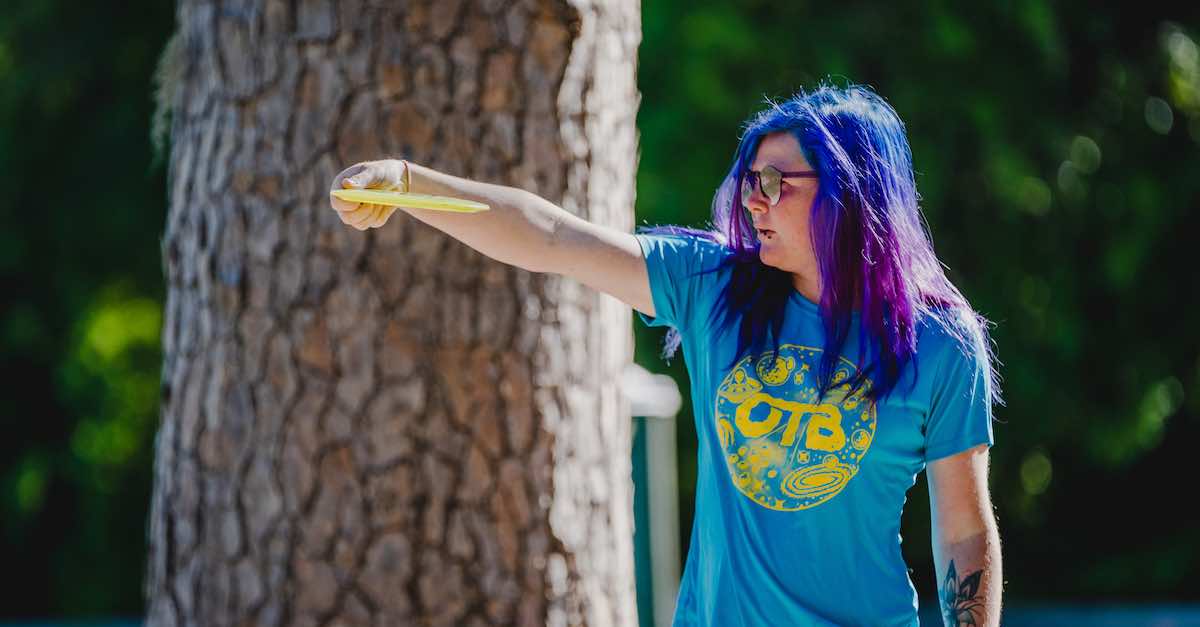 "I didn't even want to show up for the final round," she remembered "When I did, I didn't care. I stepped up to the tee pad and just threw, turned around, and kept walking. It affected me a lot. I went on to win, but even going up to accept my trophy was something I didn't want to do since I knew I would be booed."
At another tournament in Fairhope, Alabama, Alice experienced more transphobia. When word hit town that Alice may play, several women decided to move from FPO to MA3 to corner her into having no one to play with. 
"Women can play in those divisions – that's fine – but I knew it was to alienate me," Alice said. "Some of the professional women on tour and my friends heard this was happening and signed up to play with me. They even sponsored my entry into the tournament.
"We ended up with this awesome group of ladies competing," she continued. "It even ended up getting filmed, which was awesome, but once it was posted, the negative comments started to come."
One step forward and two steps backwards – some members of the community came together to support Alice and the rights of transgender players, attempting to turn a negative situation into a positive memory for her. But the social media presence of the event led to hundreds of negative comments directed towards Alice, diluting the uplifting impact of the experience. 
"It's hard to not look at social media – I have to look at it all," Alice admitted "I'm a big bubble of energy, and to have someone just not like me for who I am, that sucks. I love people, I love everyone. I can't not read them, but I'm hurting myself by doing so. There's this small spark of hope [that comes into my head]: 'But maybe someone is being nice.'"
'A Footprint in the Experience of a Trans Person's Life'
Despite hateful comments and blatant acts of transphobia during her disc golf career so far, Alice's positivity and light has not been dulled. 
"Maybe I can be a footprint in the experience of a trans person's life," said Alice. 
"I've had many individuals thank me, over social media and in person, for just being out there myself," she continued "One couple came up to me and said I gave the wife courage to play. They saw the hate I was getting but told me I was making a difference. Those are the moments I put up with all of the bad for. With me and other transgender people playing, people in the sport coming out as LGBTQ+, going public with who they are – people in the community watching are seeing that and saying, 'This person is doing that, maybe I can play, too.'"
For individuals who are fearing being openly transgender in their local or competitive scenes, Alice encourages them to take the leap. 
"If you're considering playing, do it," she said. "If you're worried about what people will say, that shouldn't be your reason not to play. You don't have to be in the spotlight. If local people are giving you terrible comments, just don't play with them. Odds are there will be some people in your area that will still like you regardless of where you came from. Don't let that be the reason you don't play, and definitely don't let the comments I get be a reason either. 
"Disc golf is good for everyone – straight, gay, weird, normal, transgender, cisgender," she said. "It's awesome, and it should be accessible for everyone."
When Alice had her moment in the spotlight at the DDO, she got to experience what every player should: pure, enthusiastic support from the disc golf community. 
"When I aced, it didn't matter that I was transgender," she said. "I couldn't go five minutes without a high five or a congratulations. I felt like a celebrity."
But being treated like a disc golfer first and respected on those grounds should not be reserved only for aces. Alice and other transgender individuals should feel enough comfort to be who they are, on and off the fairway, every day of their lives. It is the job of everyone on the course to make the sport a welcoming place for all.