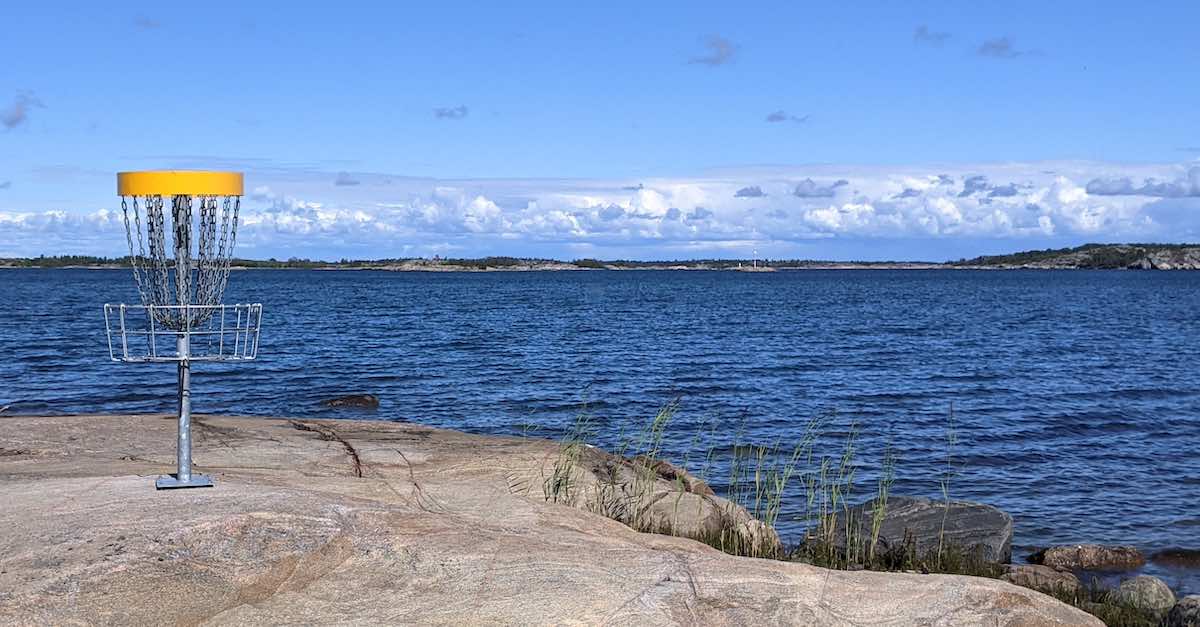 The Åland Islands lie between Sweden and Finland (they are an autonomous part of Finland but speak Swedish) and are full of stunning landscapes, sea views, and – since 2020 – disc golf courses. With over a dozen courses serving a population of just under 30,000, visiting disc golfers can play to their hearts' content with little fear of crowds and backups. 
The crazy long days during peak travel season are another plus. Throughout summer, the sun's up for at least 14 of every 24 hours, and in late June you'll get closer to 19 hours of light.

I visited the Islands, played its courses, sampled its cuisine (Åland pancake, anyone?), drank its famous apple juice as well as its local craft beer, and left enchanted. Now, I'm excited to use my experiences to help you learn how to spend a perfect week disc golfing on the Åland Islands.
Åland Islands Disc Golf Vacation: Table of Contents
Planning

Åland Islands Disc Golf Vacation: How Do I Get There?
The easiest and most popular way to reach and depart from Åland is taking a ferry from the big cities of Stockholm, Sweden, or Helsinki, Finland. Tallinn, Estonia, and Turku, Finland, are other options. Though it's possible to fly to Åland, the ferry ride is a beautiful one and can be far less expensive than a flight.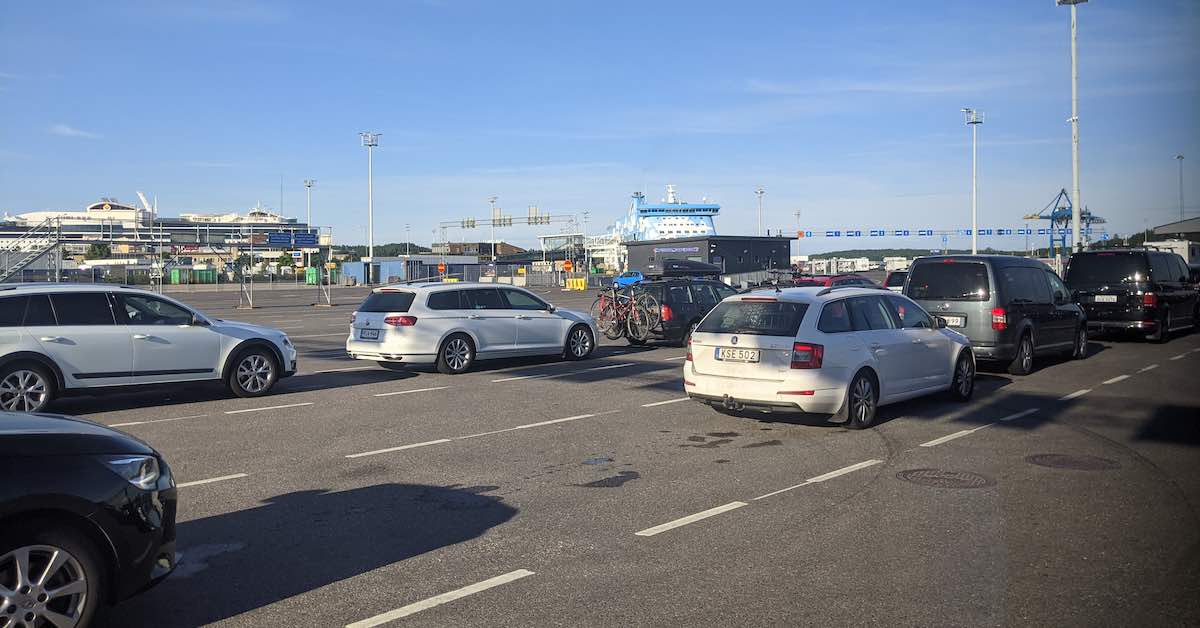 You'll take a ferry from the Tallink or Viking lines, and your arrival port will be Mariehamn, which is Åland's capital and (by far) largest town. You can choose Mariehamn specifically when booking with Viking but be warned that with Tallink the destination "Åland" could mean the Mariehamn harbor or another destination named Långnäs. Read the details in the parentheses very carefully.
The journey from Stockholm is around eight and a half hours, and it's a little over nine from Helsinki. Prior to publication, the ferries from Stockholm to Åland were less expensive and left more frequently than those out of Helsinki. 

Know, too, that both Stockholm and Helsinki are great disc golf destinations (Stockholm being home to the legendary Järva, a top 10 course in the world in 2023). Those out for a grand Nordic disc golf adventure should consider adding a day or two to their trips to spend time in one. If you're out for pure decadence, you could plan a Stockholm-Åland-Helsinki route (or vice-versa) and budget time to play in each place.
Here are some other things worth considering when booking your boat rides to and from Åland:
You have to pre-book space for a car if you plan to take one. If you're taking a rental car on the ferry, make sure you know its dimensions because you'll need that information when buying a ticket.
For an additional fee, cabins with beds are available if you'd like to sleep comfortably during the ride.
If you're on a budget, bring your own food. If not, include a meal when you book a ticket to experience a giant buffet in a dining area with great views of the archipelago. Spaces in the restaurant aren't guaranteed without pre-booking.
Åland Islands Disc Golf Vacation: Where Should I Stay?
The Åland Islands have long been a tourist destination, and there are many rental homes and apartments available. That said, if you plan to go any time in June, July, or August, you'll want to reserve an affordable place to sleep as soon as you can.
You can check out our top option for accommodation during an Åland disc golf vacation below. If it's full or not to your taste, keep in mind you'll want to choose somewhere fairly close to Highway 2 or 4. The two roads provide quick access to the majority of the Islands' top courses. You can look for a place on a site like AirBnB, opt to camp, or check out various accommodations advertised on Visit Åland.
If you follow our proposed itinerary, you'll also want to book a night on the island of Lappo well before you make your journey.
Åland Islands Disc Golf Vacation: Best Place to Stay
Not to be found on AirBnB, Larssons Vattensport (Larsson's Water Sport) offers accommodation to fit any budget or housing preference. It's located right on the water, offers short drives to the majority of the Islands' best disc golf courses, and the owner, Patrik Larsson, plays disc golf himself and loves having disc golf groups stay with him.
As you might guess from the name, he also offers rental equipment for water sports if you'd like to take some time to try out wind surfing or kiteboarding, boating, or other pursuits.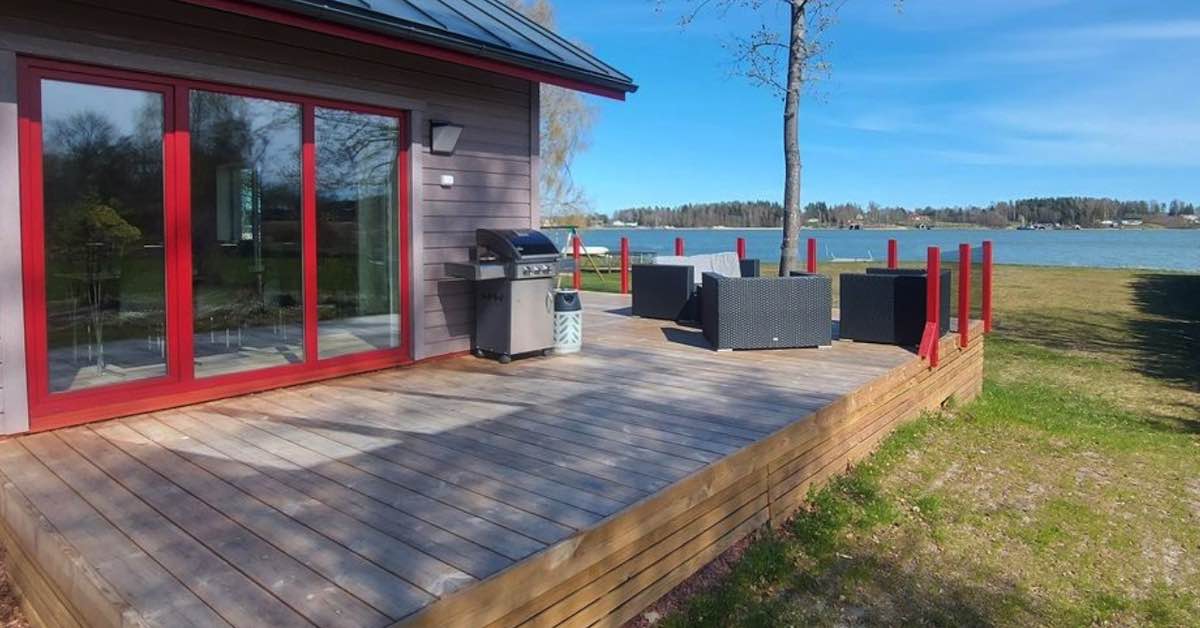 Larssons Vattensport has three different types of accommodation available depending on your preferences and budget:
Grandma's cabin: Formerly belonging to Larsson's grandparents, this is a traditional Åland cabin with old-fashioned charm and all the basics. Three bedrooms in three separate (but close together) small buildings, a kitchen, bathroom, and a wood-fired sauna (with shower). Sleeps up to six starting at €100 a night or €500 a week (prices could be higher in peak season).
Modern house: Two bedrooms, five beds, waterfront yard, deck with gas grill and seating, bathroom with shower, kitchen, and access to a wood-fired sauna. €140-€200 a night depending on season.
Budget beds: A space with eight beds (nine sleeping spots since one bed is a double) spread across three rooms. Access to kitchen, laundry, showers and bathroom, outdoor kitchen, and wood-fired sauna. A big screen TV and WiFi are also in the space. Rent a bed starting at €30 per person per night (higher in peak weeks).
Åland Islands Disc Golf Vacation: Do I Need a Car?
If your goal is to get in as many of Åland's courses as possible and your time is limited, a car is a must. There is public transportation, but it doesn't go to every course and will also limit your flexibility quite a bit. This guide's timeline assumes you'll be driving to most destinations.
That said, Åland is extremely bike-able in most areas. You could certainly plan a fantastic biking and disc golf vacation on Åland if that's your jam, but you'll either play fewer courses or need more than a week.
If you're not driving your own car, do a little price comparison to see if it's cheaper to rent a car from the mainland and pay a fee to take it on the ferry or rent one on the Islands. An Åland car rental service named Rundbergs will bring a rental vehicle for pick-up at the harbor or airport for no extra fee.
Åland Islands Disc Golf Vacation Day 1: Arrival, Playing Soltuna, Settling In
A big part of your first day will be simply getting to the islands. As we mentioned before, the boat ride is typically around nine hours, so it might seem strange that the first course we recommend is another 40-minute drive from the Mariehamn Harbor. But we promise there are good reasons.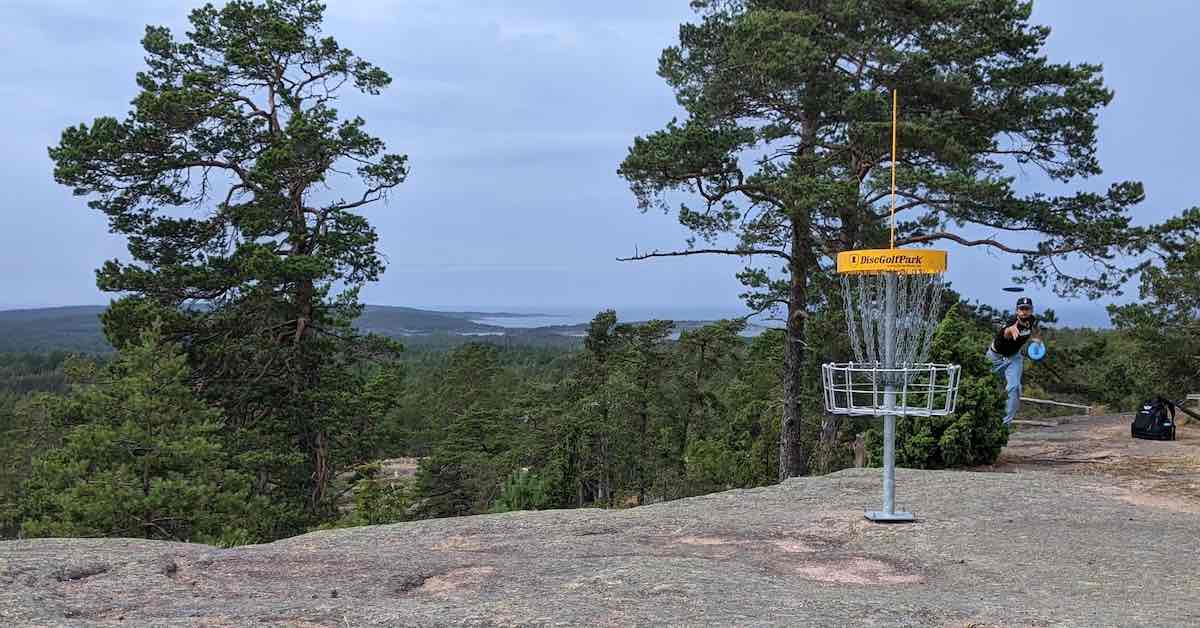 Learn more about Soltuna DiscGolfPark. Click or tap the course name to see photos, current conditions, reviews, and more on UDisc Courses.
Soltuna DiscGolfPark is the way to start your Åland disc golf adventure with a bang. Currently the Islands' best-rated course, it's in an elevated area and offers stunning long-distance views at its start and middle sections out into the archipelago. Other holes will introduce you to the typical Åland landscape: dramatic rock formations, quaint white and red wooden structures, stony ground, and small evergreens.
The course has a variety of holes, from must-get shorties to a par 3 around 130 meters/426 feet on flat ground and many between those extremes. The most memorable hole is 10. This par 4 has a tee with one of the best views the Islands have to offer...but you might have a hard time enjoying the scenery. The basket is far below you, and your mind will be racing to figure out which of your discs is least likely to flip and sail beautifully but tragically into the no-man's-land of the rough.
Along with its beauty, Soltuna is a good starter for Åland's smorgasbord of courses as its one players of various skill levels can enjoy. It's also a bit secluded up north on the main island, so making it your sole disc golf stop for the day makes sense and will allow you to go for a couple of rounds if you have the time while you're there.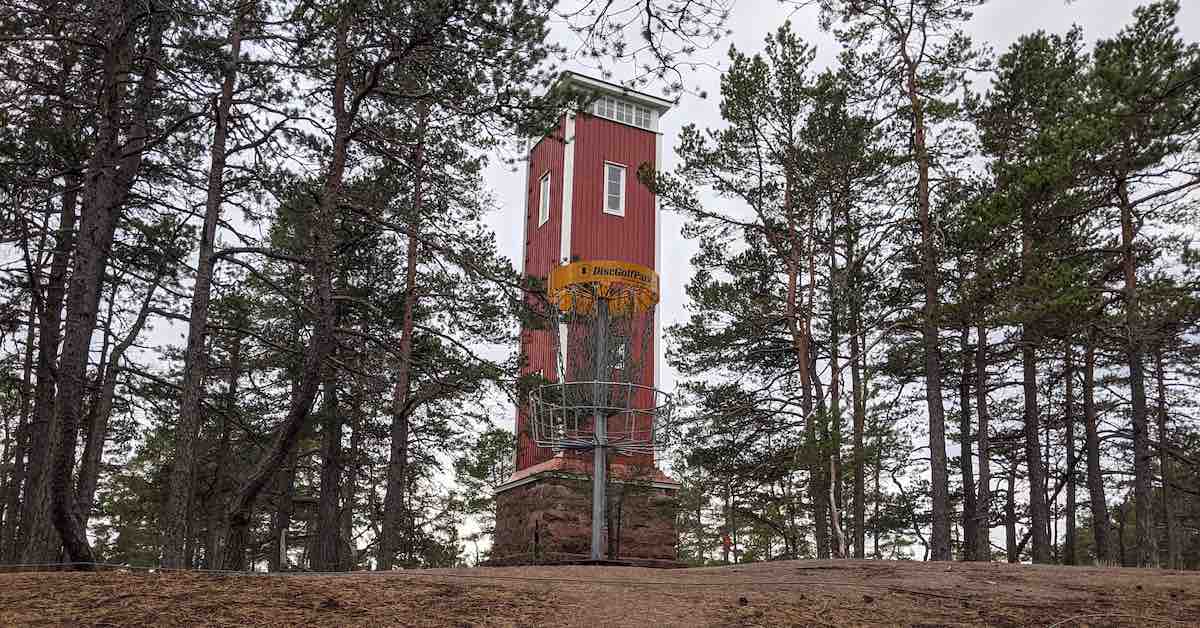 There is a restaurant near the course, Soltuna Restaurang & Café, but keep in mind it's only open on weekends. The food is tasty and filling (I had a very nice traditional Finnish fish and root vegetable soup with dark bread on the side), and you can check out the menu, pricing (smaller dishes are €5-€10 and entrees are typically between €15-€35), and current opening times on its website. Mini-golf is on site, too.

After your round(s), you'll want to use the rest of your day to get settled at your accommodation and find the nearest grocery store to make sure you're set for food, drinks, and course snacks for the days to come. If you plan to go out for dinner or for some nightlife, head to Mariehamn after you have a chance to freshen up.
See route from Mariehamn Harbor to Soltuna
Åland Islands Disc Golf Vacation Day 2: Playing Skag & Vesterkalmare
On your second day in Åland, you'll play two very different courses: Skag and Vesterkalmare.
If, like I did, you're staying a little north of Mariehamn, Skag will be between a 30 and 40-minute drive. The trip will take you to the Eckerö Kommune and is the westernmost point on the itinerary.
Skag is a touch easier than Soltuna, and advanced players could shoot well under par on an average blind round. It has a solid layout with distinct lines and plenty more of those oh-so-Åland stony fairways. The reasons this course made our agenda are these: 1) It's fun and well-maintained, 2) it's the best course in western Åland by far and therefore the best reason to see this part of the Islands, and 3) it's the perfect way to get your spirits high and arm warmed up for your coming experience at Åland's most challenging course, Vesterkalmare.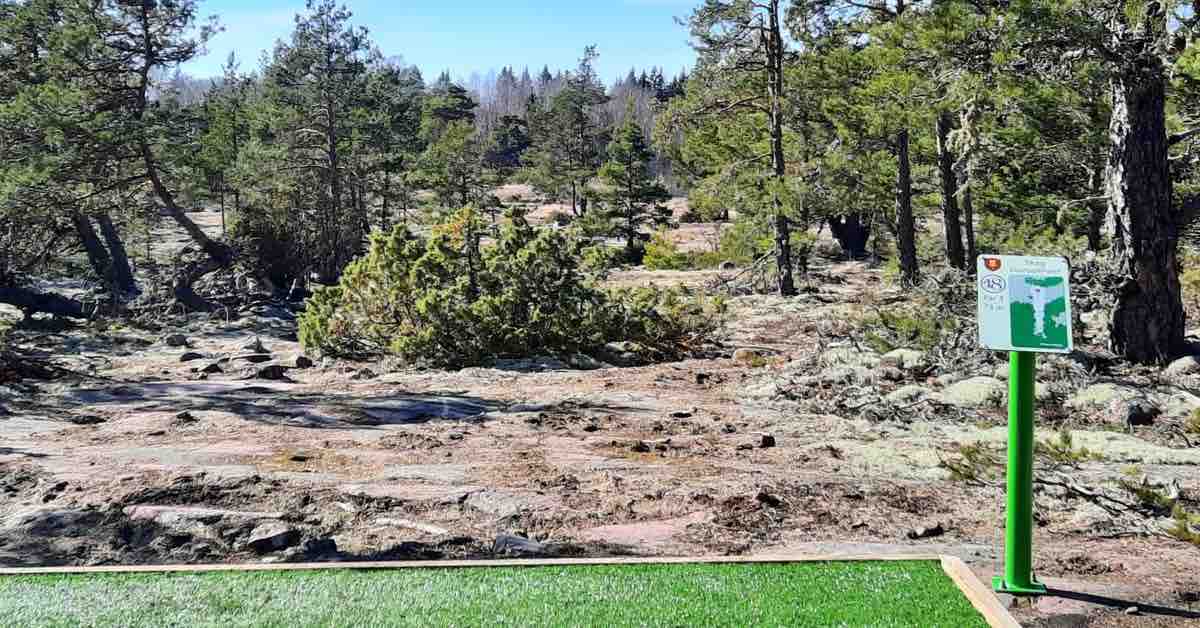 Learn more about Skag DiscGolfPark. Click or tap the course name to see photos, current conditions, reviews, and more on UDisc Courses.
Before we move on to Åland's premier offering, though, know that Skag is located at Eckerö Camping, which has a very reasonably-priced restaurant by Åland standards (all mains are under €15), mini-golf, and rents out kayaks and other small watercraft. 

Finally, you'll see other courses near Skag on UDisc. I played one of them, Käringsund DiscGolfPark, and can confirm there are many valid reasons it's currently rated under three stars (confusing layout, uncared-for fairways, etc.). I highly suggest not wasting your valuable time in Åland on it and instead enjoying multiple rounds on other, better courses.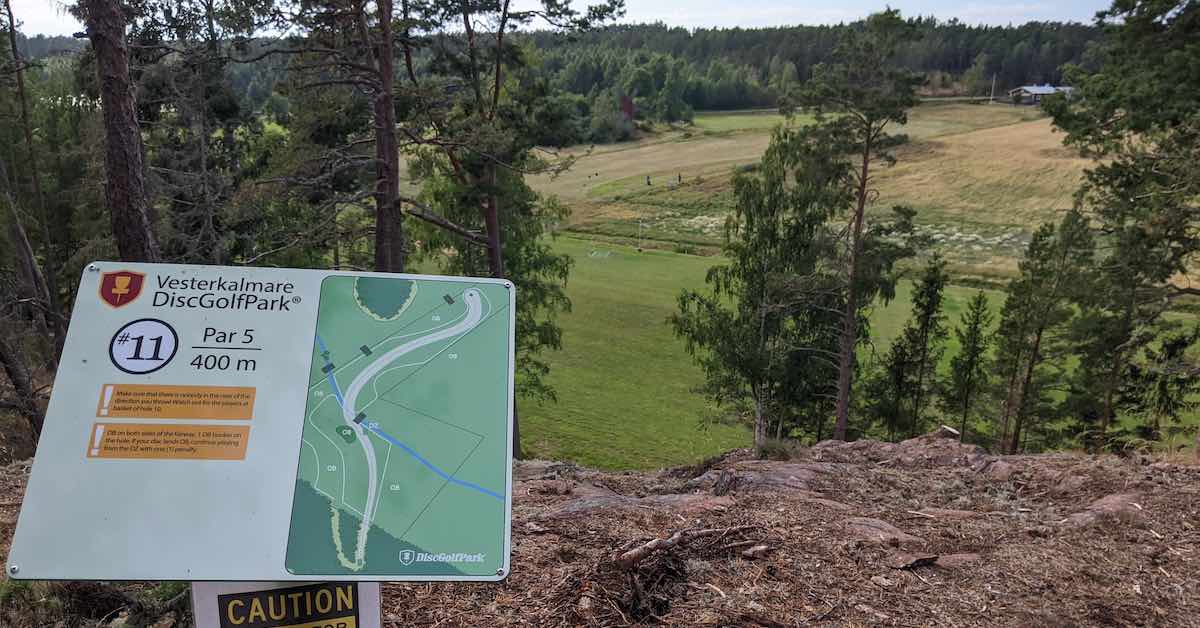 Vesterkalmare – one of the few pay-to-plays in Åland at €8 a day – will be the hardest course you play on the Islands, and, especially if you're an advanced player who likes a challenge, there's a good chance it'll be your favorite from a purely disc golf standpoint (it's lovely and serene, but the Åland courses near water are hard to beat in the scenery department). The track is designed to be championship-level in hopes of attracting elite professional events. The first big test it will face in this regard is coming July 27-29, 2023, at the Åland Open.

Tip: If you show up a little after that event, the course should be in fantastic shape.
The course has wooded holes that play up, down, and across a hillside and more open holes through rolling, tree-lined fields that have ample OB that gets truly punishing when the wind is high. The distances and fairway shapes vary quite a bit, and you'll end up using most of your arsenal as you tackle Vesterkalmare. The elevation is no joke and this will be a true hike, so wear appropriate shoes and don't carry unnecessary weight. 
Though having abundant distance is a plus on many holes, it's not the only key to a great score. Tight fairways, punishing rough, hard-turning doglegs, tricky basket placements, and those aforementioned OB lines are more likely to add strokes to your score than being a little short on drives.
A highlight here is the 400-meter/1,312-foot par 5 hole 11. This is the longest hole in Finland, which has over 1,000 disc golf courses. The hole takes you off the hillside in a dramatic way, with a tee overlooking an intimidating drop to the field below and the basket a speck on the horizon. Even if you land the tee shot safely in the short grass, you will likely be happy to escape with par after navigating the long, OB-lined fairway leading to the basket.
The course has a small pro shop with disc golf equipment that also sells snacks, drinks, and Åland disc golf souvenirs.

If you're physical conditioning is up for it, I recommend budgeting time for two Vesterkalmare rounds. One to get to know the course and a second to see if you can improve on round one.
See route between Day 2 courses
Åland Islands Disc Golf Vacation Day 3: Playing LC Mariehamn, Kastelholm, Stallhagen 
After ending your previous day on Åland's big course, it's time for a fun day out on three shorter but very charming Åland courses – all of which offer ample chances for you to take home that Åland ace. I got mine on hole 4 at the first course on the schedule, LC Mariehamn.
Before we talk about the courses, though, know that this day also puts you near two places where you can sample local drinks: Åland Distillery (next to Kastelholm) and Stallhagen (a craft brewery and top-notch gastropub). Additionally, Kastelholm is near some interesting sightseeing, which includes a small open-air museum showcasing historical Åland Islands life and, of course, the Kastelholm Castle.
We highly recommend ending your day with a dinner at Stallhagen (even if beer isn't your thing) because it serves great food from locally-sourced ingredients, and the restaurant and taproom is adjacent to the course. There will likely be a few entrees under €15, but the majority are €20-€30. Due to Stallhagen's popularity, get a reservation should you decide to make a meal there a part of your day.
Now, on to the disc golf.
Learn more about LC Mariehamn DiscGolfPark. Click or tap the course name to see photos, current conditions, reviews, and more on UDisc Courses.
For LC Mariehamn (the "LC" stands for "Lions Club"), you probably won't need much more than a putter and maybe a few of your favorite approach discs. The course's nine holes are a total of 468 meters/1,536 feet – or, to put that in perspective, not that much longer than just hole 11 at Vesterkalmare. The layout has you climbing up and down rocky terrain, and from many baskets and tees you get stunning views of the archipelago and the giant ships that dock in Mariehamn.
On a nice morning, this is the perfect place to warm up your arm and have an exciting time ace-running from every tee. Its length makes it easily re-playable if you want to get in 18 or more holes during your first stop.
Though it was redesigned just a few years ago, the original LC Mariehamn was installed in 1982, making it one of the oldest courses in Finland. Seeing people play this track helped inspire the mastermind of the Åland disc golf project, Mats Adamczak, to grow the sport on the Islands.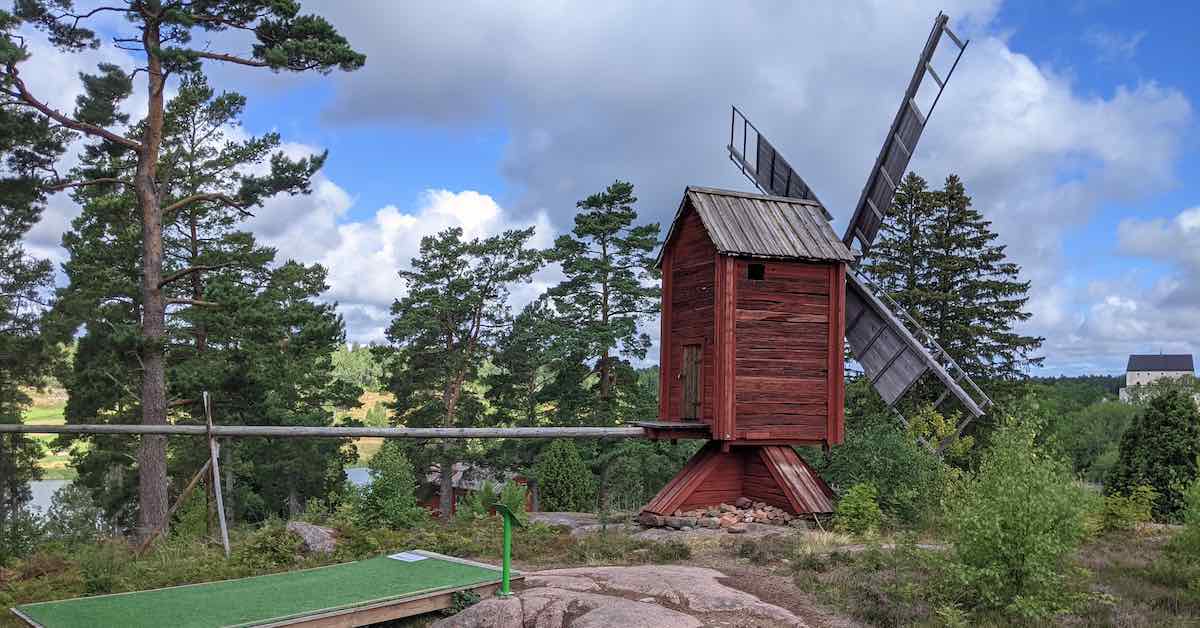 Learn more about Kastelholm DiscGolfPark. Click or tap the course name to see photos, current conditions, reviews, and more on UDisc Courses.
Today's second course, Kastelholm, was one of my favorite all-round experiences in Åland. For one, it has an amazing atmosphere created by the rustic, red-painted wooden windmills near some tees and fairways as well as the proximity to water, a castle with foundations dating to the late 1300s, and a small museum recreating historic Åland village life. Secondly, it's a well-designed course where advanced players can enjoy honing their midrange and putter shot-shaping and developing players can revel in (hopefully) bagging a few birdies on holes with some real challenge.
Kastelholm's nine holes aren't very long – all are par 3s that are 75 meters/247 feet on average – but they offer a variety of challenges. The terrain has frequent elevation changes and is fairly wooded, so there are plenty of fun shots over gullies and up and down hills along well-defined lines. Unless your only joy in playing disc golf is ripping discs hard, Kastelholm provides lots to love.
If you get peckish and aren't up for sitting down at the aforementioned Åland Distillery, there's also a little shop near the docks behind the tee of hole 5 that has snacks, hot and cold drinks, and some baked goods like Kanelbullar (traditional cinnamon rolls made with cardamom).
Learn more about Stallhagen DiscGolfPark. Click or tap the course name to see photos, current conditions, reviews, and more on UDisc Courses.
The day's last stop is Stallhagen, which is right next to a craft brewery and gastropub of the same name. One of the owners of the business has fallen hard for disc golf himself, and players will feel very welcome here.
Stallhagen has 18 baskets though holes share fairways. A shorter layout is dubbed "Upshot" and has green-banded baskets, and the second is a bit longer and plays to the yellow-banded baskets you'll be very familiar with by now. You can play the layouts separately or play them both through to make an 18.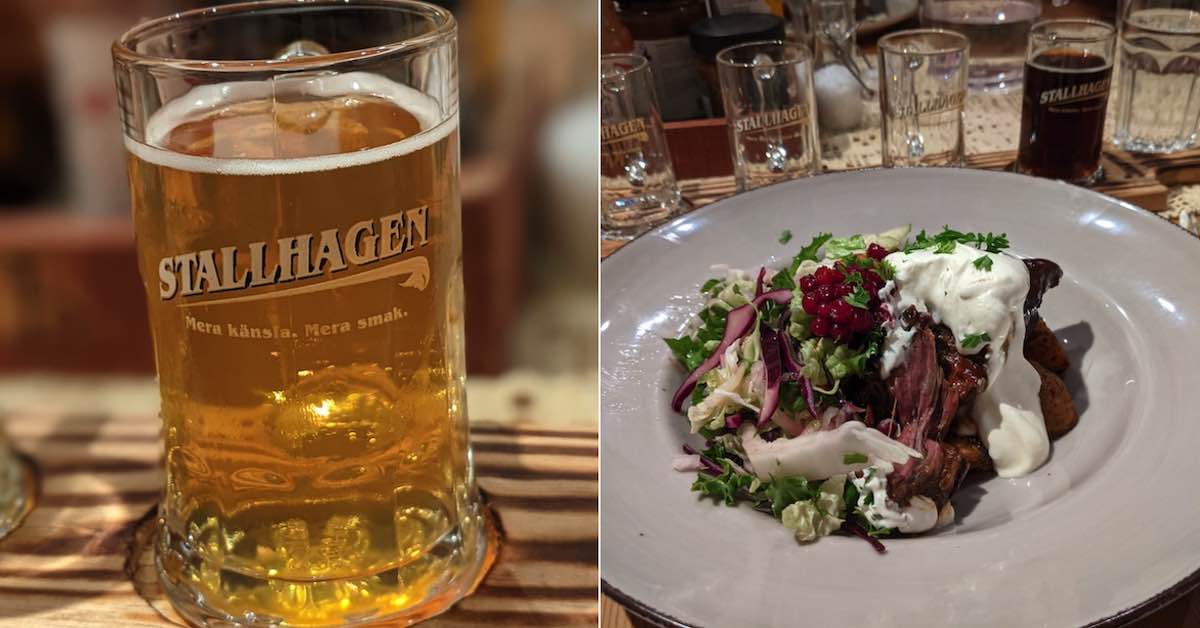 The holes are in an open field with a few obstacles and some OB lines, but these layouts will mostly be a stress-free way to end your disc golfing day before and/or after having a nice dinner and some drinks at the restaurant and taproom. If you haven't snagged an ace yet, Stallhagen provides quite a few more good opportunities to get one.
See route between Day 3 courses and possible destinations
Åland Islands Disc Golf Vacation Day 4: Getting To & Playing Lappo
Day four finds you again setting out on a boat across the archipelago, but this time your destination is a small island called Lappo. With under 40 permanent inhabitants and a course boasting some of the best views of any Åland track, Lappo is the embodiment of your daydreams about disc golfing on a secluded Nordic island. The trek there isn't short, but you won't regret making it.
Still, because just one way of a trip to Lappo will take you between three and four hours from your accommodation on the main island, I suggest saving yourself some stress and booking a night at one of Pellas på Lappo's various accommodation options (€77-€128 a night in peak travel season). The owner of Pellas, Tina, is also the owner and caretaker of Lappo DiscGolfPark, and she's very excited to have disc golfing guests who can spread the good word about her hospitality and well-maintained course. Make sure to book your night in Lappo well before your trip to Åland as things can fill up very quickly there in the summer.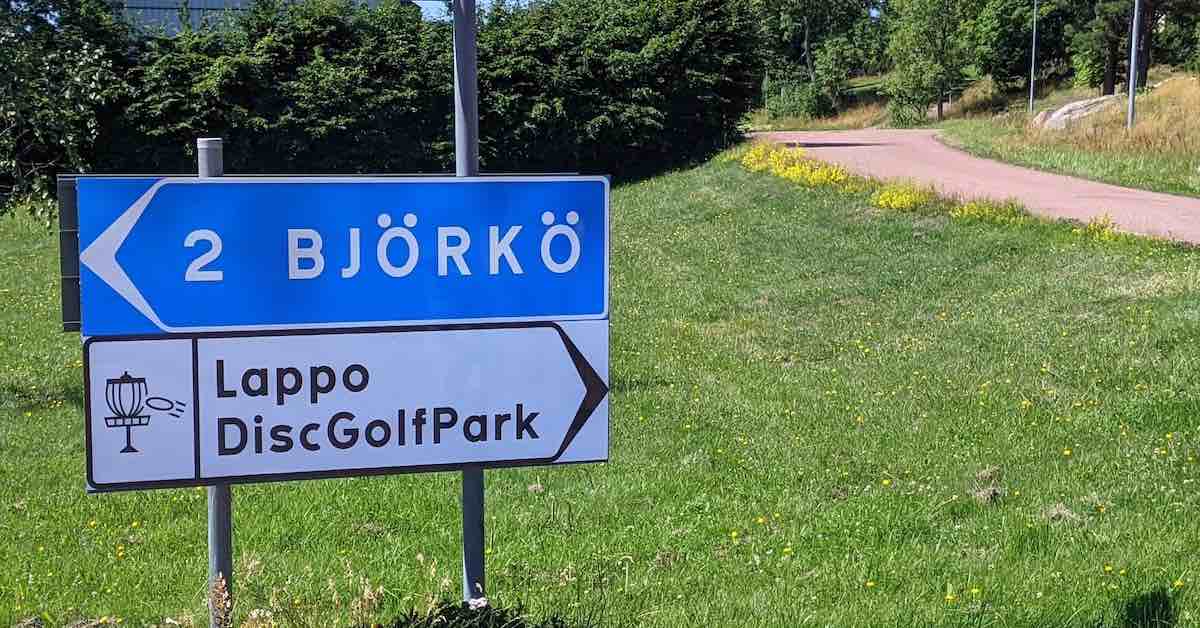 As for getting to Lappo, the route my local guide took will be the most straightforward option for most disc golf travelers. To do it, you'll take a car from the main island to a ferry launch in Hummelvik (roughly an hour's drive, including a very short ferry ride in your car). At Hummelvik, you'll leave the car behind (parking is free) as there's no need for one on Lappo. A big plus of going car-less is that you make your two-hour archipelago tour completely free as there's no charge for intra-Åland ferries for people with no vehicles.
The course is about 650 meters/just under a half mile from the harbor, so make sure you pack with that walk in mind.
The ferry you'll hop on runs on the North Line (Norra Linjen). It starts at Hummelvik and then stops at Enklinge and Kumlinge before getting to Lappo. The time the ferry leaves changes depending on date and day of the week, so thoroughly check the ferry schedule to make sure you'll arrive on time. You'll want the the Hummelvik-Enklinge-Kumlinge-Lappo-Torsholma route. Pay very close attention to the dates at the top of each schedule.
The ferry ride once again gives you great archipelago views, and there's a little bistro on board serving sandwiches, snacks, cold and hot drinks, baked goods, and so on (it may not be open the entire time you're on board, so make use of it when it is). Keep an eye out for a chance to try Ålandspannkaka (Åland pancake), a cake topped with berry compote and whipped cream that's a regional specialty.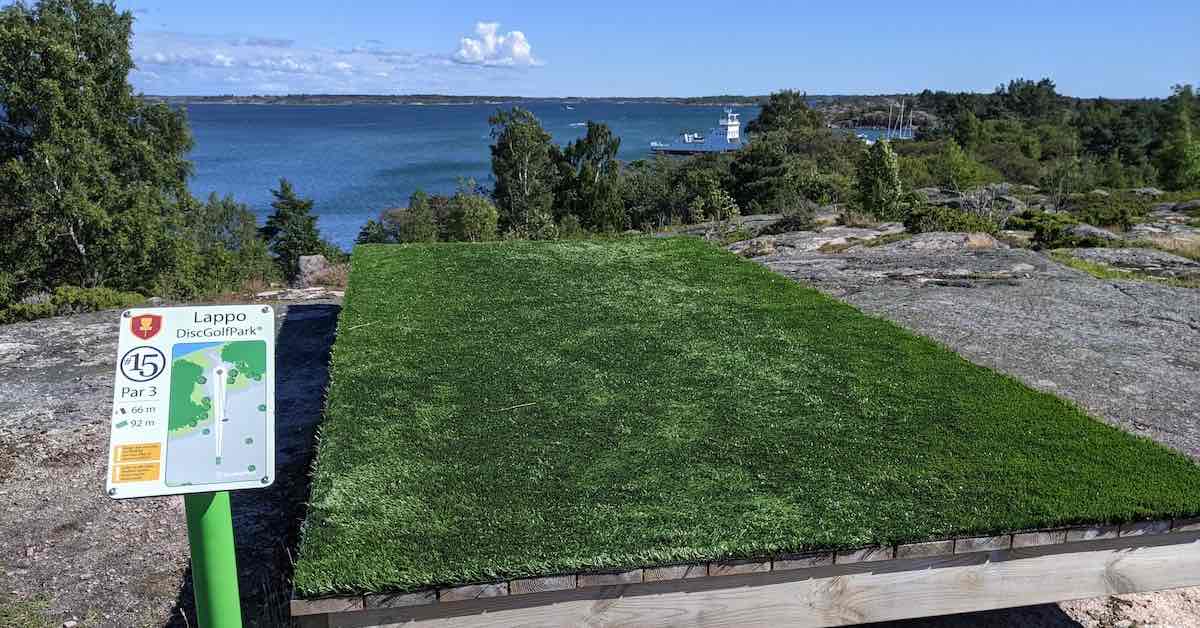 Learn more about Lappo DiscGolfPark. Click or tap the course name to see photos, current conditions, reviews, and more on UDisc Courses.
After you disembark in Lappo's harbor and get settled in at your accommodation, it's time to take on Lappo DiscGolfPark.
Lappo has two layouts, a short nine-hole loop for families and beginners plus a longer, much more difficult 18 for experienced players. I'll focus on the 18-hole here, but the 9-hole is definitely a fun option for a quick round, a one-disc challenge, and/or the chance for ace runs. It hits most (but not all) of the highlight views from the full 18.
Some of the great things about Lappo simply have to do with location. You climb up typical rocky Åland terrain and have terrific panoramas of the water, scattered islands, and passing boats. You also go down and play on baskets and tees right near the gently lapping sea. The course design takes full advantage of its chance to take you through a breathtaking landscape.

But the course is more than just an extremely pretty hike. It's also an entertaining and challenging layout. Regarding level of difficulty, the 18-hole is around the same as Soltuna – a place where a bit under par should feel like an alright round to more experienced players. But whereas Soltuna's holes sometimes make strange leaps in difficulty from one to the next, Lappo has more of a unified identity. That's not a coy way to say the hole designs repeat themselves (they don't) but a compliment about how each hole feels like it belongs with the others and creates what I found to be Åland's most cohesive course aimed at more advanced disc golfers.

The holes use a mix of woods and elevation change to create difficulty. And if the wind is up, letting a putt go on quite a few holes (and even a few drives) will be little more than a guessing game.
Depending on how your energy is holding up, get in a round or two (or one full 18 and one family layout) after you get to Lappo. Alternatively, save a second round (instead of a third) for the morning and explore the island or just enjoy relaxing by the shore.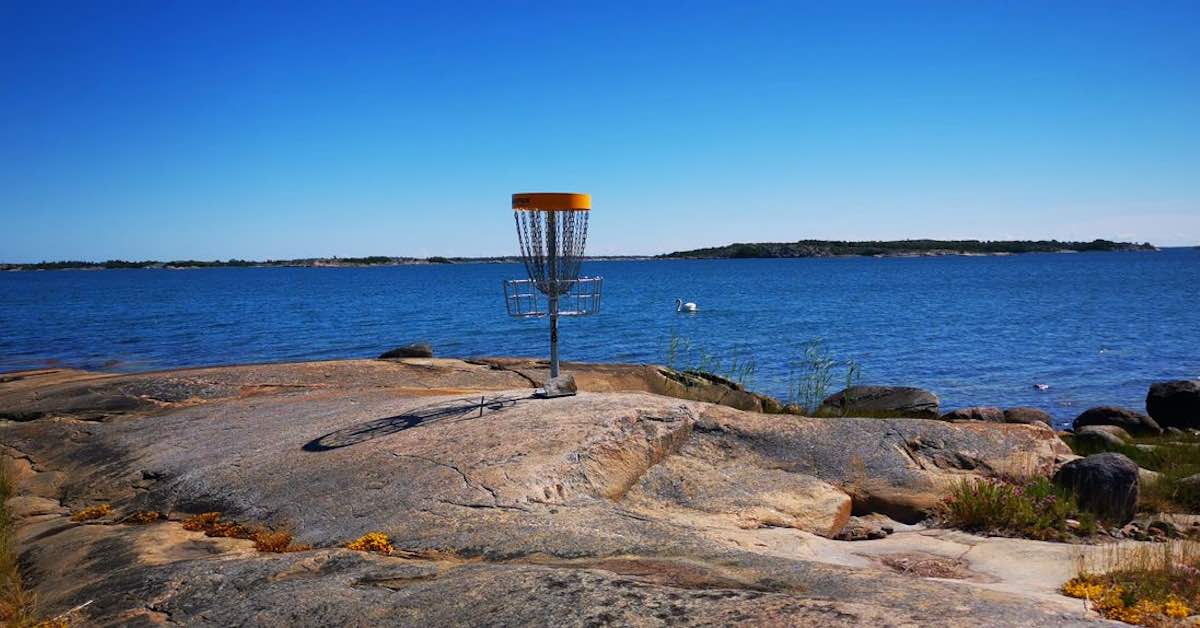 You can bring your own food to the island or have a nice dinner at Lappokrogen Galeasen, the island's restaurant (expect Åland's typical €15-€30 range for most entrees). If you'd like breakfast, you should book it in advance when you reserve your accommodation.
Åland Islands Disc Golf Vacation Day 5: Leaving Lappo & Playing Sandösunds
On day five, you'll have the choice of A) waking up bright and early to catch a morning ferry to the main island or B) sleeping in, having a relaxing breakfast, getting in another Lappo round, and catching an afternoon ferry. The latter sounds like the better choice to me if it's possible, but you do you.
Whatever you opt for in the morning, I have the same recommendation for once you arrive back at your car in Hummelvik: Make the nine-minute drive to get in a round at Sandösunds.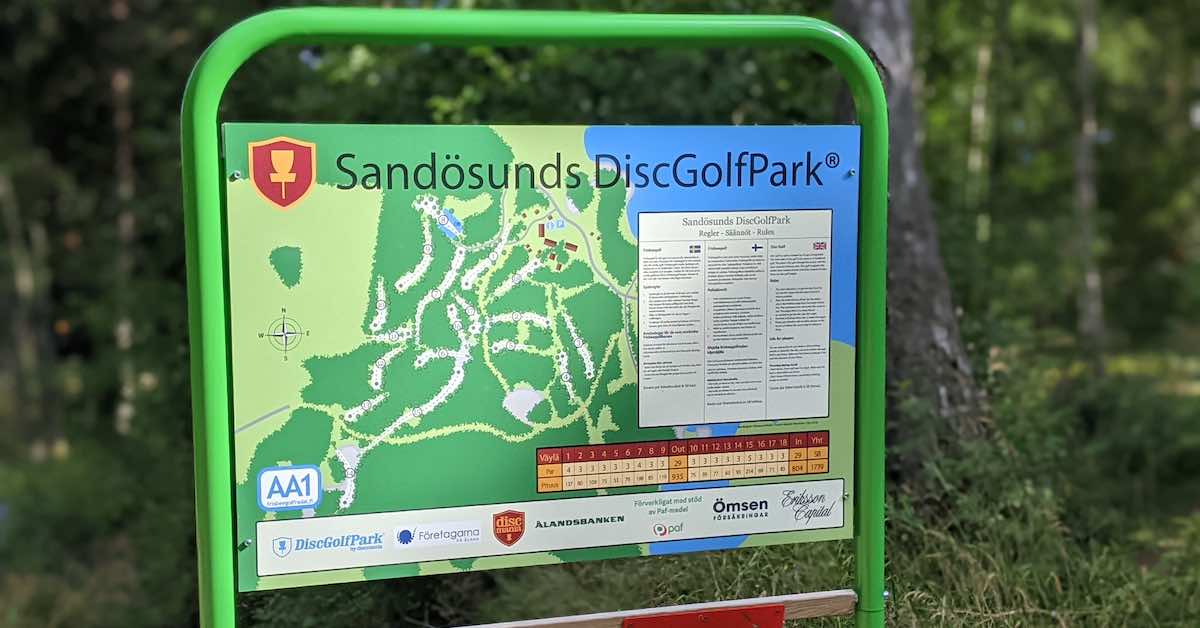 Learn more about Sandösunds DiscGolfPark. Click or tap the course name to see photos, current conditions, reviews, and more on UDisc Courses.
You may be a little wary of Sandösunds if you see its current rating on UDisc Courses, which is hovering around the mid-3-star area. The course is definitely a bit away from being perfectly worn in, but a dedicated father and son team have been gradually (and voluntarily) taming this wooded track during their summers to make it ever more enjoyable to play. As someone whose favorite disc golf is woods disc golf, I found Sandösunds very much worth the visit.
The terrain at Sandösunds is a change from most of Åland's courses. Its fairways are forest floor rather than stone, and there is elevation, but the ups and downs aren't dramatic though some baskets are perched up on exposed rock. The lines are tight and call for precision more often than big power. The course is designed for experienced players who enjoy being challenged to hit very specific lines.
It's advisable to wear long pants at Sandösunds and put on some tick repellent as you're very likely to end up in the rough at some point where ticks abound.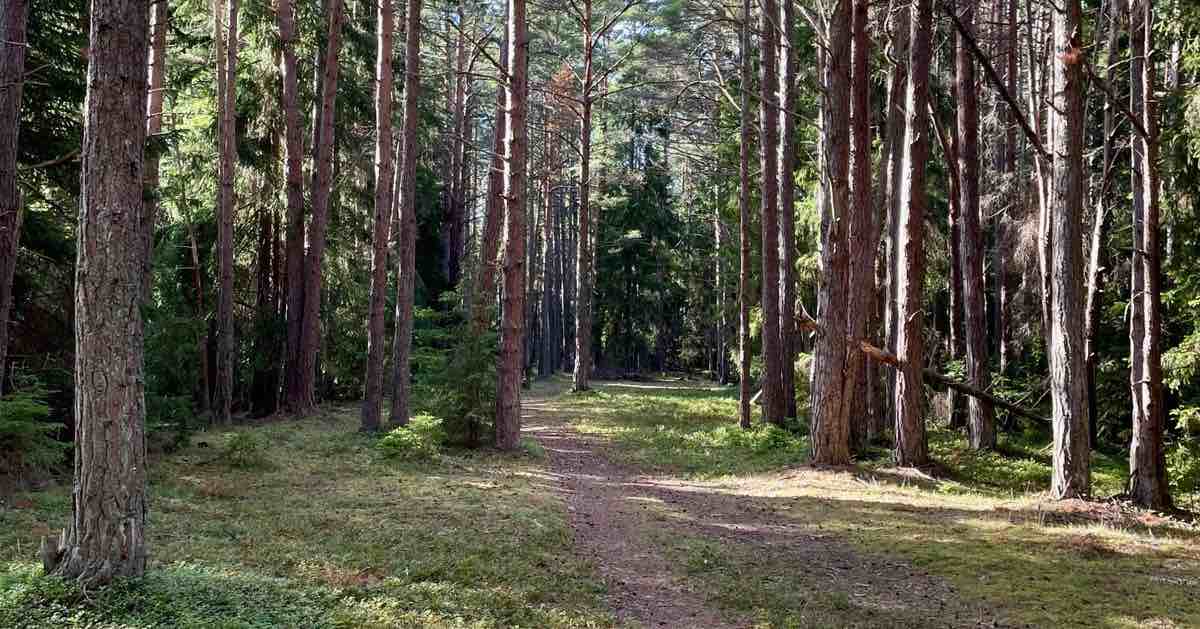 Sandösunds is at a campground that has a restaurant, Flowpark (a ropes course), minigolf, and other activities. Check it out on the Sandösund campground website.
See route from Hummelvik to Sandösunds
Åland Islands Disc Golf Vacation Day 6: Replay Your Faves or Choose Something New
We've arrived at your last full day in Åland. You've played a ton of different courses – including all of the best and most accessible courses on or near the main island – and traveled quite a bit to arrive at them. At this point I'll leave it up to you to decide whether you're up for another big trip or prefer to get more rounds in at your favorites from the week so far before your disc golf vacation ends.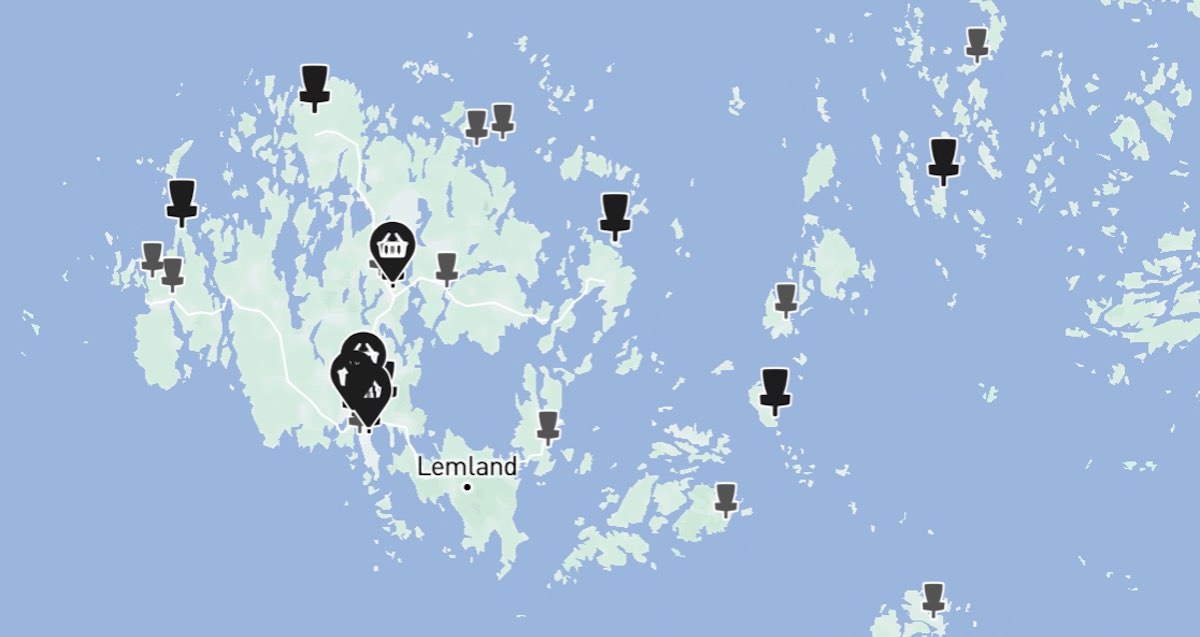 To see all of the Islands' disc golf options, check out Åland's page on UDisc Places.
Åland Islands Disc Golf Vacation Day 7: Leaving Åland
It's finally time to say goodbye. With a boat ride around eight or nine hours ahead of you and a minimum of eight new courses under your belt, you likely won't feel too bad about kicking up your heels and relaxing for a day on a cruise ship.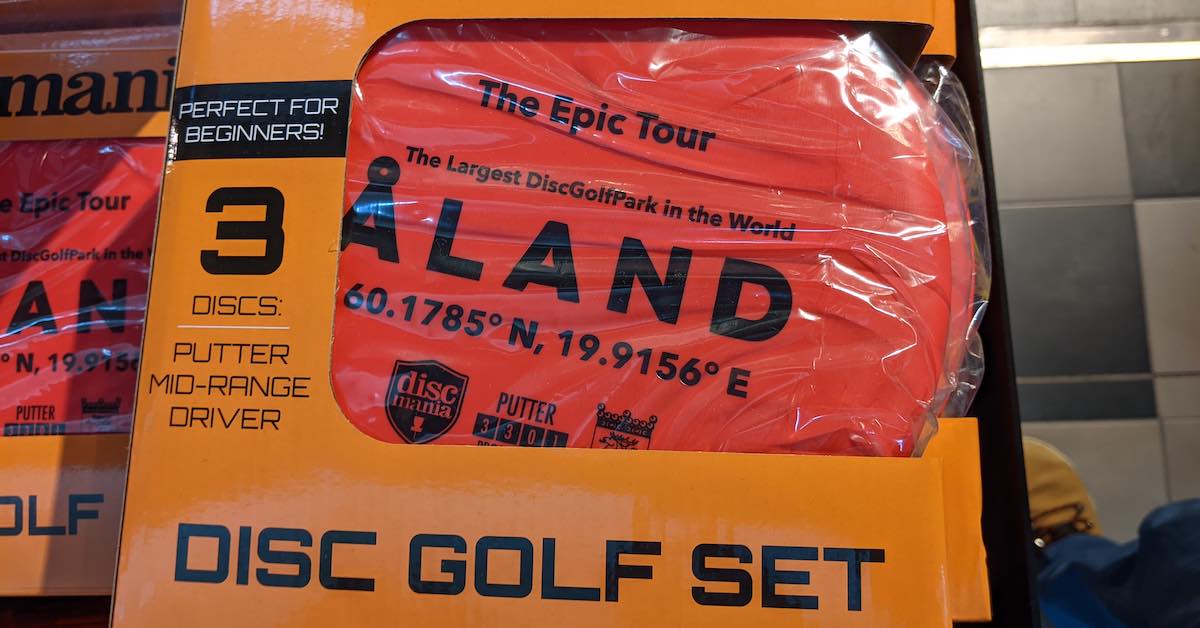 You probably booked this return journey when you set up your trip to Åland. If not, the information in the earlier "Getting to Åland" section can help you out.
Åland Islands Disc Golf Vacation: A Special Option for Very Special Occasions
If you're planning an epic family reunion, a wedding with lots of disc golfers on the guest list, or some other big event, there's another option we didn't talk about above as it's unlikely to fit the majority of travelers' needs.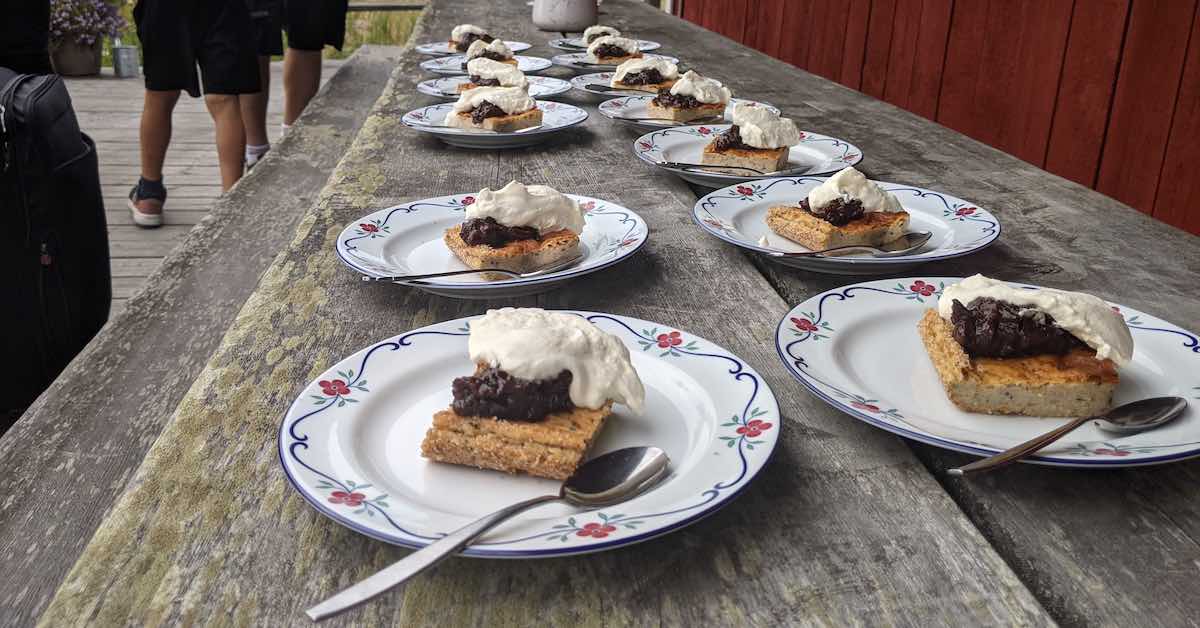 This option is renting out the entire island of Silverskär, which has a private disc golf course, a private chef, and all the Nordic charm you could possibly imagine. I was lucky enough to be part of a group that stayed there for a night, and it's a truly magical place. If you find the right occasion and have the budget for it, you're unlikely to be disappointed by the experience.
Thanks for Coming Along!
We hope you've found some good tips for planning an amazing disc golf adventure on the Åland Islands. If you never want to miss out on more guides like this or stories about everything to do with disc golf, consider subscribing to UDisc's Release Point newsletter.
Finally, I'd like to extend special thanks to Mats Adamczak, Gustaf Didriksson, and Patrik Larsson for making my trip to Åland (and, so, this guide) possible.