For the last two decades, the best disc golfers in Europe have come together every other year to compete for a continent-wide title at the European Disc Golf Championships. The competition was last held in 2018, but the 2020 event was delayed until this year due to the pandemic.

The 2021 European Disc Golf Championships (EDGC) in Czechia will go from Wednesday, August 11 to Saturday, August 14.

There's a lot to be excited about as Europeans come together for their first big international competition since the onset of the COVID pandemic, and you don't need to be European to get hyped. The competition in the Open and Open Women divisions is likely to pique the interest of any pro disc golf fan. Below we explore five of the biggest reasons why.
Basic Questions About the European Disc Golf Championships Answered
Before we get going, we wanted to help answer some questions people not familiar with the event are likely to have.
How long has the European Disc Golf Championship existed?

The first EDGC was in 1997 and has been held every two years since then (though that trend was broken when the event took place in both 2007 and 2008 before returning to its biannual norm). The 2021 EDGC will be the thirteenth iteration of the event.


Where is the European Disc Golf Championship played?

The EDGC is played in a different European country each year. Switzerland and Finland are the only countries that have hosted it twice. Though the 2021 event marks the first time Czechia has hosted the EDGC, one course in use this year will be very familiar to dedicated pro disc golf fans (more on that later on).


Who are the reigning Open and Open Women champions of the European Disc Golf Championship?

Open: Germany's Simon Lizotte

Open Women: Finland's Henna Blomroos

Both players are playing again in 2021 so have a chance to defend their titles.


Can just anyone play the European Disc Golf Championship?

No. The system for how players get spots at the EDGC involves some bureaucracy at national and international levels. But two simple things worth knowing are 1) players representing a country at the EDGC have to have lived in that country for a minimum of two years or be citizens and 2) all competitors were nominated for spots in the competition by a national committee.


Are only Open and Open Women playing the European Disc Golf Championship?

No. Age-protected divisions are also a part of the 2021 event though not everyone will be playing the same course. For pro disc golf fans, keeping an eye on who wins and places high in the Juniors division could get you familiar with names of future superstars.
Reason 1: Seeing if Simon Lizotte Can Beat the Odds and Defend His Title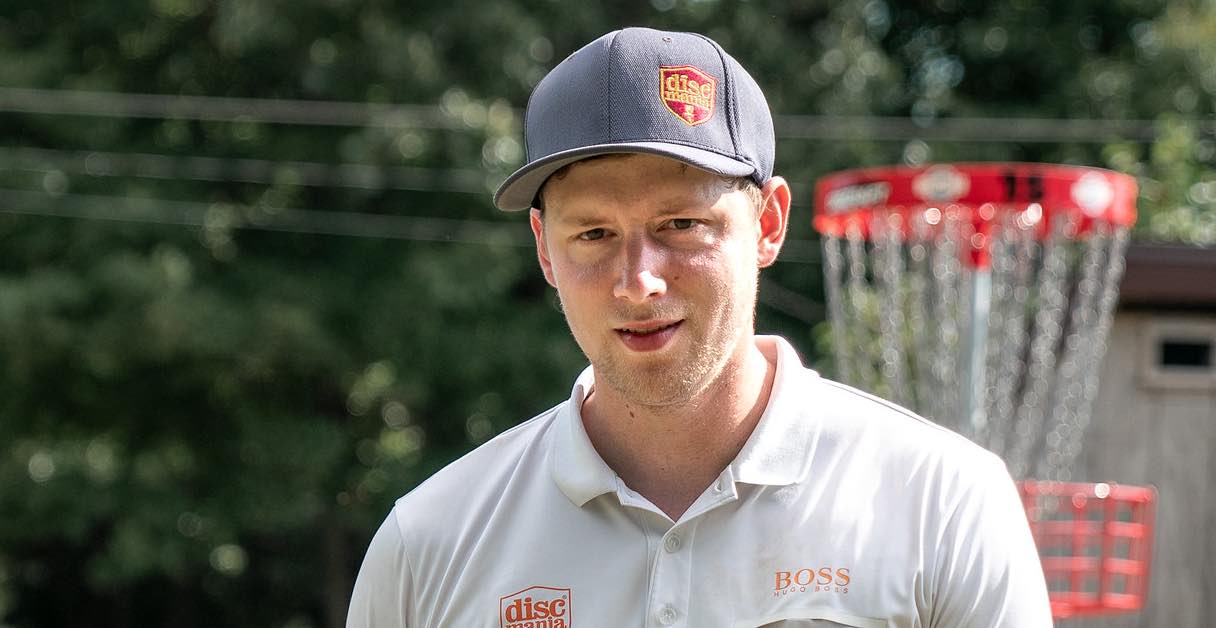 Mega-talent Simon Lizotte now lives in the U.S.A., but he was born and raised in Germany (his father is Canadian but lives in Germany). No matter how much time he spends away, his homeland always welcomes him back with open arms to its EDGC contingent. In 2021, Lizotte is again part of Germany's team.

The EDGC has a special place in Lizotte's career as the 2012 iteration of the tournament was the first large international event he won. In fact, Lizotte told us that win "launched his career." When he competed again in 2014, he placed second after Finland's Seppo Paju. Lizotte didn't compete in 2016 but returned in 2018, and that time Paju took the second spot on the podium as Lizotte won by a comfortable five strokes.

Though many pro disc golf fans outside the U.S. would assume the reigning champ has to be the favorite this year, that's not the case.

According to UDisc's Disc Golf World Rankings, Lizotte is only the number two European disc golfer right now. The top spot belongs to Finn Väinö Mäkelä, who is currently leading the Prodigy Disc Pro Tour (Finland's premiere tour series for the last two years).

Based on their most recent performances, we'd expect Mäkelä to win in a head-to-head match up with Lizotte about 60% of the time. However, there are more players with realistic dreams of winning than just those two, so we took a look at what the chances were of the top 10-ranked players competing at the EDGC winning in a head-to-head-to-head-to-head-etc. match-up:
| | | |
| --- | --- | --- |
| Player | World Rank Before EDGC | Winning Probability Among Top 10 |
| Väinö Mäkelä | 10 | 35% |
| Simon Lizotte | 13 | 21% |
| Niklas Anttila | 20 | 14% |
| Seppo Paju | 21 | 14% |
| Albert Tamm | 39 | 6% |
| Silver Lätt | 45 | 5% |
| Luukas Rokkanen | 58 | 2% |
| Tuomas Hyytiäinen | 66 | 1.5% |
| Oskari Vikström | 67 | 1.4% |
| Samuel Hänninen | 76 | < 1% |
Note that there are plenty of excellent European players who haven't had the chance to play qualifying events used in the World Rankings due to pandemic-created travel issues.

No matter what his likelihood of winning is, Lizotte told us he's very excited to get back to Europe and to have the opportunity to win a third EDGC.

"I don't get the chance too often to come back to a tournament and try to defend my title because I haven't won that many tournaments in the last seven years," Lizotte said, laughing self-depricatingly. "But when I do, it's a really special feeling, especially being European born and raised and having competed on the European tour a lot. This is my sixth European Championships, and I really want to get that third European Champion title because it's a really big deal. It's what we have in Europe – no worries about Americans, and it's always a really good time getting to see everyone again."
Reason 2: The #1, #3, and #5 Women in the World Are Competing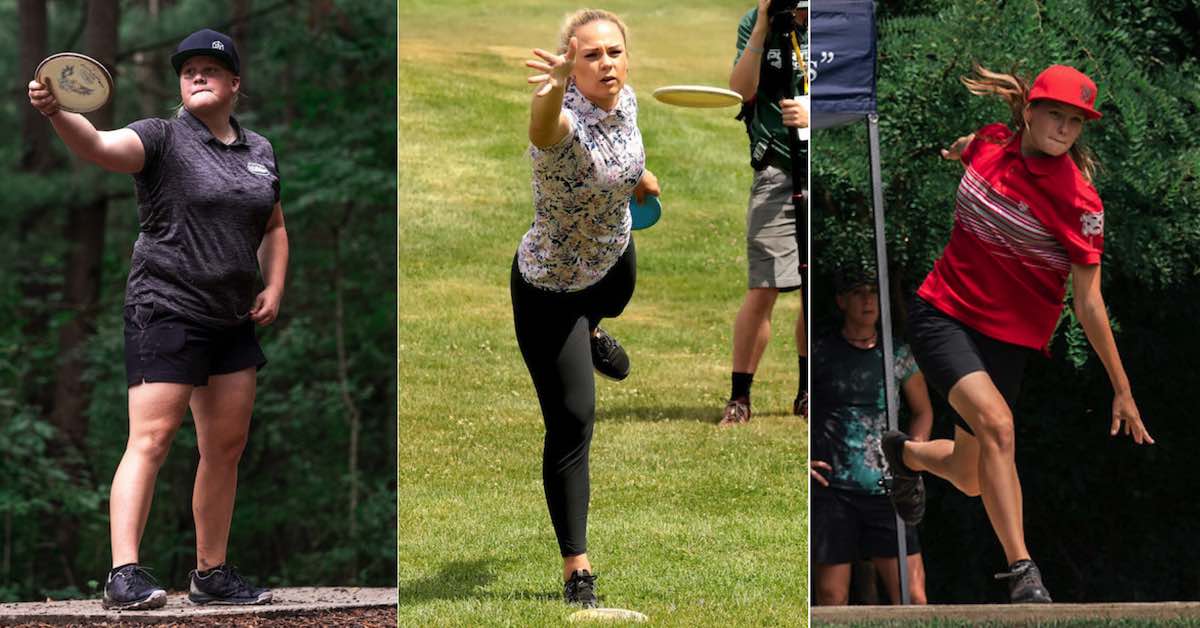 When we made social media posts about Finn Eveliina Salonen taking over the number one spot from American Paige Pierce in our World Rankings of FPO competitors, we noticed a lot of comments along the lines of "Who?".

For those who wondered that, the EDGC is a great chance for you to see the world's current top female disc golfer in action. Salonen has won every event of the Prodigy Disc Pro Tour so far this year and appears to be in top (or, rather, top-of-the-world) form going into the 2021 EDGC.

But it's not just Salonen who has been shooting hot lately. The world's number three woman, Kristin Tattar, recently returned to Estonia to get a little pre-EDGC rest in after a tour stretch in North America saw her become the first European ever to win back-to-back Disc Golf Pro Tour events (both wins, notably, were over Pierce). And from what Tattar told us, she'll be better rested at the EDGC than she was during either of those victories.

"Feels amazing to be back home, seeing my family and my cat again after two months – it makes you appreciate everyone even more!" said Tattar. "Also it was nice to sleep in my own bed. For the first time in two months I was able to sleep through the night without waking up."

Along with Tattar and Salonen, the fifth-ranked woman in the world, reigning EDGC title-holder Henna Blomroos, will also be competing in Czechia. She's come in second to Salonen at every Prodigy Disc Pro Tour event in 2021 and is likely eager to get a big win over her friend and competitor this year.

Currently, in a head-to-head-to-head match-up between these three favorites, the data behind our World Rankings suggest the winning probabilities to be Salonen 52%, Tattar 37.9%, and Blomroos 10.2%.
Reason 3: This May Be Your Last Chance to Watch Top Players at Konopiště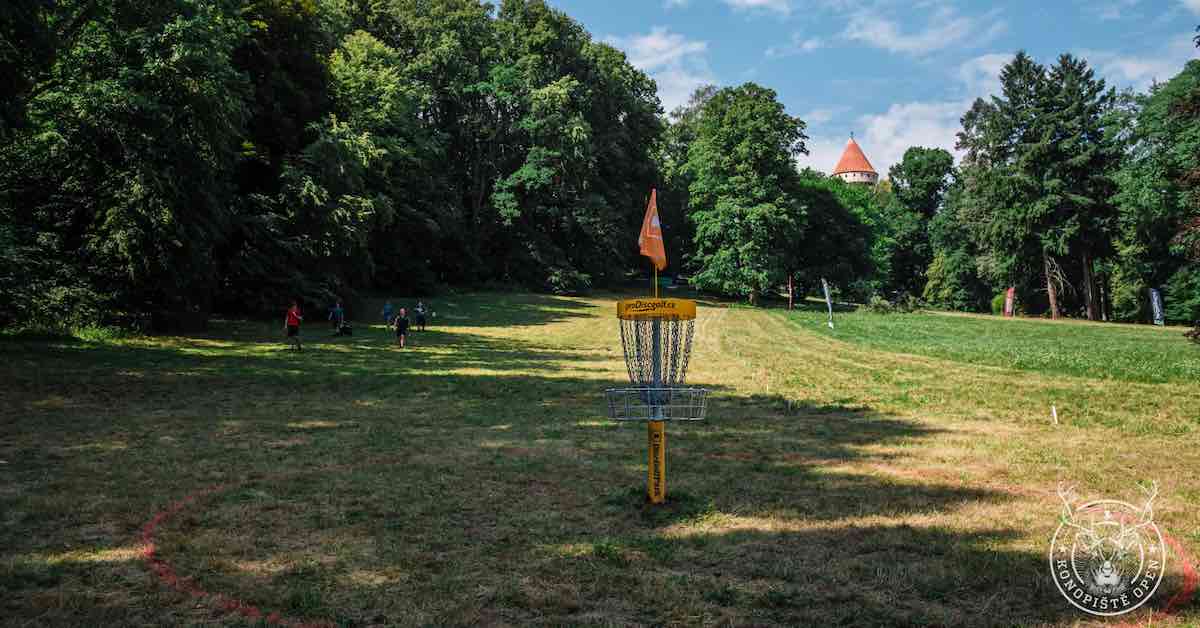 Both Open and Open Women at the EDGC will be competing on the beloved Franz Ferdinand course on the grounds of the Konopiště Castle. As you might expect of land that formerly belonged to royalty, the property is stunning. Large mature trees line open areas of grass on rolling hills to create a landscape perfect for disc golf and oozing history and grandeur.

The course first gained attention throughout the disc golf world when it was part of the now-dormant Disc Golf World Tour in 2016. Most of the sports' biggest names at the time were in attendance, the top competitors' rounds were all filmed, and the competition that year was thrilling. None other than Simon Lizotte won the event after a throw-in eagle on hole 17 during the last round helped him eke his way into a three-way playoff for the title with Paul McBeth and Danish heavyweight KJ Nybo.

The course was also the site of top pro disc golfer Eagle McMahon's first-ever win at a PDGA Major in 2018.

But as much as players and fans alike love the course, it takes a lot of work behind the scenes to get the course ready and organize all the permissions necessary to make events happen there. For those and other reasons, 2021 EDGC tournament director Krystof Novak (who has been involved with organizing all previous competitions at Konopiště) told us there was only about "a 15% chance that Konopiště will be back some day."
Reason 4: The Only 1050-Rated Player You've Never Heard of Is Playing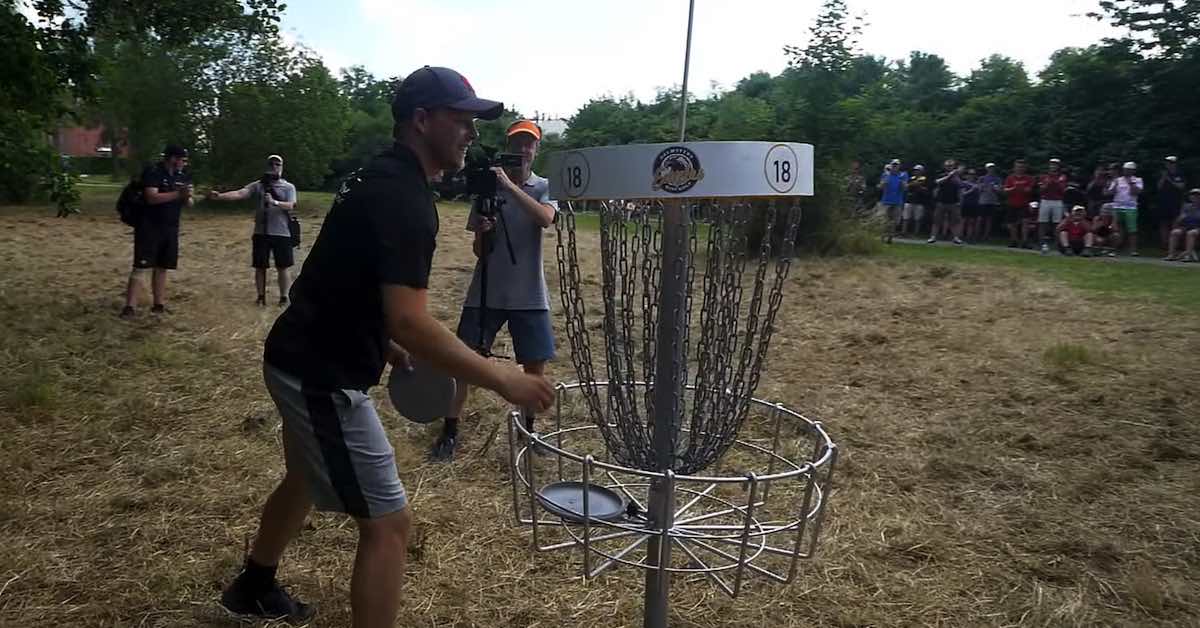 Commentators of U.S. events this year have commonly used the phrase "1050 boys" to describe a small, elite group of players who have reached the ridiculous PDGA rating of 1050. Until recently, that only accurately described superstars Paul McBeth, Eagle McMahon, Ricky Wysocki, and Calvin Heimburg at various points.

But after the PDGA's July update, German Marvin Tetzel joined the club.

Full disclosure: Tetzel has acquired this rating with just 10 rounds of PDGA-sanctioned play in the last year while the other current 1050-rated players' ratings are based on well over 50 rounds each. Nonetheless, it'll be well worth keeping an eye on if Tetzel lives up to his elite rating while competing among Europe's best.

If you're up for practicing your Deutsch, you can watch Tetzel in action at a German tournament in 2021 that was filmed by German disc golf media company FROLF.
Reason 5: It's More Than Just Another Tournament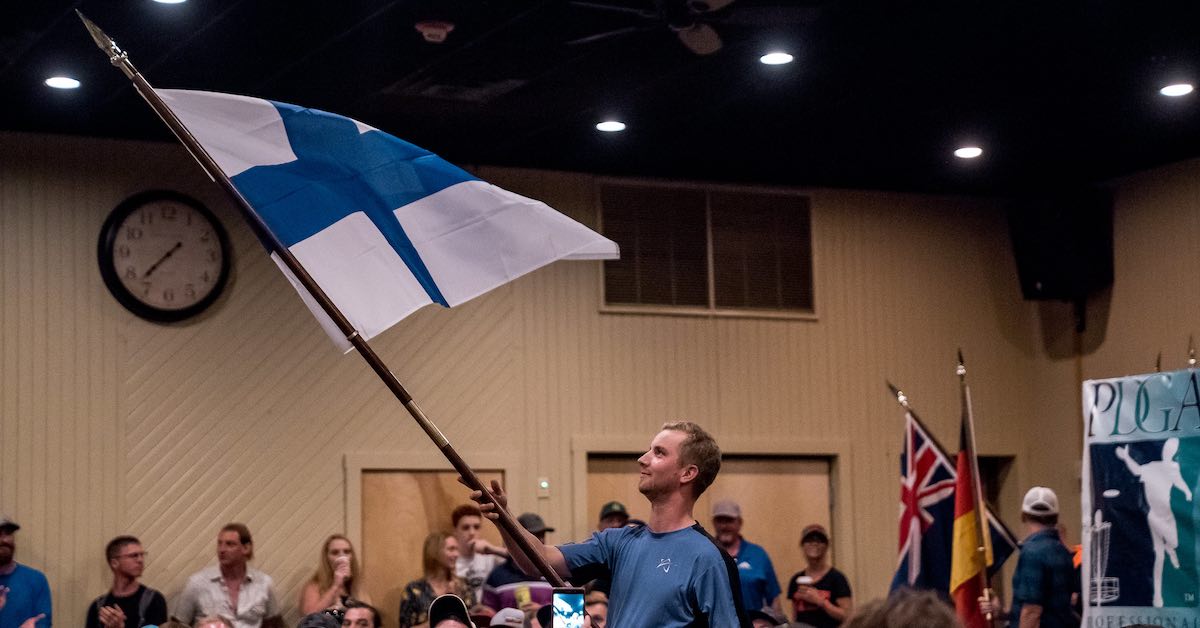 Because every player attending the event had to qualify within their country and attends the event as a representative of their nation, there's a little more meaning to playing at the EDGC than at other tournaments. Lizotte described to us a bit of what his experiences at the event are like and how they help make it more special.

"A lot of nations travel together to the event, stay together, and it's more like a country versus countries feeling even though at the end of the day, of course, it's a single-athlete sport," Lizotte said. "That's probably my favorite part. I think every time we have more nations attending at the European Championships than the World Championships. It's always super cool to see all nations and cultures come together and play some disc."

Also, wins at the EDGC tend to have huge significance for the victors. We already heard from Lizotte earlier about how his first EDGC win helped jumpstart his career, but we also learned how this year's favorite in Open, Väinö Mäkelä, cherishes his win in the Junior division from 2016.

"My 2016 victory is always going to be one of the most important moments in my career," Mäkelä said.

So if you're into seeing elite players battling for something far beyond just personal glory (and are maybe a little sad the Olympics are over), the EDGC should be just the ticket.
How To Watch the European Disc Golf Championships

We convinced you, huh? Great!